2018 Gambling Olympics: Bales is a Wild Card in Crypto Competition
Highlights
The Cryptocurrency Portfolio is one of 12 events in the inaugural Gambling Olympics.
The 12 contestants must create the most profitable portfolio over the two-day period.
Manzinelli (creator of ManzCoin), Levitan and Blumstein are the favorites, but Bales offers the most value. 


---
The 2018 Gambling Olympics is a two-day, 12-person contest taking place in Las Vegas on July 9-10. The buy-in is $2,500, and the winner gets $10,000.
Before, during and after the Gambling Olympics, we will provide extensive coverage via participant profiles, event breakdowns and live in-person analysis. Be sure to follow all the action in the Gambling Olympics section of the site.
Crypto Portfolio
One of the main events in the Gambling Olympics will test each contestant's ability (or lack thereof) to create the most profitable cryptocurrency portfolio, starting at 10 a.m. on Monday as open and Tuesday 6 p.m. as close.
Why crypto? Because in the words of participant Jonathan Bales: "If you haven't woken up to 35% of your investment just—poof—gone, you haven't lived my friend."
The rules are simple:
$1000 to spend, must select a minimum of three coins on Binance
Cannot change portfolio
Final standings based on profit/loss
The contestant who can find their way to the moon — or get slightly less rekt — will be crowned as the individual champion. Per usual, the highest scoring team will also be crowned, and the individual scores will be denominated using inverse scoring (first is 12 PTS, second is 11 PTS, etc.).
Who will win the Crypto Portfolio Individual and Team Titles?
Team Odds
This might be the most interesting event in the entire competition, and one that could involve almost as much game theory as luck.
Pete Manzinelli (+400) is most famously known as the inventor of the world's first physical cryptocurrency: ManzCoin. Naturally, he is one of the early favorites, given his depth of expertise in the space.
Citing crypto as his weakest event, Peter Jennings (+500) comes in as one of the favorites as well. Peter is a master of crowdsourcing information from sharp people and formulating his own conclusions from there, so I would be shocked to see him fall outside the top three. He may be one of the safer bets on the board.
Adam Levitan (+400) has unique ability to sift through news and information, which could be an invaluable asset in this event. However, he might be just as likely to have a large allocation to Titcoin (TIT) in his portfolio.
Jonathan Bales (+500) is the most intriguing. He's probably just as likely to be first as last with some type of contrarian approach, but that type of thinking may be exactly what you need to finish first in an event like this. Not to mention he may be one of the few with significant crypto experience on short-term swing trades.
From a team perspective, I think Team Bales (+125) is interesting. Sean Koerner (+1200) seems to be their weakest link for this competition, but something tells me we could be in for a weird week of price action. A contrarian approach may be the only way to truly stand out in something a volatile as crypto.
Analysis
It's a troublesome time in the cryptocurrency space. BTC was in need of a significant correction after the run to nearly $20,000 BTC in December. Many people bought near the top and got rekt, likely leaving the crypto world forever with a bad taste in their mouth.
Without the influx of new investors, more adoption, or significant institutional funds, a run back to all-time highs may not arrive in the near future. Many technical analysts in the space (people smarter than me) are calling for an even lower 2018 bottom.
What if we see another significant drop in price during the Gambling Olympics? As people scramble to protect their assets, many will funnel their funds away from altcoins, as we know they tend to get fall quicker in the event of a BTC drop. That's part of the reason we have seen BTC dominance rise on the way down to current levels, from roughly 33% in January to 43% now.
There are a few different strategies that I believe we could see in this event:
Known commodities (BTC, ETH, LTC) — Bitcoin, Ethereum, and Litecoin will appeal to the crowd who has never dabbled into crypto, or if they have, it's been mostly on Coinbase.

The sharp Altcoins (XMR, OMG, ONT, EOS, WAN, ICX, VEN, NANO, REP) — Some

shitcoins

are literally a joke, but given the

demographics

 of our competitors, I would expect the "sharp Altcoins" to be popular. These are the type of projects that are still top-20 in market cap

 for the most

part

and have a large following among crypto degenerates. A good chunk of these are ERC20 tokens as well so, in theory, they stack/correlate favorably with an ETH allocation.

Binance

Coin (BNB) — I would be surprised if BNB isn't the uber chalk. Essentially, it's an exchange coin with a real use case (it lowers fees) so people are incentivized to hold if they trade frequently on

Binance

. During this recent market cycle, BNB has held its value very well for the most part in comparison to other altcoins. At times in early 2018 it has even broken correlation from BTC, so when everything is going down, BNB has actually seen significant gains.

Google Trends crowd (to be determined) — If we get some type of hype or fundamental news in favor of a certain project on Monday morning, they could turn into chalk in this event pretty quickly. Google Trends is a great way to take the public's temperature in a short-time frame where attacking a pump may be necessary to win.
Hype projects (XRP, XVG, TRX, BCC) — Ripple, Verge, Tron, and Bitcoin Cash have a somewhat loyal following, and regardless of what you think of the projects (or their

sketchy leaders), they do have the tendency to pump hard at random moments.

Stable coins (USDT, TUSD) — An undervalued strategy in this contest may be to allocate a significant portion of your portfolio to stable coins, or those designed to peg closely to the US dollar like Tether (USDT) or TrueUSD (TUSD). If this event turns into "who loses the least" those who placed their trust in a less-volatile option could vault up the leaderboards quickly.
There is a strong possibility of another BTC drop to roughly $5,000 in early July, so my strategy would likely revolve around damage control with a large allocation to USDT, TUSD, and BNB. Couple that with a smaller allocation into a few of the sharp Altcoins that may have bottomed out on support, preferably one that performs well on short-term google trends.
Individual pick: Bales +500
Team pick: Team Bales +125
Because I'm just here for the rocket ship tweets: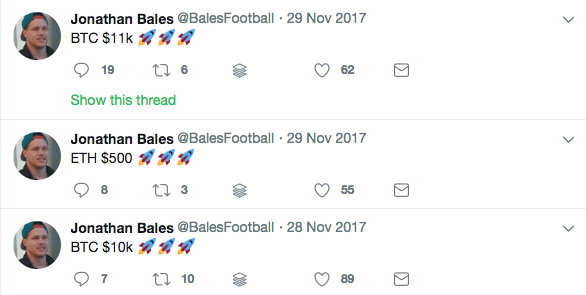 How would you rate this article?