2018 Gambling Olympics Participant Profile: Jonathan Bales
Highlights
Jonathan Bales is one of the participants in the inaugural Gambling Olympics.
Bales is a veteran DFS player and FantasyLabs co-founder.
He has experience in every event in the tournament.
---
The 2018 Gambling Olympics is a two-day, 12-person contest taking place in Las Vegas on July 9-10. The buy-in is $2,500, and the winner gets $10,000.
Before, during and after the Gambling Olympics, we will provide extensive coverage via participant profiles, event breakdowns and live in-person analysis. Be sure to follow all the action in the Gambling Olympics section of the site.
Regular Employee
Jonathan Bales is a legend. In addition to being a FantasyLabs co-founder, he's the author of the "Fantasy Sports for Smart People" series and one of the best tournament players in the DFS industry, thanks to his contrarian approach. Rumor has it that he's also a sponsored GrubHub eater.
A man of many interests, Bales is unsurprisingly a crypto investor and has had success trading digital currencies. Over the past year, his crypto gains have significantly outpaced his DFS profits, which are represented by the star in this graph: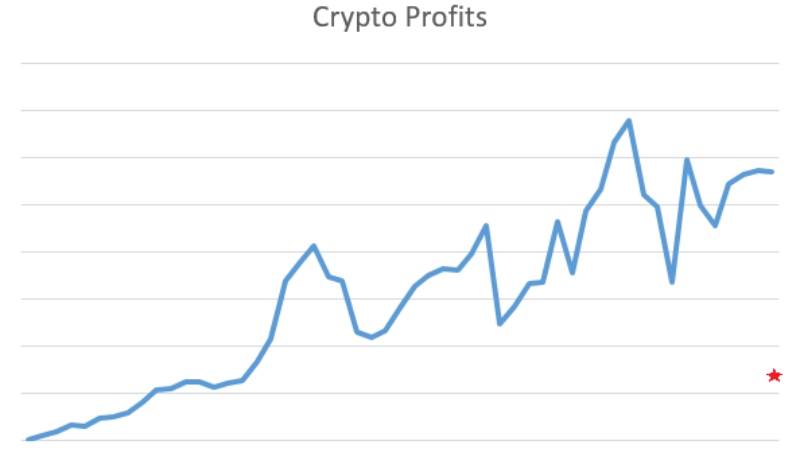 Bales has had his failures — he retired just three hot dogs into his professional eating career — but he seems to come out on top in many endeavors.
Bales was gracious enough to answer a few questions for us heading into the Gambling Olympics.
Q: How did you first get involved with gambling?
Bales: In a broad sense, I've been gambling my entire life, whether it was playing Rock-Paper-Scissors or thumb wrestling for money or running fantasy football leagues. The first time I made a "real" bet was in high school when an offshore book posted bad lines on which teams would receive the opening kickoff (the NFL had just changed the coin-toss rule to allow teams to defer).
Q: What qualifies you to participate in this prestigious tournament?
Bales: Along with Peter Jennings and Adam Levitan, I am running it. So I figured it would be OK.
Q: What is your proudest "degen" moment?
Bales: The sickest swings I've encountered, by far, have been in crypto. Although I made a ton of mistakes, I took on a huge amount of risk when I thought it was right and got mostly out at a good time; I'm proud I pulled the trigger to do some things I think many people would have said were f—ing nuts. Certainly having hundreds of thousands of dollars on a sketchy new crypto exchange in Hong Kong could be classified as "degen."
Q: What do you feel will be your strongest and weakest events?
Bales: My strongest event will be Rock-Paper-Scissors. Everyone knows I'm one of the world's greats. My weakest will presumably be Acey-Deucey because I don't even know what it is.
Q: How many hours of prep are you putting into this?
Bales: 24 multiplied by however many days are left until the Main Event.
Q: Who do you think is the favorite to win?
Bales: I think the favorite to win is probably Brandon Adams. He has a background in most events and the right mentality to figure out the others. I think he's also going to have a strategy for figuring out how aggressive to be in each event that will be pretty close to optimal.
Q: Who is your pick to finish dead last?
Bales: Not me.
Analysis
Considering his experience in every event, Bales is one of the favorites. His DFS and crypto knowledge should give him a significant edge, and Bales (reportedly) is a Rock-Paper-Scissors expert (he's taken on Rock-Paper-Scissors side action). And although Bales has said that he could struggle with Beer Pong, he is a mythic drinker. Of all the participants, he might be the one devoting the most time to preparation.
It's not great, though, that he doesn't even know how to play Acey-Deucey. It's largely a luck-based game, but his inexperience could lead him to be too passive or aggressive in suboptimal situations. Also, Bales has mentioned before that he regrets missing the poker boom in college (presumably because he wasn't a big player), and he has no live tournament earnings (per the Hendon Mob Poker Database). With some of the poker heavyweights in the tournament, Bales could have a bottom-three finish in the event.
He's also going to be one of the busiest competitors before the Main Event. Not only is he planning the Gambling Olympics, he's also participating in the Broathalon and competing against Jennings in a pull-up prop bet and racquetball wager. By the time the Gambling Olympics rolls around, he could be exhausted.
How Bales wins: He uses his contrarian approach to finish first in DFS and Crypto Portfolio, and he earns another first-place finish thanks to his Rock-Paper-Scissors skill. He puts up top-three showings in Beer Pong, Blackjack and Connect 4 and his top-two performance in the Standings Prediction puts him over the top.
How Bales loses: He finishes dead last in DFS thanks to being too contrarian, and he overestimates his Rock-Paper-Scissors ability. After several middle-of-the-pack finishes in some of the more luck-based events, Bales suffers a devastatingly unexpected defeat in Beer Pong to Levitan, who solidifies Bales' spot in the bottom three. The mini Hulk proves to be mortal.
How would you rate this article?