2018 Gambling Olympics Participant Profile: BlackJack Fletcher
The Highlights
BlackJack Fletcher is one of the participants in the inaugural Gambling Olympics.
He's a former lawyer who parlayed his sports-betting success into a career with The Action Network.
He's currently listed as a favorite in two of the 12 events: Blackjack and Sports Betting.
---
The 2018 Gambling Olympics is a two-day, 12-person contest taking place in Las Vegas on July 9-10. The buy-in is $2,500, and the winner gets $10,000.
Before, during and after the Gambling Olympics, we will provide extensive coverage via participant profiles, event breakdowns and live in-person analysis. Be sure to follow all the action in the Gambling Olympics section of the site.
Hitting on 16
BlackJack Fletcher is the personification of the American Dream. He was one of the first members of his family to graduate from college, and he went on to earn a law degree at Hofstra University. And then, after spending eight years as an Assistant State Attorney in Florida, he gave it all up to chase his dream.
He caught on at Barstool Sports as a sports-betting intern and quickly became a sensation. You can hear him tell his story at the 17:14 mark of Ep. 17 of "The Buffet with Chad and Scooch."
Numerous winning bets and 25,000 Twitter followers later, BlackJack is living his best life as a full-time employee of The Action Network.
Blackjack was gracious enough to answer a few questions for us heading into the inaugural Gambling Olympics.
Q: How did you first get involved with gambling?
BlackJack: I've always enjoyed sports of all kinds, but I suppose horse racing got me into gambling at a young age. My dad and grandfather would take me to Belmont and Aqueduct as a kid and teach me how to read a racing form and the different types of bets.
Q: What qualifies you to participate in this prestigious tournament?
BlackJack: I'm a living, breathing, gambling legend. What qualifies this tournament to have me?
Q: What is your proudest "degen" moment?
BlackJack: It is impossible to single out one thing, I live this lifestyle on a daily basis.
Q: What do you feel will be your strongest and weakest events?
BlackJack: Strongest event should be sports handicapping. Weakest will likely be crypto picks. I'm a cash guy, not a crypto guy.
Q: How many hours of prep are you putting into this?
BlackJack: Many late-night hours have been spent researching Acey-Deucey and perfecting Rock-Paper-Scissors strategy.
Q: Who do you think is the favorite to win?
BlackJack: Obviously I'm not picking against myself, but if I had to go elsewhere, I'd look at Jonathan Bales. That dude is a jack-of-all-trades.
Q: Who is your pick to finish dead last?
BlackJack: If I don't win, me. See what I did there? Lowered expectations. The mind games have begun.
Analysis
BlackJack enters this contest as a +900 underdog but has plenty of appeal at his current odds. He's currently favored in the Sports Betting and Blackjack events, which makes some sense: He's a professional sports bettor whose name is BlackJack. He's also the second-largest favorite in both Beer Pong and Rock-Paper-Scissors.
The problem is that there are some events in which BlackJack could struggle mightily. He's listed as the biggest underdog in both DFS and Crypto Portfolio, and bottom-three finishes in those events could be tough to overcome. If he catches fire and a few breaks he could win the tournament, but it's hard to imagine him doing well in the events with which he's less familiar.
How BlackJack wins: He has poor results in some of his weaker events but overcomes them with top-two finishes in Sports Betting, Blackjack, Beer Pong and Rock-Paper-Scissors. He also lucks into a couple of top-three finishes in chance-driven events, thanks entirely to his distingusihing jacket: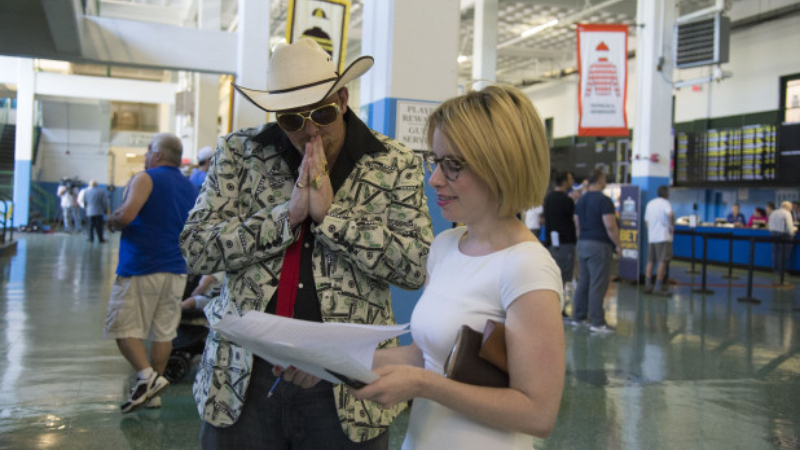 When you look like a combination of Hulk Hogan, a cowboy and the guy who teaches you how to get free money from the government, you can expect to get a little lucky.
How BlackJack loses: He surprisingly struggles with Blackjack and Sports Betting, which causes him to hit the sauce a little too hard in between rounds of Beer Pong. In a hazy state for most of the tournament, he finishes near the bottom of the field but still ends up a winner because he's no longer a lawyer who lives in Florida.
How would you rate this article?