2018 Gambling Olympics Participant Profile: Peter Jennings
Highlights
Peter Jennings is one of the participants in the inaugural Gambling Olympics.
He's one of the most accomplished DFS players in history as a two-time world champion.
Jennings has also enjoyed success as a poker player and sports bettor.
---
The 2018 Gambling Olympics is a two-day, 12-person contest taking place in Las Vegas on July 9-10. The buy-in is $2,500, and the winner gets $10,000.
Before, during and after the Gambling Olympics, we will provide extensive coverage via participant profiles, event breakdowns and live in-person analysis. Be sure to follow all the action in the Gambling Olympics section of the site.
CSURAM88
Peter Jennings took a major risk as a young man in leaving the financial industry to pursue daily fantasy sports on a full-time basis, but that decision has paid off. Jennings is not only one of the most successful players in DFS but also a co-founder of FantasyLabs. In addition to playing DFS, he spends his time these days crypto investing and sports betting, both of which are formal events in the competition.
Jennings was gracious enough to answer a few questions for us heading into the Gambling Olympics.
Q: How did you first get involved with gambling?
Jennings: I have always been a competitor and started off gambling in sports when I was a kid. My first introduction into serious gambling was through poker during the Chris Moneymaker boom and "Rounders."
Q: What qualifies you to participate in this prestigious tournament?
Jennings: I am a founding member, and this was my idea!
Q: What is your proudest "degen" moment?
Jennings: Quitting my job to pursue playing DFS full-time and winning the first six-figure prize one month later.
Q: What do you feel will be your strongest and weakest events?
Jennings: Strongest – DFS. Weakest – Crypto Portfolio.
Q: How many hours of prep are you putting into this?
Jennings: Every waking hour.
Q: Who do you think is the favorite to win?
Jennings: Hopefully me or one of the other Donkeys. Outside of us, I think Brandon Adams is the favorite.
Q: Who is your pick to finish dead last?
Jennings: Joey Ingram. He has a ton of talent for this event, but I don't think he is going to put in the work.
Analysis
It seems that many of the events in the Gambling Olympics play to Jennings' strengths, which makes sense: He's one of the organizers. He is familiar with all 12 of the events and is possibly the best DFS player in the field. While Adams and Scott Blumstein are more accomplished as poker players, Jennings clearly has game on the felt.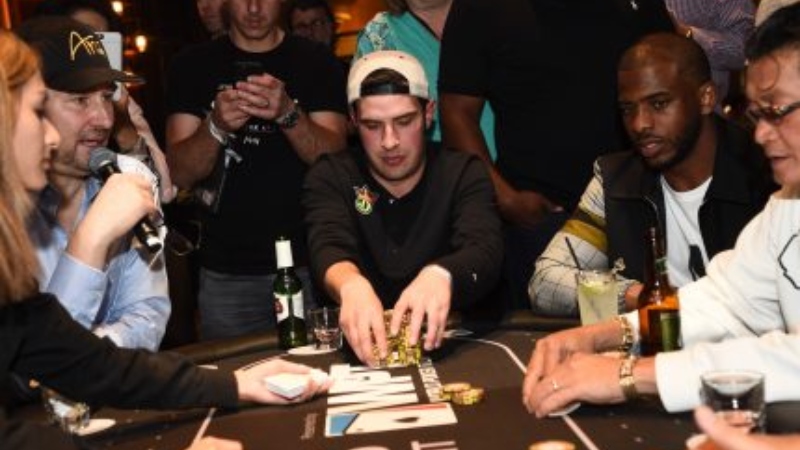 Yep, that's Jennings at the poker table next to Chris Paul.
Don't sleep on his experience in Lodden Thinks. Jennings plays at least once per week with Jonathan Bales and Adam Levitan on "The Three Donkeys" podcast, which likely makes him one of the most experienced players in the event. His familiarity with Bales and Levitan could also give him an edge.
Jennings lists cryptocurrency as his biggest weakness, but at least he has experience as a trader. Some of his competitors might not even know the difference between Litecoin, Dogecoin and Ethereum, but at least Jennings does.
The wild-card event here is Acey-Deucey. Rumor has it that Jennings petitioned to get the game included, so he might have an undisclosed edge. It's largely a luck-driven game, but take a look at Jennings holding that $1 million check: He's clearly no stranger to well-timed #rungood. Even luck is sometimes a skill. CSURAM is one of the favorites out in Vegas.
How Jennings wins: He massively outperforms in DFS. (It's the summer, so he can't roster Amari Cooper.) Although he lists crypto as a weakness, it's not an obvious one, so it's possible for him to post solid showings across the board. If he can finish in the top half of almost every event, sprinkle in a few top-three performances and crush at DFS, he's going to be tough to beat.
How Jennings loses: He bombs at DFS, which can be beaten over time but is prone to short-term volatility. If Jennings has a poor DFS showing, that will put pressure on him to make up the difference with luck-based games such as Blackjack, Acey-Deucey and Yahtzee, and that could end poorly. Also, Jennings has a busy few days before the Gambling Olympics: He's doing a 3-point shootout, participating in the Broathalon and competing against Bales in a pull-up prop bet and racquetball wager. He could be fatigued by Day 2 of the tournament. Even Michael Phelps couldn't win gold in every event at just one Olympics.
How would you rate this article?