Wob: Investigating the Infamous Kobe Bryant/Matt Barnes Flinch Play
The Kobe Bryant/Matt Barnes Flinch Play has gone down in NBA lore as one of Bryant's defining plays.
But have we been lied to the whole time? Here's Rob Perez's frame-by-frame investigation.
When I woke up this morning, this was atop of my Twitter timeline:
Don't watch the overhead angle of the Kobe-Barnes no flinch unless you want it to be totally ruined.

— Taco Trey Kerby (@treykerby) October 2, 2018
I am a troll. When you tell me to not look at something I am always going to. Example: I immediately Googled "Fournier" (DON'T DO IT YOU HAVE BEEN WARNED).
Now, what we're talking about here is one of the most sacred moments in Kobe Bryant history.
Kobe is best known for his scoring prowess, IDGAF mentality, killer instinct, and ruthless competitiveness, and one of his Mount Rushmore plays was when he stood in front of Matt Barnes in 2010 and didn't flinch when Barnes pump-faked the ball in his face.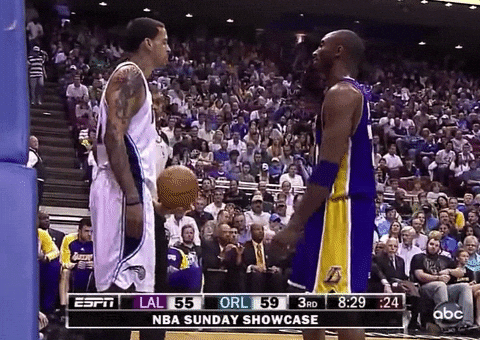 Imagine if we found out Michael Jordan peeked during his "eyes closed free throw."
Or if LeBron's block on Andre Iguodala was somehow a goal tend…
That's the magnitude of what we're talking about here.
It was a career-defining moment for one of the all-time greats. A GIF that will run on loop in Springfield, Mass., for the rest of our lives.
Kobe fans are understandably upset. I don't take this lightly. You deserve a thorough investigation, so using the one grainy overhead angle we have, let's go frame-by-frame and examine if Barnes' flinch-fake was truly one, or if we've been bamboozled this entire time:
Frame 1: Barnes is handed the ball from the referee, Kobe is standing in place.
Frame 2: Kobe lifts left foot off-the-ground, begins swaying body weight to the left.
Frame 3: Kobe plants left leg, is now re-positioned to defend the inbounds pass under the rim.
Frame 4: The pump fake. As Dwight Howard sets an away-from-the-ball screen for Vince Carter to roll through the paint, Barnes looks to pass, but pulls the ball back.
Frame 5: At this point, Kobe's right-to-left momentum has pushed him even farther under the basket.
Frame 6: As Barnes begins to pull the ball back, Kobe's right foot is no longer parallel to Barnes' right foot, confirming Kobe's movement away from Barnes' action.
Frame 7: Barnes' full recoil is complete. Kobe is nearly out-of-the frame.
(For reference: here is where we are at in the viral GIF angle)
Frame 8: Vince Carter begins to roll through paint, Kobe shifts his body weight from left-to-right as his right foot is once again parallel to Barnes' right foot.
Frame 9: Vince Carter's action is fully in the frame, as Kobe is now back in front of Barnes nearly perfectly parallel.
Frame 10: Kobe is back in Barnes' face as Carter's roll through completes and Barnes begins looking for an alternate option before Derek Fisher fouls Jameer Nelson.
Here is the full video, tweeted out Tuesday evening by ESPN (HD), if you'd like to conduct your own review:
After careful scientific review, my hypothesis is as follows:
The ball was not close enough to Kobe's face to instigate a flinch.
Barnes was looking away from Bryant, anticipating a Dwight Howard/Vince Carter off-ball screen.
When Barnes extended his fake, Kobe's momentum was carrying him in the opposite direction of the play and nearly out of the frame.
Kobe did not come back into line until after the recoil was complete.
We're not arguing whether Barnes tried to make Kobe flinch or if Kobe interpreted it as such. That's for them to decide. It's that Kobe is astray from the act and moving away from where/when the fake occurs. I'm sorry for revealing this brutal truth. The basketball gods have forsaken us.
How would you rate this article?