Locky: How I'm Betting the 2018-19 NBA MVP Race
Credit:
Photo credit: USAToday Sports. Pictured: Giannis Antetokounmpo, Anthony Davis, and LeBron James.
Previous NBA MVP winners have been players in their prime, playing for a 50-plus win team and who have been in the MVP conversation before.
Using those parameters, below I break down who I am betting for the 2018-19 NBA MVP award.
We live in an era of obsession with the NBA, and I for one couldn't be happier.
This week, the legendary footage of Matt Barnes and Kobe Bryant's "no-flinch pass fake" was debunked, and it was one of the lead stories of the day around the industry.
The breaking down of an inbounds pass from years ago was alongside the biggest news of the day. And people truly CARED about it. Welcome to the NBA of 2018.
And people don't just care about the weird stuff, either, such as the flinch. Basketball fans care a great deal about placing players in the proper order, and ranking them against each other, refusing to budge or give an inch even if their lives depended on it. It's as irrational as sports discussion gets.
If you think Kobe is better than LeBron, there is a group of fans for you, but you have just made thousands and thousands of sworn enemies. Fans like to argue about how current big men would guard Shaquille O'Neal, as if any kind of reasonable answer can ever be produced. It's phenomenal. In the NBA, the fake, pointless arguments are the best ones.
Part of what we use to rank these players against each other is the MVP award. It is not awarded lightly, and there is much discussion and controversy many years around regarding who should win it and why. To mention its winners is to read a list of the all-time greats, with seemingly great balance among how many times a player has won, and where he fits into the NBA all-timers hierarchy. Michael Jordan won five. LeBron has won four. Larry Bird and Magic Johnson won three.
In terms of betting on the MVP winner, much like with the Rookie of the Year, this is not an award where you want to reach. If you're making a case for someone in the 100-1 or 200-1 range, you're probably doing it wrong. MVP winners don't really sneak up on anyone.
As you look at the market prices with the season rapidly approaching, here are some rules to consider for betting the MVP award.
---
Bet on someone you think can win 50 games
This has sort of been the magic threshold for winners of this award. Unlike baseball, where the MVP doesn't even have to make the playoffs (Alex Rodriguez and Mike Trout, for example), you don't win this MVP award scoring 30 a game for a lottery team. You don't win this award having a great season for the 8-seed.
In the history of the MVP award, only six players have won with a team winning percentage under 60%. I use team winning percentage because a long time ago they didn't use to play 82 games, and it allows for consistency. But in "modern times," like, say, the last 25 years, only Russell Westbrook has won the award winning fewer than 50 games (the Thunder won 47).
Westbrook accomplished this feat, as you know, by averaging a triple-double for the entire season, which made the award more about recognizing that accomplishment than the things the award is usually founded on. There are many who feel James Harden should have won the award that year anyway, so it's not like the vote was unanimous. In the past 30 years, just Westbrook won fewer than 50 games. So let's just set 50 as our marker.
Unlike in sports such as college football or the NFL, where preseason win totals are complete guesswork and often nowhere close to the final results at the end of the season, in the NBA they are a reasonable way to start our 50-win search.
Last season there were six teams with preseason win totals of 50 or higher. Four of them (Warriors, Rockets, Cavs and Celtics) won 50 or more, and the other two (Thunder, Spurs) won 48 and 47, respectively. The Raptors won more than 50; their preseason win total was 47.5.  Only the Sixers (38.5) were truly surprising in a way that penetrated that barrier.
This season, there are five teams with a win total set at 50 or higher — Warriors, Celtics, Raptors, Rockets and Sixers. There is a reasonably big group of teams with win totals in the high 40s, and that leads to an interesting point: The three favorites to win the award in the market are playing for teams who seem quite uncertain to win 50 games.
LeBron James is the favorite, but he has tempered expectations mightily for this season with the Lakers, and their win total is 48.5 in a tough Western Conference.
Anthony Davis has a history of missing games, and his Pelicans team is projected to win just 45.5 games. Remember, only one team with a win total that low won 50 last season (Philly).
Giannis Antetokounmpo gets a new coach and a lot of the same guys back, but they won only 44 last year, and their number this year is 48. Team success with these three players is far from certain. We will revisit this in the conclusion when selecting valuable bets, but let's move along for now.
---
Bet on someone who accumulates a lot of raw stats
Although analytics and more thoughtful statistical approaches have penetrated a lot of NBA franchises, this is still an award that generally goes to someone with jaw-dropping raw numbers.
Obviously Westbrook is an example of that, accomplishing something historic. Harden led the league in points per game and finished third in assists per game last season. Stephen Curry led the league in scoring three years ago (and steals per game, crazily enough) with completely ridiculous shooting percentages.
This doesn't need to be harped on any more, but it's worth mentioning because if someone averages 19 points per game and five assists per game but their effect "can't be measured by traditional stats," then sorry, analytics community, but they can't win.
---
Bet on someone who has received votes before
Winning the MVP award is actually a bit of a process. Think of it like a career arc. You have to get your reputation among fellow players, media and fans to a certain level and continue to improve your game. That generally takes time.
When you reach your absolute peak as a player, you win this award.
There are very rare exceptions, but this is generally a good formula year to year. To prove it, here are the winners of the MVP award since 2000-01 and their finish in the previous year's voting in parentheses. I think a large amount of years is important here so you can see awards both in pre-LeBron and post-LeBron prime years:
2017-18: James Harden (2nd)
2016-17: Russell Westbrook (4th)
2015-16: Stephen Curry (1st)
2014-15: Stephen Curry (6th)
2013-14: Kevin Durant (2nd)
2012-13: LeBron James (1st)
2011-12: LeBron James (3rd)
2010-11: Derrick Rose (did not receive votes)
2009-10: LeBron James (1st)
2008-09: LeBron James (4th)
2007-08: Kobe Bryant (3rd)
2006-07: Dirk Nowitzki (3rd)
2005-06: Steve Nash (1st)
2004-05: Steve Nash (did not receive votes)
2003-04: Kevin Garnett (2nd)
2002-03: Tim Duncan (1st)
2001-02: Tim Duncan (2nd)
2000-01: Allen Iverson (7th)
The two outliers on the graphic are, of course, Nash and Rose. Nash's ascent is completely explainable, as his move to Phoenix to play under Mike D'Antoni launched him into another category of statistical accomplishment. Nash was already really good; he just hadn't played in the "7 Seconds or Less" offense.
Rose is really the true outlier and helps emphasize what a potentially transcendent player he was becoming before injuries derailed his career. It also helped him that he played for a 62-win team that season. He's the only one who made it to the top so quickly. LeBron came in second, fifth and fourth before finally winning his first award. Kevin Durant finished runner-up twice before winning. Usually, it takes time, but there are some very rare exceptions.
For reference, the top 10 in voting last year was Harden, LeBron, Davis, Damian Lillard, Westbrook, Giannis, Durant, DeMar DeRozan, LaMarcus Aldridge and a tie for 10th between Jimmy Butler and Curry.
---
Valuable Bets
Now that we have our parameters, let's look at the options. We are looking for a player entering his prime or in his prime, playing for a 50 (or preferably much more) win team and who has been in the MVP conversation previously.
One other piece of advice: These are not bets I would jam for the limit everywhere, as there is an INSANE hold of about nine months on these now that they announce MVP well after the Finals is over. It's just not worth having the book hold a lot of money for that long on lower-priced futures.
Anyway, here is who I am betting.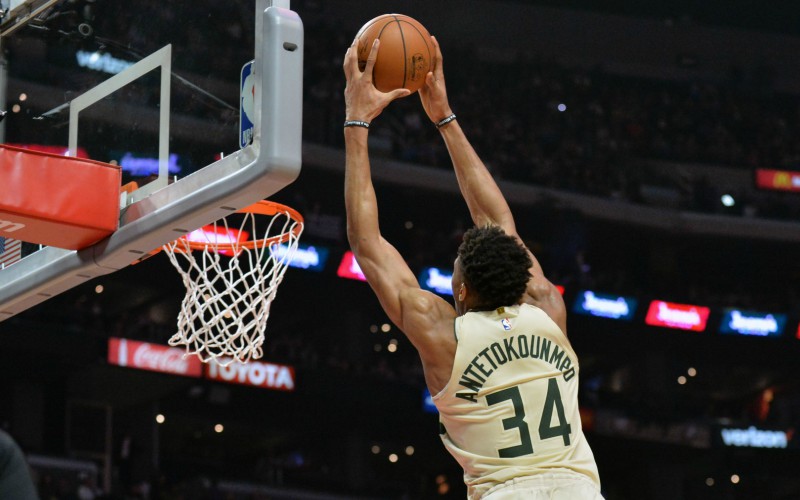 Giannis Antetokounmpo +500
Of the three favorites, his team is the one I actually trust the most to win 50 games. Most of that is because of the Eastern Conference's lack of quality, but also because not all coaching upgrades are created equal.
Many NBA people I trust have Jason Kidd (and former interim coach Joe Prunty, who didn't really do much tweaking) to Mike Budenholzer as almost as large of an upgrade as you can possibly have in that position.
Giannis has finished in the top 10 in voting each of the past two years and is entering his prime. His statistical profile can potentially stand out enough to win.
Davis fits a very similar profile, but I don't think the Pelicans are good enough to win 50 games; it's that simple. Davis is also more of an injury risk. LeBron is already penalized because he's won the award so many times, and he's entering his age 33-34 season.
James Harden +650
I actually think he should be the favorite. Of the teams who are most assuredly going to be a top-two seed (let's say Boston, Philadelphia, Golden State and Houston), he has by far the best chance of winning.
Golden State is not interested in regular-season performance and is far more interested in resting for its fifth straight NBA Finals run. The Warriors' best two players have already won the award as well, so there is less incentive to attempt this achievement.
Boston is going to win an incredibly high number of regular-season games, but who on the team can stand out enough compared to guys such as Harden, LeBron, Giannis, Westbrook and Davis to reasonably win?
Kyrie Irving? He is a huge injury risk. Jayson Tatum is entering his second season, and his usage will most likely go backward. There just isn't a viable candidate with so much depth and balance.
Philadelphia is very interesting because it has two players entering their primes (really Joel Embiid is closer to his "prime" than Ben Simmons is), but by playing together do they hurt each other's chances?
Of the two, I like Simmons' odds more (36-1, Embiid is 16-1) and actually think Simmons has a reasonable chance to average a triple-double this season. Not betting him scares me a little, to be honest. But to me, this is the season he moves into the voting, puts in a top-10 finish and his best years are ahead. Embiid may be in a similar situation, but his health makes him so much riskier.
Getting back to Harden, there is a lengthy precedent for players winning multiple awards in a row — it's actually much rarer for a player to win, go a few more years and then win again. When you win these, you win them in bunches, if ever again.
Since 2000, four players have won back-to-back MVPs, and LeBron has done it twice. Harden's usage will be off the charts, and he's still just 29 years old. His decline is coming, but it's highly doubtful it arrives this year.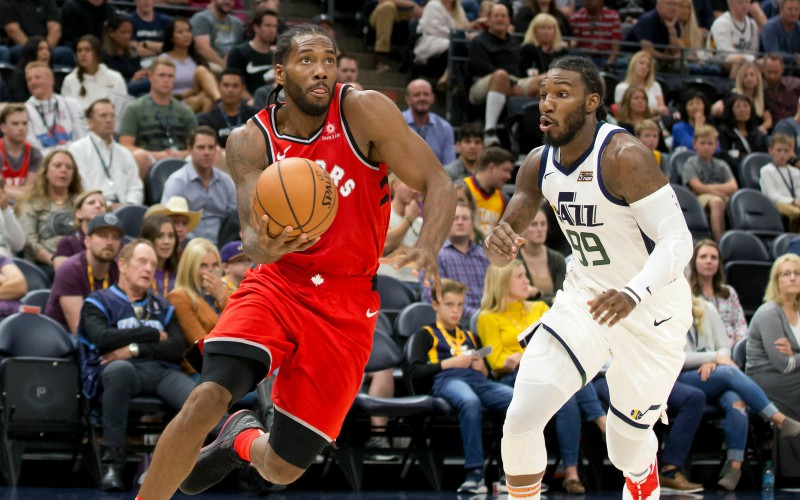 ---
Can Any Longshot Win?
Kawhi Leonard is 10-1, and he can absolutely win. If I could somehow add a player to my pool besides Giannis and Harden for free, I would pick him. He's finished high in voting before, didn't do so last season for injury reasons (as opposed to his talent declining) and he plays for a team that will be really good. But his odds are so low for the uncertainty he provides from an injury standpoint that I don't consider him very valuable at this number.
Aside from that, you're basically looking for 2010-11 Derrick Rose. Is he out there?
The only player I can make a case for realistically is Donovan Mitchell (30-1). I am a huge believer in Utah as a regular season-team this year, and I think 50-55 wins is a completely reasonable projection for them.
Mitchell is a tireless worker who figures to take multiple steps forward in the next couple years. Like Simmons, I think this is the season he's in the conversation, with better years ahead, but I think his ascent is coming regardless. Maybe he can be another outlier.
How would you rate this article?