Moore: Breaking Down the Biggest Play of Blazers-Nuggets Game 4
Credit:
Jaime Valdez-USA TODAY Sports. Pictured: Nikola Jokic
Matt Moore breaks down a key sequence in Game 4 of Nuggets-Blazers and explains why it was pivotal for Denver.
PORTLAND — Nikola Jokic is straight up baffling people in these playoffs.
From league pass darling niche player to legitimate building block to emerging star to fringe MVP candidate and now here, where — after the Nuggets tied their second-round series with Portland at 2-2 — those watching this more-entertaining, less-observed beautiful, brilliant, weird series have realized more and more that perhaps Jokic is simply one of the best players in the league.
Just for reference, Jokic is averaging 24.5 points, 12.5 assists, 9.3 assists and shooting better than 50% from the field. How many players have done that at age 23 in the playoffs? Zero. OK, what about 25? Zero. How about 30? Zero.
How about ever? Zero.
No one has ever put up Jokic's numbers in playoff history.
This isn't VORP or PER or 3-point shooting. This is just points, rebounds, assists and field goal percentage. The basics, the building blocks of a game. And no one has put these up.
But what's been incredible is seeing his consistency, reliability and how he shapes the game. Less than two days after Jokic played 65 minutes in a 4OT loss, he walked into the Rose Garden (no, I will not call it Moda Center) and put up 21-12-11 on 8-of-15 shooting and a +17.
Even beyond all that? Jokic made the play of the game in Game 4.
The Nuggets held a 3-point lead with 1:03 to play. Denver had held the lead after building it in the third and was trying to stave off Dame Time, CJ Time, Seth Curry Time, all the time that the Blazers seem to hold late in games this postseason.
Murray forced the switch with Enes Kanter coming out to guard him, putting the smaller Lillard on Jokic.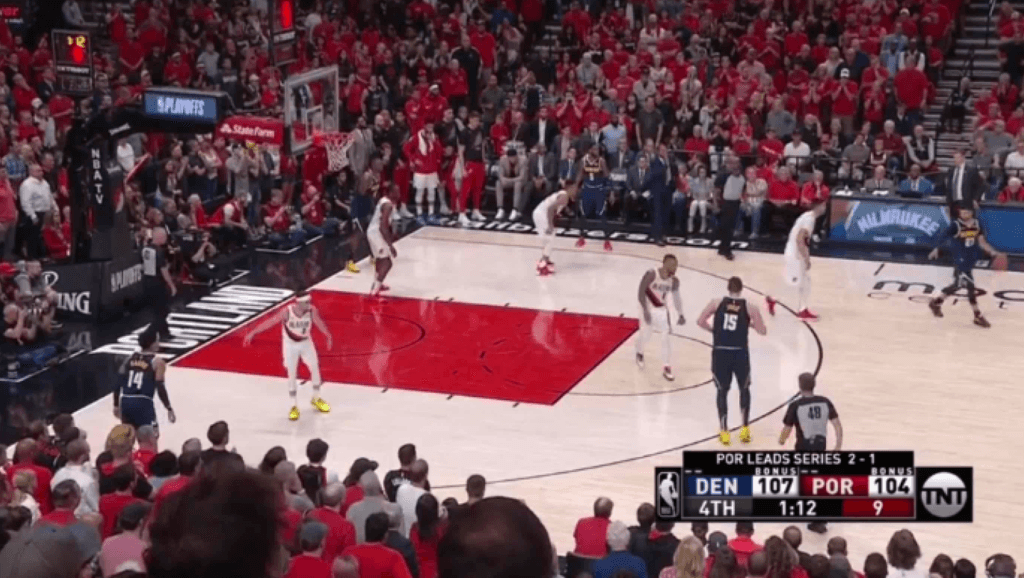 Murray passed out to Jokic on the perimeter, who pump-faked and drove left.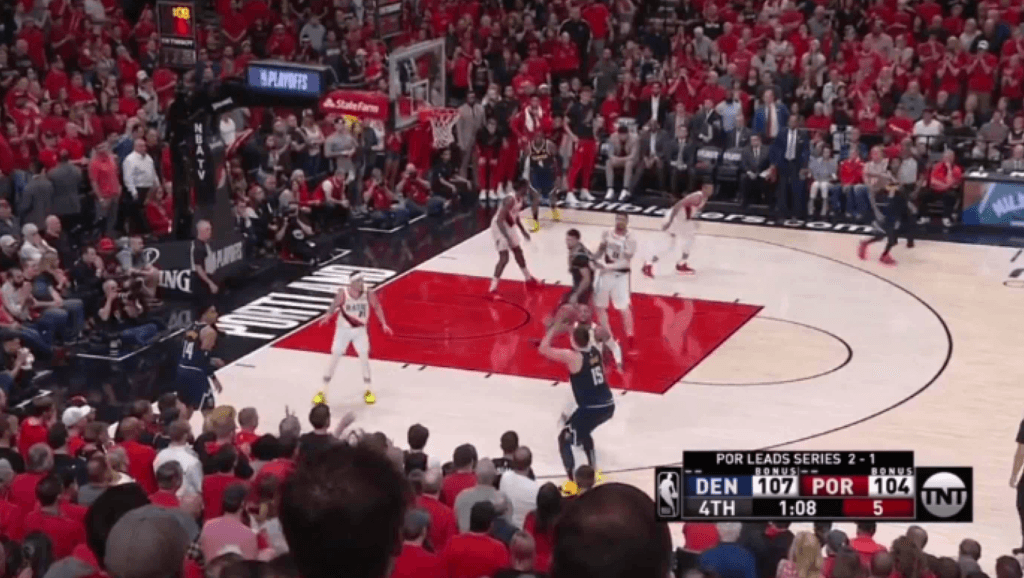 Jokic stopped and pivoted.
Then the Nuggets went to what's been their bread and butter since Jokic's emergence: The Harris-Jokic dribble hand-off.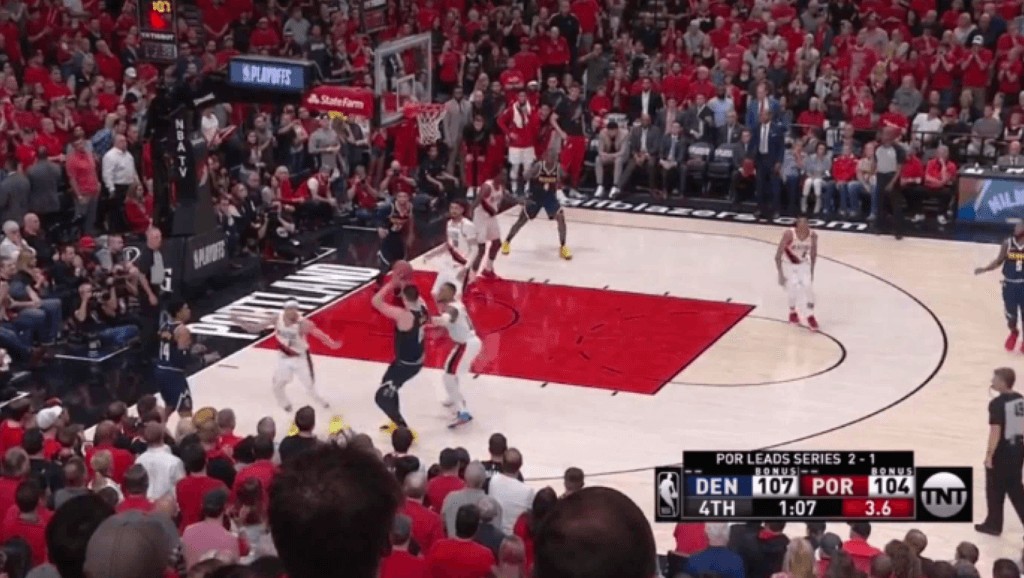 What makes this play killer is that if you get hung on Jokic's screen, Garry Harris is going full speed to the rim. If you play back to jam it, Jokic can shoot or drive and kick. And if they fake it, Jokic is one of maybe four players in the NBA that can deliver the pass on the move.
It's been Harris and Jokic's safety valve time and time again, even as Murray's emergence has lowered Harris' usage rate.
With the smaller and slower Seth Curry on him, Harris cut and Lillard — reading it — helped off of Jokic to try and show on Harris.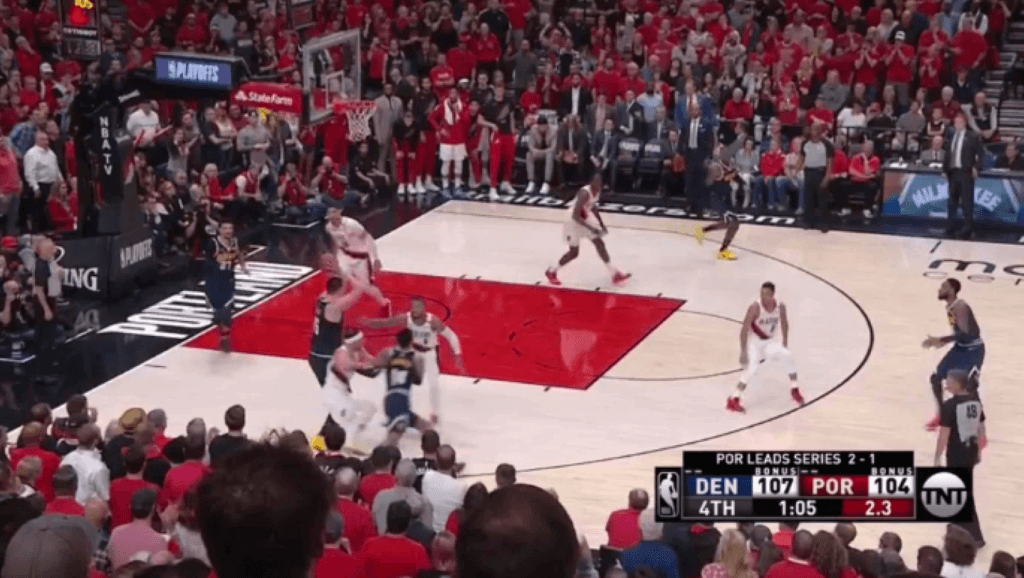 Here's why that matters: Jokic was able to pivot forward, getting a look at the basket without drawing an offensive foul from Lillard. And as that happened, Kanter — the rim protector trailing Murray on the switch — had to come up to contest on Jokic.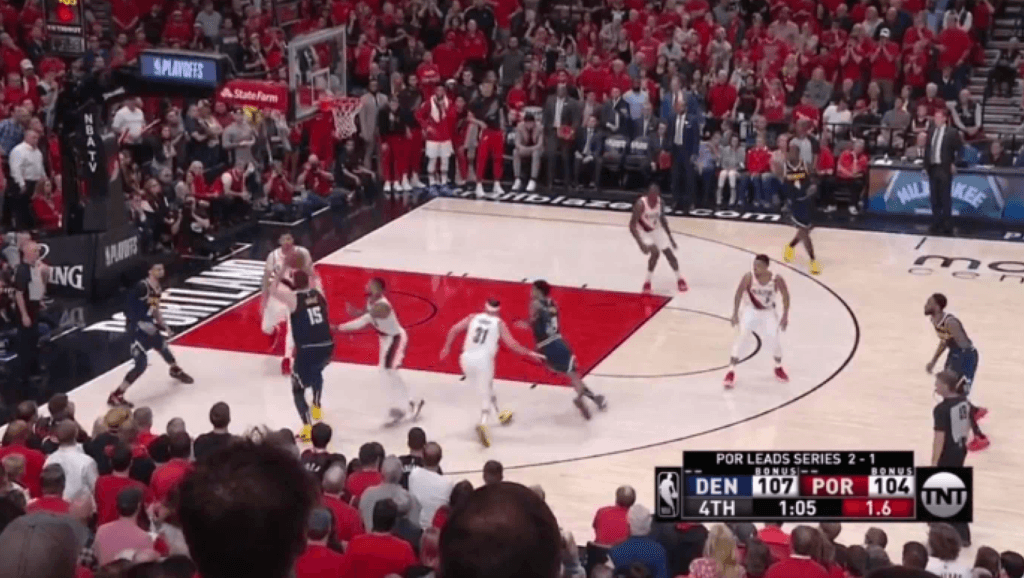 Now Harris is getting distance from Curry, who is trying desperately to catch. But Curry, in for offense for Portland with a chance to tie with a 3, is one of the few guards in this series smaller than Harris (6-4). So Jokic just has to get it over a smaller defender.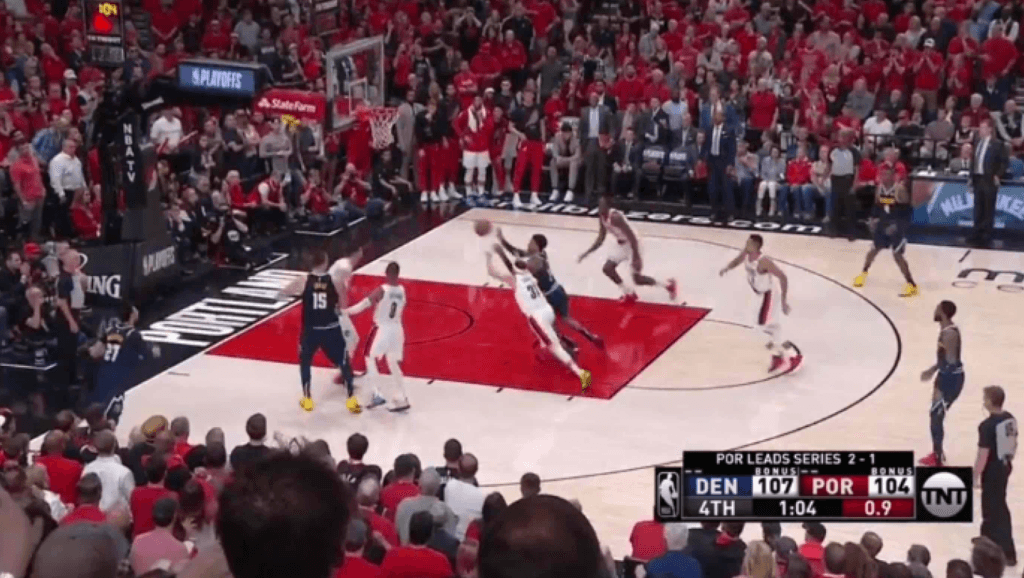 Curry almost gets there, but the pass is too good. Harris scores. And-one.
The full play:
This wasn't some carefully designed sequence. It was two players who have history, who came up in this league together from the start, who have built this new foundation, making a key play in a key situation. It was Jokic — the best passing big man, maybe in the history of the game — making an off-the-fly read to his teammate with an advantage.
After the game, as Jokic playfully mocked the media for their overuse of "resiliency" in questions ("Did you all just learn that word today?") and sprayed Harris with deodorant during his scrum, Harris outlined how it came together.
"This man, over here," Harris said, rolling his eyes toward Jokic, "he made a great play. I was just moving and I could see when he looks at the rim, he wants me to go. I don't want to make him mad, so I cut."
You can see Harris checking Jokic's eyes here. Not a crazy surprising thing, but just for reference.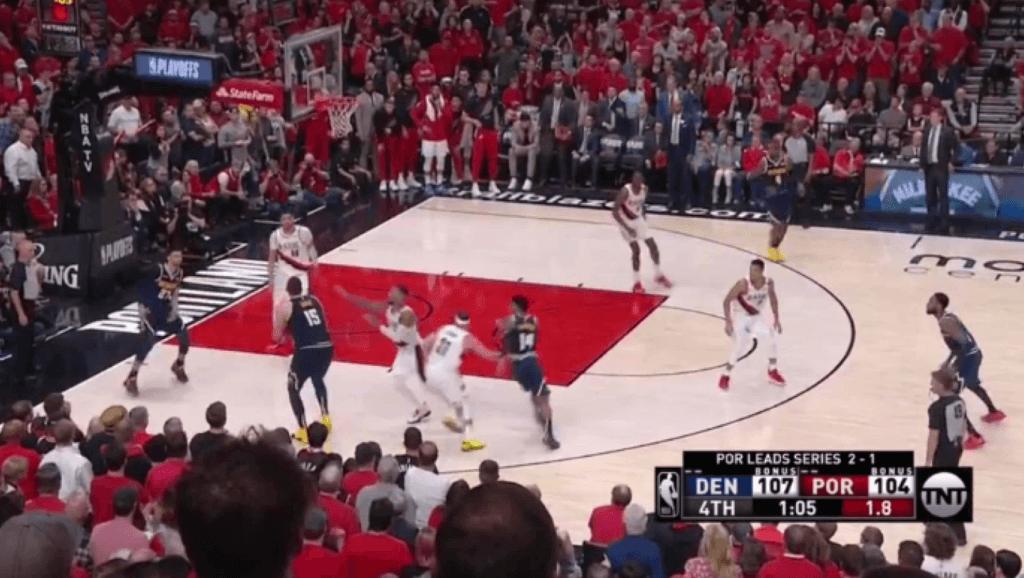 Later at the podium, Jokic laid it out in simple terms, even basically saying he found Harris a little late on the pass, because Jokic is sometimes a perfectionist about the weirdest things.
"We were using the clock, and I had Dame on myself and … Curry on him? I faked the hand-off, tried to shoot, saw Gary cutting, because he always (does) that, and I just found him late," Jokic said.
That was a huge sequence to get it to six points — a deficit that not even the Blazers could overcome, though they would get close. If Murray hadn't gone a perfect 6-for-6 late, if CJ McCollum's step-back didn't have a foot on the line, if a few more things broke their way, the Blazers would've headed to Denver up 3-1 and the whole series would feel different.
This has been a brilliant series with brilliant, fun teams playing at a high level,  battling against adversity at every turn. That key sequence in Game 4 represented another step for Jokic and these young Nuggets in their emergence.
How good is Nikola Jokic? Just look at the above play.
It's pretty obvious.
How would you rate this article?