An Early Look at the 2018-19 NBA ROY Race: Deandre Ayton, Luka Doncic Are Rightful Favorites
Credit:
Photos from USAToday Sports. Pictured: Luka Doncic, Deandre Ayton, and Trae Young.
To look at ROY futures values, I looked at which metrics have historically best predicted the ROY race.
Using those metrics, we look at who stands out the most among the big names -- Luka Doncic, Deandre Ayton, Trae Young.
On Wednesday, I wrote about developing an MVP model that I'll be updating weekly throughout the year.
I also built a Rookie of the Year one, so let's go through what metrics have historically predicted the race and who has gotten out to an early lead.
Which Metrics Historically Predict ROY?
First, let's talk about what doesn't matter in the ROY race. Unlike MVP voting, in which voters heavily weigh team performance — Russell Westbrook was a bit of an outlier winning as the West's No. 6 seed in 2016-17 — wins and losses are essentially meaningless for ROY award.
In fact, there's a negative correlation between team win rate and ROY voting, which makes sense because ROY winners are typically playing for bad teams that just picked high in the draft the previous summer.
The ROY race is actually fairly easy to handicap. I first read about the predictability of using a player's combined points per game, rebounds per game and assists per game from ESPN's Kevin Pelton years ago, and man is it predictive.
The leader in that category has won the ROY in a ridiculous 15 of the last 18 races. Obviously that's the biggest chunk of the model, and honestly a model doesn't need much more than that. Simplicity is good and ensures you aren't overfitting.
Of some of the publicly available all-in-one metrics such as VORP, Win Shares, PER, etc. the former had the strongest predictive power going back to the 2000-01 season, although they were all fairly close.
And finally, minutes played was the second-most predictable variable outside of combined points, rebounds and assists. Again, you can build a pretty simple model and nail the ROY most seasons, which is good for, ya know, betting on the race.
Anyway, here's how the candidates stand as of Nov. 1. Each is rated on a 0-10 ROY candidacy scale. I'll give some quick thoughts below and then update each week.
2018-19 ROY Ratings
Notes
As you might expect, Dallas Mavericks guard Luka Doncic and Phoenix Suns center Deandre Ayton are neck and neck to begin the season, with guys such as Trae Young, Wendell Carter, Marvin Bagley and Shai Gilgeous-Alexander together in a tier below them.
Doncic has the slight edge over Ayton currently because he leads the rookie crop in combined points, assists and rebounds, plus he has played nearly 60 more minutes than any other rookie. For now, the former EuroLeague MVP looks like he's the frontrunner to win another award this season.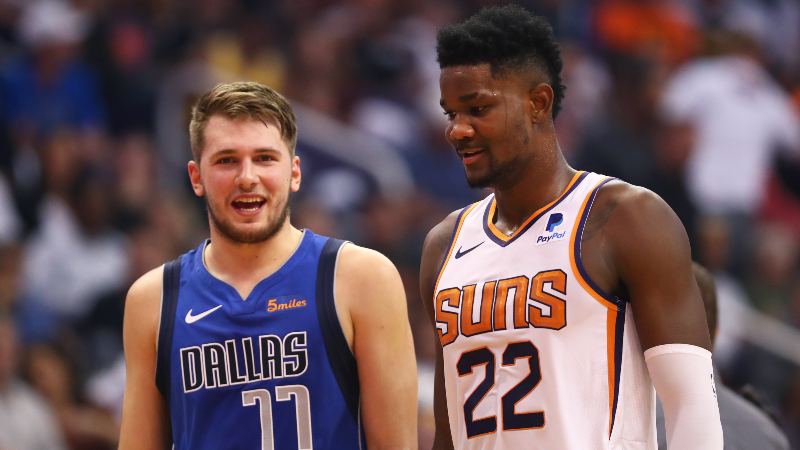 Of the guys in the next tier who could move up, I'd put my money on Atlanta's Trae Young. He's averaging 19.1 points, 6.6 assists and 2.9 rebounds per game on the season — nearly in line with Doncic's and Ayton's strong starts — and is second in total minutes so far.
The issue is that he's behind the two in the all-in-one metrics, and his considerations will suffer playing for (potentially) the worst team in the league. (Interestingly, Ayton hasn't gotten the same hit despite Phoenix looking similarly terrible.)
But all in all, this looks like a two-man race (maybe three, depending on Trae's advanced metrics profile) in what seems to be an exciting and loaded rookie class.
How would you rate this article?
This site contains commercial content. We may be compensated for the links provided on this page. The content on this page is for informational purposes only. Action Network makes no representation or warranty as to the accuracy of the information given or the outcome of any game or event.