Moore: Examining Russell Westbrook's Trade Fit With All Other 29 NBA Teams
Credit:
Jesse Johnson-USA TODAY Sports. Pictured: Oklahoma City Thunder guard Russell Westbrook (0).
The Oklahoma City Thunder shocked the NBA world by trading 2019 MVP candidate Paul George to the Clippers.
Matt Moore analyzes where Russell Westbrook would fit in with every other team in a potential trade.
The shockwaves of Friday night's transformational moves that saw Kawhi Leonard sign with the Clippers as LA also traded for Paul George will be felt for months. It's still surreal in the aftermath and a new NBA World Order has been established.
But the quakes aren't done (literally, as folks at Vegas Summer League found out) and the next one looks to ripple again through Oklahoma City.
ESPN's Adrian Wojnarowski reported Saturday that the Thunder have begun conversations with Russell Westbrook about a potential trade of the franchise cornerstone:
Oklahoma City All-Star guard Russell Westbrook and his agent, Thad Foucher, are engaged with Thunder general manager Sam Presti about the next steps of Westbrook's career, including the possibility of a trade before the start of next season, league sources told ESPN.

The two sides have 11 years of history together, and both understand that the time has likely come to explore trade possibilities for Westbrook, league sources said.
So, that's a thing, and it's a complicated one. ESPN's Royce Young (who contributed to Wojnarowski's report) also said on the Hoop Collective podcast that the team was likely looking at trading Westbrook. The Athletic echoed that as well:
The Thunder have lots of options. You can run it back again with Westbrook, Gallinari,Adams, etc. and see what that looks like. You can try to flip assets into something else to complement Westbrook. Or you can trade Westbrook and hit reset. I expect OKC to evaluate it all.

— Brett Dawson (@BDawsonWrites) July 6, 2019
This is going to be tough. Bear in mind that since Kevin Durant left, the Thunder have built their entire existence around Westbrook. OKC's front office believes that your team takes the shape of your franchise star, and so everything has taken Westbrook's form through the years.
The Thunder did what you're supposed to do when you lose a player like Kevin Durant: they buckled down, waited a year, swung for a star, convinced him to stay. And now none of it matters and they're facing their first real, true rebuild in one of the toughest markets in the league.
Westbrook is owed almost $170 million over the next four years, with his deal expiring at age 34. This for a militantly aggressively, ball-dominant, athleticism-reliant point guard with multiple knee surgeries in his past. It's a tough sell, but not every franchise gets to be choosers.
So let's take a look, team by team, whether a trade for Russell Westbrook makes sense for those teams and what a deal might look like.
Atlanta Hawks
Nope. Young team, not on Russ' timeline, not ready to compete around him, and they don't have matching contracts to begin with. You'd be mortgaging one of the most fun young cores in the league with ultra flexibility just to have Russ. The anti-Travis-Schlenk move.
Boston Celtics
You'd rather have Kemba Walker at his number than Russ at his number. Walker and the young kids' timelines are already at odds, this would make even less sense, taking the ball out of Brown and Tatum's hands without anyone to really run pick-and-roll. Not unless things got really desperate this year.
Brooklyn Nets
Nope, just got Kyrie and KD.
Charlotte Hornets
This would make a lot of sense for the Hornets, but they don't really have the assets to pull this off. They have a ton of expiring contracts, but if you're losing Russell Westbrook and Paul George in a single summer, you don't want cap space because you're not signing any stars to play in Oklahoma City anyway.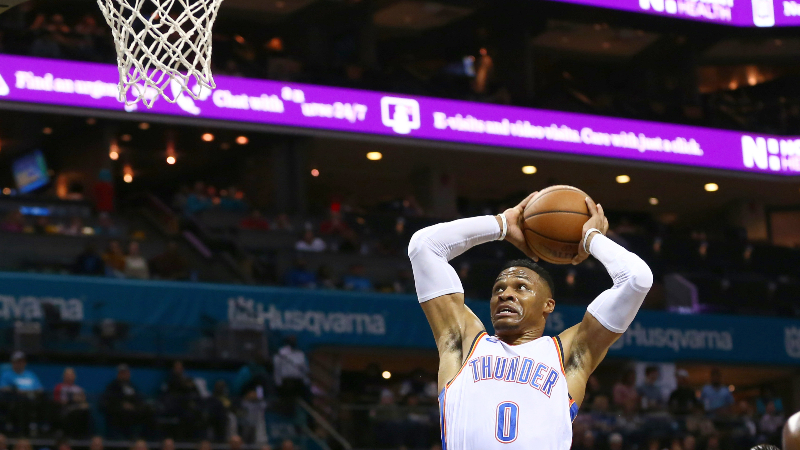 The Hornets have some young talent but no real potential stars. They have picks, but it would take so many; this might be a move that Michael Jordan goes for, with Westbrook as the main face of Jordan Brand.
It's dangerous, though. If the Hornets could pawn off the various expiring deals for pieces OKC wants, there might be something there.
Chicago Bulls
The first one that really intrigues me. The Bulls need something to rapidly accelerate, and they hate slow, patient rebuilds.
Sure, they have all this good young talent, but what if they got Westbrook instead? Trying to not pay the luxury tax with a $40-million-plus Westbrook on the roster seems like a very Reinsdorf-family move.
Here's what they can throw out there.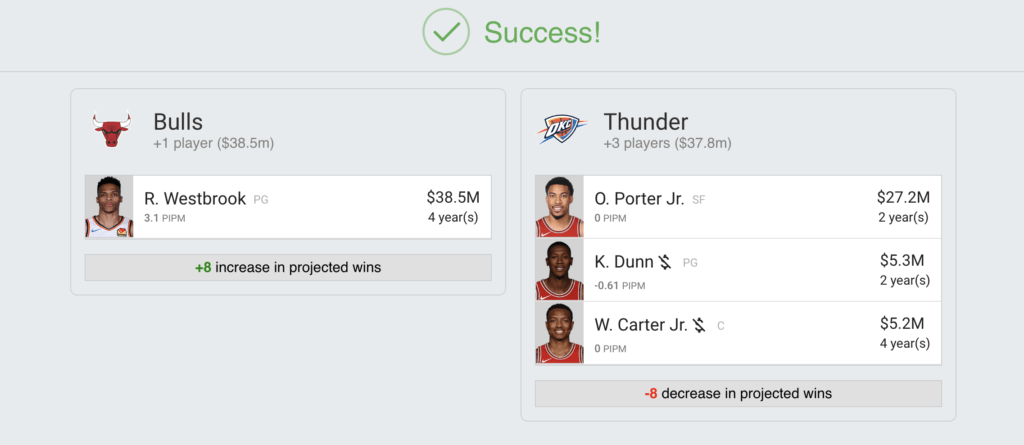 Toss in a pick or two, not nearly as many other teams would have to, and you have a pretty good package. Porter is expiring so the Thunder can flip him at the deadline. Dunn's worth a look as a possible project, and Carter is a stud who can't get healthy. Cap relief, young prospects, picks. The package you'd want.
There's a lot of talk about Zach LaVine as a potential centerpiece, but that makes less sense. If Presti is starting over, he's starting over from scratch without being tied to a high-volume shooter coming off ACL surgery a year ago. LaVine is really good offensively but he's also apocalyptic-level-bad defensively and the numbers show that.
Chicago should absolutely not do this deal, but it does seem very much like the kind of job-saving and ticket-selling Hail Mary they would go for.
Cleveland Cavaliers
The Kevin Love connection isn't bad. And they do have Darius Garland and Colin Sexton, but you have to talk yourself into those players. They could send Tristan Thompson and J.R. Smith's expiring contracts along with the kids, but then it's Love, Westbrook, Cedi Osman, and … Larry Nance Jr.? Kevin Porter Jr.?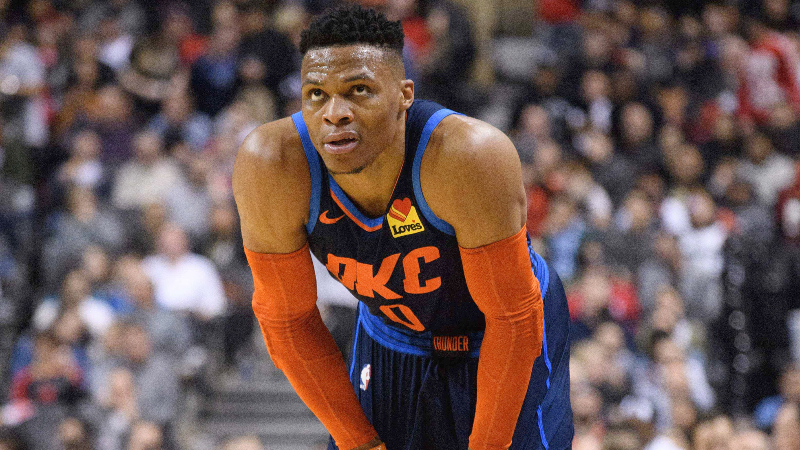 This falls into the category of a move so bad that not even Dan Gilbert would go for it. Koby Altman's been pretty patient and discerning in his approach, this doesn't seem like what he'd want.
The reverse is more interesting to me, the idea of sending Steven Adams and some combinations of the 11,000 picks the Thunder got in the Paul George trade for Love. That keeps the Thunder competitive, even if it's mostly just delaying the inevitable.
Dallas Mavericks
I can see it if I squint. The Mavericks have just swung out on so many big names and if you have a chance to get a guy like Westbrook, you do. Westbrook-Doncic-Porzingis. That's super dangerous with two guys with major injury concerns. It's also super dangerous with Doncic needing the ball. And it's even more dangerous with Porzingis' extension factored in along with Westbrook's contract eating up their cap space.
But they'd win a lot of games with sheer talent. You risk messing with Doncic's development, but at some level you have to take the star talent you can get and figure it out from there.
They can move Tim Hardaway Jr. who will be an expiring in 2020-21 if he picks up his player option, or an expiring this year if he doesn't, Lee who is expiring, and Brunson who is a sneaky good young prospect. They'd have to surrender more picks down the line which is dangerous, but again, at some level beggars can't be choosers.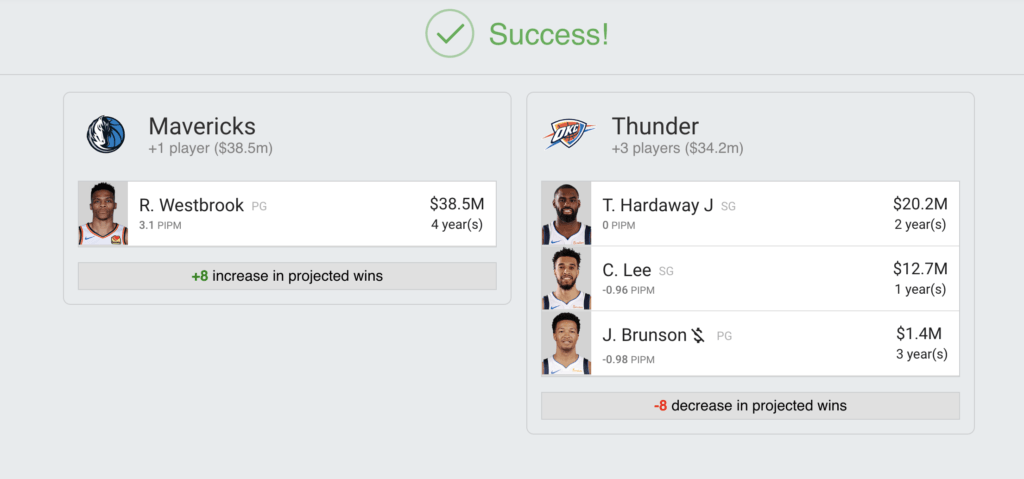 This doesn't feel at all like something Dallas wants, but I can talk myself into it if I'm them.
Denver Nuggets
It's not totally nuts. The Nuggets are all in on their young core and would probably prefer Jamal Murray even on his max extension to Westbrook. But Westbrook is an upgrade.
The Thunder would get a young potential star in Murray along with Paul Millsap's expiring contract, Malik Beasley and a first-round pick. That's probably not enough value for the Thunder, but it's the kind of deal that would make it tough on Denver given that they would know they'd get back better value.
But it messes with so much of what they've prided themselves on, from a selfless locker room to building around Nikola Jokic who needs the ball, to paying big money. On the other hand, like Dallas, Denver has swung out on getting serious consideration from star free agents. If you can get one to try and shoot the gap do you take that chance?
Probably not, Denver has to feel like they have a real shot to win the title right now. That may change, but they like where they are right now.
Detroit Pistons
If they had … literally anything to offer, this would make sense. Their young guys just aren't quite good enough.
Brown's got real upside, Kennard is sneaky good. Jackson is expiring, but man, does OKC want him back even for a year? Snell has a player option but would be a veteran wing shooter on an expiring reasonable deal in 2020-21.
That plus multiple picks? Is that too much for Westbrook? It's not enough without them.
The Pistons would have Westbrook, Blake Griffin, and Andre Drummond together. That's enough to be a No. 2 seed in the East with a chance at the Finals. Drummond comes off the books in 2021, and the Pistons would be able to generate a serious chunk of cap space to add a third star if Drummond doesn't live up to what they need.
Look, this is honestly probably a better path than watching Griffin slowly disintegrate over the course of the season due to wear and tear, but it's whether OKC thinks those assets are enough.
Golden State Warriors
Ha, no, thanks, just for the sake of my brain not exploding, but also they don't have what it takes to make an offer.
Houston Rockets
As flat-out hilarious as it would be seeing Rockets fans try and come to grip with this after all the nasty things they've thrown at Westbrook, it would just mean taking back Chris Paul's contract, which might be more prohibitive than Westbrook's, or trying to fit Westbrook, Paul, and Harden into a team structure, and no. This is Harden's team, and he'd never go for it, either.
Indiana Pacers
Can't afford the luxury tax, don't have the contracts to match, don't have the young talent to offer unless they send Oladipo and Sabonis back, which they wouldn't. The Pacers are good on this one.
LA Clippers
For so, so many reasons, no.
LA Lakers
They literally would be pulling guys off the street to fill in the roster, even if they sent out all the guys they signed this summer, which they can't do for several months anyway.  Don't get me wrong, Westbrook with an aging LeBron and Davis seems like just the kind of thing the Lakers want, but there's just no way to make it happen.
Memphis Grizzlies
Same deal as the Hawks. Doesn't fit the timeline, ruins their flexibility, he'd be unhappy, it doesn't work or make sense and isn't in line with the franchise priorities right now.
Miami Heat
Everyone's favorite target. The Heat never want to rebuild. The Heat have no other way to contention. The Heat have Jimmy Butler. The Heat have the kind of culture that Westbrook would fit well with. It's a good match.
Let's get this out the way: Heat fans are going to want to keep Bam Adebayo and I don't see any way the deal happens without him. If they had their picks? Sure. But the first draft pick the Thunder can get from the Heat is in 2025 thanks to having already sent out their 2021 and 2023 picks.
They could maybe trade some of the other pieces for picks (say in a three-way sending Dragic somewhere else as they tried to pull off in early free agency), but that seems dicey. This framework, if they can add the picks, however, does work: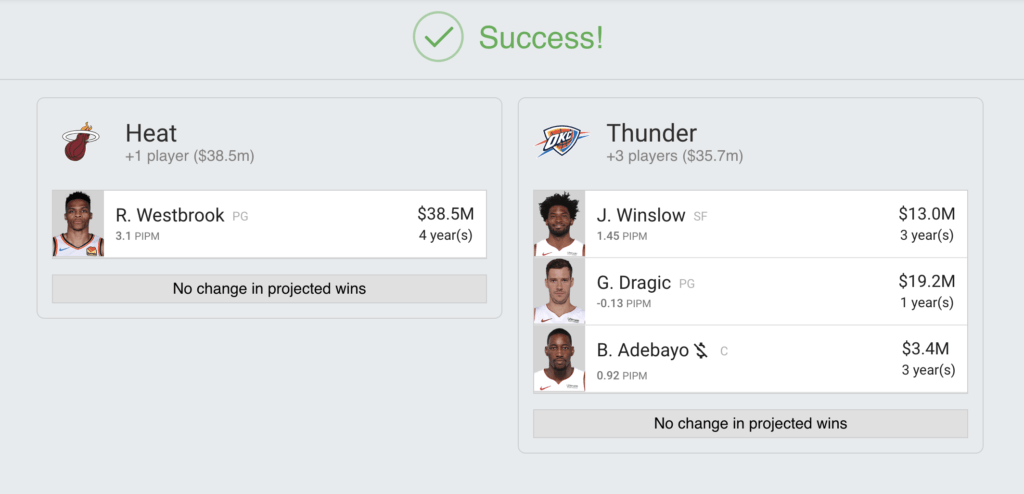 The Thunder get good talented young guys to go with their rebuild, the Heat get a star to try and make a run with Butler and Westbrook. This will be the most discussed team on the list because of mutual interest.
Milwaukee Bucks
If this dragged on and on into the fall, maybe it would get kicked around. But Bucks ownership just let Malcolm Brogdon, who is very good and very young and more affordable walk because of luxury tax concerns and this would shred the Bucks' depth and they'd have to send Eric Bledsoe to OKC when Presti would not want him.
This does not make much sense for either side.
Minnesota Timberwolves
I just don't think the Thunder are ever going to want Andrew Wiggins and there's no way to make this make sense without them moving Wiggins. Westbrook may be old and have bad knees and surly and making $40 million dollars a year but at least he's not Andrew Wiggins.
Towns and Westbrook would probably mesh well, but it's just not doable.
New Orleans Pelicans
I think they're good, thanks.
New York Knicks
The most Knicks move to ever Knicks. They don't have the contracts to make this feasible until the winter, and even then, OKC's not going to want any of their assets. They would have to surrender all their draft assets and for as many mistakes as the Knicks make, that hasn't been one they've been willing to.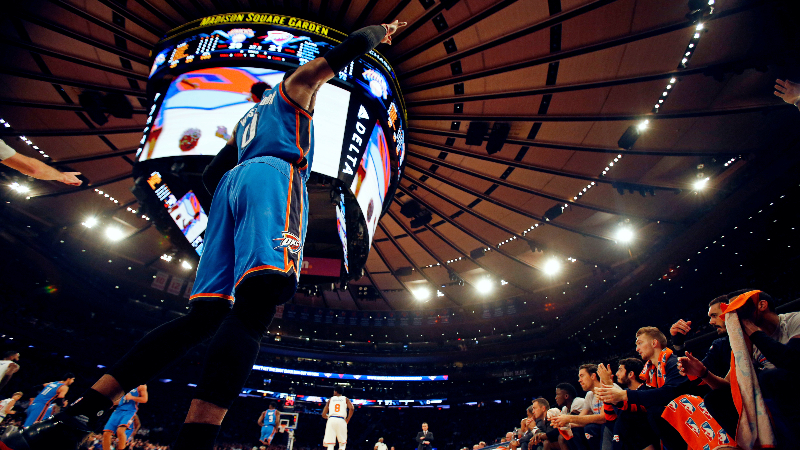 This still could happen because it's the Knicks, but even seeing a remote package is hard to do.
Orlando Magic
Another popular topic, but the Magic are smart enough with John Hammond in charge to know that they don't want to add a 30-year-old $40 million player who doesn't want to be there and Westbrook would not want to be there. They're just not good enough and he'd tear the locker room apart with his bare hands.
Philadelphia Sixers
Westbrook and Embiid? Nah. No way.
Also, they'd have to deal Tobias Harris in any iteration of this trade for cap purposes, or Al Horford and the Thunder wouldn't want Harris and the Sixers wouldn't want to deal Horford. This is just a no-way.
Phoenix Suns
Well, they've wanted a point guard. This would be horrible for all involved. The Suns need to not disrupt their rebuild with a move like this and Westbrook would be wasting the end of his career in Phoenix.
Sure, there's probably some sort of structure you could find here, but Westbrook would be bad for the Suns and the Suns would be bad for Westbrook. This should not be it. But it's possible, because, well, the Suns might get desperate.
Portland Trail Blazers
"No, thanks, we're good."
Sacramento Kings
Look, the Kings have fancied themselves as big move-makers, but they have such a great core with Buddy Hield and D'Aaron Fox with Marvin Bagley. They just seem like they've outgrown the capacity to make this kind of mistake, and a small market team can't afford that kind of contract on the books and compete, anyway.
San Antonio Spurs
This one I like more than probably the Spurs do. The Spurs want to remain competitive, but they can't go anywhere serious when built around DeMar DeRozan and LaMarcus Aldridge.
Let's say they get to keep either Derrick White or Dejounte Murray along with Lonnie Walker. They can get DeMar DeRozan's expiring contract, one of the young guys, and Jakob Poeltl. The Spurs basically flip Kawhi Leonard for Westbrook.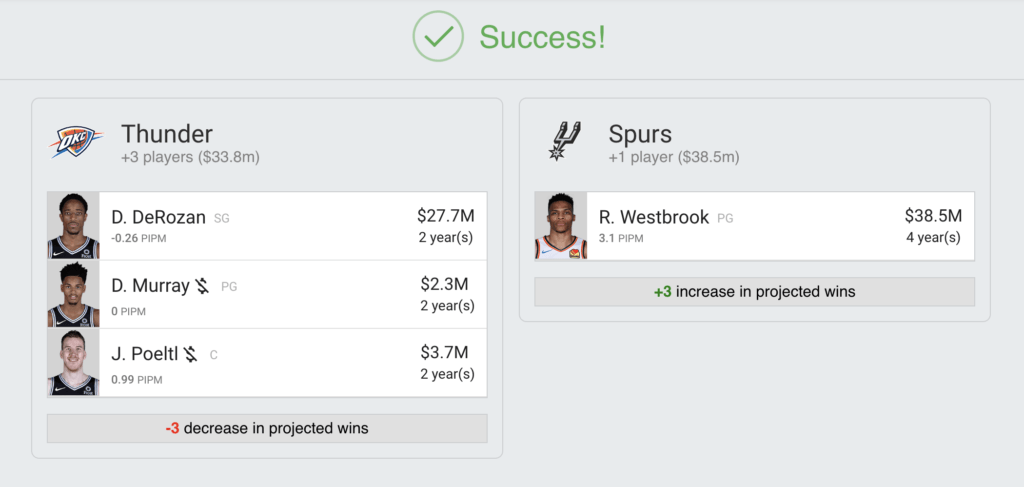 It's difficult to play Murray with Westbrook, and giving Murray means you likely retain most if not all of your draft pick stock. Murray is good enough to make this a no, but if you want to go for it, this makes sense. Then all you have to do is deal LaMarcus Aldridge for a big whose game didn't expire in 2010 and you have a pretty good window.
This would be a dramatically un-Spurs move, so I doubt it happens but it raises their ceiling.
Toronto Raptors
Under no circumstances can the Raptors disrupt Masai Ujiri's chance to do a rebuild as he's wanted to do for almost a decade across two teams.
Plus, they may or may not have had the chance to make this move and declined.
Plus they might as well just keep Kyle Lowry at a lower number if they want to go this route.
Plus, no.
Utah Jazz
Doesn't fit their culture, doesn't fit their spending limits, doesn't fit their roster, they just got Mike Conley, no's all around.
Washington Wizards
You can swap John Wall and Westbrook so no one wins … I guess.
There's not enough on roster to constitute a deal otherwise unless you trade Westbrook for Bradley Beal which I'm sure the Thunder would love but also, the Wizards would hate with the fire of a million suns.
There's no way for this to make sense. Now, if the Thunder decided to keep Westbrook? Then sure, packaging contracts and some of their picks to the Wizards for Beal makes sense, but the Wizards might find better offers. Either way, Westbrook's likely not being dealt there.
How would you rate this article?