Well, that was an interesting weekend of basketball. Based on their respective Game 1s, these two series look locked up. You can throw away the darned key, even.
BUT, as always, there are still major betting implications, regardless of how you think the series will end up. Here's what you need to know for the two Game 2s tonight between Miami and Philadelphia, and San Antonio and Golden State. — Mark Gallant
All info as of Monday morning. Check back during the day and keep an eye on our Twitter handle for any updates.
If there's a specific matchup you want to jump to, click the quick links below. For live spreads and bet percentages, check out this page. Follow the latest injury info on our industry-leading news feed. To get access to our premium betting tools, subscribe here.
---
GAME 2: MIAMI HEAT AT PHILADELPHIA 76ERS (-6.5) | O/U: 215.5
8 p.m. ET | TNT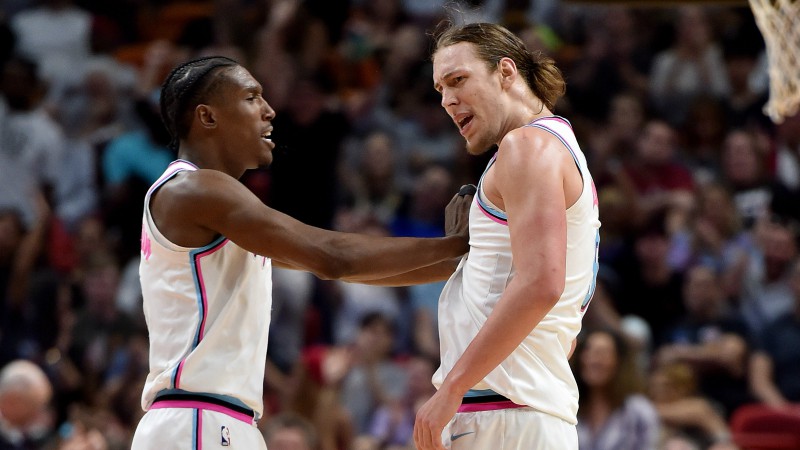 Steve Mitchell-USA TODAY Sports
What I'm watching for: Here's something shocking I found. The Sixers seemed like they were bombing from deep in Game 1. Marco Belinelli, Ersan Ilyasova, and Dario Saric combined to shoot 11-of-15 from deep, and that's before we get to J.J. Redick or Robert Covington.
Here's the thing, though: The Sixers actually shot fewer 3s than normal. Philly averaged 29.2 three-pointers per 100 possessions in the regular season. That number went way up after the All-Star break to 31.1 as their offense became more perimeter-centric without Joel Embiid. But for the season, Philly shot roughly the same amount with Embiid on the floor (27.0) as it did with Embiid on the bench (27.3).
In Game 1? They shot 27.5 per 100 possessions — just 28 in the game.
Why does this matter? Well, it's another signal that Game 1 was just that much of an outlier. Philly matched a season-high in made 3-pointers and exceeded its season-high in 3-point percentage by 12 percentage points. Saric, in particular, was launching. In the second half, the Sixers just took the resistance off the trigger completely.
START MY FREE TRIAL
model helps you find edges when betting moneylines and over/unders for the full game