Betting, DFS Angles for Jazz-Rockets: Same Story, Different Game?
Credit:
Jesse Johnson-USA TODAY Sports
The Highlights
The Jazz were noncompetitive in Game 1 coming off a taxing seven-game series against the Thunder, trailing 64-39 at halftime and failing to cover the 11.5-point spread.
Rudy Gobert is a rightful Defensive Player of the Year candidate, but his value is diminished against the offensive spacing of the Rockets' offense.
We're already seeing reverse line movement on the total in Game 2.
---
The first game of the series was smooth sailing for the Rockets, as they got off to a big early lead and were essentially never tested. Get ready for a lot of these tweets for the next week or so:
Can we just fast forward to Rockets-Warriors? Please and thank you.

— Mark Gunnels (@MarkAGunnels) April 29, 2018
What can Utah do to put up a fight? How can the Jazz cover a couple of spreads even if they are doomed to get swept? Here's what you need to know for Game 2 in Houston. — Mark Gallant
---
GAME 2: UTAH JAZZ AT HOUSTON ROCKETS (-11) | O/U: 205
8 p.m. ET | TNT
Gobert's Value Is Diminished Against Houston
By Bryan Mears
Rudy Gobert is one of the three best defensive players in the world. Thus, he's incredibly important in almost any setting: In the regular season this year, the Utah Jazz were 9.7 points per 100 possessions better with him on the floor versus off, which is in the 92nd percentile of all players. The Jazz's defense is 8.8 points/100 better with him out there. In the playoffs, when games turn into half-court battles, he's a guy you want on your team, manning the middle of the lane and deterring dribble penetration and shots at the rim.
Unfortunately, and this is likely an instructive point for all one-way centers in the 2018 NBA, his value is just quite diminished against a team like Houston. It was only a single game, but in Game 1 on Sunday, Gobert posted a -15.3 net rating; the Jazz were outscored by 13 points with him on the floor. I get it: The Jazz were coming off a tough seven-game series, and Gobert looked gassed. But the marks were similar in the regular season. Mostly everyone for Utah was a net negative against Houston, and Gobert was no exception, posting a -10.6 net rating across three meetings against them.
Gobert will have moments to put his stamp on this series, but look to last game's data as an example of how his effect is muted: The Rockets took just 30% of their shots from the rim. That's good for the Jazz in theory, but it also means a lot more from behind the 3-point line. The Rockets largely avoided the midrange as usual, taking just 22.2% of their shots there, and instead they shot a 3 on 37% of their possessions. They hit a ridiculous 51.6% of them. James Harden was especially cooking, dropping 41 total points on 7-of-12 shooting behind the arc.
Houston is the most 3-point-happy team in the history of the NBA. Their 3,470 3-pointers in the regular season this year broke their own record from a season ago for most attempts ever. In a different era, Gobert's defense would be series-changing; the Jazz would possibly even be Western Conference finals contenders. But in 2018, given the offensive advances thanks to Moreyball, centers just don't make the impact they used to. The Rockets will have no problems avoiding the rim and Gobert in this series, and instead spacing out around the perimeter and playing the 3-point volume game.
---
Long-Term Trends Favor Jazz Covering in Game 2

By Evan Abrams
The Jazz shot 38-of-76 from the field in their Game 1 loss to the Rockets — exactly 50%. Since 2006, when a team has shot at least 50% from the field in a straight-up and against-the-spread loss and then subsequently faced a team with a win rate of 70% or higher, they've gone 82-51 ATS (61.7%) in the regular season, covering by 2.8 PPG for a profit of 26.3 units. In that same span in the postseason, only four teams have been in this spot: They've gone 0-4 SU and ATS, failing to cover by 13.3 PPG.
---
What Locky Is Betting
By Ken Barkley
The Jazz were almost responsible for the biggest moose of the playoffs, coming back from the dead to have multiple chances to cover in the final two minutes before finally losing by 14 (phew, for those of us with Houston tickets).
After the spread closed at Houston -11.5 in most places Sunday, the spread for this game is sitting at a very similar -11, and I am inclined to go back to the well on the Rockets, who aren't getting any type of unanimous support in the market. Sometimes, it's just a really, really bad matchup. The Jazz continue to show no ability to slow down Harden or the Rockets' offense, and with Ricky Rubio out, generating their own offense is more problematic. None of that can really change, no matter how good Quin Snyder is at game-to-game adjustments. Again, this was 64-39 in favor of Houston at halftime Sunday. Noncompetitive. Throw in that Donovan Mitchell may have a minor ankle injury, and I think we just run back a lot of the themes from Game 1.
Utah didn't do anything statistically that was an outlier — in fact, the Jazz shot better than Houston from the field in Game 1 — where you'd expect some kind of regression, like, say, Philly's 3-point shooting going forward. The Jazz were a sub-.500 road team during the regular season, getting clobbered in Houston on multiple occasions. When you've seen the same thing over and over again, why expect anything different here? Houston -11 for me.
---
Jae Crowder Is a Great DFS Tournament Play
By Chris Raybon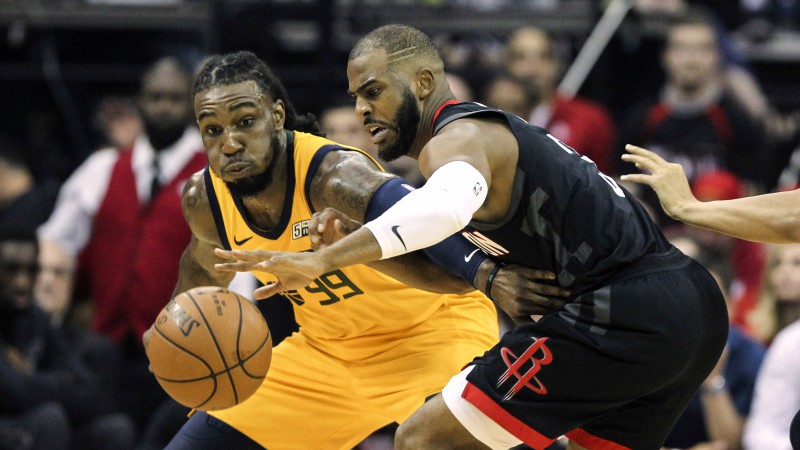 Troy Taormina-USA TODAY Sports
Jae Crowder has stepped it up lately. After averaging 6.0 points, 3.3 rebounds and 1.8 assists in 24.4 minutes per game through the first four games of the playoffs, he's averaged 17.7 points, 5.7 rebounds and 5.0 assists in 33.3 minutes per game over the past three. Utah will need to keep a small-ball 4 like Crowder on the court more often than not as it attempts to contain Houston's high-powered offense, so look for him to continue getting 30-plus minutes a night.
He should be able to maintain that level of production as well, especially if Rubio continues to miss time. Over the regular season and playoffs, Crowder's usage rate was 18.1% with Rubio on the floor but 21.8% with him off. Crowder's assist rate also went from 8.6% to 9.6% with Rubio on vs. off. Crowder has been trending up in DFS, averaging a +3.59 Plus/Minus and 70% Consistency on DraftKings over his past 10 games, and he's averaging 10% more DraftKings points per minute this season with Rubio off the floor.
Build your own NBA Models at FantasyLabs and view our projections for all players in this game.
---
Pay Attention to Reverse Line Movement on the Total
By John Ewing
The Game 2 total opened at 206 and has been bet down to 204.5 despite 76% of bets and 82% of dollars on the over. Since 2016 (when we began tracking percentage of dollars wagered), when less than 40% of tickets and dollars are on the under but the total decreases, under bettors have gone 269-211-4 (56%), including 31-18 (63%) in the playoffs.
Pictured above: James Harden
How would you rate this article?