Betting, DFS Angles for Warriors-Pelicans: Steph Curry Is Back
Credit:
Kyle Terada-USA TODAY Sports
Well, the Warriors made sure to shut up any doubters (if there were any) and snuff out any momentum New Orleans may have had after its sweep. Now, some fella named Steph Curry is supposed to play.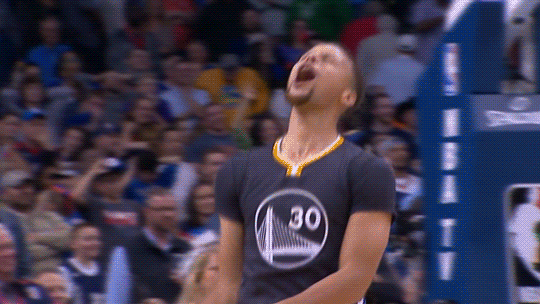 Not good for the Pels, not good. Maybe they won't win, but what can New Orleans do to keep this a close game and cover? 
— Mark Gallant
---
GAME 2: NEW ORLEANS PELICANS AT GOLDEN STATE WARRIORS (-10.5) | O/U: 226.5
10:30 p.m. ET | TNT
Steph Changes Everything
By Bryan Mears
How good do you have to be to have a former MVP plus two other top-15 NBA players in the starting five and still have your team be 13.0 points per 100 possessions worse when you're off the floor? That's the case with Stephen Curry, who statistically is still one of the most valuable players in the world. When he's on the floor, the Warriors are a ridiculous 15.1 points/100 better offensively this season; that's in the 99th percentile of all players this season. The Dubs increase their effective field-goal percentage by 6.8% and their 3-point frequency by 8.8%. The Warriors probably don't even need him in this series, but they're wise to go ahead and re-acclimate him given how much he'll be needed in a likely Western Conference finals against Houston.
The thing I always target with Curry in and out of games is where the total opens and closes. No player has more of an impact on his team's pace than Curry: When he's been on the floor this season, the Dubs have played at a pace of 101.8 possessions per 48 minutes; that's right at their top-five mark on the season. When he's been off, they've played at 95.5/48, which would be the slowest pace in the league by nearly 2.0/48. The total opened at 226.5, which is three points over Game 1's mark. Is that enough of an adjustment, especially after the Curry-less version put up 123?
---
Cut to Ribbons
By Matt Moore
Look, I don't usually fall over myself praising the Warriors; there's enough of that on ye old interwebs. But my God, that team absolutely dissected New Orleans in Game 1 and it wasn't even fair. The Warriors, more than any other team, use the threat of what their players can do to punish you for overreacting to those threats.
The Warriors racked up 25 points on 16 cut possessions in Game 1, an absurd amount for a playoff game, where getting cut points is difficult. They have 97 points on 74 cut plays this postseason, via Synergy Sports, 20 more than New Orleans, who is No. 2  and had 14 of its own in Game 1.
But watch what happens when the Pelicans try to both help out and make sure Klay Thompson can't get open off the screen for a 3-pointer. They both jump out, and whether that's a miscommunication or intentional, immediately Andre Iguodala is slipping to open space, and Anthony Davis isn't pressuring the ball enough to deter it.
Same deal. Two defenders are chasing Thompson to try and prevent the 3, Draymond Green slips straight to the basket, and there's too much spacing on the weakside for anyone to help. Boom.
The Pelicans are going to have to apply more pressure to that topside trigger passer. The Warriors aren't going to isolate like the Blazers did. Their passing is also honestly phenomenal. The speed and accuracy on this pass to West, his ability to catch, all of it is integral to the play as much as the threat of Kevin Durant coming around the screen.
There are adjustments the Pelicans can make, of course. Better pressure on passers. Better switching off-ball, even if it's difficult in Oracle Arena (you can't hear anything), faster hands. But this kind of execution is just way above anyone else, and it's what makes the Warriors special.
Oh, and the best shooter in NBA history comes back in Game 2, as Bryan elucidated above. Imagine what that does to the perceived threats and what it opens up for Golden State when New Orleans reacts, or doesn't, to Curry's return.
---
Target the First-Half Spread for the Warriors
By Evan Abrams
In Game 1 of the series, the Warriors beat the Pelicans 74-55 in the first half at home. Golden State is 17-10-1 against the first-half spread at home against conference opponents in the playoffs under Steve Kerr. The Warriors have covered seven of their past nine first halves in this spot, by 2.8 points per half.
---
Should You Be Wary of the Double-Digit Spread?
By John Ewing
Golden State opened as a 10.5-point favorite in Game 2. Since the 2015 playoffs, 40 teams have been listed as double-digit favorites. The Warriors are 6-10 against the spread in this situation; the rest of the league is 15-9 ATS.
---
What Locky Is Betting
By Ken Barkley
Curry's return kind of makes this whole game a mystery. How much will he play? What effect does that have on the entire flow of the game? It's a lot of unknowns to put any real money behind. What I will say is that it's unlikely he can be completely effective off such a long layoff. The Pelicans took money in Game 1, opening as an 8-point dog and closing at +7; they destroyed everyone's spirits. Now with a completely unpredictable Curry return, the number is Warriors by 10.5 with a few 11s at public books, and Golden State not surprisingly is seeing heavier betting early on.
It seems like clear line value on New Orleans with everyone remembering the most recent game over all others. Curry's presence in the game as a total unknown makes this a pass for me, but I don't think he can be worth that much to the spread when you have no idea what version of him you get in Game 2. I lean New Orleans at 10.5 or greater.
---
Brow Needs to Win His Matchup to Even Have a Chance
By Matt LaMarca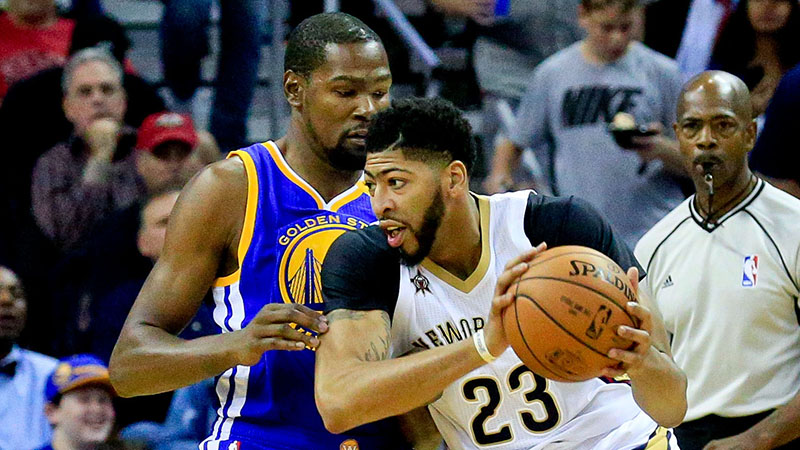 Derick E. Hingle-USA TODAY Sports
If the Pelicans are going to hang around in this series, they need to do a better job of getting Anthony Davis going. He was limited to just 47.0 FanDuel points in Game 1, scoring 21 points on just 9-of-20 shooting. Perhaps just as importantly, the Warriors limited him to a usage rate of just 28.8%, which is more than 4% lower than his season average with DeMarcus Cousins out of the lineup.
The defensive responsibility of guarding Davis fell primarily on two guys for the Warriors: Draymond Green and Kevon Looney. Green spent much of the regular season guarding AD when matched up against the Warriors, but Looney was a bit of a wild card. He was outstanding in that matchup, holding Davis to 25.3 points below his season average per 100 possessions and just 2-of-9 shooting from the field. The Warriors posted a ridiculous net rating of +64.4 with Looney on the court in Game 1, so it seems likely that Davis will see a lot of him in this series. How Brow adapts in that matchup could be a key factor for the fate of the Pelicans.
---
Spreading the Wealth = Covering the Spread
By Evan Abrams
The Warriors are coming off their third 30-plus assist game of the playoffs so far. Under Steve Kerr, the Dubs are 12-2 ATS in the playoffs the game after recording at least 30 assists in their previous match, covering by 8.5 PPG. They've covered seven straight in this spot.
Pictured above: Stephen Curry
How would you rate this article?