Five Things Bettors Should Know for Nuggets-76ers
It's a tight race in the Western Conference standings, and the Nuggets are having trouble sneaking into that 8-seed no matter what they do.
Teams like the Jazz get to go play in Golden State against the goon squad as a sizable favorite instead of a would-be big dog if the Warriors had been healthy. Meanwhile, Denver has to head into Philly to face a red-hot 76ers team. Talk about bad luck. Here are the five things you need to know about Nuggets at 76ers (-6). — Mark Gallant
1. The Nuggets Aren't Built to Contain Embiid
Can the Nuggets create any penetration at all? Without Gary Harris, they lose one of their best drive threats. It'll be up to Jamal Murray and Will Barton to not only get into the teeth of the Sixers' defense to force them to collapse, but to challenge Joel Embiid inside.
Meanwhile, Nikola Jokic may struggle getting the ball versus Embiid. With larger perimeter deterrents on the entry pass, the Nuggets could find it hard to get Jokic the ball, which in turn will create issues with running their sets and getting the big man involved.
Typically Denver would look to hide Jokic on the other big, but Paul Millsap can't reliably be tasked with containing Embiid on account of his size, even with how strong Millsap is. That means Jokic has to stop him without fouling. If Jokic picks up two early, the Nuggets' offense will go downhill in a hurry.
Finally, watch out for J.J. Redick. Without Harris, the Nuggets lack a perimeter defender to both track and go over screens. He could get looks all day.
Have I mentioned this is a really bad matchup for Denver? — Matt Moore
2. Philly's Starting Lineup Is Officially Elite
The Nuggets lost the first matchup between these squads this season at home, putting up only 99.0 points per 100 possessions and a miserable 43.5 percent effective field goal rate. The 76ers are just so darn good defensively this season, and their starting lineup is one of the best, most underrated units in the NBA. The combination of Ben Simmons-J.J. Redick-Robert Covington-Dario Saric-Joel Embiid has outscored opponents by a stupid 21.1 points/100, and that lineup has allowed just 95.2 points/100. The 76ers currently sit in the fourth seed and want to hold onto home court advantage in the first round, which means they won't have any issues playing that lineup heavy minutes. That's bad news for the Nuggets, especially without Harris.
3. The 76ers Are Crushing Without Shooting the Ball Well
The Sixers are hot. Really hot. Philadelphia has won six consecutive games straight-up and four consecutive against the spread. That's the first time the Sixers have accomplished that since January of 2012. #EmbraceTheProcess
The Sixers may be hot, but they've shot under 50 percent from the field over their last two wins (and covers). In the past two seasons, the Sixers are 57-36-1 ATS (61.3%) after shooting under 50 percent in back-to-back games, including going 12-3 ATS since December 30th this season, covering the spread by over 5 PPG. — Evan Abrams
4. Jamal Murray Is a DFS Play Without Harris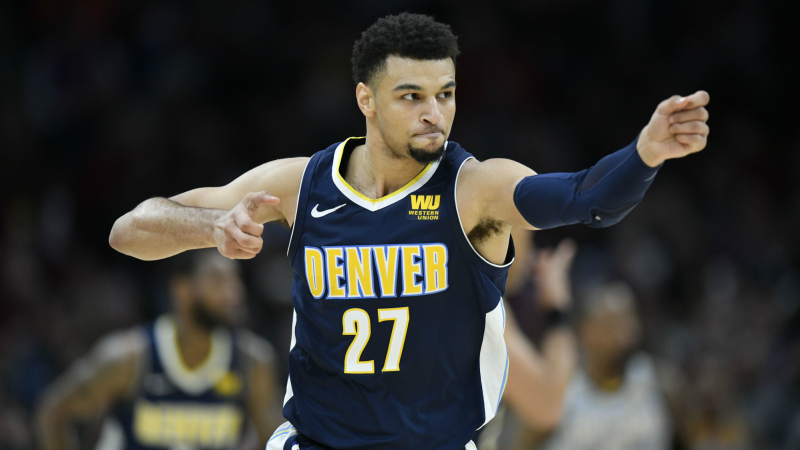 Gary Harris is going to miss at least the next two games for the Nuggets, which bodes well for the fantasy value of Jamal Murray. Murray has seen a team-high usage bump of three percent with Harris off the floor this season and has averaged a Plus/Minus of +6.1 on DraftKings in games with Harris out of the lineup. That includes scoring at least 38.25 DraftKings points in each of his past three games. The 76ers are a solid matchup for Murray, evidenced by his Opponent Plus/Minus of +2.91. — Matt LaMarca
5. You Can Trust the 76ers as Sizable Favorites
Philly opened as a four-point favorite. The 76ers have been the most-profitable team in the league this season as a favorite of more than three points, going 24-11 ATS; a $100 bettor would be up $1,168 wagering on the Sixers in this spot. — John Ewing
Photo credit: Bill Streicher-USA TODAY Sports