Sunday NBA Betting Guide: Can Utah Hang with Houston at Home?
Credit:
Russ Isabella-USA TODAY Sports
Twenty-one dimes. You can change that in for a $2 bill and still have one dime left over. Although Rajon Rondo can't shoot to save his life, "Playoff Rondo" can still find ways to make a difference. And if he can do it again today, we may have ourselves somewhat of a series, folks.
Meanwhile, the Rockets just took any hope the Jazz had and smashed it into a thousand little grains of salt. If the Jazz don't win Game 4 … they're cooked. Here's what we need to pay attention to for the two games out west today. — Mark Gallant
All info as of Sunday morning. Check back throughout the day and keep an eye on our Twitter handle for any updates.
For live spreads and bet percentages, check out this page. Follow the latest injury info on our industry-leading news feed. To get access to our premium betting tools, subscribe here.
---
GAME 4: GOLDEN STATE WARRIORS (-6) AT NEW ORLEANS PELICANS | O/U: 231.5
Golden State Leads 2-1
3:30 p.m. ET | ABC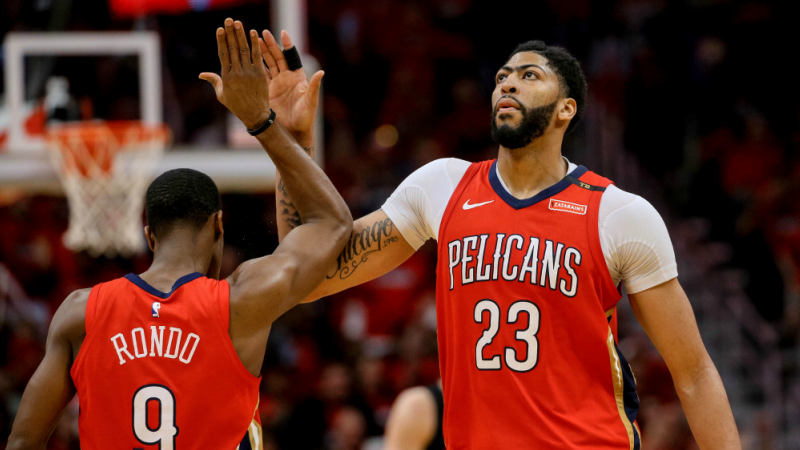 Derick E. Hingle-USA TODAY Sports
What the metrics say: The Warriors in Game 3 were very unlike themselves, scoring only 84.9 points per 100 possessions in the half court (per Cleaning the Glass) and posting an atrocious 42.9% effective field goal mark. So was that just fluky? Or can that happen again? The answer is a bit of both.
Take a look at how the Dubs shot on 3-pointers depending on how close the defender was to the shooter:
2-4 feet (tight): 1-for-12 (8.3%)
4-6 feet (open): 2-for-8 (25.0%)
6+ feet (wide open): 5-for-9 (55.6%)
On one hand, they were probably a bit unlucky on open shots, hitting just 25% of them. On the other hand, they took a ton of contested ones, and per Cleaning the Glass only two of their 31 three-pointers were the uber-efficient corner-3 variety. The Warriors are the Warriors, and Stephen Curry and Co. can go nuclear at any time, but the Pelicans defense does deserve credit here. — Bryan Mears
What Locky is betting: After winning on the under in Game 3, the total has stayed about the same (now 231.5) … do we dare go back to the well? First, I'd like to give a shout-out to the scrubs from each team that took a game on pace to match the closing total and through their atrocious play in the final three minutes allowed it to go under easily. Especially you, Quinn Cook. You're the best.
The market thinks Golden State is going to bounce back, and they're probably right in this case. It's definitely hard for the Warriors to play any worse than they did in Game 3.
This is a total pass for me the whole way, however: I think the numbers are right in line with what I have. With Golden State bound to play a little better offensively, the total is less appealing coming off Game 3 as well. Sorry folks, for the first time in this second round, I don't have even a lean. Maybe take today to re-up on Warriors to win the title at anything under -150 just to keep yourselves occupied. — Ken Barkley
Betting market: It looks like bettors, both the public and sharp variety, expect the Warriors to bounce back, which is not all that surprising. They're currently getting 64% of bets and 68% of dollars, and we've also tracked steam moves on them at -4.5 and -5.5. After opening at -4.5, they can be found at -6 at essentially every offshore book. — Mark Gallant
Trend No. 1 to know: The Warriors were 35-for-92 (38%) from the floor in their Game 3 loss to the Pelicans. That is just the third time in the playoffs under Steve Kerr that Golden State has made less than 40% of their shots. You'd expect them to bounce back in the next game, but in the previous two instances the team went 0-2 ATS, failing to cover by 7.5 points on average. — John Ewing
Trend No. 2 to know: The Warriors opened -4.5, and the line has since moved to -5.5. Under Kerr, the Dubs are 10-5 ATS on the road when the line moves in their direction. — John Ewing
Trend No. 3 to know: Sometimes it's good to confirm a theory. The Warriors have dropped two consecutive games against-the-spread entering Game 4 on the road against the Pelicans. Under Kerr, Golden State is 11-1 SU and 8-4 ATS coming off at least a two-game ATS losing streak, including 9-3 against the first-half spread in those 12 games as well. — Evan Abrams
Trend No. 4 to know: Sunday will be the seventh time the Warriors under Kerr will play a road game coming off a road loss in the playoffs. Golden State is 5-1 SU and ATS in those, covering the spread by 6.3 PPG. That said, they are just 2-4 against the first-half spread, losing their last four in that spot. — Evan Abrams
---
GAME 4: HOUSTON ROCKETS (-5.5) AT UTAH JAZZ | O/U: 209
Houston Leads 2-1
8 p.m. ET | TNT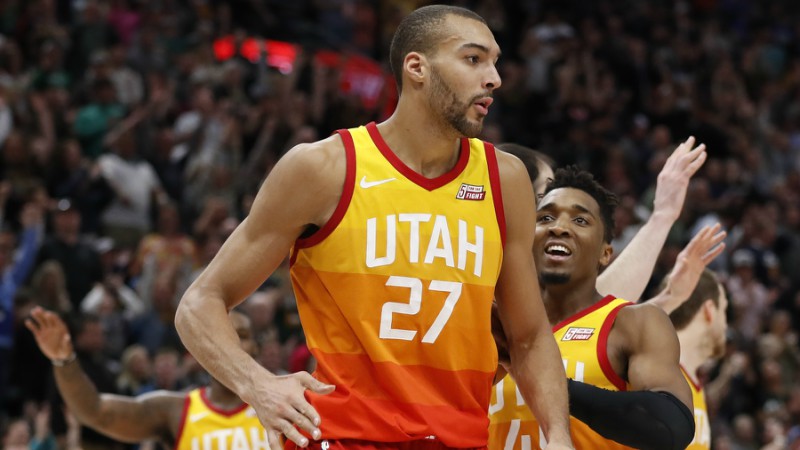 Jeffrey Swinger – USA TODAY Sports
What the metrics say: The Rockets were historically dominant in the regular season when James Harden and Chris Paul both started, and that's continued even into the second round of the playoffs. The main unit of Paul-Harden-Trevor Ariza-P.J. Tucker-Clint Capela has played 44 minutes together in Round 2, and in those the Rockets have scored 121.5 points per 100 possessions and allowed just 89.6/100 — good for an astounding +31.9 net. The Houston defense is an underrated storyline in these playoffs: Most people think of 3-pointers and Moreyball with the Rockets, but they finished the regular season ranked sixth in defensive efficiency. In the playoffs so far, Ariza, Tucker, Harden, and Paul have some of the best defensive efficiency marks in the league. When they're clicking offensively, they're mesmerizingly brutal. But the same can be true for their defensive ceiling, and they'll need to keep exercising that muscle this round before they get the Warriors in the WCF. — Bryan Mears
What Locky is betting: I've bet Houston every game of this series, and I'm pretty sure I've written about it in every single one of these preview guides. Well, after Friday night's demolition, at least we're 2-1 so far. And spoiler alert, I'm on them again here.
The really wild thing about Game 3 was that Houston's offense was uber-efficient despite the fact that Harden and Paul didn't have crazy outlier statistical performances. Harden basically came in near his averages (granted in only 30 minutes) but shot less than 50 percent from the field, and Paul actually struggled to find his shot for most of the game. The Rockets led 70-40 at halftime, by the way, despite those things. Eric Gordon picked up a lot of the slack, but that's sort of my point here. The reason Game 2 was so wild and bizarre was that it took a 10/10 offensive performance by Utah coupled with a disaster by Houston to even create a close game. Those things are unlikely to occur in tandem again.
The home crowd and feel of this game may give Utah some early energy — I wouldn't be surprised to see Donovan Mitchell come out very aggressive and the Jazz to hold an early lead. If you want to play Utah in the first half (see below for a couple trends on that) and then maybe get a better number on Houston for the game at halftime, that's an approach you can take here, too. But, in my opinion, the end result is the same: Houston is just way too much here. — Ken Barkley
Trend No. 1 to know: A majority of bets are on Houston -6, and an even larger percentage of spread dollars are backing the Rockets, per The Action Network live odds page. Since 2016, when we started tracking spread dollar percentages, when more money than tickets are on the favorite, the chalk has gone 76-40-1 (66%) ATS. — John Ewing
Trend No. 2 to know: The Rockets have turned the ball over just 15 total times over their past two games. Since the 2008 playoffs, teams that turned the ball over less than 10 times in consecutive games have gone just 26-45-1 (36.6%) against the first-half spread in the first and second rounds of the playoffs, losing bettors 20.2 units over that span. — Evan Abrams
Trend No. 3 to know: Since the 2013 playoffs, Rockets coach Mike D'Antoni has coached eight playoff games in which his team was coming off a game they allowed less than 100 points. His teams have gone just 1-6-1 against the first-half spread in their next game, including 1-4 on the road; they've been outscored by 3.6 points per half. — Evan Abrams
---
Top photo: Donovan Mitchell
How would you rate this article?