Thursday's NBA Playoffs Guide: Lillard, Blazers in Danger on the Road
Credit:
Mandatory Credit: Troy Wayrynen-USA TODAY Sports, Pictured above: Damian Lillard
Want to help us make The Action Network better? Take our brief user survey.
Well, I thought the 76ers were supposed to be good, and then, what do you know, D-Wade decides to turn the clock back a decade and even up the series. Can he do it two games in a row?
Meanwhile, the Pelicans are blazing Portland's trail to the offseason, as they are now in complete control of the series. Do the Blazers have any answer?
Oh yeah, and the Warriors and Spurs are going through the motions, too.  — Mark Gallant
All info as of Thursday afternoon. Check back throughout the day and keep an eye on our Twitter handle for any updates.
If there's a specific matchup you want to jump to, click the quick links below. For live spreads and bet percentages, check out this page. Follow the latest injury info on our industry-leading news feed. To get access to our premium betting tools, subscribe here.
---
GAME 3: PHILADELPHIA 76ERS (-1.5) AT MIAMI HEAT | O/U: 216
Series Tied 1-1
7 p.m. ET | TNT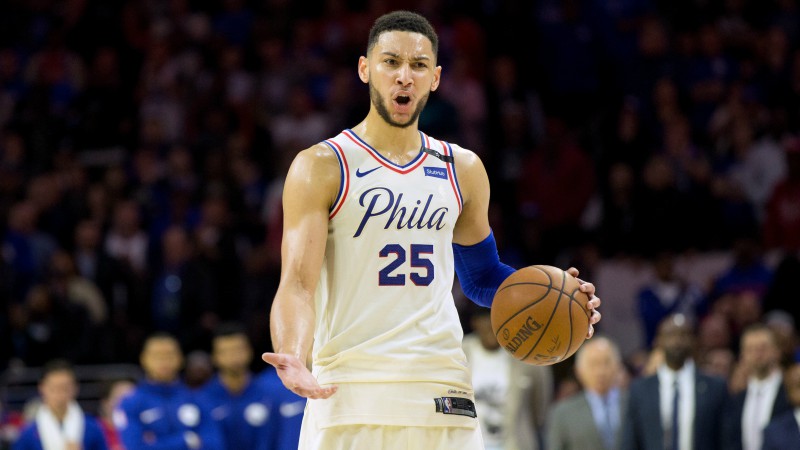 Bill Streicher-USA TODAY Sports
Metrics to know: After allowing 130 points to the surging 76ers in Game 1, the Heat came out and did what they had to do: steal home-court advantage. They held the 76ers to just 103 points and low 41.7% shooting, really winning the game in the second quarter, during which they outscored Philly 34-13. So what happened? Did the Heat figure something out? Or did Philly just have an off night?
The data definitely suggests the latter. In fact, the 76ers had a terrific offensive shot profile in Game 2. They took a whopping 34 shots in the restricted area, making a fine 24 of them (63.2%), and they avoided the inefficient midrange area. Per NBA.com, they took only three shots from the 5- to 9-foot range and just two from the 15-to-19 midrange area. They jacked up 36 3-pointers and got to the free-throw line a respectable 22 times. So what gives? Well, they hit just seven of their 36 shots (19.4%) from behind the arc. Some of that may be due to the Heat's defense, but a lot of that is likely due to bad luck. The offensive shot profile is very encouraging, and if the shots start falling again, Philly should get back in front of this series. — Bryan Mears
Betting market: Everyone is still trusting the process, as over 70% of bets and dollars are backing Philly. They've moved from a one-point pooch to a small favorite across the market. — Mark Gallant
Trend No. 1 to know:  Heat coach Erik Spoelstra is 24-14 against the spread (63.2%) in the playoffs at home after winning his previous game. In that span, when the Heat have been any other seed but the 1-seed, Miami has gone 22-8 ATS in this spot, covering the spread by 3.7 PPG. — Evan Abrams
Trend No. 2 to know: Philly opened as a 1-point underdog, but the line has flipped to 76ers -2. As a contrarian bettor, I assumed there would be value on the Heat following that line movement, but I was wrong. Take a look at how favorites have performed in the playoffs since 2005 when the line has moved in their direction: — John Ewing
---
GAME 3: PORTLAND TRAIL BLAZERS AT NEW ORLEANS PELICANS (-3.5) | O/U: 214.5
Pelicans Lead 2-0
9 p.m. ET | NBATV

Steve Dykes-USA TODAY Sports
Metrics to know: I'll be honest: I'm not really sure what Portland can do. The Pelicans are just the superior team, especially starters versus starters. In the two games in this series, the New Orleans starting unit of Rajon Rondo-Jrue Holiday-E'Twaun Moore-Nikola Mirotic-Anthony Davis has logged 43 minutes together — most of any unit in the playoffs so far — and has posted a stupid-high +35.3 net rating. That unit has scored at a rate of 118.9 points per 100 possessions and defended at a rate of 83.7 points per 100 possessions. When the starters are dominating the other starting unit that much … well, that's not an encouraging sign.
It will be interesting to see what adjustments Portland will make moving forward. It seems that Evan Turner is pretty much unplayable in this series, as the Pelicans can easily hide Rondo on him on the defensive end of the court. The Blazers have had success, albeit in very limited minutes, with maximizing shooting around Damian Lillard by getting guys like Pat Connaughton and even Zach Collins on the floor. Neither of those players are knock-down catch-and-shoot options, but they're at least willing and should make New Orleans glance at the 3-point line every once in a while. Of course, a lot of this comes down to the individual play of Lillard. In his 82 minutes so far, he's posted a true shooting mark of .409. The Pelicans already have the best player in the series in Davis; if Jrue Holiday is by far the No. 2 like he has been, Portland has no chance. — Bryan Mears
Trend No. 1 to know: Portland enters Game 2 in a 0-2 hole. Teams that have lost the first two games of a series have been great bets in the first half of Game 3. Since 2005, teams in this situation have gone 74-39-2 (66%) ATS. However, squads like the Blazers that are playing Game 3 on the road are just 5-5-1 ATS in the first half. — John Ewing
Trend No. 2 to know: Since Lillard was drafted in 2012, Portland is 11-22 straight-up and 10-22-1 ATS in the playoffs. As a road underdog, the Blazers are 2-14 SU and 4-11-1 ATS with Lillard, having lost 14 consecutive games SU in the spot, losing by 15.5 PPG. — Evan Abrams
---
GAME 3: GOLDEN STATE WARRIORS (-4) AT SAN ANTONIO SPURS | O/U: 206
Warriors Lead 2-0
9:30 p.m. ET | TNT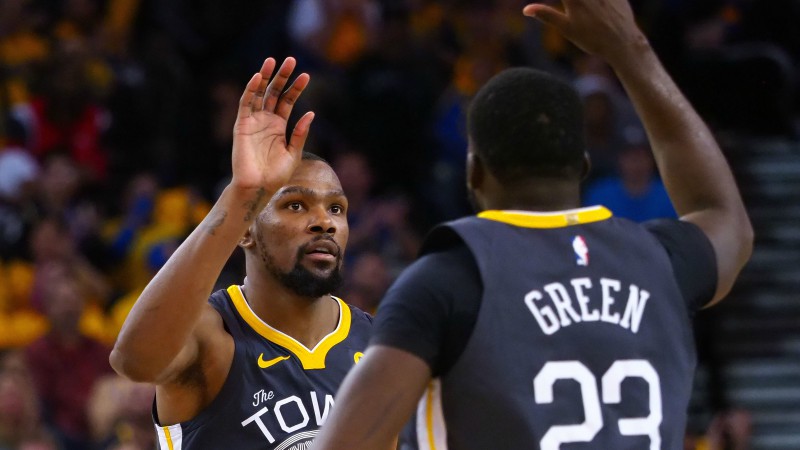 Kelley L Cox-USA TODAY Sports
Metrics to know: The Spurs made helpful adjustments in Game 2 but ultimately couldn't keep up the pace in the second half. Interestingly, Spurs coach Gregg Popovich hasn't stuck to any main lineup. Whereas the Pelicans' starters have played 43 minutes together so far, the most-used Spurs lineups have played just 11 together. The two that have both gotten 11 have been quite different in performance. The first, a combination of Dejounte Murray-Patty Mills-Danny Green-Rudy Gay-LaMarcus Aldridge, has posted a 96.3 Offensive Rating and been outscored by 35.5 points/100. The other lineup, a combination of Mills-Manu Ginobili-Gay-Davis Bertans-Aldridge has posted a 149.7 Offensive Rating and a +27.5 net. Those could be noisy given the small sample and who they played against, but the larger sample of lineups does confirm one thing: The Spurs need as much shooting on the floor as possible.
They started Kyle Anderson in Game 1 and quickly went away from that experiment, despite him being the preferred regular-season defensive option on Kevin Durant. The offense immediately looked better with Gay out there instead of Slo Mo. It'll be interesting to see how much Murray plays in Game 3 and beyond. He got the Anderson special last game, starting but playing just 13 minutes. He has a ton of defensive upside, but that's just not valuable in this particular series without Stephen Curry on the floor. His lack of shooting is a problem, and as a result, we should expect to see Mills and Ginobili get heavy minutes in the rest of the series. Whether that matters at this point against this juggernaut Warriors squad is another question. — Bryan Mears
Betting market: Sheesh! The market is all over Golden State as a small road favorite. The Warriors are getting 78% of bets and have moved from -2.5/-3 to -4 and even -4.5 at some of the "squarer" books on the offshore market. — Mark Gallant
Trend No. 1 to know: Not only did the Spurs drop Game 2 in Golden State, but they shot 14.3% from 3-point range in the loss. Since the 2007 playoffs, teams who lost and shot less than 20% from 3-point range in their previous game have covered the spread 72.9% of the time when their next game has been at home. Those teams have gone 35-13-2 ATS, covering by more than 5 PPG for +20 units in total. — Evan Abrams
Trend No. 2 to know: In the past five seasons, following reverse line movement — 40% or less of bets on the under but the line has decreased — in all NBA games, including the playoffs, with a high total of more than 200 points, has been profitable. The under in this situation has gone 593-468-12 (56%).
Spurs-Warriors opened at 207, and even though more than 60% of bets are on the over, the line has moved to 206. — John Ewing
Pictured above: Damian Lillard