Grading Middle-Tier NBA Free Agency Signings: Pacers Find Good Value in McDermott
Credit:
Credit: Kevin Jairaj-USA TODAY Sports. Pictured: Doug McDermott.
The Spurs will probably find a way to make the Marco Belinelli signing work, but that doesn't mean they got good value.
While Doug McDermott isn't a superstar, his 3-and-D capabilities make the $7 million/year deal he signed with Indiana a potential steal.
Can JaVale McGee be successful anywhere except Golden State? We're about to find out when he teams up with LeBron in LA.
The front offices are on vacation, the players are beefing up in the gym, and the real NBA offseason — a brief, one-month respite from the madness — has truly begun.
So with almost all the dust settled on this season (sign the deal, Carmelo!), here's a look back at the summer that was, with five-star reviews, just like your favorite app, on every big signing and trade from the team's perspective.
This post will look at the middle-tier players. For the NBA's big-name signings, click here. For the lower level guys, click here.
---
>> Follow Matt Moore in The Action Network App to get free alerts on all his NBA bets during the season.
---
Grizzlies sign Kyle Anderson, four years, $37.2 million: ⭐⭐⭐⭐
I was skeptical of this move initially, as Anderson does absolutely nothing to solve the problem of Memphis' low-spacing offense. Except then I remembered that offense wasn't as much of a problem as you might think last season.
The Grizzlies were 22nd in 3-pointers made per 100 possessions, but that was with Mike Conley out for almost the whole season. Add him in, average out the minutes, and they likely wind up in the top 15 at worst. What they were low on last season was basketball IQ.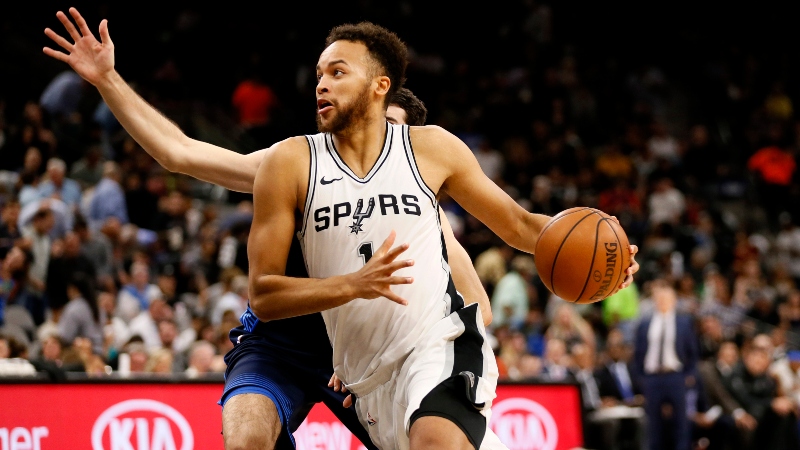 Credit: Soobum Im-USA TODAY Sports. Pictured: Kyle Anderson.
Memphis' roster is built on long, athletic defenders who can switch 1-5 with smart basketball instincts. At guard, they have Conley, Dillon Brooks, Garrett Temple and Wayne Selden who can shoot.
At forward/center, they have Marc Gasol, Jaren Jackson Jr. and JaMychal Green who can shoot. So Anderson serves as a cutting and passing linchpin between those two groups, and in that sense, it's a logical signing.
One member of Memphis also put the signing to me in pretty simple terms: The Grizzlies were tired of having to spend every summer figuring out stopgap solutions on the wing. Anderson is 24 years old and a reliably good starting-caliber wing player. It was that simple for the money they paid.
Celtics re-sign Aron Baynes, two years, $11 million: ⭐⭐⭐⭐⭐
Stellar deal. Baynes was vital in building the best defense in the league last season. He's mobile, physical and willing to give the hard foul the Celtics need at times, and has developed enough of a pick-and-pop 3-pointer to give the Sixers and Joel Embiid fits in the playoffs.
Baynes came up in the Spurs' system and learned his work ethic from Tim Duncan. He's low-maintenance, low-usage, high-impact, and he costs less than $6 million per year. The value on this deal went totally under the radar.
Spurs sign Marco Belinelli, two years, $12 million: ⭐⭐⭐
Belinelli shoots, which is something the Spurs desperately need after trading for DeMar DeRozan to go along with LaMarcus Aldridge. It's just that Belinelli is always feast or famine, and when the famine hits, you see how badly he affects the defense.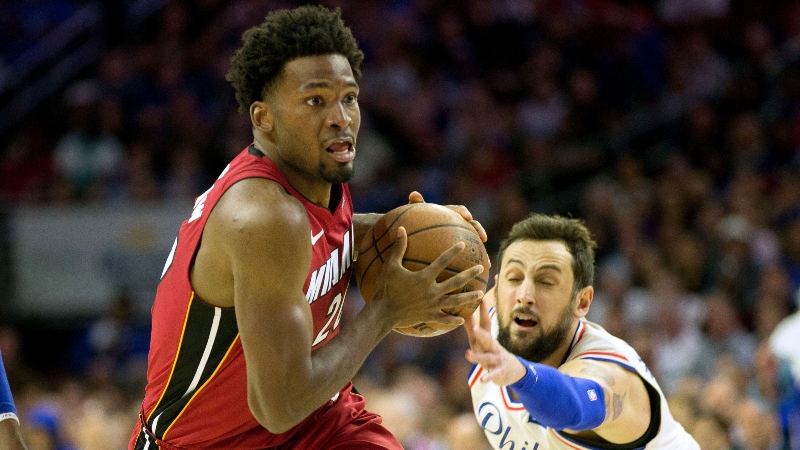 Credit: Bill Streicher-USA TODAY Sports. Pictured: Justise Winslow (20) drives past Marco Belinelli (18).
I wanted to give this two stars, but San Antonio, somehow, some way, will make this work. Belinelli will give the Spurs a bench shooting option, and he'll wind up being ineffectual in the playoffs should San Antonio make it.
Spurs re-sign Davis Bertans, two years, $14.5 million: ⭐⭐⭐⭐
Bertans spaces the floor, and the team was better with him on the floor than off. He shot 37% from deep and has the size and athleticism to guard wings and bigs. This is good value for a young player, and I'm kind of excited to see what he'll be able to do in pick-and-pop situations with DeRozan.
Losing him would have been bad.
Lakers re-sign Kentavious Caldwell-Pope, one year, $12 million: ⭐⭐⭐⭐
He shot well last season, it's a one-year deal, he probably won't be incarcerated this season, and it makes LeBron James' agent happy. Not a whole lot of analysis needed for this. You do what you have to sometimes, on multiple levels.
Sixers trade for Wilson Chandler: ⭐⭐⭐⭐
A cash dump for Denver that netted the Sixers a rotation-caliber small forward. Chandler's shot went haywire last season. If it's gone, that's horrible for his ability to impact the game, but even then, he found ways to contribute.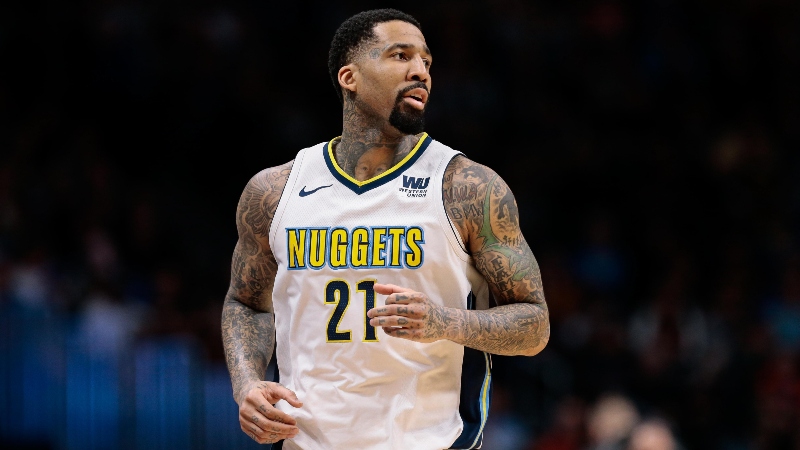 Credit: Isaiah J. Downing-USA TODAY Sports. Pictured: Wilson Chandler.
He's a smart passer, a good rebounder, a good screener, a guy who works and does his job and stays out of trouble. He's also a really underrated defender. He'll do well in whatever role Philly needs him, and it gave up nothing for him.
Nets sign Ed Davis, one year, $4.4 million: ⭐⭐⭐⭐
Davis was arguably the third-best Blazer last season. He took a big step forward defensively, rim-runs as hard as anyone in the league and is a ferocious rebounder.
Giving him the money paid to Jusuf Nurkic would have been a pretty wise decision. Instead, Portland let him walk to give Nurkic his big payday, and the Nets nabbed Davis on a sweetheart of a deal.
If Davis regresses, as he has been known to do when changing teams, then it's a one-year deal you can get out from. Davis fits perfectly with the efficiency model general manager Sean Marks is building throughout the roster. He's high-production, low-maintenance, for less than $5 million. Great signing.
Heat re-sign Wayne Ellington, one year, $6.27 million: ⭐⭐⭐⭐
It's honestly baffling he was on the market as long as he was. Ellington showed he's become one of the best marksmen out of DHO (dribble handoffs) in the NBA.
That may seem really niche, but in a league in which post-ups are nonexistent and so many big men are developing into quality shooters and passers, having a wing who understands how to navigate those spaces and create shots is huge.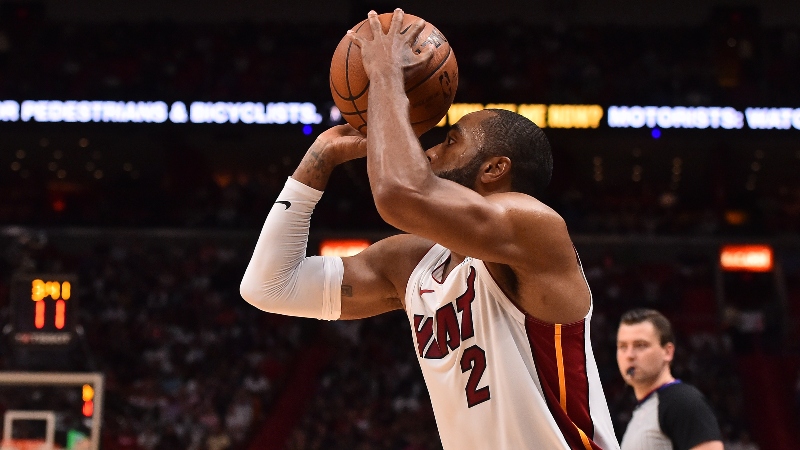 Credit: Jasen Vinlove-USA TODAY Sports. Pictured: Wayne Ellington.
Ellington suffered a late, injury-impacted decline and still wound up in the 81st percentile with a 53.5% effective field goal percentage on those shots, averaging 1.064 points per possession. He finished No. 1 in DHO points produced last season.
The Heat keeping him while not having to lock in multiple years on an already waterlogged cap sheet that continues to spill bile over their future is a win. He hits the market in an expanded cap year next summer when he can regain some value, but he'll be 31.
In the interim, he's underpaid, and Miami — which at summer league expressed internal concern over being able to keep him — lucked out that none of the other cap-open teams like Sacramento made a sensible bid.
Rockets sign James Ennis, two years, $3.4 million: ⭐⭐⭐
Adding Ennis was a fine signing on the surface. Through the prism of letting Trevor Ariza and Luc Richard Mbah a Moute go, however, it's a downgrade.
It's good value for Ennis, a journeyman who plays hard and defends at a decent rate. The issue occurs when you look at the inconsistency of his 3-point shooting:
That's a pretty wild series of swings. Players tend to tick up under Mike D'Antoni, and he'll get transition opportunities where his athleticism is an advantage. This deal is fine.
Houston's overall summer — losing Ariza and Mbah a Moute and replacing them with questionable shooters and ball-dominant players — isn't so great.
Jazz re-sign Dante Exum, three years, $33 million: ⭐⭐⭐⭐
I'm skeptical when a team outperforms expectations and then invests big money to keep the roster together. I've too often seen regression back to the mean catch up with teams that have winning streaks (like Utah did in the back half of the year) in the following season.
That said, Exum was a top-five pick who hasn't been healthy enough to track his progress. This season he showed not only a remaining explosiveness to get to the rim, but the defensive potential that landed him as the top international prospect in his draft.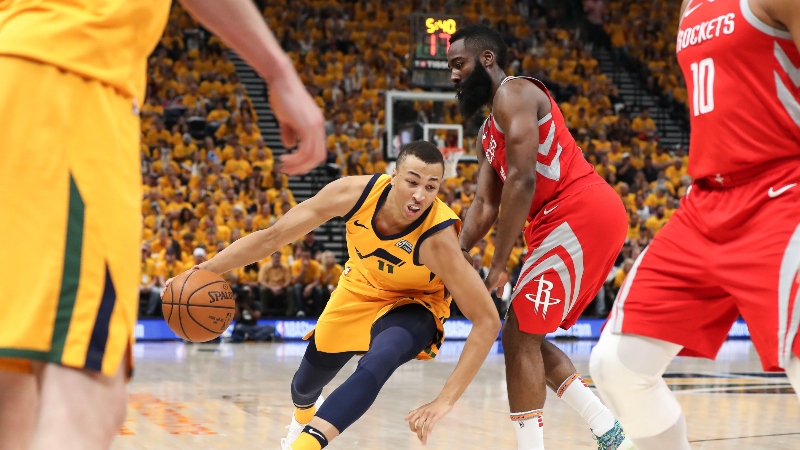 Credit: Chris Nicoll-USA TODAY Sports. Pictured: Dante Exum (11), James Harden (13).
It's not unreasonable to think Exum may be better and more valuable than Ricky Rubio by the end of his contract if he develops. He shot just 28% from deep last season, though; Rubio has never shot worse than 29% on 3-pointers.
Re-investing in Exum through a movable deal makes a lot of sense. The opportunity cost is low, given free agents' reluctance to join Utah. Anything more would be an overpay, anything less would be below value.
---
>> Sign up for The Action Network's daily newsletter to get the smartest NBA conversation delivered into your inbox each morning.
---
Jazz re-sign Derrick Favors, two years, $36 million: ⭐⭐⭐
That skepticism for doubling down on a team like Utah goes double as well when it's Favors making $18 million a year. The Jazz were good with Favors on the floor last season, with a +3.5 points per 100 possessions net rating.
They were better, though, with him off at +6.0, the second-worst mark of any Jazz player with over 1,000 minutes played last season outside of the traded Rodney Hood.
However, his on-court marks, particularly with Donovan Mitchell and Rudy Gobert, the most important players on the team, were still stellar. And the two-year deal ensures that if the Jazz can upgrade in two years, they'll have that option without having to trade Favors on a big contract.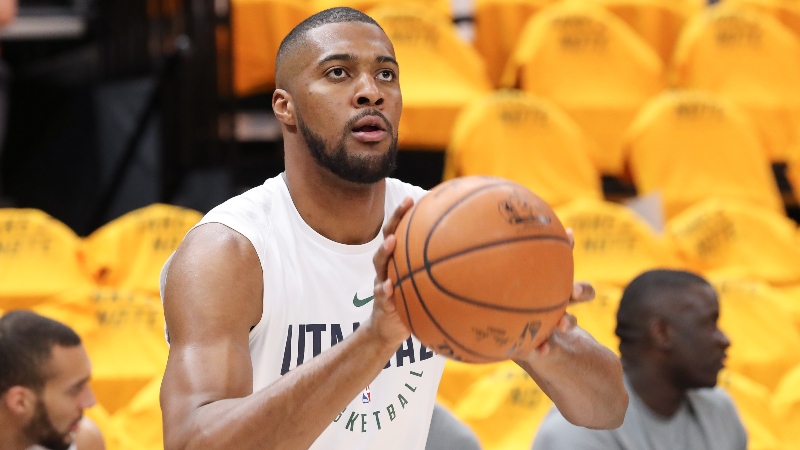 Credit: Chris Nicoll-USA TODAY Sports. Pictured: Derrick Favors.
It's a big number relative to Favors' production, but you pay that for the long-term flexibility. If in two years the Jazz can find some sort of star looking to join up with Mitchell, they'll be able to add him, with only $46 million on the books.
If they can't, or if they find this success sustainable, they can retain Favors on a longer deal for likely less per year. I want to think making a commitment to this core is a mistake, but they managed the money so well it's impossible to really criticize.
Thunder re-sign Jerami Grant, three years, $27 million:  ⭐⭐⭐
Grant continues to struggle as a floor-spacer, but he also continues to prove useful as a multipositional defensive weapon who dunks the life out of people.
He's also a player who thrives more with the starters, and they need him there after Carmelo Anthony's departure. Just paying to keep a valuable rotation player is a good thing for OKC.
Bucks sign Ersan Ilyasova, three years, $21 million: ⭐⭐
The timing on this one is the real issue. The Bucks raced to market to add Ilyasova, a 31-year-old stretch 4 who shot 36% from deep last season. That's a good mark, but not a great one.
Ilyasova is fairly consistent: He has shot at least 35% from 3-point range in six of the last seven seasons. But he hasn't shot over 40% from deep since 2013. He's also a career 28.9% 3-point shooter in the playoffs, which isn't superb.
Signing him for $7 million a year isn't bad, it's just that they made this move almost as soon as free agency began. I get that he has a history with Mike Budenholzer, and a capable rebounding shooter is something Milwaukee needs. It just felt like they locked up $21 million without seeing what the market would look like.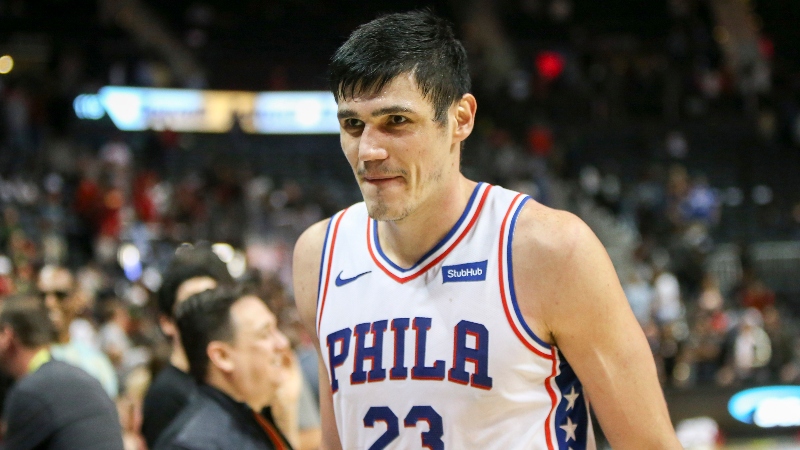 Credit: Brett Davis-USA TODAY Sports. Pictured: Ersan Ilyasova.
Still, Ilyasova should give the Bucks good minutes. Three years is steep, and there's a good chance he's nearly dead money by that point, but it also won't be prohibitive going forward, compared to the other deals they'll have to manage with Khris Middleton and Eric Bledsoe.
Clippers sign Luc Richard Mbah a Moute, one year, $4.3 million: ⭐⭐⭐
It's a bigger loss for the Rockets than it is a gain for the Clippers, but despite his showing in the Western Conference finals due to a shoulder injury, LRMAM remains a great defender who has worked tirelessly to become a solid corner shooter. It should be noted that he decided against surgery on that shoulder, which could impact his shooting again.
Still, he'll make the Clippers better, and the deal doesn't limit them in any way; in fact, he might wind up being useful in a midseason trade.
Pacers sign Doug McDermott, three years, $22 million: ⭐⭐⭐⭐
Here's a secret: Doug McDermott is good. He's not a superstar. He's not a building block. But he is most definitely good. New York was crazy to a) not play him and b) trade him, and Dallas was crazy to let him go. Indiana got what could be a very good player.
McDermott shot 43% last season after shooting 37% the prior season and 43% in 2016. He's a shooter. That's no surprise, it's what he was drafted to do. But the idea that he's such a massive defensive liability that he's unplayable is, to be frank, kind of garbage.
The numbers are here for me. The Dallas defense, which was bad overall last season, was 0.9 points per 100 possessions better with him on the court. That's not a huge amount, but nearly a point per 100 possessions is pretty notable. The Knicks' defense was 4.4 points per 100 possessions better with him on the floor.
The individual data backs it up as well. Opponents shot 7-of-26 against him in isolation last season, per Synergy Sports. That's not a huge number, and McDermott was never in a position to be targeted consistently, but the eye test showed he legitimately does do things well there. Watch him stick with Chris Paul to force a wild shot here:
He does even better work vs. Andrew Wiggins on this possession, staying with him on the edge and blocking his shot:
More importantly, though, McDermott was in the 75th percentile in Dallas and even better in New York at defending spot-ups. He closes hard on shooters, running them off 3s, but is also able to pull up and contain the drive:
So, yeah, surprisingly, Doug McDermott has been good defensively. He made a real leap in that category last season. He's also super valuable for the Pacers, as he's multipositional, a shooter and moves well without the ball. He'll space the floor and give good minutes as a combo forward.
He's very much a 3-and-D-only guy, but for $7 million per year at 26 years old, it's good value for a team that looks stocked to make a real run in the East.
---
>> Get a 7-day free trial to access all of our premium NBA articles and exclusive betting data leading up to and during the season.
---
Lakers sign JaVale McGee, one year, $2.4 million: ⭐⭐⭐
This rating factors in that their center rotation — assuming LeBron James still does not want to play center, which he never has — will be McGee, rookie Moe Wagner and Ivica Zubac, and that they let Brook Lopez walk.
McGee is complicated. Because he was clowned so much by "Shaqtin' A Fool," it became popular to say, "actually, JaVale is good." This was helped by the fact that the Warriors signed him, and literally everyone looks good on the Warriors.
There were arguments for and against McGee the last two years, all of which were validated in the playoffs. McGee was rendered unplayable against Houston, where the margin of error was so slim and his steady stream of questionable decision-making could crush the Warriors. Kevon Looney stepped in during that series.
But when there's more room for mistakes, like against a firepower-limited, big-ball team in San Antonio or the Eastern Conference Champion Comedy of Errors Cleveland Cavaliers, McGee not only held his own but thrived, punishing mismatches and making big plays.
The question is whether McGee can be successful anywhere except Golden State. Much like Lance Stephenson, his career outside of the one place he found success has been pretty rough.
That said, McGee's not a problem in the locker room, despite his media recalcitrance. He's typically been limited in how many minutes he can play without running out of steam, but at this price, it's just hard to consider it a bad signing. Whether it will be a truly good one remains to be seen.
Nets sign Shabazz Napier, two years, $3.5 million: ⭐⭐⭐⭐
Napier was quietly really good for Portland last season. He was a floor general and floor-spacer, shooting 38% from deep for the Blazers. The Nets got two helpful Blazer players for $6 million next season. It's really good value for a backup point guard after moving Jeremy Lin.
Jazz re-sign Raul Neto, two years, $4.4 million: ⭐⭐⭐⭐
Neto's an excellent third point guard and can fill whatever role is required. If both Ricky Rubio and Dante Exum go down, Neto can fill in.
As I wrote above, doubling down on this squad in this way makes me queasy, but the Jazz weren't going to do better than Neto for this role at this price.
Thunder sign Nerlens Noel, two years, $3.8 million: ⭐⭐
Noel had four years, $70 million on the table in 2016-17, and turned it down. Ouch. The 24-year-old has been productive when on the floor every year. However, he is a headache in the locker room on account of his off-court habits. This is not a secret around the NBA, and it's why he finds himself in this position, taking a one-year deal with a second-year player option for the minimum.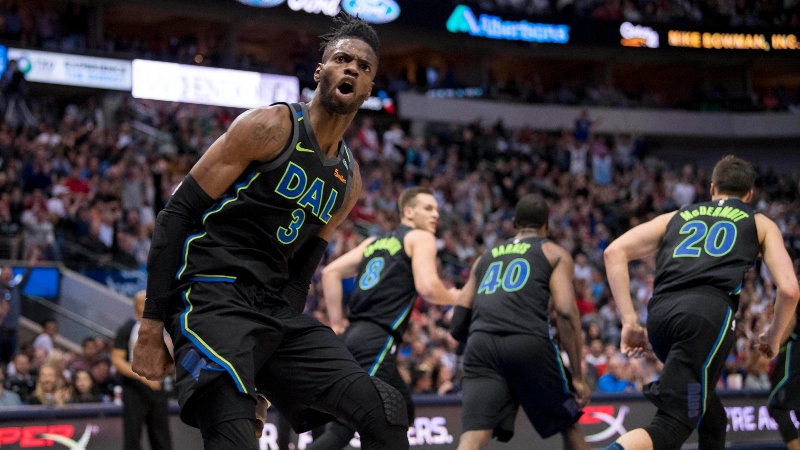 Credit: Jerome Miron-USA TODAY Sports. Pictured: Nerlens Noel.
If Noel is ready to put his younger days behind him, he's going to be terrific off the bench for what should be a top-five defense next season. He played just 30 games last season, often the product of the dreaded DNP- Coach's Decision.
If not, this may be his last stop. There's risk here for the Thunder because of all those concerns, plus his long-term injury situation with so many knee surgeries early on. He also doesn't spread the floor, but he gives continuity with Steven Adams' style. The player option drops it down to two stars, but the upside is high here.
Pacers sign Kyle O'Quinn, one year, $4.5 million: ⭐⭐⭐⭐
KOQ is a bruiser, a big, nasty center who will deliver crushing screens, score on putbacks and rebound well.
It's a one-year deal so it's low risk, and KOQ always plays hard. Just another really good deal from Indiana.
Pelicans sign Elfrid Payton, one year, $2.7 million: ⭐⭐⭐
The eternal question of how long I want to keep stanning for a clearly flawed player no matter how many teams he bounces around to and from.
Payton's defense is atrocious, and that's a huge problem. He's 24, not some kiddo who's going to suddenly get it. This just may be who he is. However, offensively, there's a lot to love about this fit.
You put a fast, athletic point guard in a fast-paced system, give him Anthony Davis to lob to (and cut his hair so he can actually see the rim), and that's a pretty good combination for New Orleans after losing Rajon Rondo.
It's a one-year deal, so there's no long-term concern, and if the Pelicans find an upgrade in trade, they can easily waive him.
Meanwhile, despite his lack of a jumper, Payton was in the 64th percentile around the rim last season and in the 92nd percentile in half-court offense including assists. He was in the 55th percentile in pick-and-roll offense on his own.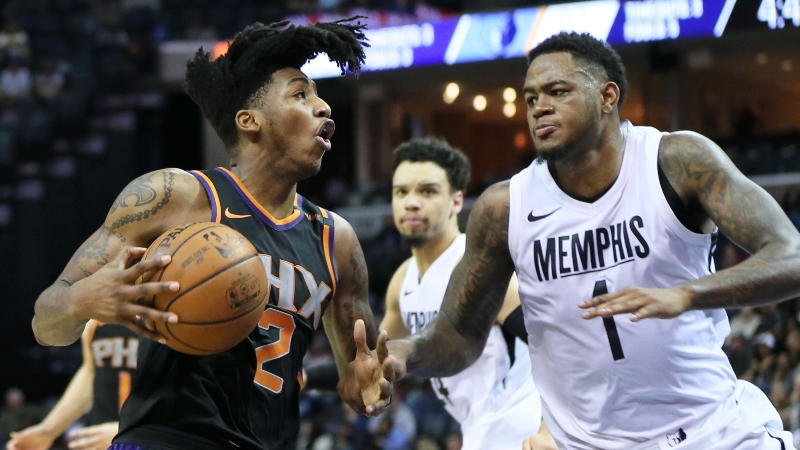 Credit: Nelson Chenault-USA TODAY Sports. Pictured: Elfrid Payton (2) drives against Memphis Grizzlies forward Jarell Martin (1) .
He was actually worse in transition offense, and both Phoenix and Orlando were 27th and 17th, respectively, in transition offense, indicating more systemic issues. So I can build a pretty robust case for this being a good signing.
If the Pelicans' defensive scheme can get him to improve or at least cover for him, if he works in a fast-paced system the way he should, if having talent around him works for him like it has for so many Magic players after they leave Orlando, this is going to look awesome.
If not, this might be his last stop in the NBA.
Lakers sign Lance Stephenson, one year, $4.5 million: ⭐⭐
He has never been good outside of Indiana.
He's a defensive liability at this point after so many good years with those mid-2010s Pacers teams. He's not a good shooter.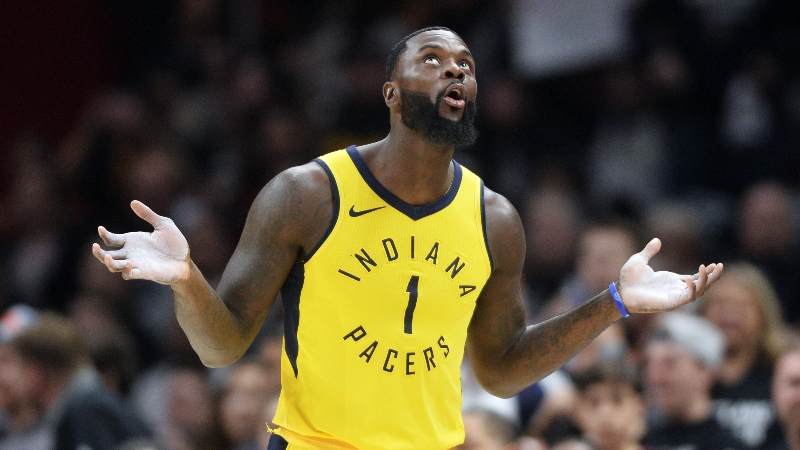 Credit: Ken Blaze-USA TODAY Sports. Pictured: Lance Stephenson.
He's Lance Stephenson. He can still make plays, but there are a whole bunch of ways this goes sideways.
Grizzlies trade for Garrett Temple: ⭐⭐⭐⭐
Memphis needs as many veteran, smart, shooter-defenders as it can get, and that's Temple. He's a total pro, a smart player, a really good defender, and he shot 39% from deep last year.
It's a great get. He makes the Grizzlies better.
Raptors re-sign Fred VanVleet, two years, $18 million: ⭐⭐⭐⭐
I thought VanVleet was Sixth Man of the Year last season, so to get him back at two years for less than $10 million per season is a steal.
He'll be more expensive after, but he's part of the bedrock that made the best bench unit in the league last season and should only improve.
He's a homegrown player out of Wichita State, a smart player, a good shooter and tough as nails. Honestly, the only way this would have been better is if the Raptors had gotten him on more years.
---
All data provided by NBA.com, Basketball Reference, and Synergy Sports.
How would you rate this article?