NBA Free Agency: Biggest Steals and Duds Among Low-Tier Deals
Credit:
Credit: Ken Blaze-USA TODAY Sports. Pictured: Kevin Love and Channing Frye (8).
Michael Beasley's one-year, $3.5 million deal with the Lakers isn't bad value for a guy who can play small-ball 4 or 5 alongside LeBron.
Last year playing alongside LeBron James, Jeff Green had his first positive plus-minus rating in nine seasons. Don't count on that repeating now that he's in Washington.
Kevon Looney helped turn the tide for the Warriors against the Rockets, so he's definitely worth the $1.5 million Golden State paid to re-up him.
The front offices are on vacation, the players are beefing up in the gym, and the real NBA offseason — a brief, one-month respite from the madness — has truly begun.
So with almost all the dust settled on this season (sign the deal, Carmelo!), here's a look back at the summer that was, with five-star reviews, just like your favorite app, on every big signing and trade from the team's perspective.
This post will look at the lower-level signings. For the NBA's big-name signings, click here, and for the middle class, click here.
---
>> Follow Matt Moore in The Action Network App to get free alerts on all his NBA bets during the season.
---
Lakers sign Michael Beasley, one year, $3.5 million: ⭐⭐⭐
This deal is fine. In his last two seasons, Beasley shot at least 50% from the field and at least 39.5% from 3-point range. His rebounding numbers per 100 possessions are good, and he's an underrated passer. His defense really is terrible.
He's not quite good enough to have rehabbed himself past all the concerns of his space-cadet status, but one year for $3.5 million? It's pretty good for a player who can play small-ball 4 or 5.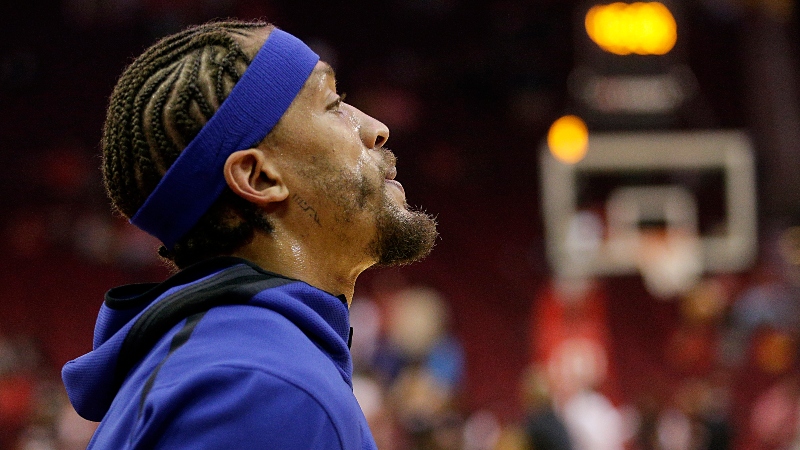 Credit: Thomas B. Shea-USA TODAY Sports. Pictured: Michael Beasley.
Beasley did play with LeBron James in Miami, and it's likely he signed off on this. I can remember seeing Beasley chowing down on McDonald's as a veteran pre- and postgame while with Miami during the playoffs, but if it doesn't bother James, it doesn't bother James. (And really, who among us?)
This isn't dynamite; it's not a dud. It's just fine.
Kings sign Nemanja Bjelica, three years, $20.5 million: ⭐⭐⭐
Here's the problem. The Kings create all this cap space, try and sign a flawed, injured player in Zach LaVine to a massive deal, get bailed out by the Bulls re-signing him, flirt with Marcus Smart, and then wind up giving this money to Bjelica and others.
Why not just take the Atlanta route and pick up a protected pick to do the money transaction? Why not aim for asset accumulation? Why commit money to veterans with defensive issues in an attempt to win now?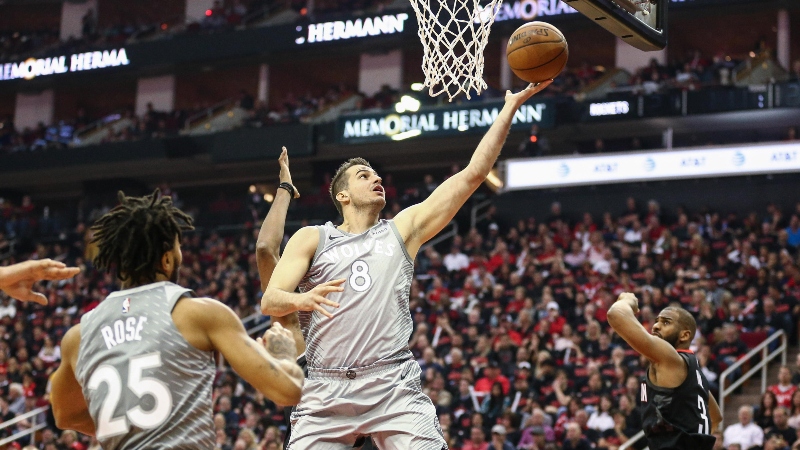 Credit: Troy Taormina-USA TODAY Sports. Pictured: Nemanja Bjelica (8).
The nonguaranteed third year of the deal makes me feel better about it, and he did shoot 41.5% last season from 3-point range, though it was the first time in his three seasons and he's 30 years old. His defense is nothing great, but it's not terrible, either.
You also can't complain that the Kings have this massive spacing problem with De'Aaron Fox and Marvin Bagley and then complain when they sign a shooter. It just seems like the opportunity cost was significant here.
Rockets sign Michael Carter-Williams, one year, $1.75 million: ⭐⭐
I want to believe in MCW so badly.
I cannot. Can't shoot, struggles to defend, can't stick on a team, limits spacing, difficult fit in the team concept. It's a one-year deal, but, man, any lineup with him and Carmelo Anthony …
There's a bunch of Syracuse guys there, and Syracuse guys notoriously struggle in the NBA.
Nuggets re-sign Torrey Craig, two years, $4 million: ⭐⭐⭐
Craig is 27 years old and graded out poorly in terms of metrics, but a deeper dive reveals his capabilities. He shot 54% in effective field goal percentage in catch-and-shoot situations, good for 59th percentile, and is a fierce on-ball defender who attacks relentlessly.
The Nuggets have almost no small forward depth with Michael Porter Jr.'s injury and the departure of Wilson Chandler, so Craig fills a vital need at a low price.
Spurs sign Dante Cunningham, one year, $2.5 million: ⭐⭐⭐
He's a veteran, a good locker room dude, a shooter, and he has size. He is a very Spursy addition that fills a need.
Blazers sign Seth Curry, two years, $5.6 million: ⭐⭐
Really confusing summer for the Blazers, Part I: Seth Curry is a better shooter than Shabazz Napier, whom they let go, sure. He is a Curry, after all.

But he's a worse defender, a worse playmaker, costs more and is coming off missing a full year with injury. The Blazers needed more offense than defense last season, but with Ed Davis' departure and the overall roster composition, this just doesn't seem to fill much of a need, even at such a low price.
Thunder re-sign Raymond Felton, one year, $2.4 million: ⭐⭐⭐
Felton was good last season. He was a quality backup guard, and he's back on a cheap deal. It's also an important signing because OKC has had to cycle through a litany of backup guards in the past. Just having a competent guard who can shoot is helpful.
Kings sign Yogi Ferrell, two years, $6.2 million: ⭐⭐⭐
Nice little deal for a scoring guard. The Kings not throwing more of the money they cleared at him is the biggest surprise.
The biggest thing with adding Ferrell is his ability to run pick-and-roll. The Dallas guards — and Ferrell, in particular — were excellent at scoring out of pick-and-roll last season, both shooting and passing.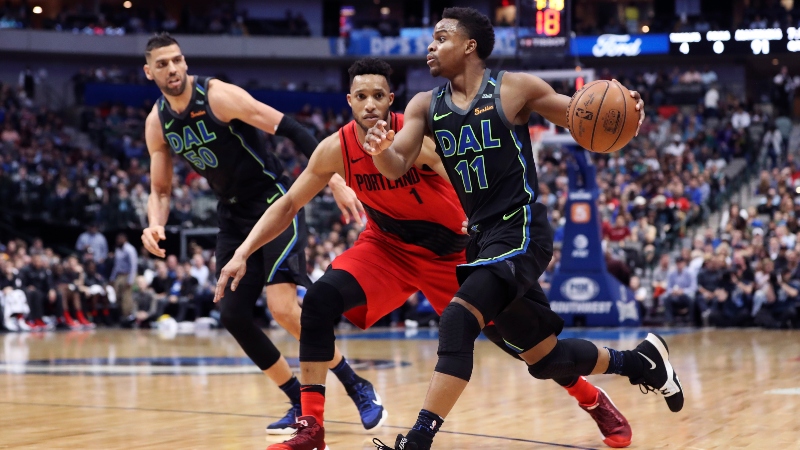 Credit: Kevin Jairaj-USA TODAY Sports. Pictured: Yogi Ferrell (11).
With De'Aaron Fox still learning and Marvin Bagley needing as many pick-and-roll situations as possible, adding Ferrell as an upgrade over Frank Mason was a good move.
Spurs re-sign Bryn Forbes, two years, $1.5 million: ⭐⭐⭐
A 6-foot-3 backup guard for the minimum who shot 39% on 3-pointers last season and grades out well on the metrics.
Again, the Spurs need as many shooters as possible.
Cavaliers sign Channing Frye, one year, $2.4 million: ⭐⭐
Frye's still good, still useful, but re-signing veterans for a team that needs to begin a youth movement continues to baffle me. I am excited to see what a 2017 Cavs team without LeBron James or Kyrie Irving looks like, though. It's like we actually get to figure out what the win differential is for a hypothetical.
Spurs re-sign Rudy Gay, one year, $10 million: ⭐⭐⭐
I mean, it's one year, so whatever. Gay was actually worse from 3-point range  last season (31.1%) than his career average, but overall, he was efficient and productive.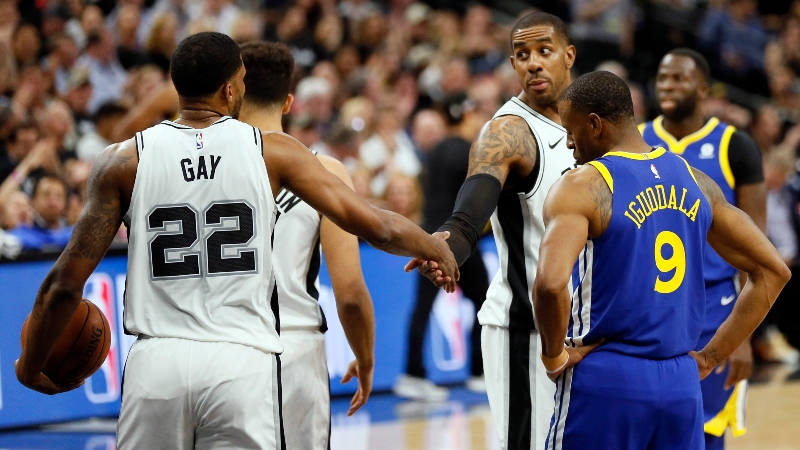 Credit: Soobum Im-USA TODAY Sports. Pictured: Rudy Gay (22), LaMarcus Aldridge (center).
The fact that San Antonio is paying LaMarcus Aldridge, Rudy Gay and Pau Gasol nearly $50 million combined this season is not great, but the Spurs can clear Gay and Gasol next summer.
Nets sign Treveon Graham, two years, $3.15 million: ⭐⭐⭐
There was a lot to like about Graham's performance with Charlotte last season.
He's not a great playmaker, but he is a quality shooter who can get to the rim. He'll be in a bit of a minutes crunch in Brooklyn, but it's still a low-cost, high-upside move.
Wizards sign Jeff Green, one year, $2.5 million: ⭐⭐
Green played well for the Cavs last season — it's Jeff Green, so there's a curve, but still, he played well. He rebounded well, attacked the rim and played some of the best defense on a terrible defensive team.
The money and years obviously aren't an issue here, but the problem is just that it took being around LeBron James for Green to have a positive plus-minus for the first time in nine seasons. The odds are low that Green does the same for Washington.
There's value here with how Washington can run multiple combinations of small-ball lineups with Otto Porter, Markieff Morris and Green, but you're still going to have Green sharing the floor with Dwight Howard a lot … yikes.
---
>> Sign up for The Action Network's daily newsletter to get the smartest NBA conversation delivered into your inbox each morning.
---
Clippers re-sign Montrezl Harrell, two years, $12 million: ⭐⭐⭐⭐
Harrell's per-36 numbers are stellar: 23 points, 8.5 rebounds, a steal and a block. His upside is limited at 24 years old, but since most big men don't come into their own as a systemic defender until later in their careers, there's still opportunity there.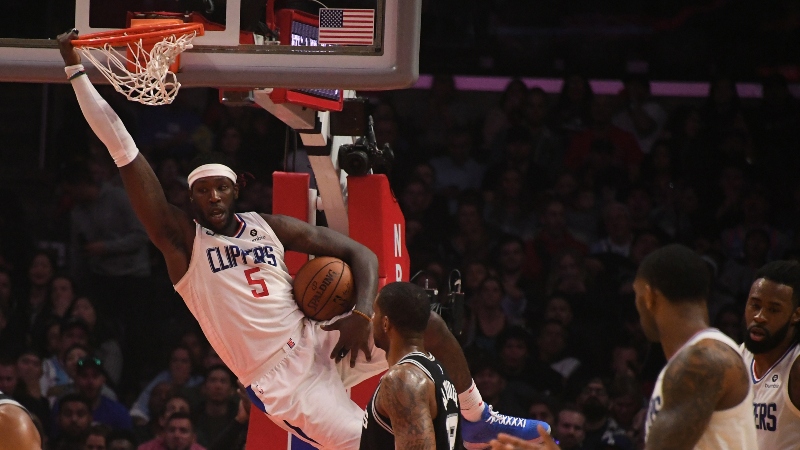 Credit: Richard Mackson-USA TODAY Sports. Pictured: Montrezl Harrell (5).
With Blake Griffin traded, there's a real opportunity for him to expand his minutes. It's good value for a role player entering his prime.
Mavericks re-sign Devin Harris, two years, $5.3 million: ⭐⭐⭐
Dallas rented out Harris last season so he could help Denver make a playoff push. Harris was fine, if not all that good, with the Nuggets, and Denver failed to make it anyway.
When Denver added Isaiah Thomas as a backup while transitioning Monte Morris from a two-way contract, Harris headed back to Dallas, where he's played for the majority of his career.
It's wild that at one point he was the centerpiece of Dallas' trade for Jason Kidd. Harris is now the wily veteran and is a low-maintenance floor general for a team trying to bring on multiple young wing players. This deal is fine.
Knicks sign Mario Hezonja, one year, $6.5 million: ⭐⭐⭐
I want to give this one four stars. I do.  He averaged 16 points, 6.1 rebounds and 1.8 steals per 36 minutes last year. The Knicks landed a former Magic prospect — a commodity many teams benefited from the past few years once those players left Orlando — with a high profile and good athleticism. And they got him on a one-year deal for less than $10 million.
It's an upside play for a team that so rarely makes them. However, I have to restrain myself, because he did shoot 40.5% from the field and 31.8% from 3-point range after the All-Star break.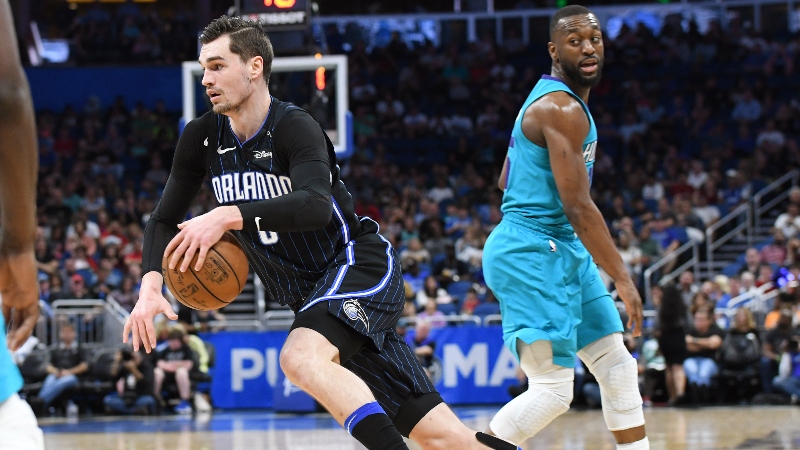 Credit: Jonathan Dyer-USA TODAY Sports. Pictured: Mario Hezonja (8).
The fact that he looked so lost on a team so short on talent is concerning, no matter how lost in the woods the Magic have seemed the last seven years. There's a very good chance that Hezonja just isn't an NBA player.
His highs (six games of over 20 points on 47% shooting or better) are good. This one may look great by January. But until then, it's just an upside play, which for the Knicks is a good move.
Suns trade cash for Richaun Holmes: ⭐⭐
Holmes is one of those players who always stands out when he plays well and then completely vanishes otherwise. I'll be honest, I was shocked when I saw he played in only 48 games last season, at only 15.8 minutes per contest.
He's efficient and a good rebounder. The Suns have a bunch of guys like Holmes, but they may also be trading some of them over the next few months.
Warriors sign Jonas Jerebko, one year, $2.1 million: ⭐⭐⭐
I've never understood why Jerebko doesn't get more time. He suffered an Achilles injury but somehow has recovered as well as any player we've seen. He remains a viable stretch weapon, hitting 38% of his 3s with Boston and 41% from deep last season in Utah.
His rebounds per 36 minutes are good, and he's a versatile defender who can switch vs. anyone. Jerebko is 31 and will likely share some of the same responsibilities as David West, who's getting long in the tooth. It's a good signing for a team that honestly doesn't even need a player this good in that role.
Hawks sign Alex Len, two years, $8.5 million: ⭐⭐
Len drove me nuts for years in Phoenix. He was so bad at so many things. Last year, honestly, he started to show promise. It was just way too late for a team that had added so many bigs, including Deandre Ayton, over the summer.
He put up career highs in points and grabbed 7.5 rebounds per game in just 20 minutes of action. But more notably, his defensive metrics all made jumps, both in the individual frame and on a team level, though they were still rough overall.
This is a low-impact signing. The money ($4 million per season) is a little high given how bad Len was, but there's also a chance that he's turned the corner.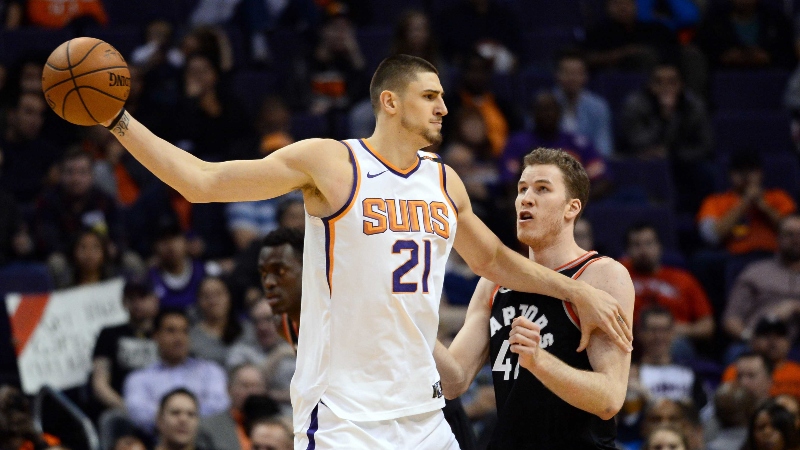 Credit: Joe Camporeale-USA TODAY Sports. Pictured: Alex Len (21), Jakob Poeltl (42).
In other words, I'm giving this two stars at the moment but think this might actually look a lot better at the end of the contract. I particularly like how Len and John Collins could fit together.
Warriors re-sign Kevon Looney, one year, $1.5 million: ⭐⭐⭐
Surprisingly, he helped turn the tide in the Rockets series, so, yeah, he's worth this. I'm kind of surprised no one fell for the "role player off the championship team" trap that winds up burning so many teams.
Mavericks re-sign Selah Mejri, one year, $1.5 million: ⭐⭐⭐
Mejri's fine. This deal doesn't hurt the Mavs or impact them much.
Sixers trade for Mike Muscala: ⭐⭐⭐
Muscala is an expiring contract at $5 million, which makes him trade bait, but he was also underutilized as a stretch forward in Atlanta.
This was part of the Carmelo Anthony deal, and only required the Sixers to give up Timothe Luwawu-Cabarrot.
Nice addition, but I can't believe he'll play until he does, even if I like what I've seen in limited minutes.
---
>> Get a 7-day free trial to access more premium NBA articles like this leading up to and during the season.
---
Pistons sign Zaza Pachulia, one year, $2.4 million: ⭐⭐⭐
Pachulia was cheap and is actually still pretty good. He got such a goon reputation in Golden State, but he's actually a smart player who will help on the bench as much as he does on the floor, which is important for a new coach.
Pistons sign Glenn Robinson, two years, $8.3 million:⭐⭐⭐
Robinson's efficiency numbers are good, and he's only 24. He was coming off major ankle surgery last season and was pretty good the season before.
The second year is a team option, so this is fine.
Clippers sign Mike Scott, one year, $4.3 million: ⭐⭐⭐⭐
A really good small-ball 5 if the Clippers use him that way. He fits with the model of the rest of their guys for lineup consistency.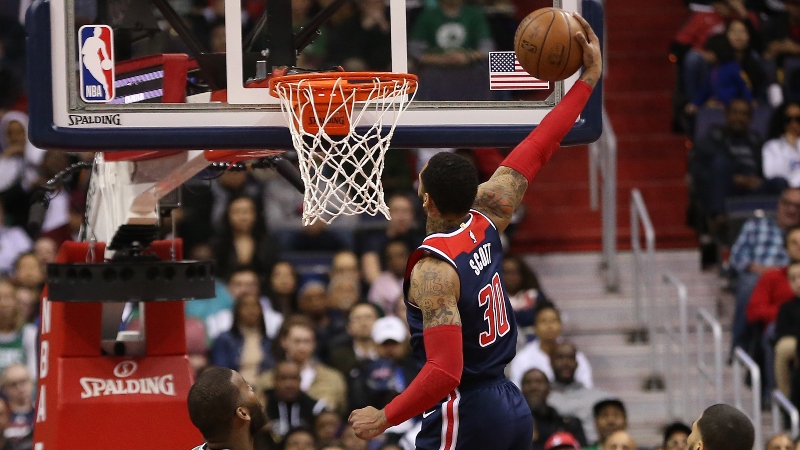 Credit: Geoff Burke-USA TODAY Sports. Pictured: Mike Scott (30)
He's a good shooter from range and can at least survive on switches.
Blazers sign Nik Stauskas, one year, $1.5 million: ⭐⭐
He shoots, which is nice. He's just not as good as the guys the Blazers lost, and it's unclear how he makes them better.
Wolves re-sign Anthony Tolliver, one year, $5 million: ⭐⭐
Good shooter. Good dude. Smart player. He's a nice Nemanja Bjelica replacement.
Knicks sign Noah Vonleh, one year, $1.5 million: ⭐⭐
Vonleh really looked like he had started to turn the corner in 2016-17 with the Blazers, but then vanished into their depth chart before being traded and buried.
I want to have hope, it just seems like he's never going to put together the game to be an impact guy.
---
All data provided by NBA.com, Basketball Reference, and Synergy Sports.
How would you rate this article?