Moore: Will LeBron Win a Title in LA? Picking Props for New-Look Lakers
The Highlights
The Westgate puts LeBron James' odds on winning a title in Los Angeles by 2022 at +200. The presence of the Warriors makes it tough to bet "yes."
The Lakers' season win total? 52.5 games. This just isn't a great team right now — and trading for Kawhi Leonard wouldn't change that overnight.
There's a good chance Lakers coach Luke Walton will take a conservative approach with LeBron's rest. 
---
While DeMarcus Cousins flipped the NBA's offseason on its noggin by signing with the Golden State Warriors, the biggest news this summer remains LeBron James and his decision to join the Los Angeles Lakers. The King now plays for the most iconic franchise in professional basketball (with apologies to the more successful Boston Celtics). There are so many angles to explore with this decision, and it prompted a whole lot of prop-bet ideas from our Action Network crew.
Let's use these props — both real ones posted in sportsbooks and those we wish we could bet on — to explore some ideas about LeBron and his new partnership with Magic Johnson & Co. in LA.
ACTUAL PROPS
Will the Lakers win a title before 2022? (Westgate)
This prop is proof of the Lakers' popularity. Let's assume that the Warriors win the 2019 and 2020 Western Conference titles, if not the NBA titles (which is just as likely). So now you have a two-year window. Let's assume they get another All-NBA-caliber star (Kawhi Leonard-Damian Lillard level).
For the "yes" side of this to hit, you have to hope that James hasn't lost a step, not a single one, two years from now, and that whomever the Lakers don't trade turns into a star, be it Brandon Ingram, Lonzo Ball or Kyle Kuzma. All of that just to be in a position to maybe get the breaks necessary to win a title.
Golden State effectively slicing this in half is tough.
Notably: Westgate has odds on this at Yes +200, No -250. While the +200 odds are enticing, there are too many variables in the mix right now to make that worth an investment.
Lean: No titles by 2022.
Lakers playoff seed over/under 5.5 | Lakers win total over/under 52.5 
These are the most interesting props. Let's start with what we can say with confidence:
The Warriors and Rockets should finish among the top three.
The Thunder and Jazz seem to be at a level right below that, so you're at possibly fifth already.
The Pelicans, Nuggets, Trail Blazers, Timberwolves, Spurs and Lakers are all viable playoff candidates.
The Clippers might hang around.
The Suns and Mavericks will be improved, and the Grizzlies should be also.
In short: There are a lot of teams LA has to deal with.
The Lakers won 35 games last season. We valued the Lakers' season win total at 52.5 with LeBron and no Leonard, and Sky Sports came out with that exact line this week. If the Lakers get to 52.5, they are undoubtedly in the top five. So this is all intertwined, obviously.
I tend to lean over on playoff seeding (and therefore under on wins) as of now. (To be clear, there's pretty much a 0% chance LeBron and the Lakers will actually miss the playoffs. LeBron hasn't missed the postseason since 2005. I get the idea that it's the West, but considering that he's an individual force of nature, he can likely get this ragtag, motley crew to 45 wins. It took 47 to get in this season, but the past five seasons the average was 44.6 wins for the No. 8 seed.)
The risk with the seeding and win-total bets involves the Lakers potentially trading for Leonard. But if that happens, LA will still lose something in that trade, be it Kuzma, Ingram or some set of role players. They lost Julius Randle. JaVale McGee was a net positive in last season's playoffs, and a slight negative in the regular season. However, these Lakers aren't the Warriors. Rajon Rondo was a negative in the regular season and a positive in the playoffs, for what feels like the 13th season in a row.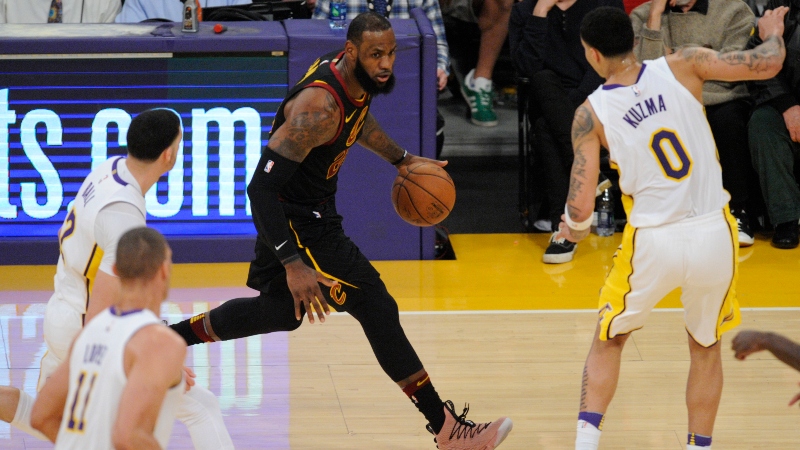 Gary A. Vasquez-USA TODAY Sports. Pictured: LeBron James (center), Kyle Kuzma (right).
There seems to be a wider range of plausible outcomes for the Lakers finishing sixth through eighth, even with that as a tighter window. The Thunder look like a lock to finish higher than they did last season: They have improved continuity and vastly underperformed their statistical expectations for wins last season.
Much of this also depends on what you believe the Lakers' regular-season approach will be. James has slid more and more into coasting through the regular season. He's trying to instill a new culture in LA, but he was also really terrible at that in Cleveland. If this team messes around in the regular season, it could get caught in a jumble like the No. 4-8 seeded teams did last season with tiebreakers being such a big issue.
Should you wait to get your money in until the Leonard situation is settled? Scared money something something. Even if the Lakers keep Ball and Ingram and get Leonard, this still isn't a great team, at least on paper.
Leans: Over 5.5 playoff seed. Under 52.5 season wins.
LeBron James games played in 2018-19 season: 74.5 
This team has no continuity, which means it'll need more, and James always gives whatever his team needs. He's played more than 74 games in five of the past six seasons, playing exactly 74 in 2016-2017. So the over is tempting.
But remember the 2014-15 season, his first with the Cavs? He was so exhausted from four straight Finals runs and exasperated with his young, underperforming team that he bolted off to Miami for a sabbatical in January and ended up playing just 69 games, his lowest in a nonlockout season.
James was exhausted this spring. He said he was burned out after the first-round series against Indiana went seven. He was exhausted after the seven-game series vs. Boston. And he was mentally fried after that horror-show sweep to the Warriors.
There's a good chance that he'll either elect to or will be forced to take some time off this season. The Lakers under Luke Walton are also going to be closer to the Warriors' approach of taking a far more cautious track with player fatigue. James can overrule all that; he's LeBron James. But even with a depleted roster that's going to need so much from him, in year 16, there's good reason to think this may be the limit regarding how far he can go in his Superman costume.
Lean: Under 74.5 games played
Will LeBron James win MVP in 2018-19? Yes +300 
If you're getting +200 or better, you're likely in a good place with this one. James has better than a 1-in-3 chance to win next year's MVP. He's going to have a huge narrative behind him in Los Angeles. He's in a sweet spot where this roster, as discussed above, is so weak that if the Lakers do secure a top-four seed and 50-ish wins, James will be the one who gets all the credit for it.
James was a serious MVP candidate this year. Houston may take a step backward after two long playoff runs and losing Trevor Ariza (and potentially Clint Capela). The Warriors won't care enough for anyone to go for it, and even if they do, they all face the problem of playing with one another. There are threats in the East (Giannis Antetokounmpo, in particular, with James gone), but James will still be a strong enough threat to make this a real option.
If he can make this team good to great, he will have earned a spot in the conversation.
Lean: Yes +300
---
HOLLYWOOD (READ: NOT REAL) PROPS
Over/Under 2.5 back-and-forths with LaVar Ball in 2018-19
I'll take the under. I think LaVar will attempt at times to spark something, but he's also smart enough to know the precarious position his son is in. If this gets to be too much of a problem, the Lakers will trade Ball. Magic approached James as a partner. LeBron's not joining the Lakers; he's taking them over.
The elder Ball will wrestle with this, but he is more likely to take aim at the more vulnerable Walton. There will be friction; the presence of Rondo, who serves as a threat to Lonzo starting, will be enough for that. But it also takes two to tango. If Ball says something that reporters rush to LeBron with, LeBron has the choice of how to respond. He'll likely shake his head and say "no comment." If Ball crosses a line? Sure, James might fire back. But if it gets to that point, LaVar won't be around much longer.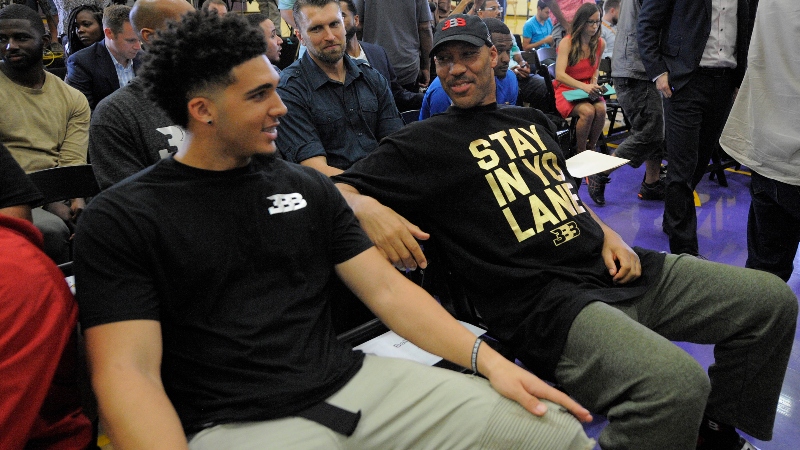 Gary A. Vasquez-USA TODAY Sports. Pictured: LaVar Ball.
Then again, would this hypothetical prop include barbs if Lonzo is traded? Because if so, it could go way, way over.
Over/Under 5.5 subtweets in Year 1
I'm again going under. It just really seems like James accepts that this is a long-term process, and this might be a lost year. Also — and this has been a common conversation in Vegas at Summer League — if James really cared most of all about how the team would perform and compete, he wouldn't have gone to the Lakers. This was not a basketball decision. It was a life decision with some basketball stuff thrown in.
So no matter how frustrated he might get, the emotional buy-in won't be the same as it was in Cleveland, where he was so invested in winning a title. James is also beaten down by three losses to Golden State in four years. Some part of him knows that how this team does doesn't ultimately matter. The Warriors added Cousins for God's sake.
He'll be happy in LA with his family, and focused on being the most powerful athlete in the world.
Over/Under 30.5 Jack Nicholson sightings in Year 1
Jack is 81, man. He sat through some absolute garbage years and got fed up a few years ago, but has still been in attendance. When you factor in health concerns, you have to go under here. LeBron and the return of mystique might be enough to change that, however.
If we could do an Andy Garcia prop, however, I would hammer the over there. Garcia is 62, still making flicks to promote and has been one of the most hardcore celeb Lakers fans.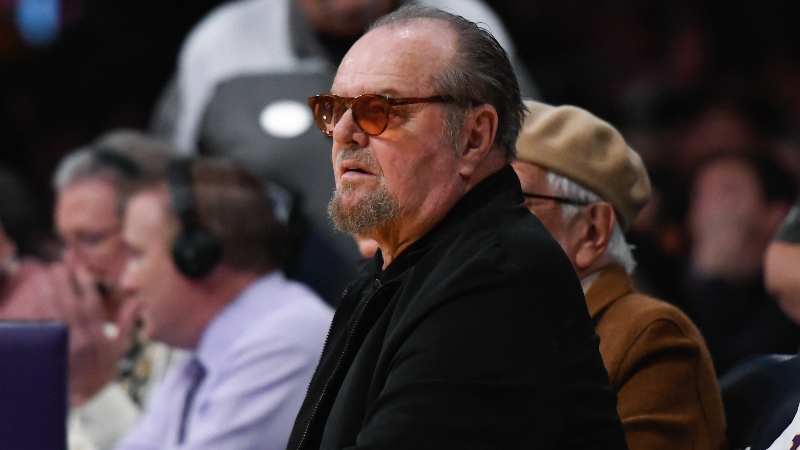 Robert Hanashiro-USA TODAY Sports. Pictured: Jack Nicholson.
Over/Under 28 Lakers' appearances on national TV
Over. All the over. The national TV schedule next season will just be the Lakers, Warriors and Celtics playing (insert team here) or each other. That's it. The Lakers will be on 30-plus times, the max. They may even play reruns of the Lakers' games instead of other teams' matchups. (I'm only half joking.)
The league has a ton of good teams (none of which can touch the Warriors), but LeBron joining the Lakers is going to dull the conversation around them, which is too bad.
Will Lonzo Ball be with the Lakers on Aug. 1? Yes -1000 No +800
His meniscus injury, which magically popped up when trade chatter was starting, ensures he won't be dealt. He'll be with the team on Aug. 1.
Drop this down to "the first day of training camp" and you probably get a lot closer, maybe Yes -500. Even then I wouldn't go near it. Ball is both a player Magic won't want to give up on given how much he invested in him, and someone few other teams will want because of the potential LaVar nonsense. If he were a better shooter, the conversation shifts, but Ball, for all the basketball IQ, passing acumen and defensive ability he showed in Year 1, isn't good enough to be a chip teams are desperate for.
Over/Under 13.5 number of Greatest Laker Ever debates on ESPN and Fox Sports 1 before the season
Under. It's football season, baby.
Will Kobe come out of retirement? Yes +10000 
Is he going to play center?
Over/Under 1.5 Kobe subtweets
If this partnership were to go south, then I could see this happening. Kobe will always take Magic and the organization's side. So if the team became frustrated with James for whatever reason, it could get nasty. It's highly unlikely, so take the under, but it's within the realm of possibility given the egos involved.
Will the Lakers lead the NBA in memes next season (Lance, JaVale, LeBron, Walton, Magic)
You know what creates memes? Exposure. People have to see those moments. And the Lakers will have more camera time than any NBA team in history next season, including the Warriors. Get your popcorn and fire up the GIF machine. This is going to be… fun?