DeMarcus Cousins to the Warriors: Time to Take the NBA Title Odds Off the Board
Credit:
Derick E. Hingle-USA TODAY Sports. Pictured: Demarcus Cousins and Draymond Green
The Highlights
All-NBA center DeMarcus Cousins agreed to join the Golden State Warriors on Monday.
The Warriors' NBA title odds are now -150, but with this roster, they are a near lock to repeat.
Even if Cousins is 60 to 70 percent of the player he was before tearing his Achilles, that's still a massive improvement over the Warriors' centers on last year's title team.
---
There isn't a big enough line.
Seriously.
There are no future odds large enough to make it reasonable to bet on anyone but the Golden State Warriors to win the 2019 NBA title. Just go ahead and pack that trophy into some nice Styrofoam and ship it to the Bay, because this baby is a wrap.
The Warriors reached an agreement Monday to sign DeMarcus Cousins. Yes, that DeMarcus Cousins, the four-time All-Star, Olympic and World Cup gold medalist, two-time All-NBA center. They nabbed him with the mid-level exception for roughly $5 million on a one-year deal. Does that seem just absolutely bonkers and over the top? Well, you haven't been paying attention to these Warriors.
You will hear a litany of reasons why this is not that big of a deal. A few being bandied about:
Cousins suffered an Achilles tear last spring, and he's not expected back until at least January, maybe as late as March.
Players who have that surgery never come back the same.
Cousins has always been a controversial figure and a volatile personality to wrangle.
Even last year with the Pelicans, New Orleans had roughly the same net rating with Cousins on the bench compared to him on the floor.
Do not be fooled. Do not let this be normalized.
When Cousins returns, the Warriors will have five All-Stars in their starting lineup. Not one-time All-Stars. Not former All-Stars. Current, these-dudes-were-in-the-All-Star-Game-last-year All-Stars. They have more gold medals on this team than 102 IOC-recognized countries/teams in all events. I checked. Even if Cousins is only 60 to 70 percent of what he was fully healthy, that player is still, pardon me, light-years beyond what the Warriors had at center last year with Kevon Looney and, ahem, new Laker JaVale McGee.
(P.S. Congratulations, LeBron! You went west to join the illustrious franchise the Lakers! Now you get to try and get past the Warriors with Lonzo Ball, maybe Brandon Ingram/maybe Kawhi Leonard, JaVale McGee, Rajon Rondo and Lance Stephenson. Did I mention LA and Golden State share a division?)
At the very least, Cousins gives the Warriors a bruising, mountain of a center who can run the floor and set devastating screens. He's great at running the break. He can get the rebound, push the ball up and have …
Kevin Durant …
Steph Curry …
AND Klay Thompson spotting up.
If Cousins comes back better than expected? He can drop 30 without breaking a sweat. He will dominate the glass. He can play give-and-go with the Warriors' cadre of razor-sharp cutters.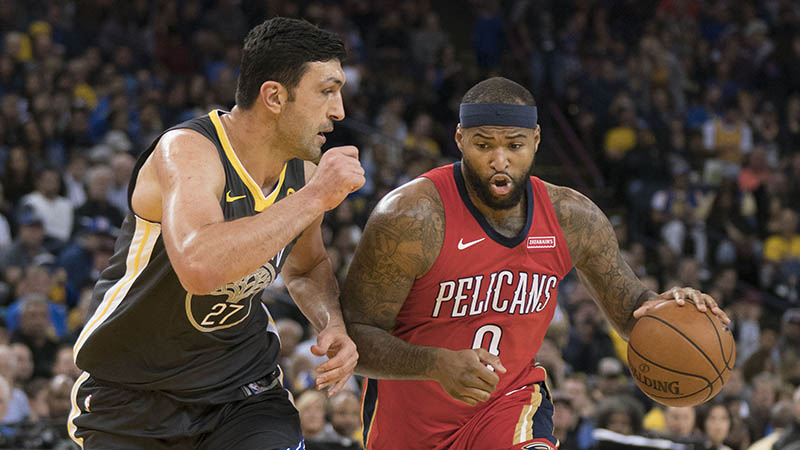 Kyle Terada-USA TODAY Sports. Pictured: Zaza Pachulia and DeMarcus Cousins
---
He and Draymond Green (pictured at top) will fight in practice. Outright fight. But maybe that's a good thing, giving Green someone else to badger instead of Durant.
The Westgate's new odds only have Golden State at -150 to win the title and -200 to win the West. Those are both a steal. But even if a team figures out how to switch everything, guard the spot-ups and the slip screens — basically all the stuff Houston did? Now it has a one-man wrecking ball to deal with, too.
The Warriors' chemistry is bulletproof. They had JaVale McGee and Nick Young on the same roster last year and swept the Finals.
The 2018-19 NBA season was already probably over. Now? You can take probably and chuck it into the Bay. For better or worse, the Warriors remain greedy, and there are no odds short enough to account for what should be their continued dominance.
How would you rate this article?