NBA Predictions, Picks & Betting Odds (Monday, Jan. 6): Will the Jazz Stay Hot in NOLA?
Credit:
Jonathan Bachman/Getty Images. Pictured: Donovan Mitchell (45) of the Utah Jazz.
This NBA season, I'm trying something new. I'm going to write a daily piece that highlights everything bettors and DFS players need to know for that night's slate. For more on what to expect, read the inaugural piece.
Let's dive into today's slate and find some angles.
Note: For updates, see the chat at the bottom of this post.
YTD Record:
Overall: 156-123-2
Spreads: 60-52-2
Totals: 47-43
Moneylines: 14-6
Props: 29-22
Jump To: Odds & Analysis | Projected Starting Lineups & Injury News | Player Props | DFS Values & Strategy | My Bets
---
Odds as of Monday afternoon and via FanDuel, where Action Network users get a risk-free bet up to $500.
---
Betting Odds and Analysis
7 p.m. ET: Boston Celtics (-8.5) at Washington Wizards, 225.5
7 p.m. ET: Brooklyn Nets at Orlando Magic (-4.5), 212
7 p.m. ET: Indiana Pacers (-4.5) at Charlotte Hornets, 208.5
7 p.m. ET: OKC Thunder at Philadelphia 76ers (-7.5), 212.5
7:30 p.m. ET: Denver Nuggets (-8.5) at Atlanta Hawks, 223
8 p.m. ET: Utah Jazz (-3.5) at New Orleans Pelicans, 221.5
8:30 p.m. ET: Chicago Bulls at Dallas Mavericks (-10), 217
8:30 p.m. ET: Milwaukee Bucks (-7.5) at San Antonio Spurs, 228
10 p.m. ET: Golden State Warriors at Sacramento Kings (-10.5), 215
Let's run through a couple angles I'm eyeing.
Nuggets at Hawks
The Nuggets have been truly terrible defensively of late, ranking dead last in efficiency (119.8 points/100 allowed) over the past two weeks. The offense has been awesome, ranking second, and yet they've still posted a negative point differential because of that defensive unit.
Scarily, you can't really blame it on luck, as is often the case with highs and lows throughout the season. In that same time period, opponents aren't shooting way above expected on open or wide-open shots. The issue has been rim protection — against the undermanned Wizards on Saturday, the Wizards shot 90.0% at the rim.
Whether it's scheme or a blip on the season, the Nuggets are allowing a ton of shots in the paint, and they aren't doing a great job contesting those shots.
The Hawks have their own issues, and they've obviously been terrible this season. But a lot of that is outside shooting, where they're dead last in the league; they're actually above-average in shots made at the rim, which, again, is where Denver has really hemorrhaged points of late.
Further, things should get better for the Hawks. On the season, they have a -9.4 point differential and a 51% eFG% mark. But with Trae Young and John Collins together, they've been at -2.8 and 53.6%. Those aren't elite numbers, sure, but it's definitely better than how they've been. Add in Kevin Huerter and the eFG% bumps up to 55.5%.
Collins went through shootaround today and is expected to play. Young returned after a two-game absence on Friday and played 37 minutes on their weekend back-to-back. He put up 41 points on Saturday against the Pacers and looked like his usual self, which is a good sign.
The Hawks defense has been up and down this season, and it has improved a ton with Collins back, but I'm still not fully trusting this defense, and, again, the Nuggets' offense has been very good lately.
It's scary to bet the over for a Hawks team that has been so bad — just last week they put up back-to-back games in the 80s — but I think this line is too low given the Hawks are getting healthier with their main guys and the defensive struggles the Nuggets have had.
This is a hold-your-nose bet, but I think there's some value. I'll likely wait to see if it comes down a bit after skyrocketing after opening.
[In New Jersey, Pennsylvania, Indiana or West Virginia? Bet now at FanDuel]
Jazz at Pelicans
This might be the most fascinating game of the night. Both teams have been incredibly hot lately, sitting with +10.6 (first) and +9.3 (third) point differentials over the past two weeks. Both teams have top-10 offenses and defenses in that stretch. A lot of it is pretty hot shooting, however.
In that two-week stretch, the Jazz and Pels have posted eFG% marks on wide-open shots of 63.6% and 66.3%. The Pels' mark is potentially more sustainable: They rank seventh in that stretch in expected eFG% and fifth in actual eFG% overall. The Jazz, though, are 19th in expected eFG% and third in actuality.
That said, the opposite is true on defense. The Jazz are fifth in expected eFG% allowed and second in actual eFG% — that makes sense. The Pels, however, are 27th in expected eFG% but sixth in actual eFG% allowed. They're giving up the second-most shots at the rim, but opponents haven't been making them.
Put simply: Both teams have played well, but also have benefited from shooting luck — the Jazz on offense and the Pelicans on defense.
Given the talent here, I trust the Jazz a bit more to see continued success, but I think there's one key area of play for tonight. The Pelicans have done well lately pushing in transition, getting out on 16.1% of their possessions. They've pushed on 30.2% of live rebounds, one of the highest marks lately.
That makes sense given their personnel in Lonzo Ball, Jrue Holiday, Brandon Ingram and others. And they could have success in that regard against the Jazz, who since Dec. 1 have allowed the most transition opportunities in the entire league.
The Pelicans have also done a good job hitting the glass on both ends of the floor, and that's been of struggle of Utah's lately, too. The Jazz have been a good defensive rebounding team, as to be expected with Rudy Gobert, but if that continues to be a problem, that's a win for the Pelicans.
All in all, I would lean toward the Jazz here, but there are some key areas the Pelicans could win and swing this game. I might take a little bite pre-game, but it also might be worth looking for live betting opportunities.
If the Pelicans push the pace, they would be worth a bet. If the Jazz can keep this to a halfcourt game — their defense in the half court is still excellent — then their scheme and plan should win out here.
[In New Jersey, Pennsylvania, Indiana or West Virginia? Bet now at FanDuel]
Projected Starting Lineups and Injury News
Note: Info as of 1 p.m. ET. For up-to-the-minute lineups and news, see FantasyLabs' matchups page.
Projected Lineups
Atlanta Hawks: Trae Young – Kevin Huerter – De'Andre Hunter – John Collins – Bruno Fernando
Boston Celtics: Marcus Smart – Jaylen Brown – Jayson Tatum – Gordon Hayward – Daniel Theis
Brooklyn Nets: Spencer Dinwiddie – Garrett Temple – Joe Harris – Taurean Prince – Jarrett Allen
Charlotte Hornets: Devonte' Graham – Terry Rozier – Miles Bridges – PJ Washington – Bismack Biyombo
Chicago Bulls: Kris Dunn – Tomas Satoransky – Zach LaVine – Thaddeus Young – Wendell Carter Jr.
Dallas Mavericks: Luka Doncic – Tim Hardaway Jr. – Justin Jackson – Dorian Finney-Smith – Dwight Powell
Denver Nuggets: Jamal Murray – Gary Harris – Will Barton – Paul Millsap – Nikola Jokic
Golden State Warriors: Ky Bowman – Damion Lee – Glenn Robinson III – Eric Paschall – Willie Cauley-Stein
Indiana Pacers: Aaron Holiday – Jeremy Lamb – TJ Warren – Domantas Sabonis – Myles Turner
Milwaukee Bucks: Eric Bledsoe – Wes Matthews – Khris Middleton – Giannis Antetokounmpo – Brook Lopez
New Orleans Pelicans: Lonzo Ball – Jrue Holiday – JJ Redick – Brandon Ingram – Derrick Favors
OKC Thunder: Chris Paul – Shai Gilgeous-Alexander – Terrance Ferguson – Danilo Gallinari – Steven Adams
Orlando Magic: Markelle Fultz – Evan Fournier – Wes Iwundu – Aaron Gordon – Nikola Vucevic
Philadelphia 76ers: Ben Simmons – Josh Richardson – Tobias Harris – Al Horford – Joel Embiid
Sacramento Kings: De'Aaron Fox – Buddy Hield – Harrison Barnes – Nemanja Bjelica – Richaun Holmes
San Antonio Spurs: Dejounte Murray – Bryn Forbes – DeMar DeRozan – Trey Lyles – LaMarcus Aldridge
Utah Jazz: Donovan Mitchell – Joe Ingles – Bojan Bogdanovic – Royce O'Neale – Rudy Gobert
Washington Wizards: Isaiah Thomas – Gary Payton II – Bradley Beal – Isaac Bonga – Ian Mahinmi
Injury News
Atlanta Hawks: Damian Jones (adductor) is questionable. John Collins (back) and Cam Reddish (wrist) are probable. Jabari Parker (illness) is doubtful.
Boston Celtics: Kemba Walker (illness) is out.
Brooklyn Nets: Kyrie Irving (shoulder) remains out. Caris LeVert (thumb) is out. DeAndre Jordan (knee) is probable.
Charlotte Hornets: Marvin Williams (nose) is out.
Chicago Bulls: Lauri Markkanen (ankle) is doubtful. Chandler Hutchison (shoulder) is active. Zach LaVine (ankle), Wendell Carter Jr. (abdomen, ankle) and Ryan Arcidiacono (elbow) are probable.
Dallas Mavericks: Kristaps Porzingis (knee) is out. Tim Hardaway Jr. (hamstring) is questionable.
Denver Nuggets: Paul Millsap (knee) and Jamal Murray (finger) are probable.
Golden State Warriors: D'Angelo Russell (shoulder), Draymond Green (ankle) and Kevon Looney (abdominal) are out.
Indiana Pacers: Malcolm Brogdon (back) remains out. TJ McConnell (ankle) is questionable.
Milwaukee Bucks: Pat Connaughton (thigh) is out. George Hill (illness), Giannis Antetokounmpo (back) and DJ Wilson (finger) are probable.
New Orleans Pelicans: Jrue Holiday (elbow) is questionable.
OKC Thunder: Nerlens Noel (ankle) is out.
Orlando Magic: Michael Carter-Williams (AC joint) is without a timetable to return.
Philadelphia 76ers: James Ennis (illness) is not on the injury report.
Sacramento Kings: Marvin Bagley (foot) remains out. Bogdan Bogdanovic (ankle) is doubtful.
San Antonio Spurs: Dejounte Murray (personal) is not on the injury report.
Utah Jazz: Nothing new.
Washington Wizards: Bradley Beal (leg) and Ian Mahinmi (finger) are questionable.
---
Player Props
To bet props, I use our FantasyLabs player props tool. Follow me in the Action Network app to see my bets (or go to the bottom of the article), but the more important thing is the tool, which measures our projections for every player vs. current odds in the market and highlights the biggest edges for you.
Player props are an inefficient market, which allows casual bettors (limits are low, so pro bettors aren't incentivized to prioritize them) to grab very +EV bets. That said, the lines move quickly. Our props tool is set up so you can always see whether there's an edge even at the updated numbers throughout the day.
It's one of my favorite tools we offer and should be one of your bookmarked pages if you like making a few extra bucks. Here's a screenshot of what it looks like:

My usual recommendation: Bet unders.
Last season, 10-rated props in our tool hit at a 60.31% rate. But overs hit at a 57.08% rate vs. 66.47% for unders. For 9-rated props, 55.96% of overs were successful bets vs. 62.60% for unders.
As I have noted in the past, unders have more outs: A blowout, an injury, a poor shooting night — all will likely make the under hit. But also, props are less efficient as a market given the low limits, so they're less likely to adjust for things like opponent and pace.
One under I think is intriguing is Brandon Ingram's 5.5-assist total.
This is an intriguing line, as Ingram has exceeded five assists in just three of his past 14 games. I wrote way more thoughts on this game above, but I think the Jazz would be wise to make this a slower-paced halfcourt game, as that's where their defense has shined. That hasn't happened lately, but they're a smart, well-coached team.
Further, as mentioned above, the Pelicans have been operating at near peak efficiency on offense of late, and Ingram still hasn't hit the over on this prop in three straight games. He's hit it in just one of his last six.
Given his history, the fact he plays with multiple creators already and the matchup against the Jazz, I'll take the under on this one again.
DFS Values and Strategy
There are a ton of studs to choose from, including Luka Doncic and Giannis Antetokounmpo at the top. Both are excellent values on FanDuel and worthy plays, but on DraftKings Giannis should likely be the preferred option of the two in cash games. He's nearly $1,500 cheaper than Doncic and is in a similar spread game with a much higher total.
The FanDuel pricing is pretty soft today, as we currently have every player at $8,500 and above projected for at least a +2.0 Projected Plus/Minus. The highest mark of that group actually belongs to the Magic's Nikola Vucevic, who is projected to exceed value by over eight points.
Vooch has hit value by an average of 7.35 fantasy points over his last 10 games, posting a positive Plus/Minus mark in nine of those games. He has a negative correlation on the season with Jonathan Isaac, who remains out for the foreseeable future. And on top of that, Vooch has a massive +3.89 Opponent Plus/Minus against the Brooklyn Nets, who have been one of the worst teams in the league over the last two weeks.
When I wrote this piece on Friday, it was all about the Boston Celtics. That's the case again today, as Kemba Walker is out yet again. That's a whole lot of usage and playmaking responsibilities gone from the rotation, and those should go to a combination of Gordon Hayward, Marcus Smart, Jaylen Brown and Jayson Tatum, all of whom are popping as values today.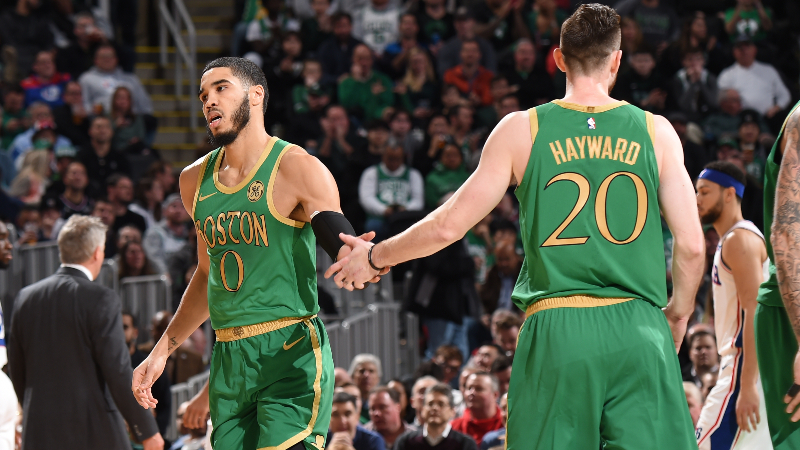 Hayward actually leads the entire slate with a +10.03 Projected Plus/Minus on FanDuel. It's very difficult to fade all of these guys today at their low price points, especially against a terrible Washington defense. When these teams played earlier this season, the Celtics won 140-133.
There are a variety of injuries to watch as always, including to Bradley Beal, Jrue Holiday, Lauri Markkanen, Giannis and some Nuggets guys, to name a few.
Make sure to subscribe to our FantasyLabs models and check out our new Labs NBA Insiders tool to get up-to-the-minute information on injuries and projection changes.
For more DFS analysis and value plays, check out the FantasyLabs NBA models.
My Bets Currently
Nothing yet.
[In New Jersey, Pennsylvania, Indiana or West Virginia? Bet now at FanDuel]
Follow me in our free app if you want an alert on bets I make.
How would you rate this article?