Thursday NBA Predictions, Picks & Betting Odds (Dec. 5): Joel Embiid Will Dominate Wizards' Thin Frontcourt
Credit:
Photo credit: Bill Streicher-USA TODAY Sports. Pictured: Joel Embiid
This NBA season, I'm trying something new. I'm going to write a daily piece that highlights everything bettors and DFS players need to know for that night's slate. For more on what to expect, read the inaugural piece.
Yesterday I finished 4-4 for -0.7 units. While I don't want to get sucked into the past, I think it's worth reviewing things each day.
The best way to do that is to look at closing line value (CLV), which is just measuring whether the line you bet moved for or against you by closing.
I bet Warriors +3 and it closed at Warriors +2.5 (lost)
I bet Bucks -9 and it closed at Bucks -9 (won)
I bet Pistons under 108 and it closed at 107.5 (won)
I bet Grizzlies-Bulls over 222.5 and it closed at 223 (lost)
I bet Pacers -115 ML and it closed at Pacers -117 (won)
I bet Pacers 1Q pick (lost)
I bet Pacers 3Q pick (won)
I bet Grizzlies-Bulls (2H) under 113.5 (lost)
It was an uneventful day overall in terms of CLV and I finished an even 4-4 on bets. The one I felt most strongly about was the Pacers, and I likely should've been more confident in that one in terms of units.
My big writeup was on them yesterday and how I was buying them now that they're at full strength. That starting unit has been so good together. A seven-point win in OKC was definitely another solid showing.
I also wish I was more confident in the Bucks game. I hit it after the Pistons ruled out Luke Kennard, who I think is sneakily one of the more valuable role-players in the league right now.
His shooting is so critical to this team's offensive success, which is why I also took the under on the Pistons' team total, which hit by a couple points. (This was a good example why team totals can be good bets, as it requires predicting just two variables [the Pistons expected offensive output + Milwaukee's defense] rather than four variables [both teams' offense and defense. The over hit in this one.)
I think I was flat-out wrong on the Warriors. I thought they would improve with D'Angelo Russell, Draymond Green and Kevon Looney finally back in the lineup, but man does this team stink.
I had some solid reasoning, I think — Russell's terrible splits came against a brutal schedule — but my concern (Russell is a pretty terrible fit for Steve Kerr's offense) should've been weighed a little bit more.
And finally, for the Grizzlies-Bulls game, perhaps it was just bad shooting luck: Memphis had one of its worst shooting nights of the year, going just 23.3% on 3-point attempts. The Grizz had just 35 points at halftime.
But I potentially also overrated the expected offensive output without Ja Morant and Brandon Clarke, two talented rookies who are vital to this team. I'll have to do some more research on the Grizz, but it's possible that was a poor bet.
Anyway, enough about yesterday's games. Let's get to today's four-game slate and find some angles.
Note: For updates, see the chat at the bottom of this post.
YTD Record:
Overall: 120-104-1
Spreads: 43-43-1
Totals: 36-33
Moneylines: 8-6
Props: 29-22
Jump To: Odds & Analysis | Projected Starting Lineups & Injury News | Player Props | DFS Values & Strategy | My Bets | Live Chat
---
Betting Odds and Analysis
7 p.m. ET: Philadelphia 76ers (-7.5) at Washington Wizards, 234
7:30 p.m. ET: Denver Nuggets (-9) at New York Knicks, 203
7:30 p.m. ET: Houston Rockets at Toronto Raptors (-2), 230.5
8 p.m. ET: Phoenix Suns at New Orleans Pelicans (-3), 235.5
Let's run through a couple angles I'm eyeing.
76ers at Wizards
The Wizards are a prime example of why player value to the spread and total can't be measured in a vacuum. You can't just simply run a model to set value to a player — let's say Luka Doncic is worth five points — and then add up all of the players who are out and subtract.
On Tuesday, the Wizards announced that Thomas Bryant was going to be out at least three weeks with a right foot stress reaction. I'm not sure anyone could coherently argue that Bryant, a below-average player, is worth anything to the betting market. At least in a vacuum.
I do think he was worth something in that context, as the Wizards were also down Ian Mahinmi and Moritz Wagner.
Rui Hachimura, a 6-foot-8 rookie wing, had to play center for stretches. Same with 6-foot-10 Davis Bertans (clearly more suited to the stretch-4 role) and 6-foot-8 Isaac Bonga (a raw 20-year-old). Bryant isn't good enough to affect the spread, but the overall lack of depth certainly should have and did a bit.
Looking forward to tonight's game against the 76ers, the Wizards could get back Mahinmi and Wagner, both of whom are questionable. Mahinmi has yet to suit up this season with an Achilles injury, and Wagner is dealing with a sprained ankle. Maybe one of them can go, but again this is a pretty dire situation for the Wizards in the frontcourt.
To be fair, I don't think the center depth was a huge reason they lost to the Magic the other day. The Magic took just 30% of their shots at the rim (19th percentile) and shot just 61.5% there (45th percentile). They did most of their damage beyond the arc, shooting 15-of-31 from 3, but it's hard to blame the big men for that. The Wizards actually won the points-in-the paint battle, 60-42.
Of course, there could be trickle down effects of being so shorthanded in the frontcourt. The Wizards could've adjusted their scheme and packed the paint more to account for their deficiency, allowing more shots. I went back and watched this game to find out: A lot of the Magic's success was jump shooting (which is volatile) and baskets off cuts and screens.
I do think the big men, particularly Hachimura and Bonga, were responsible for a good chunk of that. The help defense was very poor, and there were numerous instances of a simple back cut leading to a wide open shot because there was no defender even near the basket to try to defend the rim. The 76ers, their opponent today, rely on cuts quite a bit and are a top-three team in terms of efficiency on those plays.
All in all, the Wizards' issues on defense on Tuesday weren't new — they've been a bad defensive team all season for a lot of these reasons. But the Magic also aren't really a team designed to take advantage of a weak frontcourt. Nikola Vucevic remains out, and Aaron Gordon and Jonathan Isaac are more face-up players, not guys who are going to use their length in the paint.
Enter Joel Embiid, who absolutely will.
The 76ers, probably no surprise to anyone, rank first in the league in percentage of their possessions that go through a post-up. I would expect nothing different today.
Of course, this game will then likely come down to shooting. Will the Wizards double Embiid and try to force the ball out of his hands? If so, guys like Tobias Harris, James Ennis and Furkan Korkmaz are going to have to hit their spot-up shots on the perimeter.
This line has ballooned up to 76ers -7.5 at most books, and I think there's probably still a little bit of value in that. The Wizards played their guys a ton of minutes on Tuesday, and they have a road back-to-back tomorrow in Miami. We'll see if they play their guys more manageable minutes tonight as a result; if not, it's hammer time on the Heat tomorrow.
Suns at Pelicans
Over the past two weeks, the Suns and Pelicans both rank in the bottom-10 in defensive efficiency, allowing 119.9 and 115.9 points per 100 possessions, respectively. The Suns have been especially bad, even against unintimidating offensive teams.

That coincides with Aron Baynes missing time, which has meant more time for Frank Kaminsky and Cheick Diallo in the frontcourt, both of whom are questionable defenders at best.
The data is a little weird, to be honest. Over that stretch, Phoenix actually hasn't been that bad defending the rim. The Suns have really hemorrhaged points from behind the arc, where they've allowed 42.1% shooting over that eight-game stretch.
Diving further, over that sample, teams are shooting 46.0% on wide-open 3s against the Suns — the fifth-highest mark in the league. Teams are at 39.3% on open 3s — the sixth-highest mark in the league. Those will likely regress a bit (it's mostly luck), but the problem is that they're allowing a bunch of 3s and especially open ones.
Going back and watching a lot of their possessions over the last couple of games, most of the 3s they've allowed have been due to just too easy penetration by guards, which has scrambled the defense and allowed wide-open shooters on the perimeter.
They also aren't great at fighting through screens, and guys like Kaminsky just aren't going to scare a shooter when he's closing out on a help.
I don't think there's anything vastly different — I didn't see a lot that was super attributable to Baynes or anything. I think maybe this defense just isn't that good and they ran pretty hot to start the year.
Ricky Rubio is good, Baynes is a smart post defender, and the wings have some length, but Booker is still a liability, Tyler Johnson has been rough at times, etc. There isn't a lot of awesome defensive personnel to really believe this was a top defense, as they were through the first couple weeks of the season.
The Pelicans, meanwhile, have a bit more defensive talent at spots — I've been impressed with rookie Jaxson Hayes for stretches — but just haven't been able to put things completely together. On the year, they have an expected eFG% allowed rank of 27th, which highlights they're giving up high-quality looks on a pretty regular basis.
Further, the pace should be high in this one: The Suns have actually decreased their pace since the beginning of the season, but they still played fast against the Pelicans a week or so ago.
These teams both rank in the top-10 in seconds per play so far, and the Pelicans have been the fastest team in the league this season pushing the pace off made baskets.
I think there's a small edge on the over here, which got hit with two steam moves to start the day. There has since been a steam move on the under at 235.5, so I think it could move down just a bit from that high number.

I'll likely wait to see if it comes down, as well as whether Baynes is out (I would guess he will be with his calf injury), but I'll look to make a small play on the over here given the above factors.
[In New Jersey? Bet now at PointsBet]
Projected Starting Lineups and Injury News
Note: Info as of 2 p.m. ET. For up-to-the-minute lineups and news, see FantasyLabs' matchups page.
Projected Lineups
Denver Nuggets: Jamal Murray – Gary Harris – Will Barton – Paul Millsap – Nikola Jokic
Houston Rockets: Russell Westbrook – James Harden – Danuel House – PJ Tucker – Clint Capela
New Orleans Pelicans: Lonzo Ball – Jrue Holiday – JJ Redick – Brandon Ingram – Derrick Favors
New York Knicks: Frank Ntilikina – RJ Barrett – Marcus Morris – Julius Randle – Taj Gibson
Philadelphia 76ers: Ben Simmons – Furkan Korkmaz – Tobias Harris – Al Horford – Joel Embiid
Phoenix Suns: Ricky Rubio – Devin Booker – Kelly Oubre – Dario Saric – Frank Kaminsky
Toronto Raptors: Kyle Lowry – Fred VanVleet – OG Anunoby – Pascal Siakam – Marc Gasol
Washington Wizards: Isaiah Thomas – Bradley Beal – Isaac Bonga – Rui Hachimura – Moritz Wagner
Injury News
Denver Nuggets: Nothing new.
Houston Rockets: Danuel House (illness) is questionable.
New Orleans Pelicans: Derrick Favors (personal) and Kenrich Williams (ankle) are questionable.
New York Knicks: Elfrid Payton (hamstring) and Frank Ntilikina (back) are questionable. Marcus Morris (cervical spasms) plans to play.
Philadelphia 76ers: Josh Richardson (hamstring) is out. Shake Milton (hip) is probable. Trey Burke (illness) is not on the injury report.
Phoenix Suns: Aron Baynes (calf) is TBD.
Toronto Raptors: Nothing new.
Washington Wizards: Ian Mahinmi (Achilles) and Moritz Wagner (ankle) are questionable. Thomas Bryant (foot) is out at least 3 weeks.
---
Player Props
To bet props, I use our FantasyLabs player props tool. Follow me in the Action Network app to see my bets (or go to the bottom of the article), but the more important thing is the tool, which measures our projections for every player vs. current odds in the market and highlights the biggest edges for you.
Player props are an inefficient market, which allows casual bettors (limits are low, so pro bettors aren't incentivized to prioritize them) to grab very +EV bets. That said, the lines move quickly. Our props tool is set up so you can always see whether there's an edge even at the updated numbers throughout the day.
It's one of my favorite tools we offer and should be one of your bookmarked pages if you like making a few extra bucks. Here's a screenshot of what it looks like:

My usual recommendation: Bet unders.
Last season, 10-rated props in our tool hit at a 60.31% rate. But overs hit at a 57.08% rate vs. 66.47% for unders. For 9-rated props, 55.96% of overs were successful bets vs. 62.60% for unders.
As I have noted in the past, unders have more outs: A blowout, an injury, a poor shooting night — all will likely make the under hit. But also, props are less efficient as a market given the low limits, so they're less likely to adjust for things like opponent and pace.
One under I think is intriguing is Tobias Harris' 7.5-rebound total.
Harris is a solid rebounder for his position, but he plays with essentially three other bigs most of the time in Ben Simmons, Al Horford and Joel Embiid, all of whom are good rebounders as well. Harris got over this mark last game, but had been under it in eight of his prior nine games.
On top of that, I think the Sixers will likely attack the paint tonight, both through Embiid post-ups and through cuts, which means a lot of the rebounding opportunities will be right near the rim; those should go to Embiid, Horford and Simmons more I think. Given his usual output plus the potential game dynamics at play, I think this is a solid under bet.
DFS Values and Strategy
Well, if I'm worried about the Wizards frontcourt with Thomas Bryant out and them potentially starting a lot of non-centers, I should probably be intrigued by Joel Embiid in fantasy tonight, right? You're darn right I am.
He's a great value at $9,700 on DraftKings and currently leads the stud options with a massive +8.82 Projected Plus/Minus. Sometimes you shouldn't overthink things.
There are other high-priced guys worth buying, too. Bradley Beal rebounded with a huge game against the Magic on Tuesday, putting up 42 real points for a 57.5-point DraftKings outing.
Notably he played almost 42 minutes and posted a usage rate of 39.3%. Even if that workload comes down a bit — they do play tomorrow night on the road — he's too cheap given what he has to do for this team to stay competitive.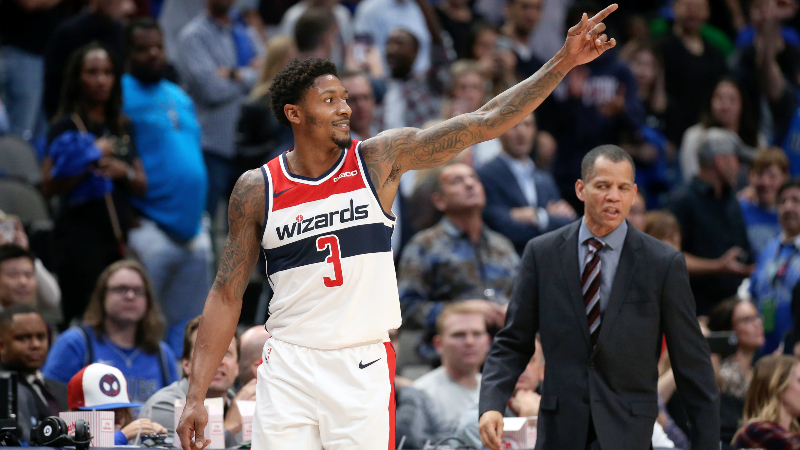 After Beal, there's a bunch of value in the $7-8k range on DraftKings, especially with Brandon Ingram, Ben Simmons and Jrue Holiday, all of whom have solid matchups in potentially fast-paced environments (assuming the Wizards speed up the Sixers a bit).
If you decide to fade Embiid, Harden and the super high-priced studs, building a more balanced lineup around some of those guys, along with great values in Ricky Rubio, Tobias Harris, Fred VanVleet and Lonzo Ball, is a very viable strategy in tournaments.
There aren't any surefire punt plays right now; you'll likely have to take a risk on some volatile options. Mo Wagner and Frank Kaminsky are both popping as values on FanDuel given their potential roles without their starting centers.
Wagner is a tough one, however, given on FanDuel you can roster just one center, so buying him automatically means you are fading Embiid. He's also facing Joel, which means potential foul trouble.
James Ennis should get a boost with Josh Richardson out and is cheap at $3,700, but he's a very low-usage player with a low floor. All in all, Embiid should be a priority, although it'll be tough to fit him in with another stud unless you take some risks in the bargain bin, which is a scary thing in cash games.
We'll have to see whether any value pops up throughout the day, but choosing between Embiid or a more balanced lineup with all the value in the $6-8k range will be the dilemma of the day.
For more DFS analysis and value plays, check out the FantasyLabs NBA models.
My Bets Currently
Over 234.5 in Suns-Pelicans (wouldn't bet past the number)
[In New Jersey? Bet now at PointsBet]
Follow me in our free app if you want an alert on bets I make. I'll also make updates in the chat below.
---
Updates and Live Chat
I will put updated thoughts below, whether they're about line movement, injury news, etc. You can also ask questions, which I'll answer as quickly as I can.
How would you rate this article?