Thursday NBA Odds & Picks (Nov. 14): Betting Analysis, DFS Strategies, Injury News, More
Credit:
Steve Dykes-USA TODAY Sports. Pictured: Brooklyn Nets guard Kyrie Irving (11).
Bryan Mears breaks down tonight's six-game NBA slate, offering betting advice, DFS strategies and injury news to help you find an edge.
This NBA season, I'm trying something new. I'm going to write a daily piece that highlights everything bettors and DFS players need to know for that night's slate. For more on what to expect, read the inaugural piece.
Yesterday I finished 4-5 across spreads, totals and props for -0.48 units. While I don't want to get sucked into the past, I think it's worth reviewing things each day.
The best way to do that is to look at closing line value (CLV), which is just measuring whether the line you bet moved for or against you by closing.
I bet Warriors +8 and it closed at Warriors +9 (lost)
I bet Spurs-Wolves under 227 and it closed at 228.5 (lost)
I bet Clippers +2 and it closed at +2 (lost)
I bet Wizards-Celtics over 229.5 and it closed at 230 (won)
I bet Grizzlies-Hornets over 221.5 and it closed at 221 (won)
I bet 76ers-Magic over 206.5 and it closed at 207.5 (won)
I bet Magic -1 and it closed at Magic -2.5 (won)
I had a bit of a mixed night in terms of CLV, gaining a bunch in the Magic game but losing some at the last second with the Warriors and in the Spurs-Wolves game. Those held pretty much all day and moved right at the last second.
The most interesting movement (or lack thereof) was in that Clippers-Rockets game. Kawhi Leonard was ultimately ruled in, which was personally surprising to me for reasons I detailed yesterday.
Long story short: Kawhi is not playing back-to-backs, and the Clippers seemingly have prioritized playing him against the weaker team in that situation, plus they are incentivized to get Kawhi and Paul George (who is reportedly making his debut tonight) reps together.
I thought it set up for Kawhi resting yet again on the front leg of the back-to-back, as he's done in each of the Clippers' first two B2Bs. I thought the market would be in line with my thoughts on the situation, but apparently it was not yet again. The line did not budge at all following the Kawhi news; it closed at the same number as before the injury news.
There are a couple interesting takeaways here. First, the market apparently thinks these teams as they stood last night — with Kawhi but no George and no Landry Shamet; no Eric Gordon or Danuel House for the Rockets — were even on a neutral court or the Rockets slightly better. I was skeptical that was true given the teams' play this year, although the Rockets ultimately won this game largely thanks to a free throw disparity.
Second, it seems the market does not really know what to do with the Kawhi situation on these back-to-backs. I was shocked they listed the Bucks +1 last week when Kawhi was likely to rest, and that number moved to Bucks -6.5 after the Kawhi news.
I thought yesterday they'd hedge a bit and account for the uncertainty, but the lack of line movement showed that to be false. They were fully accounting on him playing, which I think was risky. If Kawhi didn't play, they would have been wide open to getting hammered on the Houston side.
This is something to monitor moving forward — how the market is going to treat load management. Yesterday, the Magic moved from -1 to -2.5 after the Joel Embiid news, which suggested they accounted for the uncertainty and hedged the line. They didn't with Kawhi, which is curious. This will definitely be a focus of mine moving forward in this piece, as either way it'll provide some value if we're able to predict these situations.
Anyway, let's get to today's six-game slate and find some angles. This is a long post, so use the jump links below to skip ahead to whatever you're looking for.
Note: For updates, see the chat at the bottom of this post.
YTD Record:
Overall: 69-52-1
Spreads: 21-22-1
Totals: 14-10
Moneylines: 5-0
Props: 28-20
Jump To: Odds & Analysis | Projected Starting Lineups & Injury News | Player Props | DFS Values & Strategy | My Bets | Live Chat
---
Betting Odds and Analysis
6 p.m. ET: Miami Heat (-4) at Cleveland Cavaliers, 215
8 p.m. ET: LA Clippers (-3.5) at New Orleans Pelicans, 234
8 p.m. ET: Dallas Mavericks (-7.5) at New York Knicks, 215
8 p.m. ET: Chicago Bulls at Milwaukee Bucks (-11.5), 229
9 p.m. ET: Atlanta Hawks at Phoenix Suns (-8), 228
10:30 p.m. ET: Brooklyn Nets at Denver Nuggets (-7.5), 223.5
---
Odds as of Thursday afternoon and via PointsBet, where Action Network users can access an exclusive promotion to get a 200% deposit match (deposit $50, bet with $150). No strings attached. No rollover required.
---
Let's run through a couple situations for today.
Nets at Nuggets
Note: Kyrie Irving has been upgraded to probable. If he's ruled out, the below obviously applies. If he plays, this game is a stay away for me.
Kyrie Irving is questionable with a shoulder injury, and Caris LeVert is out several weeks with a thumb injury. That's … not great. If Irving is ultimately unable to go, that leaves Spencer Dinwiddie as the sole positive playmaker on this team going against a Nuggets squad that ranks sixth in defensive efficiency so far this year.
The Nuggets just gave up 42 to Trae Young last game, but overall they've been stingy against lead ball-handlers, notably holding red-hot Luka Doncic and Devin Booker in check a couple weeks ago.
If anything, the Nuggets' biggest weakness has been rim protection, opening the door for talented bigs or guys who can attack the rim. Without Irving on the floor, the Nets have taken 9.3% fewer shots at the rim; he's in the 98th percentile in that category.
It's hard to overstate just how tough of an injury this would be for the Nets. Here are some more on/off stats to put things even more in context…
Nets with Irving on: 104.6 pace | 114.7 Offensive Rating
Nets with Irving off: 103.1 pace | 106.0 Offensive Rating
Nets with Irving & LeVert off: 103.1 pace | 90.6 Offensive Rating
Yikes.
That data is crystal clear: The Nets are likely to really struggle offensively in this game if Kyrie is out. Make sure to monitor our FantasyLabsNBA feed to get that information the moment it comes out so you can grab the lines before they adjust. I'll likely sell the Nets in every way I can: the Nuggets spread, the game under and the Nets team total under.
Bulls at Bucks
This is a sneakily interesting game betting-wise. On the injury front, there are a couple notable things: Otto Porter is out for the Bulls, as is Khris Middleton for the Bucks. These teams will be missing their best 3-and-D wings, both of whom have solid offensive on/off splits.
This line sits at Bucks -11.5 at home, which honestly feels like a lot without Middleton. The matchup, though, is quite interesting.
The Bulls have attacked the rim at the highest rate in the league this season (42.5%). The offense is modern: They're dead last in long mid-rangers and 13th in 3-point rate. Those are all good signs.
The issue is that the Bucks play an extremely conservative defense, dropping the big man in every coverage, doubling at times and mostly selling out to protecting the paint. They were first in the league in 3-pointers allowed and last in rim shots allowed last year; they're second and 29th, respectively, so far this season.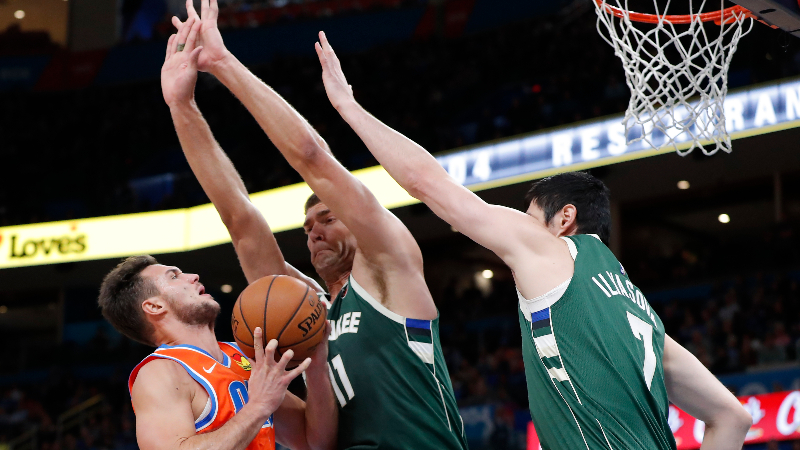 The defense is just really tough for the Bulls, who rely on attacking both for scoring and also to collapse the defense to kick out for shots. That just won't work against this Bucks team, which protects the paint and forces the ball out of the hands of the guards initiating the play.
That means the Bucks allow a bunch of 3-pointers to bigs, which is also interesting because the Bulls have Lauri Markkanen! The problem is that Markkanen has not been a good shooter despite his projection from his rookie campaign. In his first two years, he shot over 36% from 3, a great number for a center. This year, however, he's at just 27.3% — he has yet to find sustained success since his injury last year.
It sounds reductive, but Markkanen will likely determine this game, as he will have opportunity after opportunity to fire away.
As a quick aside, I was curious how the Bucks did last year against the spread vs. teams that rely on shots at the rim. Against top-five teams in rim frequency, the Bucks went 7-3 ATS; against the top-10 they went 13-9-1 ATS. Interestingly, the under went 3-7 against top-five teams and 9-14 against top-10 teams.
I'm not sure why the unders have been poor in this situation. Perhaps it forces teams into superior shots. Perhaps the Bucks just outperform those situations offensively; maybe more 3-pointers lead to more transition opportunities. Or perhaps it's just randomness.
All in all, I don't have a great feel for this game prior to it starting. But I will be watching it for some live value, particularly with how the Bulls elect to attack on offense. If they refuse to adjust and have their guards try to attack the Bucks in the paint, I'll likely live bet the Bucks and the under. If they take what the defense gives them and Markkanen looks good, I'll probably pass.
Clippers at Pelicans
The theme of the day is uncertainty. Kawhi Leonard has already been ruled out for this one, but Paul George is probable to make his Clippers debut. It's unclear whether he'll be limited in terms of efficiency or minutes; we'll have to see how he looks coming off surgeries to both shoulders.
For the Pelicans, Josh Hart and Lonzo Ball are both out, while Brandon Ingram and Jahlil Okafor are questionable. Ingram is one of the most interesting players of the year. His on/off numbers are truly atrocious: The Pels have been 13.4 points per 100 possessions better with him off the floor, which is in the 12th percentile of players.
That said, most of that damage has been on the defensive end, and Jrue Holiday also has bad on/off splits. It's possible the team just has poor starter/bench splits and that Ingram is being underrated by that metric.
Still, the starting lineup has not found success, which is an argument that it's not about splits — that unit just isn't that good together. Overall that unit has posted a -12.1 Net Rating, allowing an embarrassing 126.8 points/100.
The eye test says Ingram has been a breakout revelation, though. He's shooting 53.7% from the field and 46.9% from the 3-point line, way up from his career marks of 46.3% and 34.5%, respectively.
That said, 3-point percentage is highly volatile, and the rest of his success has come from outlier shooting from the mid-range: He's at 60.7% on short mid-rangers and 44.4% on long-2s. That certainly won't hold.
Again, uncertainty — it's difficult to peg just how valuable he is to this team. I think he's probably a bit overrated by the public given his shooting, but the team is incredibly thin right now. He may be undervalued by the advanced metrics.
In summation, I think it's best to get news on Ingram and see how George looks during the game. If he looks limited and the shot just isn't there yet — something he struggled with down the stretch due to the shoulder issues — then there could be some value on the Pels.
As I've written about before, the Clips shouldn't be dinged too much for the back-to-back:
That said, the Clips are thin, and the main guys played big minutes yesterday. If PG looks good and his minutes are reasonable, it's probably a stayaway. I'm mostly looking for Pels value here.
It's a live betting kind of day.
Mavericks at Knicks
These teams just met last week, and they played at a super slow pace, with the Knicks winning 106-102. On the season, both teams rank in the bottom-10 in pace, both off made and missed field goals.
Part of it is the combination of Frank Ntilikina and RJ Barrett as the lead ball-handlers. Frank has taken over the starting point guard spot, and with him on the floor, the Knicks have played about four possessions per game slower. Barrett hasn't exactly pushed the pace either, operating more deliberately in the halfcourt.
That's similar to how the Mavericks play, as Luka Doncic has been an absolute wizards in pick-and-roll halfcourt sets.
Finally, the Knicks could get back Mitchell Robinson, who is clearly their best defender and rim protector. If he's in, I like the under here.
[In New Jersey? Bet now at PointsBet]
Projected Starting Lineups and Injury News
Note: Info as of 3:30 p.m. ET. For up-to-the-minute lineups and news, see FantasyLabs' matchups page.
Projected Lineups
Atlanta Hawks: Trae Young – Cam Reddish – De'Andre Hunter – Jabari Parker – Damian Jones
Brooklyn Nets: Kyrie Irving – Garrett Temple – Joe Harris – Taurean Prince – Jarrett Allen
Chicago Bulls: Tomas Satoransky – Zach LaVine – Chandler Hutchison – Lauri Markkanen – Wendell Carter Jr.
Cleveland Cavaliers: Darius Garland – Collin Sexton – Cedi Osman – Kevin Love – Tristan Thompson
Dallas Mavericks: Luka Doncic – Seth Curry – Dorian Finney-Smith – Kristaps Porzingis – Maxi Kleber
Denver Nuggets: Jamal Murray – Gary Harris – Will Barton – Paul Millsap – Nikola Jokic
LA Clippers: Lou Williams – Maurice Harkless – Paul George – Patrick Patterson – Ivica Zubac
Miami Heat: Jimmy Butler – Kendrick Nunn – Duncan Robinson – Meyers Leonard – Bam Adebayo
Milwaukee Bucks: Eric Bledsoe – Wesley Matthews – Pat Connaughton – Giannis Antetokounmpo – Brook Lopez
New Orleans Pelicans: Jrue Holiday – JJ Redick – Brandon Ingram – Kenrich Williams – Derrick Favors
New York Knicks: Frank Ntilikina – RJ Barrett – Marcus Morris – Julius Randle – Mitchell Robinson
Phoenix Suns: Ricky Rubio – Devin Booker – Kelly Oubre – Dario Saric – Aron Baynes
Injury News
Atlanta Hawks: Kevin Huerter (shoulder), Evan Turner (Achilles) and Vince Carter (personal) are out. Cam Reddish (shoulder) will start. DeAndre Bembry (illness) is probable. Alex Len (ankle) is not on the injury report. Chandler Parsons (knee) is doubtful.
Brooklyn Nets: Kyrie Irving (shoulder) is probable. Caris LeVert (thumb) is out several weeks.
Chicago Bulls: Otto Porter (foot) is out. Zach LaVine (ankle) is available to play. Cristiano Felicio (wrist) is out 4-8 weeks.
Cleveland Cavaliers: Kevin Porter (hip) and Matthew Dellavedova (calf) are questionable.
Dallas Mavericks: Nothing new.
Denver Nuggets: Malik Beasley (illness) is questionable.
LA Clippers: Paul George (shoulders) is probable. Kawhi Leonard (rest) and Patrick Beverley (calf) are out.
Miami Heat: Justise Winslow (concussion) and Derrick Jones Jr. (hip) are out. Tyler Herro (ankle) and Goran Dragic (illness) are questionable. James Johnson (illness) is probable.
Milwaukee Bucks: Khris Middleton (thigh) is out several weeks. Kyle Korver (head) is not on the injury report.
New Orleans Pelicans: Josh Hart (knee, ankle) and Lonzo Ball (adductor) are out. Brandon Ingram (knee) and Jahlil Okafor (ankle) are questionable.
New York Knicks: Elfrid Payton (hamstring) is out. Mitchell Robinson (concussion) is questionable.
Phoenix Suns: Nothing new.
---
Player Props
To bet props, I use our FantasyLabs player props tool. Follow me in the Action Network app to see my bets (or go to the bottom of the article), but the more important thing is the tool, which measures our projections for every player vs. current odds in the market and highlights the biggest edges for you.
Player props are an inefficient market, which allows casual bettors (limits are low, so pro bettors aren't incentivized to prioritize them) to grab very +EV bets. That said, the lines move quickly. Our props tool is set up so you can always see whether there's an edge even at the updated numbers throughout the day.
It's one of my favorite tools we offer and should be one of your bookmarked pages if you like making a few extra bucks. Here's a screenshot of what it looks like:

My usual recommendation: Bet unders.
Last season, 10-rated props in our tool hit at a 60.31% rate. But overs hit at a 57.08% rate vs. 66.47% for unders. For 9-rated props, 55.96% of overs were successful bets vs. 62.60% for unders.
As I have noted in the past, unders have more outs: A blowout, an injury, a poor shooting night — all will likely make the under hit. But also, props are less efficient as a market given the low limits, so they're less likely to adjust for things like opponent and pace.
One under I think is intriguing is De'Andre Hunter's 11.5-point total.
Hunter managed to go over this one last game, scoring 12 points against the Denver Nuggets. That said, it required him to set a career-high with more than 40 minutes, hit two 3-pointers and get his second-most free throw attempts he's had all season. And still he only hit it by a half point.
Today he's on the road against a Suns team that has been better than expected on defense. They've had some leaks against good big men, but they've been solid against guards and wings.
Really, this just comes down to Hunter's role, which is big in terms of minutes, especially given the Hawks' injuries today, but is limited in terms of usage.
DFS Values and Strategy
We have a small, five-game DFS slate today, but man should it be fun. The studs today are in awesome spots.
Antetokounmpo gets a Bulls team that ranks dead last in the league in shots allowed at the rim. That's not a good metric against Giannis, who is one of the best downhill attackers in NBA history.
Trae Young has a tough matchup against the Suns, but he'll have to play a ton of minutes — he's been above 40 each of the past two games — given the Hawks' injuries. He's had three straight games over 60 DraftKings points.
Luka Doncic gets a Knicks team that ranks bottom-10 on defense and could be without its best defender in Mitchell Robinson. The Knicks are not a disciplined defense, and Luka has led the Mavs offense to a top-three halfcourt efficiency mark. He's hit value in all but two games this year.
Irving has a tough matchup against the Nuggets but should have to take on more responsibility with LeVert out. And on the other side of that game, Nikola Jokic gets a Nets team that ranks 27th on defense and has really struggled to protect the paint.
Trae, Giannis and Luka all have Projected Plus/Minus marks above +7.0, which is unheard of for guys at their price points. They are easy targets in all formats. Kyrie and Jokic are incredible GPP pivots, and especially Jokic, who is just $8,600 on DraftKings in one of the best possible matchups.
Value-wise, there are some punt plays that could be worth a look. JaMychal Green should be popular for the Clippers: He's projected for right around 25 minutes, but he got 32 last night even with Kawhi playing. He put up 40 DK points in that one and has now posted two straight double-doubles. Not bad production at $3,900 on FanDuel.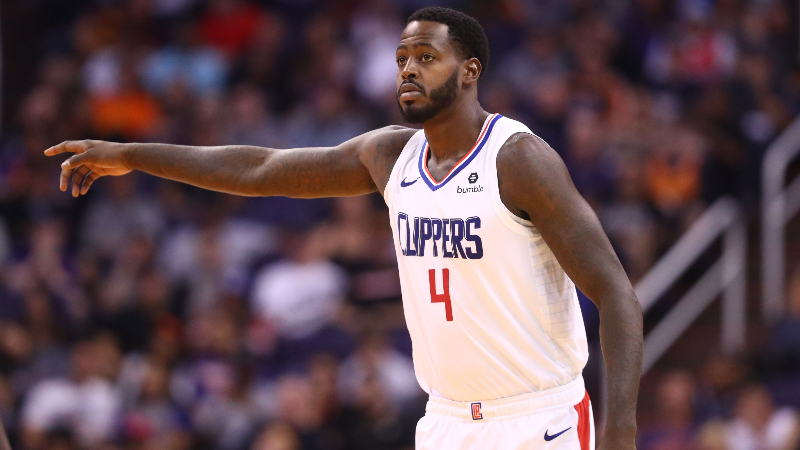 The rest of the options are a little less clear, but there are still cheap players who should get solid minutes. Kenrich Williams is projected for 32 and could play more if Brandon Ingram is ruled out. Frank Ntilikina is projected for 35-ish and has nice steal and block upside as a defender-first guard.
Remember to monitor injury news, especially today with big-name guys on the report. Irving has been upgraded to probable, but if he's out if would really swing the slate; Spencer Dinwiddie would be a must play. Ingram is questionable to play. Tyler Herro and Goran Dragic are questionable for the Heat; if neither play, Miami guys would present all of the value.
For more DFS analysis and value plays, check out the FantasyLabs NBA models.
My Bets Currently
Nothing yet.
Follow me in our free app if you want an alert on bets I make. I'll also make updates in the chat below.
---
Updates and Live Chat
I will put updated thoughts below, whether they're about line movement, injury news, etc. You can also ask questions, which I'll answer as quickly as I can.
How would you rate this article?