NBA Predictions, Picks & Betting Odds (Tuesday, Jan. 14): The Grizzlies Are Ahead of Schedule
Credit:
Photo credit: Brandon Dill/Getty Images. Pictured: Jaren Jackson Jr. and Ja Morant
This NBA season, I'm trying something new. I'm going to write a daily piece that highlights everything bettors and DFS players need to know for that night's slate. For more on what to expect, read the inaugural piece.
Friday I finished 2-5 for -2.15 units. While I don't want to get sucked into the past, I think it's worth reviewing things each day.
The best way to do that is to look at closing line value (CLV), which is just measuring whether the line you bet moved for or against you by closing.
I bet Thunder -160 and it closed at Thunder -135 (won)
I bet Thunder-Wolves under 219 and it closed at 218 (lost)
I bet Sixers-Pacers (2H) under 109 (won)
I bet Pelicans-Pistons under 225/223.5 and it closed at 221.5 (both lost)
I bet Pistons -4 and it closed at Pistons -5 (lost)
I bet Pistons -180 and it closed at Pistons -190 (lost)
Ouch, rough day. I got some pretty good CLV on these games, and it would've been a much different day if I had hit both Pels-Pistons under bets. It finished at 204 in regulation, but three missed shots in the final 30 seconds sent it to overtime, where the game pushed over the total barely.
I do think I made a mistake on the Pistons. In my manifesto, I actually didn't write them up — I was just interested in the total. The reason was that I thought both offenses would really struggle given their injury situations. I wasn't very bullish on the Pistons, but when Brandon Ingram was ruled out I ended up pulling the trigger. I got some CLV but think that was a mistake.
Anyway, let's dive into today's slate and find some angles.
Note: For updates, see the chat at the bottom of this post.
YTD Record:
Overall: 166-138-2
Spreads: 63-58-2
Totals: 52-51
Moneylines: 16-7
Props: 29-22
Jump To: Odds & Analysis | Projected Starting Lineups & Injury News | Player Props | DFS Values & Strategy | My Bets
---
Odds as of Tuesday afternoon and via FanDuel, where Action Network users get a risk-free bet up to $500.
---
Betting Odds and Analysis
7:30 p.m. ET: Phoenix Suns (-3.5) at Atlanta Hawks, 230
7:30 p.m. ET: Utah Jazz (-3.5) at Brooklyn Nets, 222.5
8 p.m. ET: New York Knicks at Milwaukee Bucks (-17), 229
8 p.m. ET: Houston Rockets (-5) at Memphis Grizzlies, 240.5
10:30 p.m. ET: Dallas Mavericks (-8) at Golden State Warriors, 223
10:30 p.m. ET: Cleveland Cavaliers at LA Clippers (-15.5), 224
Yikes, what a brutal slate. Still, let's run through a couple angles I'm eyeing.
Rockets at Grizzlies
We already know these two teams play fast: They're each in the top-three in pace this year, including off both made and missed field goals.
It's no surprise that this one has the highest total of the night. But is it high enough? I'm not so sure, especially if it's available at 240 or lower again — it was there at points throughout today.
The reason is that the Grizzlies have really taken a leap forward offensively of late. Over the past two weeks, they're actually second in offensive efficiency, scoring 119.2 points per 100 possessions. They haven't been below the 50th percentile in offensive performance since Dec. 20 — 11 straight games.
And that includes games against great teams, specifically the Clippers, Nuggets, Thunder and others. In that 11-game span, they haven't been below 110 points at any time. Against a Rockets team that plays super fast, can they put up 118, a mark they've hit in six straight games against slower teams?
I don't see why not. Looking at their recent metrics, they haven't really benefited from extreme shooting luck or anything that would suggest impending regression. They're 11th in expected eFG% since Dec. 20, and during that span they're above-average in shots at the rim and from behind the arc.
Sure, they've been awesome offensively in transition — Ja Morant at point guard almost single-handedly assures that — but they've also been the third-best team offensively within the halfcourt, which is way more impressive.
The only potential question mark is their shooting on wide-open shots, particularly from 3-point range. They've been at 43.6% on those over the past 11 games, which is the second-best mark in the league and should regress. But they've also been top-five in creating those opportunities, which is another good sign. These young guys are just pretty darn good it seems.
Meanwhile, the Rockets are coming off a game in which they put up 139 points, and they remain one of the most explosive offensives night-to-night, especially given their penchant for jacking up 3s. Russell Westbrook will be out tonight to rest, but I think that will actually help the offense.
The Rockets have been 8.0 points/100 better without Westbrook on the floor offensively, which makes sense given his historically bad shooting. His value has mostly come on defense this season, as the Rockets have been 5.0/100 better on that end with him, getting 4.2% more steals.
All in all, if this line gets down to 240 or lower again, I think this game should be projected to go over that and wouldn't mind a bet.
Click below to bet now.
Knicks at Bucks
Oh god, what am I about to write?
I … would lean … Knicks +17.
OK, I don't feel good about it at all. The Knicks stink. We know the Knicks stink. They'll be without Marcus Morris, who is one of their few solid veterans.
But it's also 17 points against the Milwaukee Bucks who don't mind resting their players. The Bucks beat this Knicks team by 21 a couple weeks ago and in that game no Bucks player logged more than 25 minutes. Giannis Antetokounmpo played 24 and got up just nine shot attempts.
The Bucks are awesome. Their bench is awesome. They should absolutely dominate this team. But the starters are going to likely play just half the game, which means that the Knicks could sneak a backdoor cover in here. The Knicks in that last game won the second and fourth quarters — when the bench guys were all in.
In that game, the Knicks actually got a bunch of open and wide-open shots. They're coming off perhaps their best win of the season over the Miami Heat in which they scored 131.9 points/100. They got out in transition and protected the ball well without Dennis Smith Jr., who is out again tonight.
Further, while the Bucks are 23-18 against the spread this season, they're just 7-11 as a double-digit favorite.
Against the first-half spread, they're 22-17-2 overall. As an eight-point favorite or more (they're -10 today) in the first half, they're 2-4. They have a poor record in the second halves of games where they're big favorites, which makes sense.
There's also currently more spread money than bets on the Knicks, which has historically been a good sign:
And per Sports Insights, we've tracked a reverse line move on the Knicks and nothing (including steam moves) on the Bucks.
Do I trust the Knicks to cover 17? Absolutely not. But if you were itching to feel bad about yourself, there's the reasoning behind it.
Click below to bet now.
Projected Starting Lineups and Injury News
Note: Info as of 4 p.m. ET. For up-to-the-minute lineups and news, see FantasyLabs' matchups page.
Projected Lineups
Atlanta Hawks: Trae Young – Kevin Huerter – Cam Reddish – De'Andre Hunter – John Collins
Brooklyn Nets: Kyrie Irving – Spencer Dinwiddie – Joe Harris – Taurean Prince – Jarrett Allen
Cleveland Cavaliers: Darius Garland – Collin Sexton – Cedi Osman – Kevin Love – Tristan Thompson
Dallas Mavericks: Luka Doncic – Delon Wright – Tim Hardaway Jr. – Dorian Finney-Smith – Dwight Powell
Golden State Warriors: D'Angelo Russell – Alec Burks – Glenn Robinson III – Draymond Green – Omari Spellman
Houston Rockets: James Harden – Eric Gordon – Ben McLemore – PJ Tucker – Clint Capela
LA Clippers: Patrick Beverley – Lou Williams – Kawhi Leonard – Patrick Patterson – Ivica Zubac
Memphis Grizzlies: Ja Morant – Dillon Brooks – Jae Crowder – Jaren Jackson Jr. – Jonas Valanciunas
Milwaukee Bucks: Eric Bledsoe – Wes Matthews – Khris Middleton – Giannis Antetokounmpo – Brook Lopez
New York Knicks: Elfrid Payton – RJ Barrett – Reggie Bullock – Julius Randle – Taj Gibson
Phoenix Suns: Elie Okobo – Devin Booker – Kelly Oubre – Dario Saric – Aron Baynes
Utah Jazz: Donovan Mitchell – Joe Ingles – Bojan Bogdanovic – Royce O'Neale – Rudy Gobert
Injury News
Atlanta Hawks: Bruno Fernando (personal) and Alex Len (back) are out. Trae Young (hamstring) and De'Andre Hunter (finger) are available to play.
Brooklyn Nets: Garrett Temple (knee) is out. Wilson Chandler (hamstring) is questionable.
Cleveland Cavaliers: Ante Zizic (illness) is out. Dylan Windler (tibia) is out for the season.
Dallas Mavericks: Kristaps Porzingis (knee, illness) is questionable.
Golden State Warriors: Kevon Looney (abdominal) is out. Damion Lee (contract) is unlikely to play. Jordan Poole (ankle) is questionable.
Houston Rockets: Russell Westbrook (rest) is out. Clint Capela (heel) and PJ Tucker (shoulder) will play.
LA Clippers: Paul George (hamstring) is out.
Memphis Grizzlies: Kyle Anderson (foot), Jae Crowder (hip) and Brandon Clarke (thumb) are questionable.
Milwaukee Bucks: Robin Lopez (rest) is out. Kyle Korver (back) is not on the injury report.
New York Knicks: Marcus Morris (neck) and Dennis Smith Jr. (oblique) are out. Reggie Bullock (thigh) is available to play. Frank Ntilikina (groin) is doubtful. Mitchell Robinson (toe) is probable.
Phoenix Suns: Ricky Rubio (personal) is unlikely to play.
Utah Jazz: Donovan Mitchell (illness) is probable.
---
Player Props
To bet props, I use our FantasyLabs player props tool. Follow me in the Action Network app to see my bets (or go to the bottom of the article), but the more important thing is the tool, which measures our projections for every player vs. current odds in the market and highlights the biggest edges for you.
Player props are an inefficient market, which allows casual bettors (limits are low, so pro bettors aren't incentivized to prioritize them) to grab very +EV bets. That said, the lines move quickly. Our props tool is set up so you can always see whether there's an edge even at the updated numbers throughout the day.
It's one of my favorite tools we offer and should be one of your bookmarked pages if you like making a few extra bucks. Here's a screenshot of what it looks like:

My usual recommendation: Bet unders.
Last season, 10-rated props in our tool hit at a 60.31% rate. But overs hit at a 57.08% rate vs. 66.47% for unders. For 9-rated props, 55.96% of overs were successful bets vs. 62.60% for unders.
As I have noted in the past, unders have more outs: A blowout, an injury, a poor shooting night — all will likely make the under hit. But also, props are less efficient as a market given the low limits, so they're less likely to adjust for things like opponent and pace.
One under I think is intriguing is Aron Baynes' 7-rebound total.
Baynes has seen a reduction in playing time recently, mostly due to Deandre Ayton coming back and scaling his minutes back up to the 30-range recently. Baynes has been below 23 in each of his past three games, and we're currently projecting him for just 18 tonight.
The matchup against the Hawks, who rank dead last in rebounding rate this season, is certainly a good one. But this is about role, and it seems the props market just hasn't accounted for his decrease in playing time enough.
DFS Values and Strategy
To roster or not to roster James Harden tonight: that is the question.
Harden is a whopping $13,000 on DraftKings, which is a ton of salary. And yet he's without Russell Westbrook (rest) and is up against the Memphis Grizzlies, who like the Rockets have played at a top-five pace this year. We have Harden projected for over 38 minutes and a usage rate above 40%. This game is projected over 240. How do you fade that guy?
For what it's worth, we think he'll still exceed value; he has a +7.11 Projected Plus/Minus on DraftKings. The question is whether there's better studs to roster or whether you can find enough value to fit him in.
The problem is that the rest of the studs aren't in great spots. It's a brutal slate with the best teams in the league largely playing against the worst. Luka Doncic gets the terrible Golden State Warriors in a much lower-total game.
Giannis Antetokounmpo is a 17-point favorite and legitimately play just 24-25 minutes, as he did last time against the Knicks. You may get nearly 15 fewer minutes out of Giannis than you will out of Harden.
The better values are some of the cheaper guys like John Collins, Devin Booker and D'Angelo Russell. Kawhi Leonard is standing out at just $10,000 without Paul George, but he's also a huge favorite against the Cavs.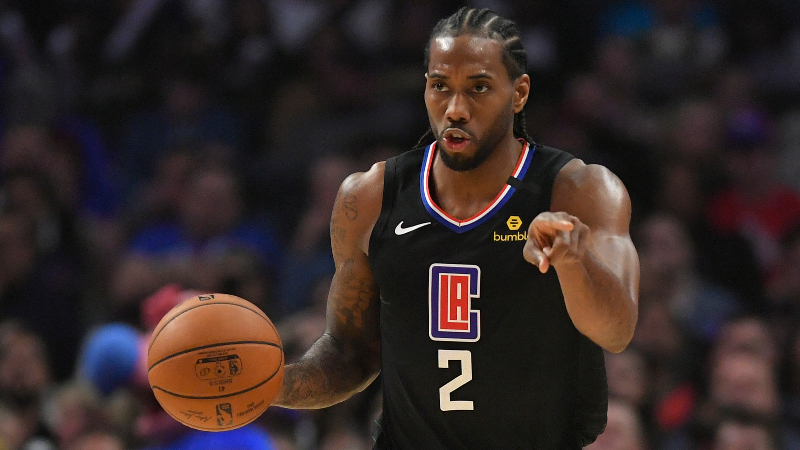 All of these guys are much more affordable on FanDuel, although that's true with Harden, too, who has a massive +14.48 Projected Plus/Minus. He's almost a must-play there given that price tag of $11,700.
Thankfully, there are some very cheap values, including Elie Okobo ($3,200 on DraftKings), who should see more minutes without Ricky Rubio, and Ben McLemore ($3,500), who should see an increase in time without Westbrook.
To Harden or not? I would suggest doing your best Metapod and Hardening as much as possible.
You know the drill: Follow the news and make sure to subscribe to our models to see up-to-the-minute projection updates.
For more DFS analysis and value plays, check out the FantasyLabs NBA models.
My Bets Currently
Cavs-Clippers under 224.5
Cavs under 105 team total (bet both of these just now after Kevin Love news)
[In New Jersey, Pennsylvania, Indiana or West Virginia? Bet now at FanDuel]
Follow me in our free app if you want an alert on bets I make.
How would you rate this article?