NBA Odds & Betting Picks (March 3): How I'm Betting Nets-Celtics With Jayson Tatum Out
Credit:
Maddie Meyer/Getty Images. Pictured: Brad Stevens and Jayson Tatum
Bryan Mears combs through the odds of all eight NBA games on Tuesday's slate to find betting value.
He's got picks on Nets vs. Celtics and 76ers vs. Lakers, plus his top fantasy plays for the night.
Get Mears' full NBA betting and DFS manifesto for Tuesday, March 3 below.
This NBA season, I'm trying something new. I'm going to write a daily piece that highlights everything bettors and DFS players need to know for that night's slate. For more on what to expect, read the inaugural piece.
I've been off for the last week or so, but I'm excited to be back today and hit the ground running over the final part of the year and then the playoffs.
We're in a weird stretch of games, as teams will somewhat tank and others will compete for playoff positioning. Players will rest and more injuries will pop up as the grueling season wears everyone down. Staying up on news, data and recent trends will be critical for profitability; it's the hardest part of the year to bet, even for sharps.
Anyway, let's dive into today's slate and find some angles.
YTD Record:
Overall: 241-226-3
Spreads: 93-93-3
Totals: 92-100
Moneylines: 24-11
Parlays: 3-0
Props: 29-22
Jump To: Odds & Analysis | Projected Starting Lineups & Injury News | Player Props | DFS Values & Strategy | My Bets
---
Odds as of Tuesday afternoon and via FanDuel, where Action Network users get a risk-free bet up to $500.
---
Betting Odds and Analysis
7 p.m. ET: San Antonio Spurs (-4) at Charlotte Hornets, 212.5
7:30 p.m. ET: Brooklyn Nets at Boston Celtics (-9), 221.5
8 p.m. ET: Minnesota Timberwolves at New Orleans Pelicans (-11.5), 247.5
8 p.m. ET: LA Clippers (-3.5) at OKC Thunder, 226.5
9 p.m. ET: Golden State Warriors at Denver Nuggets (-15.5), 218.5
9 p.m. ET: Toronto Raptors (-4.5) at Phoenix Suns, 225.5
10 p.m. ET: Washington Wizards at Sacramento Kings (-5), 234
10 p.m. ET: Philadelphia 76ers at LA Lakers (-12.5), 220.5
Nets at Celtics
Over the past two weeks, the Nets haven't been very good, posting a -3.9 Net Rating and a 1-5 record. They've had a nearly bottom-10 mark on both offense and defense.
The data without Kyrie Irving is pretty clear: They've been largely bad overall without him offensively, dropping in Offensive Rating by 6.9 points per 100 possessions. The biggest issue has been shooting, as the Nets have posted an eFG% mark 4.8% higher with him on the floor vs. off — one of the highest marks in the league.
To be fair, a bunch of other guys on the team have strong offensive on/off numbers, too — particularly Spencer Dinwiddie, who leads the team with a 10.1 mark — but that's mostly because the bench units have been utter trash. Even with Dinwiddie on the floor with mostly starters, the team has posted around an average Offensive Rating.
In their recent stretch of poor games, they've had some fine offensive showings — mostly against bad teams like Charlotte — and some really poor ones, usually against the elite teams like Toronto and Philly. Boston is obviously in the latter group, even with the injury situations.
Speaking of those, Jayson Tatum is unlikely to play, while both Kemba Walker and Marcus Smart will suit up. Getting Walker back is nice (although expected), and he has strong offensive on/off numbers.
But I think we're still potentially underestimating Tatum's value to this team. A month or so ago, people were really arguing for Jaylen Brown being better than him, which I've found silly. Tatum is the best player on this squad, and yes that includes Walker, who I respect greatly as a player.
If you look at Tatum's value, a good chunk of it comes on defense, but I think he's underrated offensively. Things are easier for the team and specifically Kemba when he's on the floor given his basketball IQ, shot creation and shooting. It's no surprise to me that the team shoots 2.8% better from 3 with Tatum on the floor, including 4.8% better from the corner.
And again, these stats are going to somewhat underrate shot creators. He takes difficult shots and posts solid efficiency on them, but those aren't easily distributed to other players like they would be if, say, Smart was out. Very few people in the world have Tatum's skillset; it can't be duplicated by just moving guys into their scheme.
Further, and perhaps most importantly, the Celtics have continually slowed down the pace without Tatum, which is interesting given he has no qualms with getting into isolation sets. He's perhaps the most important player to the Celtics' pace, which I think will drop tonight with him out.
Speaking of pace, the Nets have really slowed down after running to start the year. Since Feb. 1, they are just 25th in pace; the Celtics are below average.
Given all of those factors, I think there will be some value on the under here, although I'd wait to bet it given the public is on the over and could thus push it up to a more advantageous number.
76ers at Lakers
I might be on the wrong side of this one. I bet the Lakers when the line was first posted at -12.5, but so far — and it's early since the market opened later — the Sixers are getting 46% of the bets but 89% of the money. We haven't seen a line move yet, but sharp money might drive this one down and give me a worse closing number.
Still, I want to see the Sixers prove it.
My usual breakdown of the Sixers on the road:
Philly at home: +11.8 Net Rating (2nd) | 114.3 ORtg (9th) | 102.5 DRtg (1st) | +3.4 spread differential (2nd)
Philly away: -6.2 Net Rating (24th) | 106.0 ORtg (25th) | 112.2 DRtg (19th) | -5.9 spread differential (29th)
They've failed to cover on the road by an average of nearly six points per game. I get this line is high and I'm sure the betting market is adjusting for this known trend, but it needs to be a huge adjustment given their play.
Further, they're going to be missing perhaps their three best players in Ben Simmons, Joel Embiid and Josh Richardson. They've been a somewhat neutral team without those guys on the floor, posting a -0.9 Net Rating, but 1) those minutes were almost all against bench units and 2) it's an incredibly small sample size of 373 possessions.
The Sixers will need to rely on guys like Shake Milton, along with Glenn Robinson III and Alec Burks, who they got at the trade deadline. It's almost like resetting this team back to early November in terms of chemistry. And they don't have as much raw talent to lean on given the injuries to the top guys.
To be fair, the Sixers played the Clippers tough the other night at Staples and that was without Simmons and Embiid (Richardson played just 10 minutes before leaving with a concussion). But it also required them to shoot 50% from 3, including 52.9% from outside of the corners — the most difficult ones on the floor.
Milton went 14-of-20 from the field for 39 points in 40 minutes. He hit seven of his nine 3-pointers. It was a valiant effort from him and the team at large, but is it smart to expect that to be the new norm — or for the Sixers to revert back to the team they've been all season?
I'm going to bank on the latter, especially against a Lakers team that has allowed just 101.0 points/100 over the last two weeks. Perhaps at some point they take their foot off the gas and coast into the top seed in the West, but in a national TV game at home, I'm not sure it's happening tonight. Plus I think I'd look at the defensive numbers to spot a slip in effort, and they've been elite lately.
The names on the jerseys might suggest this shouldn't be a double-digit spread, but the talent and trends definitely say it should. Again, maybe I got a bad number at -12.5, but I think anything below that is a fine bet on the Lakers, who should roll this roster if they're up for it.
Projected Starting Lineups and Injury News
Note: Info as of 12:15 p.m. ET. For up-to-the-minute lineups and news, see our live lineups page.
Projected Lineups
Boston Celtics: Kemba Walker – Marcus Smart – Jaylen Brown – Gordon Hayward – Daniel Theis
Brooklyn Nets: Spencer Dinwiddie – Caris LeVert – Joe Harris – Taurean Prince – Jarrett Allen
Charlotte Hornets: Terry Rozier – Cody Martin – Miles Bridges – PJ Washington – Bismack Biyombo
Denver Nuggets: Jamal Murray – Gary Harris – Will Barton – Paul Millsap – Nikola Jokic
Golden State Warriors: Jordan Poole – Damion Lee – Andrew Wiggins – Draymond Green – Marquese Chriss
LA Clippers: Patrick Beverley – Kawhi Leonard – Paul George – Marcus Morris – Ivica Zubac
LA Lakers: LeBron James – Avery Bradley – Danny Green – Anthony Davis – JaVale McGee
Minnesota Timberwolves: D'Angelo Russell – Malik Beasley – Josh Okogie – Juancho Hernangomez – Naz Reid
New Orleans Pelicans: Lonzo Ball – Jrue Holiday – Brandon Ingram – Zion Williamson – Derrick Favors
OKC Thunder: Chris Paul – Shai Gilgeous-Alexander – Luguentz Dort – Danilo Gallinari – Steven Adams
Philadelphia 76ers: Shake Milton – Glenn Robinson III – Furkan Korkmaz – Tobias Harris – Al Horford
Phoenix Suns: Ricky Rubio – Devin Booker – Mikal Bridges – Dario Saric – Deandre Ayton
Sacramento Kings: De'Aaron Fox – Bogdan Bogdanovic – Harrison Barnes – Nemanja Bjelica – Harry Giles
San Antonio Spurs: Dejounte Murray – Bryn Forbes – DeMar DeRozan – Trey Lyles – Drew Eubanks
Toronto Raptors: Kyle Lowry – Fred VanVleet – OG Anunoby – Pascal Siakam – Serge Ibaka
Washington Wizards: Shabazz Napier – Bradley Beal – Isaac Bonga – Rui Hachimura – Thomas Bryant
Injury News
Boston Celtics: Kemba Walker (knee) and Marcus Smart (illness) will play. Jayson Tatum (illness) is unlikely to play.
Brooklyn Nets: Garrett Temple (shoulder) is questionable.
Charlotte Hornets: Devonte' Graham (ankle) is out. Dwayne Bacon (G League) and Malik Monk (suspended) are out.
Denver Nuggets: Paul Millsap (ankle) and Noah Vonleh (ankle) are questionable.
Golden State Warriors: Kevon Looney (hip) and Draymond Green (knee) are questionable.
LA Clippers: Nothing new.
LA Lakers: Alex Caruso (hamstring) is questionable. Anthony Davis (knee) is probable.
Minnesota Timberwolves: Karl-Anthony Towns (wrist) remains out.
New Orleans Pelicans: Kenrich Williams (back) is doubtful.
OKC Thunder: Nothing new.
Philadelphia 76ers: Ben Simmons (back), Joel Embiid (shoulder) and Josh Richardson (concussion) are out.
Phoenix Suns: Cam Johnson (back, hip) is probable.
Sacramento Kings: Cory Joseph (heel) is questionable. De'Aaron Fox (abdominal) is probable.
San Antonio Spurs: LaMarcus Aldridge (shoulder) is out. Jakob Poeltl (MCL) remains out. Marco Belinelli (illness) is out.
Toronto Raptors: Serge Ibaka (knee) and Fred VanVleet (shoulder) are questionable.
Washington Wizards: Nothing new.
Player Props
To bet props, I use our FantasyLabs player props tool. Follow me in the Action Network app to see my bets (or go to the bottom of the article), but the more important thing is the tool, which measures our projections for every player vs. current odds in the market and highlights the biggest edges for you.
Player props are an inefficient market, which allows casual bettors (limits are low, so pro bettors aren't incentivized to prioritize them) to grab very +EV bets.
That said, the lines move quickly. Our props tool is set up so you can always see whether there's an edge even at the updated numbers throughout the day.
It's one of my favorite tools we offer and should be one of your bookmarked pages if you like making a few extra bucks. Here's a screenshot of what it looks like:

My usual recommendation: Bet unders.
Last season, 10-rated props in our tool hit at a 60.31% rate. But overs hit at a 57.08% rate vs. 66.47% for unders. For 9-rated props, 55.96% of overs were successful bets vs. 62.60% for unders.
As I have noted in the past, unders have more outs: A blowout, an injury, a poor shooting night all will likely make the under hit. But also, props are less efficient as a market given the low limits, so they're less likely to adjust for things like opponent and pace.
But sometimes, I like overs. One example is D'Angelo Russell's 4.5-rebound prop.
Betting the over on a rebound prop for a guard can be scary, but note that Russell has scaled up his minutes with his new team, he'll be without Karl-Anthony Towns still and he's playing the Pelicans.
That last point is the most important here. This game has one of the highest over/unders in NBA history, and prop markets are likely not correctly adjusting for the pace of this one. Since Feb. 1, the Wolves have played at the fastest pace in the league, and the Pels are right behind them.
You can find this prop at juicy plus money — seeing some +125s or so out there — and in such a high-paced game, I wouldn't be surprised to see Russell grab five rebounds.
DFS Values and Strategy
There are four players today priced above $10,000 on FanDuel: Anthony Davis, Nikola Jokic, Bradley Beal and LeBron James.
Of those, AD is the cheapest and seems to be the best value. The Sixers aren't usually a good matchup for opposing big men — hence AD's negative Opponent Plus/Minus — but both Ben Simmons and Joel Embiid are out tonight. This is now a neutral matchup at worst and likely a positive one.
It might be a day to build a more balanced lineup, though. The best values right now include Terry Rozier, Kyle Lowry, D'Angelo Russell, Devin Booker, Tobias Harris, Brandon Ingram, Zion Williamson, etc. All of those players are $8,500 or cheaper on FanDuel.
The two biggest things for today is 1) the astronomically high total in Pels-Wolves and 2) the injuries to star players. You'll definitely want some exposure to New Orleans and Minnesota guys.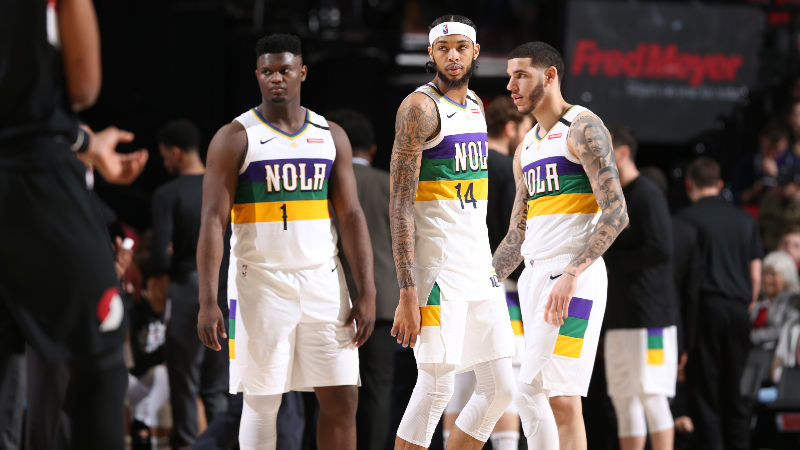 On the injury front, Fred VanVleet, Draymond Green, Paul Millsap and Serge Ibaka are all questionable. Jayson Tatum is doubtful, and LaMarcus Aldridge, Devonte' Graham, KAT, Simmons, Embiid, Josh Richardson and Jakob Poeltl are already all out. Talk about opening up playing time for value players.
In cash games, building a balanced core around those mid-tier options — likely starting with Terry Rozier plus the Wolves-Pels guys — is the optimal route. But in GPPs, it's probably wise to mix in some studs with higher ceilings, especially since they may go a bit under-owned tonight.
You know the drill: Follow the news and make sure to subscribe to our models to see up-to-the-minute projection updates.
For more DFS analysis and value plays, check out the FantasyLabs NBA models.
My Bets Currently
[In New Jersey, Pennsylvania, Indiana or West Virginia? Bet now at FanDuel]
Follow me in our free app if you want an alert on bets I make.
How would you rate this article?