NBA Player Prop Bets & Picks: Osman, Brooks Highlight Options On Small Thursday Slate (Jan. 7)
Credit:
Douglas P. DeFelice/Getty Images. Pictured: Cleveland Cavaliers standout Cedi Osman.
It's a light Thursday NBA slate, so Brandon Anderson is digging into a short-handed Cavaliers vs. Grizzlies contest.
Cedi Osman and Dillon Brooks are in outsize roles on bad teams right now.
Anderson tells you how play their props below.
It's a lighter NBA slate Thursday, with only five games on the card and the marquee games looking like they'll be missing some of the biggest stars. Kevin Durant is sidelined due to COVID-19 exposure, while Joel Embiid, LeBron James and Anthony Davis are all listed as questionable.
That said, we'll look at a couple of the other games, including a matchup between the Cleveland Cavaliers and Memphis Grizzlies that even the most diehard fans can't get too excited about. However, basketball doesn't have to be good to make us money, so hopefully our prop plays do the talking.
For those who are new to this article, we'll be using the ActionLabs Player Prop tool to compare our NBA projections to the props posted at a variety of sportsbooks. Each bet is then graded on a scale from 1-10, with 10 being the best possible grade.
Below, I have laid out three prop bets I'm playing, the case for each bet and the best books to find odds on those player props.
NBA Player Props & Picks
Cedi Osman, Over 3.5 Assists (+112)
| | |
| --- | --- |
| Cavaliers at Grizzlies | Grizzlies -5 |
| Bet Now | |
| Time | 8 p.m. ET |
The Cavaliers are shorthanded right now. Darius Garland and Kevin Love are missing from the starting lineup, and Cleveland's depth is also impacted with players like Dante Exum and Kevin Porter Jr. also missing in action.
Osman has moved into one of the starting roles with Garland out, and he's also taken over as the lead playmaker the last few games since Collin Sexton remains a score-first option.
Osman has seven assists in each of his past two games. His scoring comes and goes, plus his overall production remains unreliable. Yet, those assist numbers are looking solid while he's on the ball this much for a team missing a ton of its usual touches and usage.
Our Props tool loves Osman today, recommending overs for his points, rebounds and assists. At books like FanDuel, you can even play those in concert. For example, you can go over rebounds plus assists or you play over 20.5 combined total on all three props.
The Props tool would favor a play on any of them, and initially I was recommending the over 20.5 trifecta (points + rebounds + assists), but decided to stick with the assists since Osman's scoring is so unpredictable. If he's well under on scoring expectations, he's likely to go under that 20.5 even with a strong outing in the other two stats.
You can dip in however you like on Osman, but I'll stick with the assists play. It's not just that Osman is handling more on the court — he's also soaking up way more minutes on a team that needs him to do so.
In those two recent seven-assist games, Osman also averaged 36 minutes a game. If he's playing that much, Osman will have plenty of opportunities. We're projecting him at 4.4 assists, which I think that's on the low side.
I'll play this one to minus-115, but am jumping on plus odds while they're there.
---
Dillon Brooks, Under 19.5 Points (-120)
| | |
| --- | --- |
| Cavaliers at Grizzlies | Grizzlies -5 |
| Bet Now | |
| Time | 8 p.m. ET |
The Cavaliers aren't the only team with personnel depth in this game. The Grizzlies, who are down Ja Morant, Jaren Jackson, Jr. and Justise Winslow, are pretty thin on the wing anyway. That led to big minutes and an outsize role for Brooks last season, which has thrust him into a similar spot again.
Brooks is a nice enough player, but he is best as a role player. He's more of a 3-and-D guy who plays hard, but should not be leading the team in shots, at least not an NBA team trying to win games.
Apparently, Memphis's coaching staff disagrees with me, as Brooks is averaging career highs in minutes, shots and points right now. He's at more than 30 MPG and at 16.9 PPG,  averaging 17 shots each time out.
Even so, this line at 19.5 points seems a bridge too far. Even with his increased load, Brooks has finished under that number in five of seven games this season. Oddly enough, his only two overs have come in the only Grizzlies' wins.
Brooks is jacking a ton of threes, so that's the danger. With this sort of volume, hitting a trio of threes or more puts this over at real risk, and Brooks has done that three times this season. However, at 35.8% behind the arc lifetime, that is again a volume fear more than anything else.
In the end, I just can't bet on Dillon Brooks as a 20-point scorer. We have him projected at 15.6 points, which is about in line with his average and better expectation.
Grab this one quick while you can get it at 19.5 points. Some books have already smartly dropped it to 18.5, though our Props Beta tool still likes it there up to around -125.
---
Jusuf Nurkić, Under 9.5 Rebounds (+118)
| | |
| --- | --- |
| Mavericks at Nuggets | Nuggets -3 |
| Bet Now | |
| Time | 10 p.m. ET |
Helloooooo, Nurkić. (Seinfeld? Anyone? Bueller?)
We played the Nurkić rebounding under prop his last game against the Bulls, and as the game headed to halftime, we were feeling great. A couple minutes before the intermission, Nurkić sat at just two rebounds, looking like he'd fall well short of the under 9.5 number.
Then, Nurkić suddenly had four boards in a 110-second span before half, then two more in the first minute and a half of the third period, and suddenly we were sunk. Nurkić finished with 11 boards, his second highest total of the season, and also played his second most minutes.
Hmph.
Undeterred, we're here to get our money back. And this time, we get the same under 9.5 line and we're getting plus odds.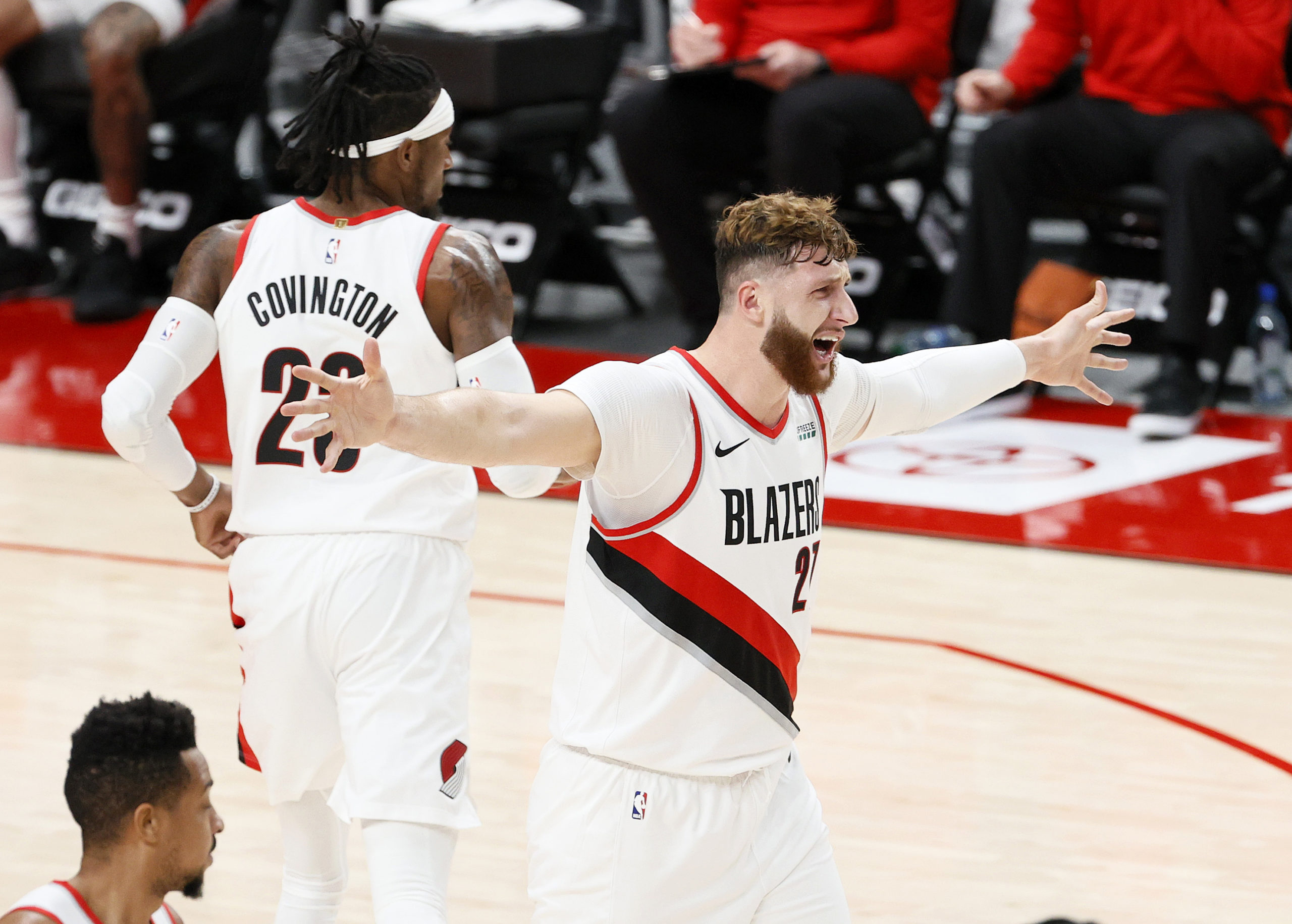 The case is the same. Nurkić just isn't fully healthy or whole yet. He looks a step slow, which is a double whammy for rebounding numbers since he's a half step slow getting to the boards and since it's also reducing his playing time.
These are his lowest numbers right now since he was a backup in Denver, and he's averaging under 25 minutes a game right now and has only gone over that number twice all season. He's also missing a ton of shots and playing worse defense than usual — which, again, cuts his playing time.
And if all that's not enough, you should know that Nurkić's rebounding rate is a career low right now as well.
Let's give him another chance at an under. Just stay in single digits, big fella. We're projecting Nurkić at 23.5 minutes and 8.4 rebounds, giving this line a 15.9% margin in our favor.
If you prefer a more comfortable play, you can play under 10.5 at many books. That's a more comfortable margin, but you're also paying for a lot more juice. I'm comfortable going under 9.5 so I'll take the better odds play here and would play that down to even odds or jump to the 10.5 from there.
---
How would you rate this article?