Moore: Updated NBA Power Rankings, Betting Analysis for All 30 Teams
Credit:
USA TODAY Sports. Pictured: Bucks F Giannis Antetokounmpo (34), Raptors F Pascal Siakam (43), Celtics G Kemba Walker (8).
Power rankings are excellent for getting a sense of the general contour of the league … but they don't tell you how those teams are performing vs. the betting market.
My rankings below are based on overall win profile (quality wins minus bad losses), Net Ratings (via NBA.com) and the eye test, with a slight weight towards preseason expectations.
Below I've ranked each team 1-30 (you can probably guess who I have at No. 30) and added some nuggets on how to capitalize on their early performance thus far. Teams with a higher rating are those I think are playing best right now, as well as how confident I am in them.
Note: Against-the-spread data current through Dec. 5.
1. Milwaukee Bucks
The Bucks get the very slight nod here thanks to a superior point differential, better offensive and defensive ratings, and a longer win streak. They are absolutely blasting teams. Their game vs. the Clippers on Friday feels oversized for a December matchup.
The over is 6-3-1 when the Bucks are favored by double digits (9.5 or more). They run up absolutely huge point totals on the bad teams instead of locking them down.
2. Los Angeles Lakers
R.I.P. to those "Lakers have benefitted from an easy strength of schedule" takes after sweeping the altitude back-to-back while battling the flu. The Lakers are a tidal wave fight now, wiping out villages.
They are 4-2 against the spread when the line moves at least one point in their direction, which is impressive considering much the public loves them.
3. Dallas Mavericks
Say hello to the best road team ATS this season. The Mavericks have just six losses, and two of those are to the Knicks who they are clearly better than. I expected them to regress after a hot start, instead they surged. This a year after being one of the best home teams ATS for half the season before all the trades.
4. Toronto Raptors
They are top 10 in offense and defense. They've swept teams under .500 and four of their five losses are against top flight teams. Pascal Siakam is in the MVP conversation, albeit on the very edge of it.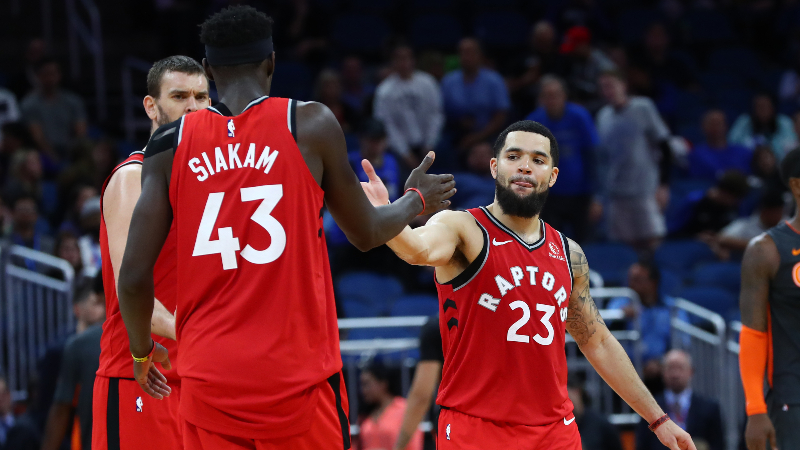 Toronto has only been a double-digit favorite once this season and is 3-0 when favored by more than 7.5. They are a near-auto-play right now.
5. Boston Celtics
The Celtics are 10-2 vs. the East and 5-3 vs. the West. They are wrangling their schedule like it's a frisky bulldog. It will not surprise you that the Celtics are 5-1 ATS as an underdog. Scrappy teams stay scrappy.
6. Miami Heat
Miami is running laps against its expected eFG%, opponent eFG%, win total, everything. But maybe the scariest thing about them is that four of their six losses have come on the second night of a back-to-back. The Heat are 10-1 ATS as a favorite. They beat the teams they're supposed to beat, and cover. That's who they've been.
7. LA Clippers
No more running, no more load management. Fully healthy, off rest, on the road, vs. the Bucks on Friday. Let's see how scary this team can be. They're 2-4 ATS so far without Kawhi Leonard, so keep that in your pocket.
8. Philadelphia 76ers
The Sixers don't look impressive, their losses seem disastrous. But here's the thing: 10-3 vs. teams under .500, 10-2 vs. the East, 10-0 at home. They're winning the games you win if you want to get a top-two seed. Philly is just 4-8 ATS vs. the East. That's a great sign of the market overvaluing them. They're 0-3 as a double-digit favorite ATS.
9. Denver Nuggets
The record is still great, but the eye test is poor. The loss to the Lakers should be a wakeup call for Nikola Jokic, but will it be? The under is 13-5 this season for the Nuggets. Their defense is legit and their offense is wretched. Until either one changes, it's worth playing to the under in a bear over market.
10. Indiana Pacers
Don't sleep on Indy. They're quietly building a great resume, with good stats on both sides. They have guys to step up on both sides of the floor and oh, by the way, Victor Oladipo is practicing with their G-League team. The Pacers are 8-5 ATS when less than a two-possession (-5.5) favorite or an underdog. The tight games are where they've been good.
11. Houston Rockets
Please note that this ranking is pending a Rockets official protest of their power ranking position.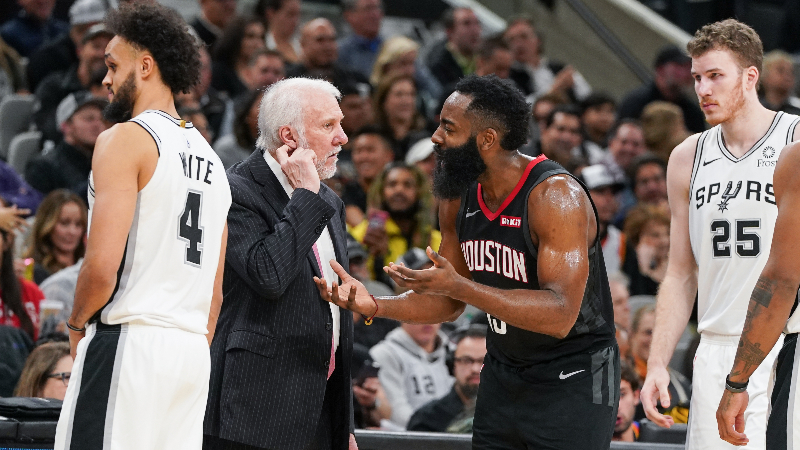 Fade them as a road favorite (2-5 ATS). They are prone to meltdowns like the one vs. San Antonio.
12. Utah Jazz
Ruh-roh, Reorge. Utah's lost in the woods right now. Now, they do this every year, and then dig out of it, but it costs them playoff homecourt. That's a problem. You can't just win the easy games if you want to make a deep playoff run.
As it turns out, Quin Snyder has a sub-.500 record ATS from October through January and an 87-73 ATS record from February through April. Fade the Jazz until … the all-star break?
13. Brooklyn Nets
Spencer Dinwiddie should be able to sell off shares of liquidity in his moxie because it is in a bull market right now. On the flip side, Kenny Atkinson is 27-18-2 ATS in December. Turns out the Nets always start slow under him.
14. Orlando Magic
Orlando's offense is starting to finally click, but they need to beat some teams that aren't terrible, too. I'm not asking for wins vs. the top tier, but just teams in their same range. The Magic are 4-6-1 ATS as a dog. That's about as close to a useful trend as I can find. There's just no signal with them.
15. Minnesota Timberwolves
They just need to tighten up a little vs. the bad teams. Two losses to Memphis and one to the Wizards is a big swing for a team I really think can make the playoffs. How's this one? The Wolves are 0-4-1 ATS with rest advantage. They're under .500 as a home favorite. So you may want to stay away from 'good spots' for them.
16. New Orleans Pelicans
Zion Williamson won't going to radically improve their defense, so he's not going to radically change their season trajectory.
Their  perimeter containment is as you'll see in the league. The Pels are now 5-2 ATS without Lonzo Ball and 3-10 ATS when he plays at least one minute. Keep an eye on his spot in the rotation.
17. Phoenix Suns
Well, it was fun while it lasted. They need to find a strength and lean into it, because right now they're being bullied by the great defensive teams and torched by the great offensive teams and very few teams are bad at both.
The over is 9-3 when the Suns are at home, which makes sense since their defense is halfway decent and their offense is shot-dependent more than most teams.
18. Charlotte Hornets
Devonte' Graham is the most fun player in the league no one is talking about.
Unfortunately, they're too inconsistent to find any significant trend.
19. Portland Trail Blazers
Look, I took the win total over so if it takes Carmelo Anthony to spark a feel-good improbable resurgence for what is honestly a pretty bad team overall, I'm in. All I've got here is that they're 3-2 ATS in their past five with Melo playing meaningful minutes.
20. Sacramento Kings
The little run they were on without Fox faded. They're already in a bad position for the playoffs. They can't get much deeper without falling out of the race entirely. The Kings have covered 12 of their past 15 after a horrible start. The market definitely overcorrected early, but now they're tailing off a little bit.
21. Detroit Pistons
There's a little life here; they have a top-five offensive rating in their past five games.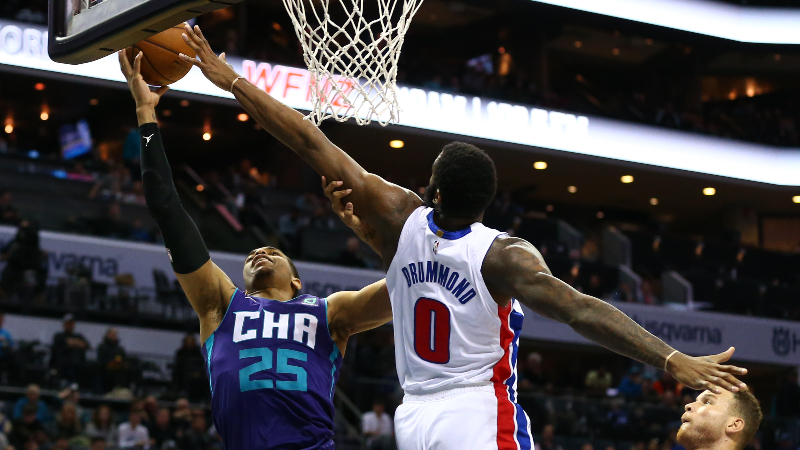 They probably need a few trades, but I still think there's a playoff team (that's ultimately going nowhere) in there. The Pistons are 2-8 ATS on the road, the worst road team in the NBA.
22. Chicago Bulls
They won Carmelo Anthony his Western Conference Player of the Week award and it was their best accomplishment this season. At least they finally figured out how to get LaVine and Markkanen on the same page.
Sharp bettors have come in on Chicago 10 times this season with more than a 10% differential of money percentage vs. ticket count percentage. That's the most for any team in the league, and after taking L's over and over to start, they're now 6-4 ATS in those spots, 6-2 in their last eight.
They're banking on the offense regressing to the mean and it's happening, sort of.
23. Oklahoma City Thunder
They're fine. That's all I got. OKC is 9-5 ATS vs. the West. The market has underestimated them vs. the vaunted conference.
24. Washington Wizards
I want the Wizards in the midseason tournament so much because they're one of the worst defensive teams ever and can also go off for 40-plus in a quarter at any point.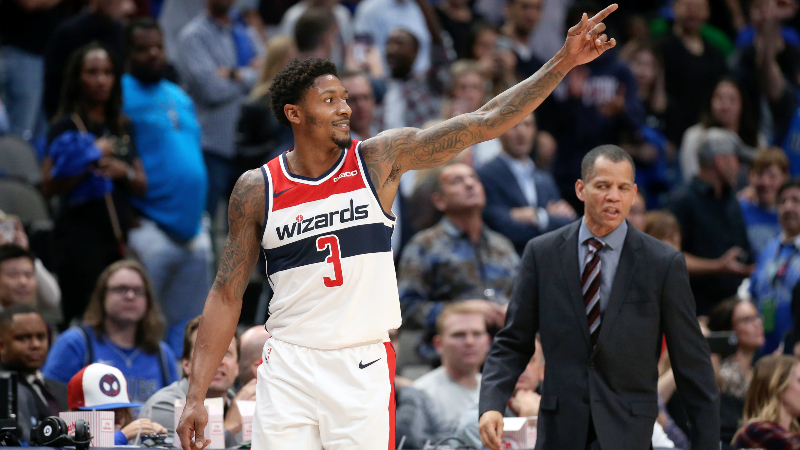 They are insanely fun to watch, like the NBA version of the Tampa Bay Buccaneers. The Wiz are 8-5-1 as a dog. They're pesky, but they were hammered by the LA teams. They are less great vs. the great teams; 1-3 ATS as a double-digit dog.
25. San Antonio Spurs
They finally got a good win, vs. Houston (pending), and all it took was the worst missed call on a made bucket in NBA history. The worst ATS team in the league, 6-16 overall. Woof.
26. Cleveland Cavaliers
We'll always have those two weeks in November when the Cavs looked not bad for a while, at least. The Cavs are 2-8 ATS in their last 10. The wheels fell off.
27. Atlanta Hawks
They can't score even with Trae Young. It's one thing to be bad defensively, that was expected, but this is way worse with the offense where it is. The Hawks are 3-7 ATS vs. the West.
28. Memphis Grizzlies
Memphis invented a new injury description for Ja Morant with week-to-week, so they're thinking outside the box to keep their pick from Boston. So far they're 1-3 ATS without Morant.
29. Golden State Warriors
How do you accurately set the lines on this team if and when Steph Curry comes back? I cannot fathom betting on this team regularly.
30. New York Knicks
The Knicks are still bad.
How would you rate this article?