Moore: Why It's Time to Fade Luka Doncic in NBA MVP Betting
Credit:
Photo credit: Jerome Miron-USA TODAY Sports. Pictured: Luka Doncic
The Westgate Las Vegas SuperBook dropped updated NBA Most Valuable Player odds this week, and lo and behold the second-biggest favorite is riding a wave of momentum seldom seen even in this hype-heavy league:
NBA MVP updated

Giannis Antetokounmpo 2/1
Luka Doncic 5/2
James Harden 3/1
LeBron James 6/1
Anthony Davis 14/1
Kawhi Leonard 20/1
Nikola Jokic 30/1
Joel Embiid 30/1
Paul George 40/1
Donovan Mitchell 80/1
Damian Lillard 100/1
Karl-Anthony Towns 100/1
Pascal Siakam 100/1

— Jeff Sherman (@golfodds) November 24, 2019
So let's talk about Luka Doncic.
THE UNFATHOMABLE SEASON OF LUKA DONCIC
I'm going to spend a lot of this column telling you why you should bet against Doncic for MVP, but I can't do that before I tell you how insanely awesome this man has been.
Through 16 games, he's averaging 31 points, 10 rebounds and 10 assists. He's shooting 49% from the field, and after starting slow from 3-point range is now up to 35% from deep.
If you are familiar with NBA MVP debates, this is the best way I can put it in context:
So yeah, his season stacks up comparably with two of the best MVP-candidate seasons ever (which also came in the same season).
Doncic has been a human whirlwind, impossible to defend so far this year.
He doesn't possess top-end lightspeed. But his ability to control his body to manipulate space is already second-to-none in the league.
Here Collin Sexton does everything you need to do: gets over the screen, keeps him in front, stays within range to contest. But when Doncic starts to fake going left he goes super hard, forcing Sexton to react, and just as he does, Doncic decelerates to move into his stepback. It's a little thing that's just impossible to counter 1-on-1:
Doncic sports a 71% field goal percentage at the rim on non-post-ups — the 96th percentile of players (via Synergy Sports). That's absurd for a player who sees as much attention as he does. Some of that is his passing ability, as teams can't help down with the Mavs shooters blisteringly hot right now. And some of it? He's just a bully.
This is against human boulder P.J. Tucker, who just has no recourse here:
But my favorite move with Luka is his between-the-legs crossover. It's so tight that it allows him to get back to his right against any opponent. There are about 50 comparisons I can make between Doncic and James Harden — sure to enrage those who love Doncic and hate Harden's style — but this one is maybe most apt.
Harden will lure his opponent to sleep with that constant crossover, getting them to put one foot just where he needs it to punish them by going back to his left. Doncic does the same thing with his right, getting opponents on his left shoulder before going between the legs and immediately accelerating past:
And when you overload and bring multiple defenders to him on the ball?
So, yes, Doncic has been unbelievable and has undoubtedly played at an MVP-caliber level.
You should also absolutely fade him for MVP now.
PointsBet this week posted what Doncic's odds would be in heads-up matches vs. other candidates to more closely examine his value:
[In New Jersey? Bet now at PointsBet]
First off, Doncic is going to face the same issues Damian Lillard faces when teams absolutely commit to stopping him. This doesn't happen that often in the regular season, but it's happening with Doncic.
Doncic has seen the second-most instances of teams putting two on-ball this season behind just Trae Young.
He's still awesome at it, because, again, he's awesome. But there is also a difference between a defender being there and aggressively pursuing him.
This is late in the shot clock, and a shot he can hit, but it's about as good of a result as you can hope for against him:
Meanwhile, his roll options aren't great. Dwight Powell is the key roll man, as he's mobile enough to pass to shooters. But he also has the fourth-most turnovers for players with at least 30 roll plays this season, via Synergy Sports.
You see the issues here with Powell's lack of length:
Doncic's passes on these plays are good because he's a great passer, but they're still inherently harder passes. Having two guys up in your grill forcing you backwards makes it hard to hit guys pinpoint.
The chemistry with Doncic and Kristaps Porzingis has been dreadful this season. Whether it's Porzingis still recovering from injury or whatever, he's shooting just 35% off passes from Doncic and 28% from 3. That's likely to go up.
But Doncic's other teammates are undeniably going to see regression the other way. Tim Hardaway Jr. is the biggest example: He's shooting 45% on 3-point attempts off Doncic passes. Dorian Finney-Smith, who shot 31% from 3 last season, is shooting 35% off Doncic passes.
Overall, the Mavericks have the third-best effective field goal percentage in the league, and that's almost three percentage points over their expected eFG%, per PBPStats.com.
The Mavericks will remain an elite offense this season — Doncic is that good. But the Mavericks are the No. 1 offense in the NBA even after losing to the Clippers Tuesday, with a 116 Offensive Rating — nearly four points per 100 possessions better than the second-best team, the Wizards. Some regression will happen there.
Conversely, the defense has been a little bit better in terms of results vs. process, and that's likely to regress as well. Dallas is 16th in Defensive Rating and is giving up almost 111 points per 100 possessions with Doncic on the floor.
The Mavs' opponent eFG% is below the expected rate, indicating there's some regression expected.
Also… they just don't have the personnel for a top-20 defensive team. Some regression is to be expected, and that, combined with some offensive regression, means a probable slip.
To put this whole thing in perspective: The Mavericks have posted a +7.5 Net Rating with Doncic on the court, despite giving up 110 points per 100 possessions, and a +7.1 with him on the bench. One or both of those figures is likely to dip.
Meanwhile, the profiles of both Giannis Antetokounmpo and LeBron James are more stable and sustainable.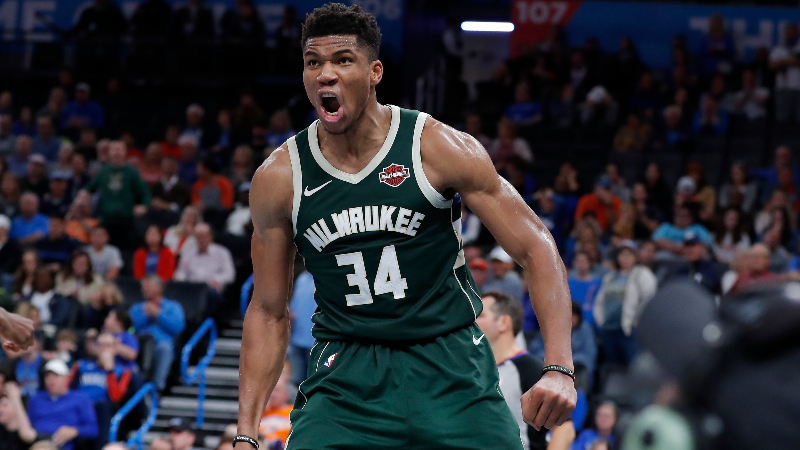 Finally, the Mavericks' win profile has some qualifiers. They have great wins; I need to stress this. Some of their wins are fantastic. They have wins vs. Houston, Toronto and Denver.
But the Mavericks have had the second-most games vs. the Eastern Conference of any West team (8, 5-3). The Raptors game came with Toronto at the end of a West Coast road trip, when teams are usually dragging. The Denver win came early when the Nuggets were in a serious offensive funk.
Now, look, I can nitpick every team's win profile. Those were still quality wins. But there is a general likelihood that they will get caught more often; they've already dropped two to the Knicks. Their defensive vulnerabilities, in particular, mean they're likely to get into shootouts with bad teams that can swing either way.
The Mavericks coming into the season had a 20-plus-ranked strength-of-schedule based on Vegas win totals through December. But after that, it flips to top-15 from January through the end of the season. Based on win-loss, the Mavericks have had the 24th-ranked strength of schedule.
Doncic is incredible and looks to be one of the best players in the league over the next decade. There's also enough evidence to suggest that with James Harden averaging 38 points per game at 3-1, James at 6-1, and Giannis still at plus-money, now might be the time to build a position that capitalizes on the long-term weaknesses forecastable with the Mavericks.
How would you rate this article?