Raptors vs. Sixers Game 1 Betting Preview: Trust Toronto in Round 2 Opener?
Credit:
Photo credit: Dan Hamilton-USA TODAY Sports. Pictured: Kyle Lowry
Game 1 Betting Odds: Philadelphia 76ers at Toronto Raptors
Spread: Raptors -6.5
Over/Under: 222.5
Time: 7:30 p.m. ET
TV Channel: TNT
---
>> All odds as of Friday night. Download The Action Network App to get real-time odds and live win probabilities on your bets.
---
To kick off Round 2 of the NBA Playoffs, the Sixers will travel to Toronto to face the 2-seed Raptors. Both lost in Game 1 of their first-round series; what's in store for tonight? Our analysts dive in.
Betting Trends to Know
What do the Raptors have to do to find some Game 1 magic? In franchise history, Toronto is 3-13 against the spread (ATS) in Game 1 of a playoff series, including 1-8 ATS in Game 1s at home. Since the 2014 playoffs, the Raptors are 1-9 ATS in Game 1s, failing to cover the spread by 11.3 points per game. – Evan Abrams
After dropping Game 1, the Raptors won four straight in the first round, completing the gentleman's sweep of the Orlando Magic. Toronto had four days to prepare for Philadelphia after dispatching the Magic quickly.
Since 2005, well-rested home teams with at least four days between games have gone 101-59 (63%) ATS. — John Ewing
The Sixers enter their pivotal second-round series shooting extremely hot from the field. Over their past two games, the 76ers shot 50.5% from the field (95-of-188), including an impressive 22-of-59 (37.3%) from 3-point range.
Since the 2015 playoffs, teams who have entered a Game 1 after shooting at least 50% from the field in consecutive games have gone just 3-7 straight-up and 2-8 ATS, failing to cover the spread by 10 points per game. — Abrams
---
Locky: How I'm Betting Game 1
There are a ton of unknowns in this game in terms of matchups because of the acquisitions each team made throughout the year. They last played the first week of February, before Marc Gasol or Tobias Harris were a part of the equation.
That basically makes all the data useless.
Now, there are a few things you can at least draw on a bit — Joel Embiid played really poorly against Memphis and Gasol when he was there — but you're still stretching to assume a lot of what can be pulled from this season has any value at all.
One thing we do know: Kawhi Leonard harasses Ben Simmons. Simmons averaged more than six turnovers per game against the Raptors this season, and much of that was due to Leonard. Sometimes, the ball pressure was just scary.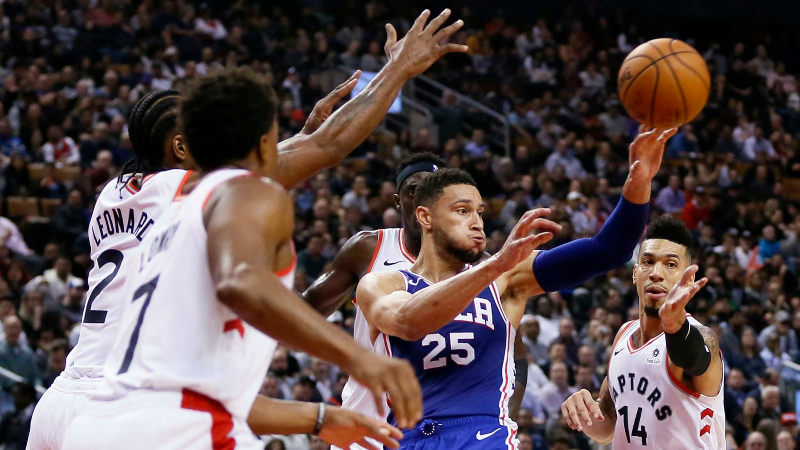 And there's no reason that will stop in this series, so that's one advantage (maybe THE one advantage) we know Toronto has in terms of matchup.
For this Game 1 specifically, because of all the unknowns, I'm actually very tempted to bet Philadelphia now that the number has grown to its current value of 6.5. We really don't know enough about how this series is going to go to make predictions for sure, and when faced with uncertainty, my motto is to always take points if possible.
It's just a nice bonus that Toronto happens to be miserable in Game 1s for some completely inexplicable reason. I can't quantify why that's the case since the team is almost entirely different from last year, but nevertheless it's a thing that's still happening, so how nice for me.
Despite a lot of questions between teams who never really faced each other, the Raptors are getting credit beyond the typical home-court advantage, and none of us can say for sure whether that's justified.
If faced with both sides, I'll take the Sixers at a number that we may look back on as inflated. — Ken Barkley
---
Mears: How I'm Handicapping Tonight's Game
After losing their Game 1s, both the Raptors and Sixers absolutely dominated their following four games. In fact, during that time period, they ranked first and second in the playoffs with Net Ratings of +26.0 and +22.3, respectively. A few more of their numbers in those final four games:
Raptors: 119.0 ORtg | 58.9% eFG | 92.9 DRtg | 43.8% eFG allowed
76ers: 123.3 ORtg | 57.7% eFG | 101.1 DRtg | 46.3% eFG allowed
A lot was made about both of these teams after dropping those first games at home, but the truth is that those series just weren't close.
The public loves talking about the Raptors losing that Game 1.
I get it: Their long-term history, as Evan mentioned above, is not great. But this, in my opinion, is a correlation/causation issue. Sure, the name on the jersey is the same and Kyle Lowry is still there, but very little else from this team is the same as those other Raptors squads.
What if the Raptors just had a bad game and the Magic shot the lights out and we never see those Game 1 issues again? I think that's more likely given the current data we have than assuming this one-game sample is like some non-representative historical trend.
All that said, maybe the public actually just likes to talk about that point and it isn't really reflected the betting market. After all, the Raptors opened at -5.5 in Game 1 and have already been bet up a full point thanks to public support. I guess my point is: I'm not downgrading Toronto here because of that Game 1 trend.
One trend I am interested in — and this one also favors the 76ers, for better reasons — is this one from Bet Labs:
Teams getting "sharp money" — defined here as more money wagered than tickets — have absolutely crushed ATS in the playoffs, going 62-26 (70.5%), good for a stupid 37.7% Return on Investment.
This trend specifically highlights non-public teams getting sharp money, and the 76ers currently qualify for Game 1. I think that's worth a bet. — Bryan Mears
---
Editor's note: The opinions on this game are from the individual writers and are based on their research, analysis and perspective. They are independent of, and may not always match with, the algorithm-driven Best Bets from Sports Insights.