Phan and LaMarca: Betting and DFS Impact of the Tom Thibodeau Firing
Credit:
Derick E. Hingle-USA TODAY Sports. Pictured: Former Minnesota Timberwolves head coach Tom Thibodeau.
Tom Thibodeau was fired by the Minnesota Timberwolves on Saturday night after a 19-21 start to the season
Thibodeau has been known to play his starters heavy minutes, so his firing could have a big impact from a DFS and betting perspective
Timberwolves president and head coach Tom Thibodeau is officially out in Minnesota after a win over the Lakers on Sunday.
His tenure with the Wolves can best be described as unremarkable, leading them to the playoffs once and compiling a win percentage of .473, but he leaves behind a legacy that will be hard to forget.
The Action Network's Matt LaMarca and Justin Phan discuss the significance of Thibodeau's firing for bettors and DFS players.
Matt LaMarca: Thibodeau developed a reputation for playing his players heavy minutes, despite the fact that the rest of the league was focusing more and more on things like rest and injury management.
He's had a player finish in the top four in minutes per game every season since taking over as a head coach, culminating with all five of his starters averaging at least 33 minutes last season.
Ironically, the year where Thibs was ultimately fired was the one where his minute management was the most reasonable. Karl-Anthony Towns is currently averaging his fewest minutes per game since his rookie season, while Andrew Wiggins is averaging the lowest mark of his entire career. No one on the team currently ranks in the top 20 in terms of minutes per game.
Justin Phan: Even if their overall minutes are down, Thibs has still been particularly reckless this season, unnecessarily extending minutes for players even while they deal with injuries.
Derrick Rose suffered an ankle sprain on Dec. 21 and had to sit out a game as a result. In his return to the court, he logged just under 32 minutes through the first three quarters, and the Wolves took a 83-65 lead into the fourth quarter. Any reasonable coach gives their starters the rest of the night off, particularly if they're coming off an injury.
Not Thibs.
Less than three minutes into the fourth quarter with the Wolves up 21 points, Thibs brought Rose back in for another six-plus minutes to take him north of 38 minutes on the night. Meanwhile, Tyus Jones finished the night at 20 minutes with Josh Okogie at just 14.
The following game, Rose injured his other ankle near the end of regulation after logging just under 38 minutes, and walks off the court with a pronounced limp heading into overtime.
Thibs left Rose in, but he lasted just one minute into overtime before departing for the locker room. He was seen with a heavy limp afterward and hasn't played in the five games since.
We see a similar pattern with Covington, and the mismanagement of his minutes starts at the same time as Rose on Dec. 26 vs. the Bulls.
Like Rose, he plays significant minutes through three quarters (30:20) and is also brought back in three minutes into the fourth quarter before finally departing six-plus minutes later.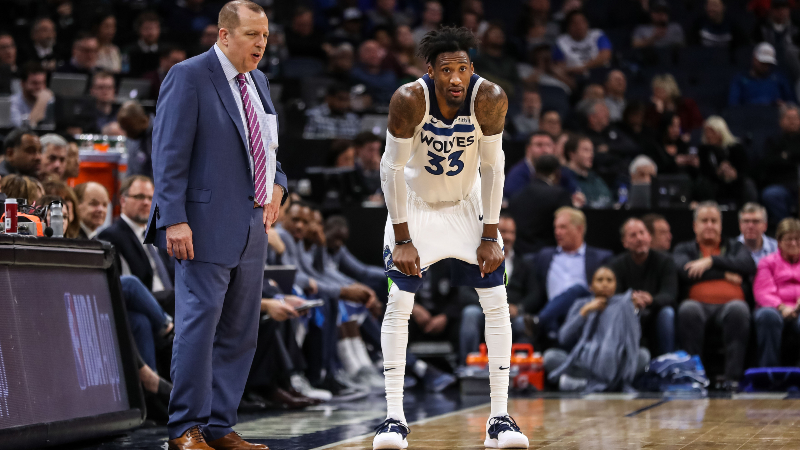 Covington's minute totals in the following three games: 45, 36, 38.
Four days later, the Wolves announced that Covington would miss an extended period of time with a bone bruise.
Thibs' mismanagement of Covington was arguably worse than it was with Rose because there was an extended period of time where Covington clearly looked like a shell of himself as he was playing through soreness in that same knee. He went from the frontrunner for Defensive Player of the Year to routinely being a second late on rotations and jumping passing lanes for steals he usually makes.
Thibodeau chose to ignore those warning signs and pressed on anyways, ramping up Covington's minutes to their only logical endpoint. Covington has already missed twice as many games in two months under Thibs (4) than he did all of last season (2).
LaMarca: Those who bet the Timberwolves on a regular basis are likely happy to see Thibodeau gone. He has gone 95-106-2 against the spread since the start of the 2016 season, making the seventh least profitable coach over that time frame (per BetLabs). It seems like whoever is brought on to replace him will be an improvement in that department.
From a fantasy perspective, Towns has been phenomenal over his past six games, averaging 65.13 DraftKings points per game. That said, the majority of those games have come with both Rose and Jeff Teague on the sidelines.
Both of those players command a higher usage rate than backup point guard Jones, so the new coach's biggest challenge will be preserving Towns' production while integrating those players back into the lineup. Everything has gone well in Teague's first two games back, with the Timberwolves winning both games by an average of 19.5 points.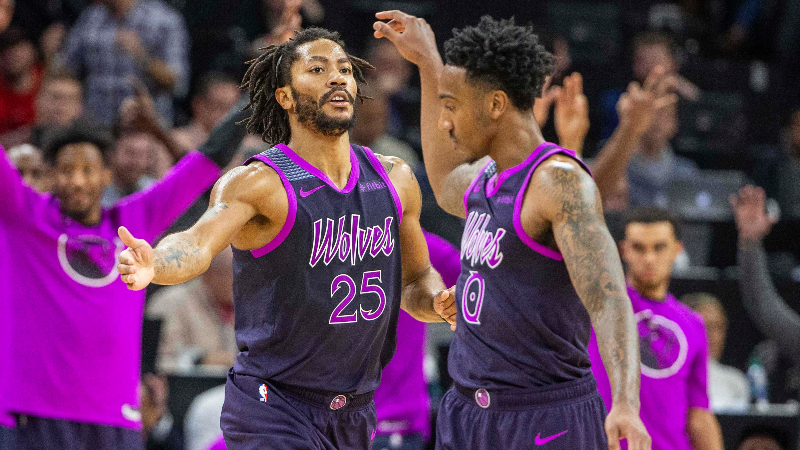 The new coach will also face a delicate balancing act in terms of Rose's minutes. He's been arguably their best player this season, averaging a team-high FantasyLabs' Plus/Minus of +4.84 on DraftKings, but he's also averaging 28.9 minutes per game.
The minutes have already started to take a toll on him, and not just in terms of injuries: He has shot worse from the field, 3-point range, and free throw line in December than he did in October/November.
As a result, his Offensive Rating declined from 127 to 108 and his True Shooting Percentage dropped from .667 to .525. It may be in the new coach's best interest to monitor his minutes moving forward.
Luckily, the team does have the benefit of employing one of the best third-string point guards in the business. Jones dominated when given a chance to start recently, averaging 13.7 points, 9.0 assists, and 3.3 steals over a three game stretch.
He also posted a Net Rating of +6.0 points per 100 possessions when on the court last season, which was better than both Teague (+2.9) and Rose (-3.8). Finding a few more minutes for Jones could be a priority.
Phan: With Thibs now out of the picture, minutes expectations for the Wolves starters should be held relatively in check. Gone are the days where Towns, Rose, Andrew Wiggins, and Covington are in the game for no reason deep into a blowout.
The DFS appeal of Covington and Wiggins has been heavily tied to their minutes floor and both become riskier cash game options now that there's a bit more volatility depending on game flow.