2019 NCAA Tournament Bracket Breakdown by Region: Final Four Predictions, Sleepers, Favorites
Credit:
Kevin Jairaj-USA TODAY Sports. Pictured: Tariq Owens
Looking for a sleeper and Final Four prediction in each 2019 NCAA Tournament region? We've got them here.
Eli Hershkovich breaks down all four sections of the bracket with the team to beat, his pick to win and a darkhorse.
With the NCAA Tournament getting underway on Thursday, the anticipation continues to mount for those filling out brackets. Oh, and the teams playing in the actual games, of course.
Let's dissect the bracket by region while pegging a sleeper, a bracket-buster and my pick to win.
NCAA Tournament Bracket East Region Pick, Sleeper
Team to Beat: You've got to give it to Duke, as the Blue Devils were handed the No. 1 overall seed in the NCAA Tournament. The 6-foot-7, 285-pound Zion Williamson completely altered their outlook in his return during the ACC Tournament, averaging 27 points per game while shooting 76.7% from the field. Not bad.
Mike Krzyzewski's unit is the obvious favorite to win the region, but it'll need to control the pace via its 18th-ranked Adjusted Tempo (72.2 possessions per 40 minutes). Williamson and Co. are much less dangerous in the halfcourt, tallying the 16th-lowest 3-point clip (30.2%) in the country. They'll need some better shooting efforts to win it all.
Underdog That Could Make Some Noise: No. 12 seed Liberty, which knocked off Lipscomb to earn the A-Sun's lone NCAA Tournament bid, has sleeper written all over it. The Flames generated the fifth-lowest AdjT (61.8 possessions per 40 minutes), and they could give opponents fits with their highly-efficient offense while operating at such a sluggish pace.
The 6-foot-8 Scottie James (13.1 ppg) has breakout potential from the low-post, too. They catch slightly over-seeded Mississippi State in the first round.
Everything Gets Screwed Up If: The winner of the play-in game between No. 11 Belmont/Temple knocks off Maryland in the Round of 64. No. 6 Maryland has regressed enough, thanks to its youth, to make that a strong possibility. Plus, one first-four team has reached the Round of 32 since it began in 2011.
The Bruins and Owls, respectively, possess the makeup of a bracket buster. Belmont thrives off Rick Byrd's ball-screen offense, led by 6-foot-8 Dylan Windler (21.4 ppg). Temple boasts a vastly underrated defense to go along with its refined perimeter attack in AAC play. Do-it-all point guard Shizz Alston (19.7 ppg) leads the way from all over the floor.
The Pick: No. 2 seed Michigan State hasn't advanced beyond the Round of 32 in each of its past three trips to the big dance, but its eighth-rated Adjusted Defensive Efficiency (90.4 opponents' points per 100 possessions) is its highest ranking since 2013.
The Spartans are so balanced at the other end, guided by the 6-foot-1 Cassius Winston (18.9 ppg). Winston is dealing with knee tendinitis and a toe injury, but his performance vs. Michigan in the Big Ten Tournament title game (14 points, 11 assists) — their third game in three days — proved it isn't ideal to bet against him and their fourth-ranked Adjusted Offensive Efficiency (121.7 points per 100 possessions).
If MSU matches up with Duke in the Elite Eight, look for its frontcourt trio of Nick Ward, Xavier Tillman and Kenny Goins, as well as Winston off the dribble, to give the Blue Devils' struggling interior defense fits. With and without Williamson, they let up the highest 2-point scoring rate (57.0%) in ACC play.
NCAA Tournament West Region
Team to Beat: Don't lack faith in No. 1 seed Gonzaga even if it fell in the WCC title game. Similar to Duke, the Bulldogs possess one of the most lethal transition offenses in the country, leading to their first-rated AjdO (125.1 points per 100 possessions). Rui Hachimura (20.1 ppg) and Brandon Clarke (16.5 ppg) form an elite two-way frontcourt, too.
Underdog That Could Make Some Noise: I wasn't a fan of Murray State's potential heading into the NCAA Tournament, but its draw presents favorable matchups. The No. 12 Racers first get a perimeter-oriented Marquette team, and they've held their opponents to the fourth-lowest 3-point clip (28.5%) in the nation.
The 6-foot-3, 175-pound Ja Morant (24.6 ppg) could absolutely takeover this region as well, amassing the third-highest assist rate (51.6%) in Division I while racking up the 15th-highest fouls drawn per 40 minutes (FD/40). When he gets in the open floor, opponents just can't slow down his uber-athletic build.
Everything Gets Screwed Up If: No. 2 seed Michigan loses to No. 15 Montana. The Wolverines were the national runner-up a season ago, falling to Villanova in the title game, so their March Madness savvy could very well pay dividends. But the NCAA Tournament selection committee paired them with a team they faced in the first round just last season.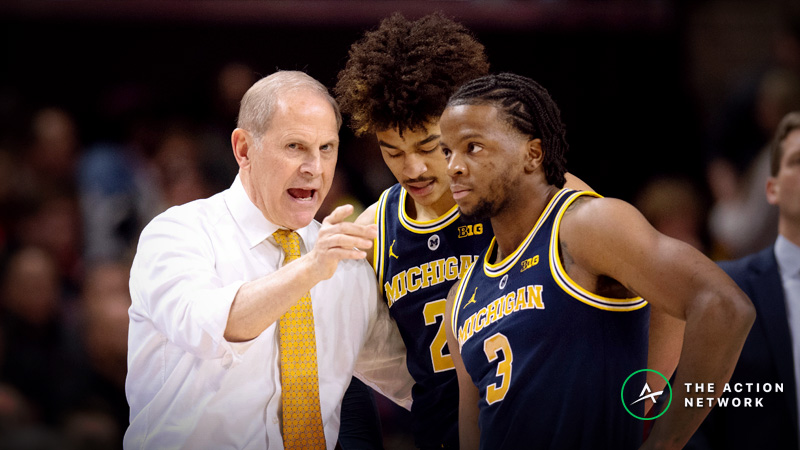 The Grizzlies boast one of more efficient offenses — inside and beyond the arc — in all of college hoops, generating the sixth-highest eFG% (56.6%) in the country. If they're able to speed up Michigan en route to controlling the tempo, they're capable of pulling off the upset and shaking up the entire region in the process.
The Pick: No. 3 seed Texas Tech gave the defending champs all they could handle in last year's Elite Eight, and Chris Beard's top-ranked AdjD (85.9 opponents' points per 100 possessions) and dominant ball pressure is capable of it leading it on a run — at least one round further this season.
Not only is the 6-foot-5 Jarrett Culver an elite on-ball defender, but he's rated as KenPom's second most valuable player in college basketball — behind only Wisconsin's Ethan Happ — because of his prowess for creating offense as well. Look for their defense to dominate a region with 3-point shooters galore while Culver and the Red Raiders' transition offense (36th-ranked AdjO) provide the of the rest of the damage.
South Region
Team to Beat: Don't worry. Virginia coach Tony Bennett hasn't forgot his team represented the first-ever No. 1 seed to be upset by a No. 16 seed in NCAA tournament history. The Cavaliers' fifth-rated AdjD (87.9 opponents' points per 100 possessions) failed to regress in the wrong direction, and Bennett has also never had an offense as efficient as this one (second-rated AdjO).
Moreover, the 6-foot-7 De'Andre Hunter (15.1 ppg) is even more of a threat in his sophomore campaign after missing last season's first-round loss to UMBC with a broken wrist.
Underdog That Could Make Some Noise: The Pac-12 was by far the worst major conference in country, but don't hold that against No. 12 Oregon. The Ducks are entering the big dance with eight consecutive wins, and they're just two seasons removed from a Final Four run.
The 6-foot-2 Payton Pritchard (12.7 ppg) was one of the primary ball handlers on that squad, and he leads a slow-paced team that can gun it from behind the arc (fourth-ranked 3-point scoring rate in Pac-12 play). Even with the 7-foot-2 Bol Bol lost for the season (foot), Oregon's premier strength comes at the other end, boasting a morphing zone that would give Virginia's attack fits if they meet in the Sweet 16.
Everything Gets Screwed Up If: No. 11 seed Saint Mary's knocks off No. 6 Villanova. The Gaels proved they're no joke in their WCC title game win over Gonzaga, and they've held opponents to the the 11th-lowest 3-point scoring rate (25.1%) in the nation.
Matched up with the perimeter-oriented Wildcats in the first round before a possible matchup with No. 3 Purdue — led by Carsen Edwards and his 3-point shooting troops — in the Round of 32, Randy Bennett's 55th-ranked AdjD (96.9 opponents' points per 100 possessions) could easily blow up this region with fellow double-digit seed Oregon. The madness has arrived (potentially).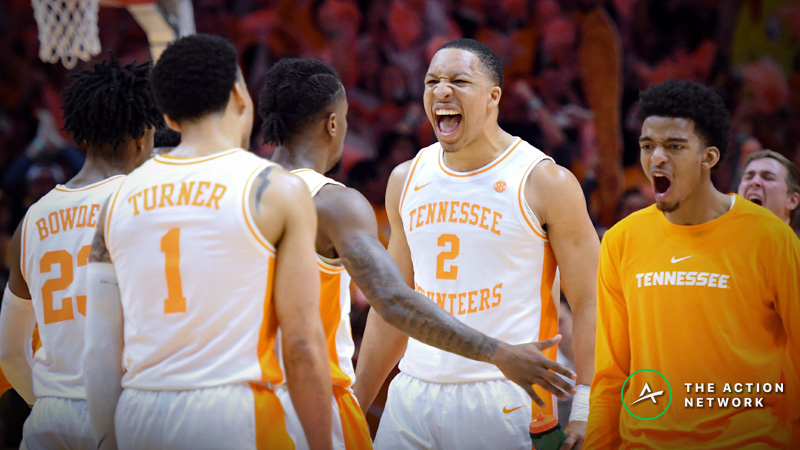 The Pick: With that being said, Tennessee's third-rated AdjO (122.5 points per 100 possessions) — led by Grant Williams (19.0 ppg) and Admiral Schofield (16.2 ppg) — should be enough get them through an upset-minded region. Vols point guard Jordan Bone (13.5 ppg) will be the difference-maker, with his improved point guard play and 3-point touch (34.9%) taking their attack to another level.
Midwest Region
Team to Beat: No. 1 seed North Carolina has generated the seventh-ranked AdjO (119.9 points per 100 possessions) in the nation, and its one-point loss to Duke in the ACC Tournament semifinals doesn't scare me at all.
It went 21-10-2 against the spread because of its 10th-ranked AdjD (90.7 opponents' points per 100 possessions) as well, led by its stellar interior defense. Cam Johnson, Garrison Brooks and even the 6-foot-6 Nassir Little combine aid its 13th-ranked defensive rebounding rate (23.3%), leading to a lethal transition attack with freshman point guard Coby White (16.3 ppg) at the helm.
Underdog That Could Make Some Noise: Everyone and their mother will be all over No. 7 seed Wofford's 3-point shooting arsenal as the region's top sleeper, but the 6-foot-2 Myles Powell (22.9 ppg) has the potential to carry No. 10 Seton Hall on a deep run as well. His 54th-ranked shot rate (31.0%) in the country is backed up by a 36.3% clip from 3-point behind the arc, and he can dominate for stretches at a time as well.
The Pirates' held their Big East opponents to the fourth-lowest perimeter scoring rate (34.6%) in conference play, and that's a league that thrives off perimeter shooting — similar to Wofford. Keep in mind, Kevin Willard's unit knocked off No. 2 Kentucky outright earlier this season.
Everything Gets Screwed Up If: No. 9 seed Washington's 2-3 zone gets back to flustering opponents. Oregon gashed the Huskies in the Pac-12 Tournament championship game to the tune of 1.13 points per possession, but much of that came in transition off the Huskies' inept offense (0.80 PPP), including a stretch of two points within the first 10 minutes of the second half.
If the Huskies' perimeter attack (34.6%) exposes No. 9 Utah State's below-average 3-point defense, letting up the 55th-highest scoring rate (35.9%), they'll be in position to set up their daunting defense and likely regain their confidence along the way — before a potential matchup with UNC in the second round.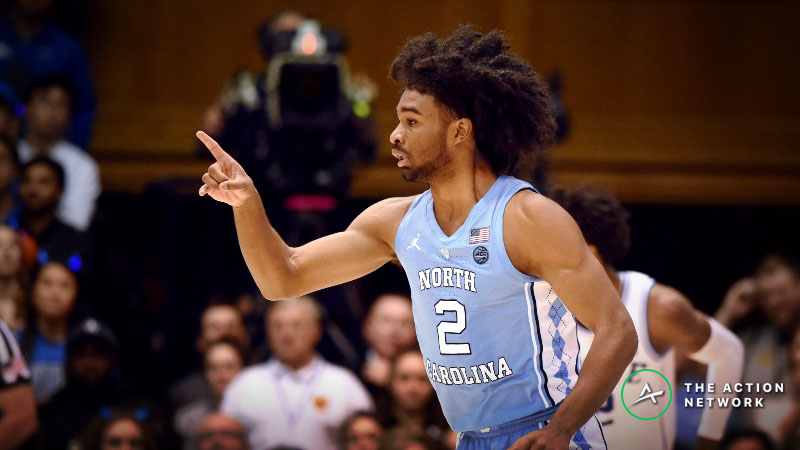 The Pick: Despite Seton Hall and Washington providing some intrigue, as well as the top seeds in UNC and Kentucky, No. 5 Auburn has a lethal two-way attack that is set up to make a run in the big dance. Paced by its backcourt of Bryce Brown (15.8 ppg) and Jared Harper (15.2 ppg), the Tigers have won eight consecutive games straight-up.
Not only do the Tigers push the tempo to go along with the seventh-highest 3-point scoring rate (43.4%) in DI, but their defense is starting to dominate again as well, forcing the highest opponents' turnover rate (25.4%) in the sport.
Remember, the Tigers possessed 33-1 future odds in the the preseason (No. 11 in the AP Top 25), and you can shop around for the same exact price.
How would you rate this article?