Round Robin in Sports Betting: Definition, Examples, How To Bet
Credit:
Will Newton/Getty Images. Pictured: Derrick Henry
A round robin in sports betting is a series of smaller parlays made up from a larger list of teams you select.
The sportsbook will create the parlays automatically, so you can create dozens at once.
Learn about round robins and how to bet them below.
A round robin bet allows you to create a series of smaller parlays from a larger list of teams or players.
Say you pick three teams for your round robin: You'd get one parlay with Team A and Team B, one with Team A and Team C, and one with Team B and Team C.
So why would you want to bet a round robin, anyway? It allows you to instantly create parlays without having to actually create the parlays individually. If you select 5+ teams, it can create dozens and even hundreds of parlay combinations.
Maybe you've seen a round robin as an option at your sportsbook, but have never dipped your toes into the forbidden waters.
Well, you're about to go on a wild ride.
---
Round Robin Bet Guide
Click the links to jump to each section.
---
1. How Does a Round Robin Bet Work?
A round robin in sports betting is really just a series of smaller parlays created from a larger list of bets.
It gets its name from a round-robin tournament, in which every team plays every other team in its group. The idea is the same. Instead of playing each other, the teams form parlays together.
When you select multiple games to bet, your sportsbook will give you the option to create a series of smaller parlays made up of your selected games.
The more games you pick, the more parlay combinations you can create — thousands if you pick enough teams. If you pick 11 teams, it can automatically create 2,036 parlay combinations.
Every book will display round robin options a little differently.
Here's a four-team round robin from NFL Week 16 in 2022 from FanDuel.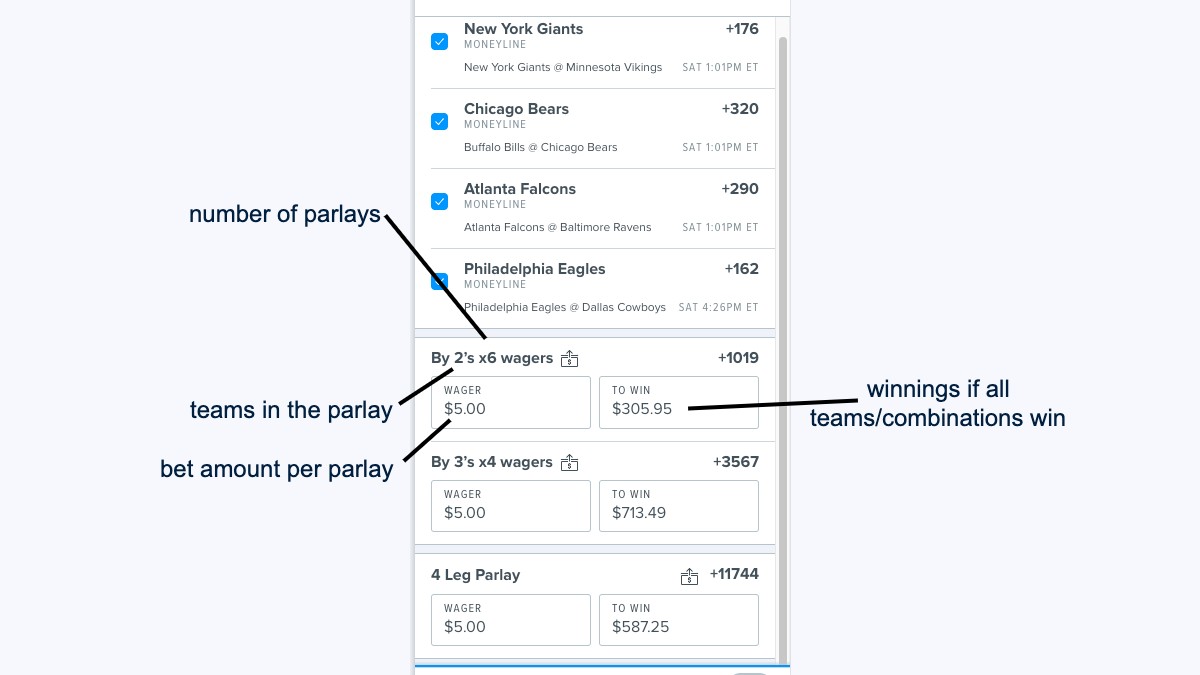 In this example, I've created 11 total parlays, and put $5 on each for a total of $55. The winnings represent the total I'll win if all the possible combinations hit.
So here are my 11 parlays:
Giants & Bears
Giants & Falcons
Giants & Eagles
Bears & Falcons
Bears & Eagles
Falcons & Eagles
Giants, Bears & Falcons
Giants, Bears & Eagles
Giants, Falcons & Eagles
Bears, Falcons & Eagles
All four teams
Depending on which ones win, I'll my payout will be a little different — the Bears-Falcons parlay would pay the most of the two-teamers because they're the biggest underdogs.
And here's how it would look at DraftKings.
At FanDuel, the "2 Pick" represents how many teams are in each parlay, and the "6x" represents how many parlays will be created.
2. Round Robin Example
The simplest round robin is choosing three teams to create three separate two-team parlays.
Say you like these three games on an NFL Sunday:
And you to decide to risk $10 on each parlay combination, giving you three parlays for a $30 total investment…
| Parlay | Risk | To Win |
| --- | --- | --- |
| 1. Patriots -7.5, Ravens -6 | $10 | $26 |
| 2. Patriots -7.5, Raiders +4 | $10 | $26 |
| 3. Raiders +4, Ravens -6 | $10 | $26 |
2-1: If just the Raiders and Patriots cover, you'll win one parlay, taking home $6 (win $26, lose $20).
1-2, 0-3: If one or zero teams cover, you lose all three parlays, and lose $30.
3. Which Parlays Combos Should You Take?
Round robins can be deceptive. They get very expensive the more teams you put in.
That creates a needed balance between having too many teams while still getting some upside. If you have even seven teams on your list, that's hundreds of combos already.
Take this NFL examples with seven teams — if I want to do all combinations, even putting $1 on each parlay will cost over $200.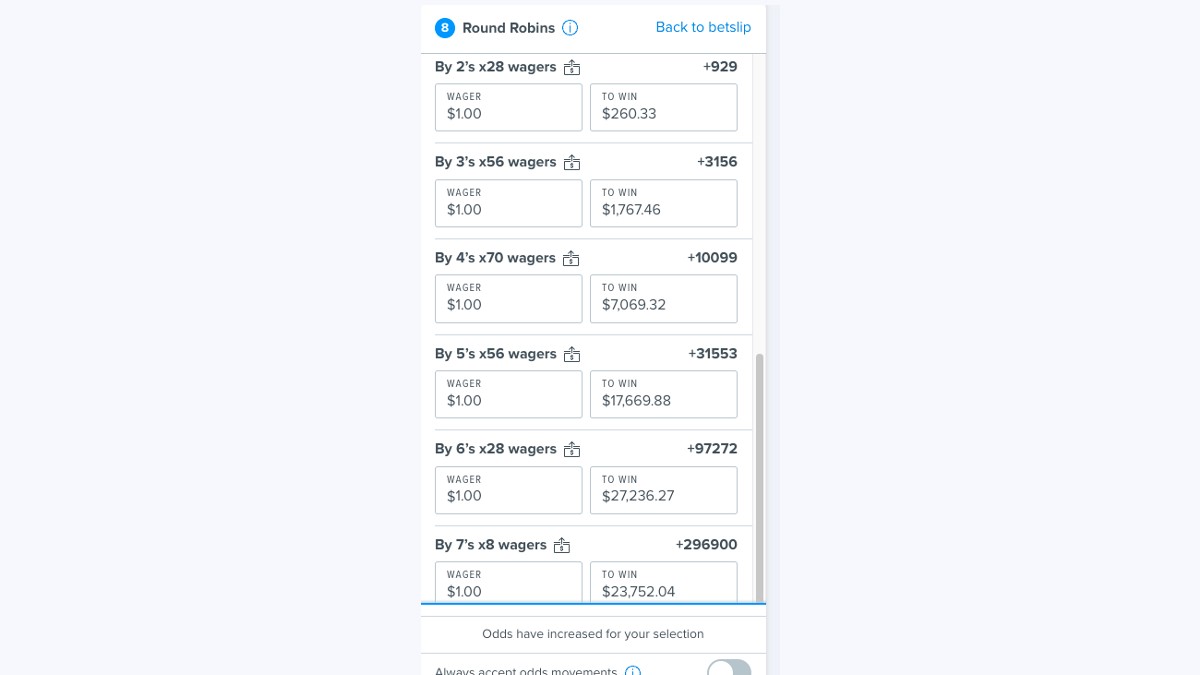 I like four-team round robins featuring moneyline underdogs each priced somewhere between +180 and +400. And I'll risk around $10 on each parlay for $110 total — six two-teamers, four three-teamers, and one four-teamer.
This way, I'm maximizing my upside if three or four underdogs hit. If 2/4 hit I'll usually break even, and if zero or one hit I'll actually have lost less money than I would if I bet them all straight.
4. Is a Round Robin a Good Bet?
Often, round robins are bad bets.
Rarely can you take a 2-1 effort betting NFL point spreads and turn it into a losing or break-even day, but a round robin can do that.
Round robins can also get very expensive — if you want to put $5 on a six-team round robin, using two-team and three-team parlays, you're already at 35 parlays ($175 total). If you also want to bet the four- and five-team parlays off a list of six teams, you're at $280.
You don't have to bet $5 on each parlay — you can do $1, $2, whatever you want — but then your payouts will be smaller, of course.
I've always found the most effective and interesting way to utilize round robins is when spraying underdogs on the moneyline.
They're not all going to win, but by tying the combinations together, you increase your likelihood of hitting a few of the parlays and getting those sweet multipliers. You're diversifying your risk a bit.
There's more variance in college football, so most Saturdays, I'll pick anywhere from 5-8 underdogs I think can win outright and throw them in a series of round robins.
Here's a college football example:
I can pick many different combinations with six bets selected:
15 two-team parlays
20 three-team parlays
15 four-team parlays
6 five-team parlays
I put $5 on each of the 20 three-team parlays, and $5 on each of the 15 two-teamers.
That's $175 total invested.
Three teams won, so I won four total parlays — three two-teamers, and one three-teamer — and ended up netting $136.34.
If Hawaii hadn't made a field goal as time expired to squash San Jose State, 10 of the parlays would have cashed — six two-team parlays, and four three-team parlays. That would have resulted in a $989.68 payday ($1,014.68 in profit, minus $125 for the lost parlays).
That's why round robins in this way can be fun and effective — you're creating upside for yourself — but they're also an easy way to lose money fast if you're not careful.
5. Round Robin Nicknames: What Is a Trixie and a Patent?
Some sportsbooks will list round robin options with nicknames, which are borrowed from horse racing.
A Trixie is four total bets:
3 two-team parlays
1 three-team parlay
At DraftKings, it's listed with "4x" next to it because you're making four bets.
A Patent is the same thing as a Trixie, but you also get your three bets as single wagers. A Patent is listed with "7x" next to it because it's seven total bets.
3 two-team parlays
1 three-team parlay
4 single wagers
What About A Yankee and Canadian?
Some sportsbooks will give you the option to make a…
Yankee (11 bets)
Lucky 15
Canadian (26 bets)
Lucky 31
Heinz (57 bets)
Lucky 63
Super Heinz (120 bets)
Lucky 127
So what are these? They're essentially every round robin combination, wrapped into one.
When you select five games for a round robin, you can make 26 different parlays — 10 2-teamers, 10 3-teamers, five 4-teamers and one 5-teamer. That's a Canadian.
When you select six teams, you have 57 parlay options. That's a Heinz.
You also have the option to add single bets to all the parlays (like a Trixie turning into a Patent). That's when a Canadian becomes a Lucky 31, or a Heinz becomes a Lucky 63.
Next in Betting Education 101: A Middle
How would you rate this article?
This site contains commercial content. We may be compensated for the links provided on this page. The content on this page is for informational purposes only. Action Network makes no representation or warranty as to the accuracy of the information given or the outcome of any game or event.