Make Smarter Sweet 16 Bets by Tracking Sharp Money
Upsets, buzzer-beaters and busted brackets, the first weekend of the NCAA tournament was everything we hoped for as college basketball fans. But as bettors, the crazy start to the tourney might have put a dent in your bankroll. I was on the wrong side of three of the five worst bad beats. Given the unpredictable nature of the tournament, giving up crossed my mind but mamma didn't raise no quitter!
The Sweet 16 tips tomorrow and using the Bet Labs software, I've identified a winning betting system with two game matches (Thursday, 7:07 p.m. ET and Friday, 9:57 p.m. ET) for the next round.
With fewer games scheduled, each Sweet 16 matchup will receive a higher number of bets. This will make betting against the public even more profitable. One way to fade the squares is to look for reverse line movement (RLM).
RLM is line movement that goes against public betting. For example, if 70% of bets are on Kentucky -5.5 vs. Kansas State but the line drops to -4.5, that is a clear indication that sharp money is on K-State. Reverse line movement doesn't just work for the spread, it is useful when betting totals too.
Since 2005 in the Sweet 16, betting the under has gone 56-46-2 (54.9%). With unders being historically profitable late in the tournament, we theorized that we could increase our win rate by finding totals with reverse line movement. In Sweet 16 games with 50% or more of bets on the over and a total that DECREASES from open to close, the under has gone 21-11-2.
The results are great but the sample is small. Fortunately, this system is profitable in every round after the Sweet 16 as well.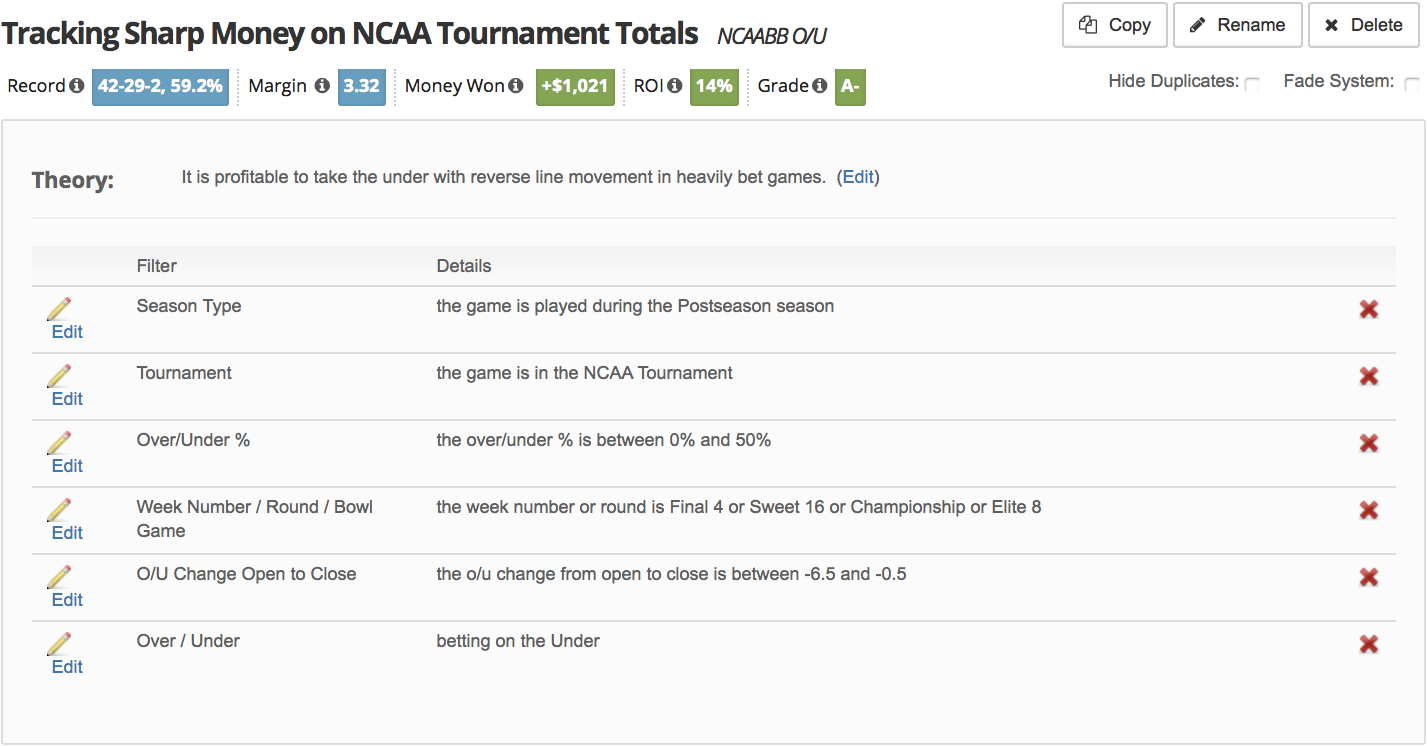 By including not only the Sweet 16 but also the Elite Eight, Final Four and championship games, the most heavily bet March Madness matchups, we more than double our sample size. Unders with reverse line movement late in the tournament have gone 42-29-2 (59.2%) since 2005.
What unders are the pros playing in the Sweet 16?
Sharp Sweet 16 Totals
#7 Nevada vs. #11 Loyola-Chicago (Thursday, 7:07 p.m. ET): The total for this matchup opened 143.5, but has been bet down to 143 despite a majority of tickets and dollars being on the over.
#2 Purdue vs. #3 Texas Tech (Friday, 9:57 p.m. ET): Fifty-five percent of bets have been placed on the over, as we would expect. However, unlike Nevada-Loyola Chicago, a majority of money is on the under here, moving the line from 138.5 to 137.5.
Note: While these game are currently matches for this system be sure to check our free odds page as betting percentages change.
Got a college basketball theory you want to test? Try Bet Labs for a month, it is as easy as clicking a mouse!
Pictured: Loyola-Chicago Ramblers bench celebrates
Photo via Tim Heitman-USA TODAY Sports
How would you rate this article?