Substantial Sharp Money Continuing to Flow on a Very Unpopular Favorite
Credit:
Brian Losness-USA TODAY Sports
One strategy that we have been preaching about this week has been "fade the trendy dog". Betting against the public in the NCAA Tournament is also a profitable strategy and this particular game tackles both at once.
It took a few days, but sharp bettors agree with our favorite March Madness strategies and are finally getting down on a very unpopular favorite.
The Ohio State Buckeyes are one of the nation's most popular college sports schools, but since they were given a 5-seed and in their round of 64 game against South Dakota State (4:00 p.m. ET) , they've become as unpopular as Stephen Glansberg.
With 12 vs. 5-seeds becoming trendy upset picks, less than 30% of spread bettors are on the Buckeyes. It would be the fourth time this season they've received less than 30% of bets, but the previous three were against UNC, Gonzaga, and Michigan State. South Dakota State does not quite fit the same bill.
This morning, sharp bettors went heavy on the Buckeyes, quickly moving them from -7.5 to -8.5.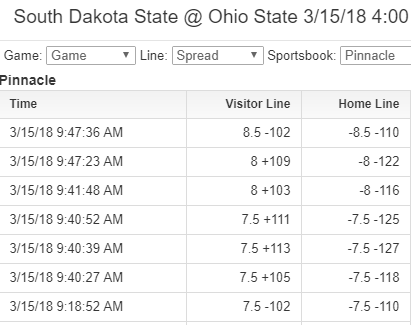 At Pinnacle, the line moved from -7.5 to -8.5 in less than a 10-minute span. Furthermore, the line prediction tool at Sports Insights believes there is an 85% chance that the next line move will be to -9.
Other than the opening game between Oklahoma and Rhode Island, this is the most heavily bet game of the day. Going against the public has historically been more profitable in heavily-bet situations, as large waves of public money create value on the other side.
Maybe South Dakota State is worth a shot in your bracket, but you may want to think long and hard before betting them on the spread.
Top photo:  Ohio State Buckeyes team members huddle during the practice day before the first round of the 2018 NCAA Tournament
Photo via Brian Losness-USA TODAY Sports