College Football Betting: How to Profit Off the AP Top 25 Poll
Credit:
Matt Cashore-USA TODAY Sports. Pictured: Brandon Wimbush
The preseason AP Top 25 is out, which means college football is only days away.
While the poll mostly serves as a point of pride for fans, there are some profitable poll-based betting trends that bettors should know heading into Week 1.
The preseason Top 25 is out. We're almost there. In five days, there will be college football on TV again.
For most college football fans, the preseason Top 25 matters only if your team is actually one of the 25. Otherwise, you'll probably just toss it out the window. Your team will be in there by the end of the year anyway, right?
For bettors, though, there are actually some profitable trends that you might want to know regarding this otherwise meaningless poll. Here are five to keep in mind for kickoff week.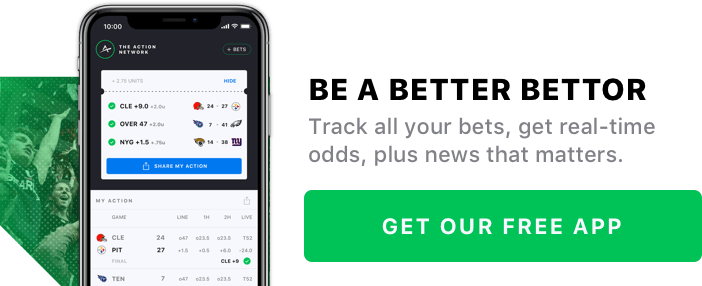 When either team is ranked in Week 1…
It pays to bet the over.
Since 2005, Week 1 overs in general haven't been profitable. They've gone 391-406-15 overall, losing 44.7 units for bettors. But when those games have involved a ranked team, the over has gone 135-106-6, winning 20.8 units for an 8.4% return on investment.
But if taking 22 overs in one week isn't your thing, keep reading.
---
When both teams are ranked Week 1…
It has been profitable to take the one with the higher ranking, and, you guessed it, to take the over.
This has happened 31 times in our database, and the higher-ranked team has gone 21-10 against the spread in those games (+9.9 units, 31.9% ROI).
This could be a coincidence considering the small sample size. But one possible theory is that even though oddsmakers and voters have good intuition when judging the top teams in the nation — meaning they can accurately identify the better team — sportsbooks are hesitant to create large enough spreads in Week 1 because of uncertainties that come from having not seen each team play yet.
As for the over, it's gone 20-10-1, winning 8.8 units for a 28.4% ROI.
Week 1 matches:
No. 6 Washington (+2.5 vs. No. 9 Auburn), Over 48.5
No. 12 Notre Dame (+1.5 vs. No. 14 Michigan), Over 48.5
No. 8 Miami (-3 vs. No. 25 LSU), Over 48.5
No. 19 Florida State (-7 vs. No. 20 Virginia Tech), Over 54
---
When a ranked home team isn't a huge favorite in Week 1…
It's been profitable to bet on that team.
Home ranked teams that are favored in Week 1 by fewer than three touchdowns have gone 36-17 ATS since 2005 (+17.1u, 32.3% ROI).
This fits the same narrative as the above trend. Essentially, the ranking is a good indication of which team is better, but in cases where oddsmakers are hesitant to stretch out point spreads, there's some value in buying the better team at home.
Week 1 matches:
No. 13 Stanford (-14.5 vs. San Diego State)
No. 7 Oklahoma (-20.5 vs. Florida Atlantic)
No. 12 Notre Dame (+1.5 vs. No. 14 Michigan)
No. 19 Florida State (-7 vs. No. 20 Virginia Tech)
---
When bettors aren't heavily backing a ranked home team…
Again, take the ranked home team.
I had to mix some form of contrarian betting into this, so here goes. When the public isn't completely sold on a preseason ranked team — read as: it's getting fewer than 60% of bets — it pays to bet on that side.
Teams in that spot have gone 26-14 ATS since 2005, winning 10.6 units for a 26.6% ROI.
Previous matches on this system were made up mostly of teams that weren't coming off an especially great year, which is likely why the public wasn't all over them — anything less than 60% on a ranked home team is significant considering how much the public usually loves them.  But casual bettors aren't the ones studying these teams all offseason, so trust the poll, not the public.
For Week 1 matches, check our NCAAF live odds and percentages page.
---
When two evenly matched unranked teams meet in Week 1…
Go with the road dog … on the moneyline.
The general strategy here actually applies throughout the entire season. Small visiting underdogs have a long track record of consistent positive returns on the moneyline, regardless of the time of year. It's especially true in Week 1, however.
When two unranked teams meet in the first week, and the home team is favored by fewer than six points, the dog has gone 30-30 since 2005. At plus-money in every game, that record has won 15.0 units for a 25% ROI.
---
>> All odds as of Aug. 20. Download The Action Network App to get real-time college football odds and track your bets.
---
With far less attention put on smaller schools that stay out of the preseason rankings, it's perhaps harder to gauge an accurate discrepancy between two unranked teams before the season starts. That creates some value in taking the small underdog and hoping to get a win half the time.
Week 1 matches:
Northwestern (+145 at Purdue)
Marshall (+125 at Miami Ohio)
SMU (+155 at North Texas)
Middle Tennessee State (+170 at Vanderbilt)
How would you rate this article?