NCAAF Teams against the spread
Standings for all college football teams
NCAAF ATS Standings
NCAAF Picks Against the Spread
A bet against the spread is a type of wager that requires bettors to correctly guess the margin of victory in a college football game rather than simply selecting the outright winner.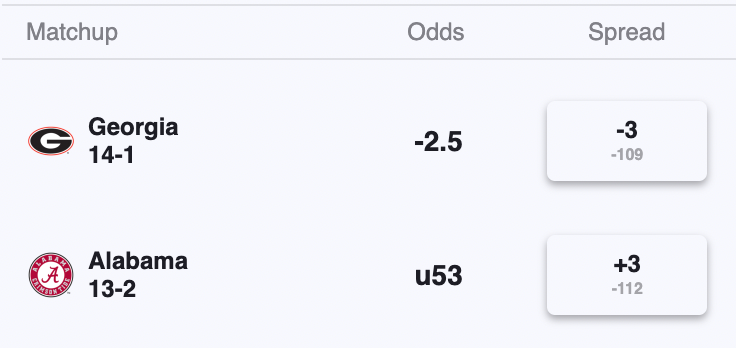 Using 2022 National Championship matchup between the Georgia Bulldogs and Alabama Crimson Tide as an example, in order to win a bet against the spread, bettors wagering on Georgia would need them to win by 4 or more points, whereas bettors wagering on Alabama would need the team to win outright or lose by 2 points or less. Georgia won the game, 33-18, which means that they covered the spread in this case.
NCAAF Standings Against the Spread
Monitoring team performance against the spread is a great way to make more educated NCAAF bets throughout the year. Identifying trends for specific teams can enable you to know when to pick, or to avoid, a particular spread bet based on in-season data.
The table above shows each team's record against the spread for the 2021 regular season. Filter by conference to get an in-depth look at each team. You can also sort the data by clicking on the table headers.
NCAAF ATS Standings FAQs
How often is this page updated?
Where can I find odds on NCAAF games?
What is a point spread bet?