Misleading College Football Scores, Week 9: Georgia Still Showed its Cracks
Credit:
Kim Klement-USA TODAY Sports. Pictured: Riley Ridley
Ken Barkley dives into the most misleading final scores in college football Week 9, because the end number doesn't always tell the truth about each team's performance.
Georgia still showed cracks, Nevada changed the game with an excellent punt and Colorado...man, Colorado.
Is it possible that football malaise has hit us as a nation?
Saturday, there were very few meaningful ranked vs. ranked games, and very few meaningful games for the playoff chase in general. When Kentucky and Washington State are responsible for your most significant drama, that's a little telling of what kind of week it really was. A snoozer, in a variety of ways. On Sunday in the NFL, the "witching hour" on RedZone (the final hour of the 1 p.m. ET games) featured almost no games within a possession, and only "FitzMagic" saved an otherwise brutal slate.
Despite the lack of close, dramatic finishes, there are always things to learn. Gamblers don't care if the score is close. We care about closing-line value, winning, losing and ROI. With that in mind, a probing of the final box scores is necessary no matter the drama of the weekend. Here are some scores that stood out for a variety of reasons.
Georgia 36, Florida 17
Look, you can call this sour grapes because I had a Florida +7 ticket on Saturday. Feel free to dismiss it as such. All I'm saying is Georgia wasn't nearly as impressive as you might think by seeing this score. I went into the game saying the margin between these teams was not seven points, and I still feel that way today. They each ran the ball almost identically in raw numbers, they each possessed it for the same time and each had a similar number of first downs.
But Florida was -3 in turnover margin, and not only were the Gators -3, but these were the most absolutely backbreaking turnovers a team can possibly have. This wasn't "deep shot down the field that turns into a pick, but really acts like a punt." Oh no, when Florida turned it over, the Gators really made it brutal. The fumble on their opening possession (after missing a wide-open touchdown throw) was returned to the Florida 13, setting up a Bulldog touchdown immediately after.
Then the Feleipe Franks fumble at his own 1-yard line is about the worst possible play you can have. The fact that the defense so admirably forced a field goal there is incredible, but it's still gifting the other team points.
I still don't think Georgia is dominant. I just don't see it in any of these big spots. Even at Missouri I was unimpressed. Jake Fromm played much better, though, I will admit.
The flip side here is that I'm not sure Kentucky can do a thing to win this week, and there may not be a team left until Alabama that can take advantage of Georgia's weaknesses. But I still truly think Georgia is there. This team isn't like the other elites, in my opinion.
Kentucky 15, Missouri 14
There are crazy things about this game that leap off the page, and watching it live, they were reinforced by the energy on the field.
Kentucky's problem all season has been on offense, and in some games (Texas A&M in particular) you almost wanted to change the channel when the Wildcats had the ball. I mean it was awful. They survived in the A&M game and forced overtime solely due to one of the more incredibly gifted defensive touchdowns of the season. The Wildcats shouldn't have even gotten that far.
In this game, it was 14-3 Missouri with eight minutes left, and I'm thinking "Kentucky is gonna need that same type of play again to have ANY chance." Now, this time it was an incredibly skilled play, but after a Missouri punt, the Wildcats gets a punt return touchdown by Lynn Bowden Jr. to make it 14-9 (they went for two and failed), and it feels almost exactly like the A&M game. The energy and momentum completely switched for a team that did nothing on offense the whole game.
Side note for a second: Missouri had eight second-half possessions in this game, all of them with the lead. Eight possessions. The Tigers went 3-and-out on ALL EIGHT POSSESSIONS. ALL EIGHT! I mean are you kidding me, Drew Lock? He didn't do lot to change the perception that his numbers are all accrued against bad teams.
Kentucky ends up driving down the field at the end, gets an untimed down on a penalty, and we all saw the game-winning touchdown somewhere, either that night or the next morning. I really don't know how Kentucky's doing this, but it manages to cobble together enough points in these games to be competitive.
Can we really expect the same against Georgia?
Iowa State 40, Texas Tech 31
Shout out to those of you with Iowa State tickets, as you got your miracle Saturday afternoon. This game was tied 31-31 with less than five minutes to play, and Texas Tech had a calamitous offensive sequence. A bad snap, which Alan Bowman then tried to throw away as he was in the end zone. Safety. 33-31 Cyclones, but not much time left. On the ensuing Iowa State possession, it faces third-and-9, and a first down essentially ends the game. So naturally Iowa State throws a 48-yard touchdown. Cyclones win by nine. And that's why no one should ever gamble.
In the overall numbers, however, this was hardly a dominant Cyclone performance. Raw numbers were similar in many areas, and Texas Tech was -2 in turnover margin. Iowa State ran the ball for only 3.4 YPC (but boy did it run it a lot, 51 attempts!)
The Cyclones have now won three straight with Brock Purdy at quarterback, but I wouldn't really improve my rating or understanding of this team's ability based off this game, despite the win and cover.
Charlotte 20, Southern Miss 17
Oh no, the second game I bet on that's appearing here. Well, it was that kind of weekend in the Lockerson household. I had a pretty good run the last couple weeks of not writing up my own gambling losses here, but away we go.
Southern Miss won first downs 24-13, and won total yards 426-224. The Eagles did well on third down and held Charlotte to just 78 yards passing.
But this game was really all about the hole Southern Miss dug itself in the first half, and then spent the second half trying to get out of it.  It had three turnovers in the first half, including an interception returned 79 yards for touchdown. The Eagles also had a drive get to the Charlotte 3-yard line, and had a touchdown overturned by an illegal formation penalty, before MISSING the ensuing field goal.
As many bad things as you can imagine, and it was 14-0 Charlotte at halftime. Charlotte then basically just tried to milk 30 minutes of clock in the second half and create very few opposing possessions, and to a certain extent, it worked. The 49ers hung on. But Southern Miss had a strong helping hand in its own demise here.
Oregon State 41, Colorado 34
I could spend 2,000 words on this game alone, but really it just shows the power of gathering momentum and how it can create an avalanche of positive results.
It's 31-3 Colorado in the second half, and we have all forgotten about this game. Ralphie's probably back in his pen (is that what they keep him in? A pen?) watching more competitive action.
Oregon State then puts together a 17-play drive, including converting on TWO different fourth downs, to score a touchdown, to trail 31-10. There were a half-dozen opportunities for Colorado to put an end to things right there, but it didn't.
And as a result, things got wacky. Colorado missed field goals, turned it over on downs, and started doing everything you need to do to blow a game. Oregon State got all the momentum, and put up 24 in the fourth quarter. Colorado had more total yards and ran the ball for six (!!) yards per carry, but came completely unraveled down the stretch.
Nevada 28, San Diego State 24
Another game that was all about momentum. We'll call this analysis "the power of a punt."
It's 14-0 San Diego State before people have even finished filing into the stadium. Total dominance. Then Nevada, on fourth-and-10 at its own 42, having failed to convert yet another third down, hits the punt that changes the game. The Wolf Pack down it at the San Diego State 2, pinning the Aztecs deep in their own end.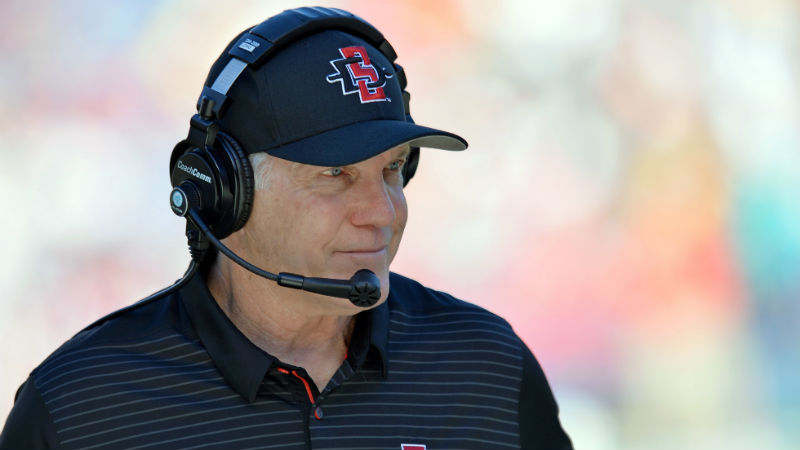 San Diego State's offense comes out, and promptly commits a holding penalty in the end zone. Safety. Nevada then gets great field position off the ensuing free kick and starts at midfield. Touchdown. Now all of a sudden it's 14-9. The Aztecs have another long drive that stalls later in the first half, where they settle for a field goal, and then turn it over with their two-minute offense. It's 24-15 Aztecs at halftime, and it really could have already been game over.
There was just such a massive disparity in how each team played that a nine-point margin was truly baffling. Then, Nevada makes great halftime adjustments, San Diego State doesn't score the entire second half and Nevada wins by four.
This game was going to be a blowout. All of the momentum was headed that way. San Diego State still won first downs 24-14 and total yards 456-297. Nevada ran the ball for less than three yards per carry in the game.
But alas, the power of a punt. It changed momentum, and ultimately, the winner.