5 Rules for Betting the Heisman: Why Only These Players Can Win
Credit:
Brad Penner-USA TODAY Sports. Pictured: Lamar Jackson, Bryce Love and Baker Mayfield.
Betting on the Heisman Trophy is tricky because so much of the decision is in the hands of media members.
There are five main criteria needed to win the Heisman, which Ken Barkley outlines below.
It leaves a list of about 25 players with a real chance to take home the award in December, compiled at the bottom.
There are some sports-betting markets that aren't about which teams win and lose games, or who hits specific statistical thresholds. They are actually driven by human behavior.
MVP awards in sports behave this way. The Wooden Award in college basketball was given to a player from the best team in the country (Jalen Brunson) over a player with a better statistical profile (Trae Young). The NBA MVP Award was not given to the best player (LeBron James) because (most likely) he had already won the award and his success is now expected.
---
>> Download The Action Network App to get real-time college football odds, track your bets and follow all of our experts' picks.
---
There's no better example of this than the Heisman Trophy. You can't really statistically "model" the award (and if you did, you'd be mad a lot). You just have to listen for the signs, and there are a few key ones to look for.
2018 Heisman Trophy Odds
Now, we can start evaluating which players have value for the Heisman Trophy in 2018. Here are some rules that may help you make informed decisions, and a list of possible winners at the bottom. They aren't laws, because they aren't 100% iron-clad, or true, no matter the conditions. But they can help a lot.
Here is every Heisman winner since 1998, and how they fit our criteria.
Rule 1: Pick a player from a Power 5 school
Since the BCS's first year in 1998, when "power" conferences were given automatic bids to meaningful games, a Power 5 player has won every year. Very rarely are Group of 5 players even finalists.
---
>> Follow Ken Barkley in The Action Network App to get free alerts on all his college football bets during the season.
---
It's been five years since a G5 player was invited to the ceremony (Northern Illinois' Jordan Lynch). So if you're looking at the futures market, it's easy to think something like "Houston's Ed Oliver is going to be the No. 1 pick in the draft, that dude's a beast, he can win," when really, he can't.
This would also apply to a player such as McKenzie Milton (QB, UCF), and last year applied to Quinton Flowers (QB, USF), who got a ton of buzz before the year and was around 40-1, which was absurd. The sport is just not designed with these players in mind for this award.
Rule 2: Understand how the voting works
Media members make up almost 95% of Heisman votes. Votes are broken down into six different regions.
As a result, reporters from one region, who watch a team or player play all the time, inherently favor those players when voting. This process has created a perception of West Coast bias because of how the regions are aligned — only one region represents the Pacific Time Zone, while the East Coast claims three.
That entire chunk of the West Coast (red) gets just a few more votes than New England (light blue), which barely recognizes college football as a sport.
Rule 3: Pick a quarterback or running back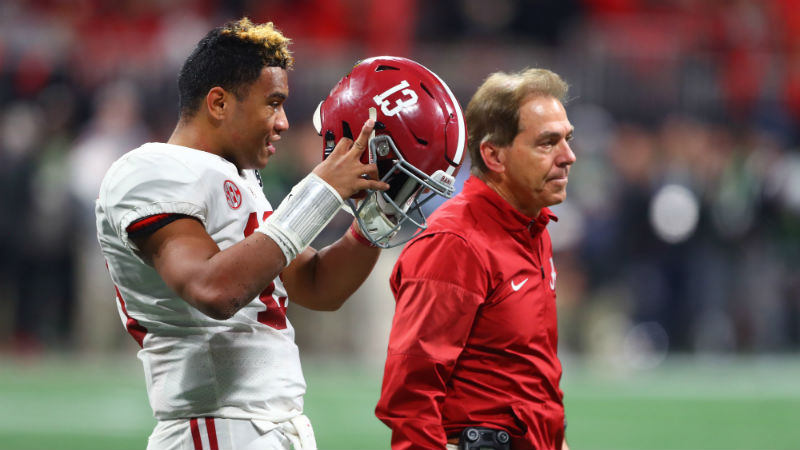 Mark J. Rebilas-USA TODAY Sports. Pictured: Alabama QB Tua Tagovailoa and coach Nick Saban
Unfortunately, that's two strikes against Oliver, which is tragic because I love watching him play. But the reality is, quarterbacks and running backs win the Heisman. They have won every award in the BCS (and now CFP) era, going back to 1998. The year before, Charles Woodson (DB, Michigan) won, but I think he's the exception, not the rule. Woodson not only was a prodigious talent with once-in-a-generation type numbers and instincts, but he also was an elite special teams player, and return touchdowns definitely help make you appear more electrifying, especially when they happen against Ohio State. That's why Michigan's Jabrill Peppers was (somehow) a finalist in 2016.
Wide receivers just don't fare well: the last one to win was Desmond Howard in 1991. He had 62 catches, and 19 of them were for touchdowns. Read that last part again. What is it with Michigan guys breaking the mold, anyway? Larry Fitzgerald was transcendent at Pitt, and lost to Jason White, who young people haven't even heard of.
---
>> Get a 7-day free trial to access all of our premium college football articles and exclusive betting data leading up to and during the season.
---
Also, when wide receivers put up big numbers, so do their quarterbacks. This not only can make the quarterback a better candidate than the receiver, but it can also cause votes to be split in that team's region between the two players (think Baker Mayfield and Dede Westbrook in 2016). This year, this philosophy should lead you away from the longshot wide receivers.
Rule 4: Pick a player who plays for a 9-plus win team
Nine wins is sort of the magic number here, and that will start to make things a little more restrictive among the candidates. In the BCS/CFP era, every winner of the Heisman trophy has won at least nine regular-season games, with one exception. Ricky Williams' 1998 Texas team won only eight regular-season games, but they also played only 11 regular-season games, and he broke the NCAA career rushing record. That type of accomplishment does not happen every year or even every decade.
And only three players won the trophy while winning only nine regular-season games — Tim Tebow, Robert Griffin III and Lamar Jackson. So really, you'd like to actually be above nine wins, but that's become the unofficial cutoff. Voters have seen a player on an 8-4 team struggle too many times.
This has broad applications every year, because so few teams win nine or even 10-plus games. It's a small group. Last year, 19 teams from Power 5 schools won nine or more regular-season games. Just 12 teams won 10 or more, which is really where you want to be.
If you use the win-total over-unders as a guide for this year, there are only 13 Power 5 teams (plus Notre Dame) listed with a win-total of nine or higher without extreme juice on one side or the other: Alabama, Auburn, Clemson, Georgia, Miami (FL), Michigan, Notre Dame, Ohio State, Oklahoma, Oregon, Penn State, Washington, and Wisconsin. So if you're trying to avoid Heisman misses, those teams are a really good place to start.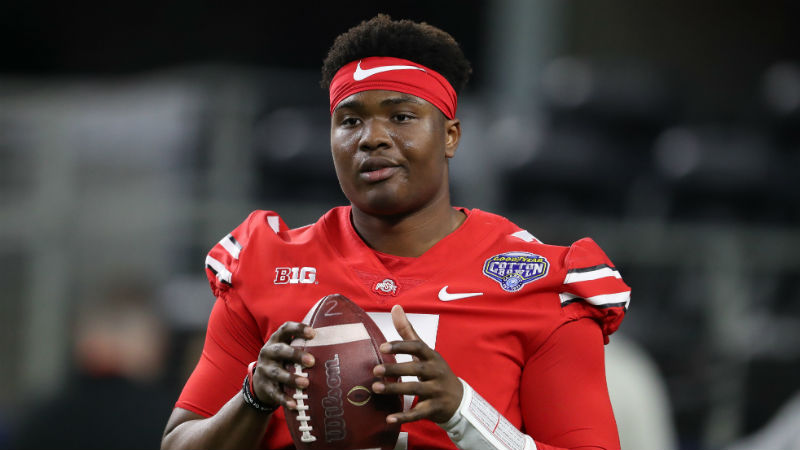 Matthew Emmons-USA TODAY Sports. Pictured: Ohio State QB Dwayne Haskins
Bryce Love (RB, Stanford) is one of the favorites; Stanford is listed with a win-total of 8.5. Not only do you have to contend with the possibility of Love being hurt — or less effective — but also that he could build a huge statistical profile on a seven- or eight-win team. It's an extra factor to consider, and hurts the following favorites.
Khalil Tate (QB, Arizona)
Will Grier (QB, West Virginia)
Sam Ehlinger (QB, Texas)
Deondre Francois (QB, Florida State)
Cam Akers (RB, Florida State)
You not only have to be an elite player, but your team has to be elite. Those two things are somewhat correlated — if you play awesomely, your team will win more — but one does not guarantee the other. There are plenty of exceptional players on 8-4 teams (Lousiville's Jackson last year being one). On the flip side, Griffin played for a Baylor team that was projected to win 6.5 games before the year and exceeded that thanks to his play.
These win-total numbers aren't the most concrete things in the world, and teams overachieve all the time due to successes of their star players. But if you're blindly betting players with no understanding of how hard their schedules/conferences/non-conference slates are, you're making a mistake. Know the schedules of the players you're betting, and also if nine (and probably 10) wins is really a reasonable possibility given your thoughts on all of their opponents.
Rule 5: Pick a player who can build an eye-popping statistical profile
It isn't enough to be a great quarterback or a great running back for a great team in a Power 5 conference. Your numbers and individual plays have to display greatness. Baker Mayfield completed 70.5% of his passes and threw for 43 touchdowns. Lamar Jackson broke every kind of rushing record for a QB. Derrick Henry had 2,200-plus rushing yards and 28 touchdowns. This isn't an award for analytics and sabermetric peripherals. Yards-per-play and yards-per-point aren't accepted currency here.
This year, I think that type of philosophy affects a lot of players for two reasons: repetitions and team style. Are you going to bet on Tua Tagovailoa (QB, Alabama) when Jalen Hurts could get reps this year? It's much harder to build a statistical profile when you aren't playing every snap. Same with Kelly Bryant (QB, Clemson) and his "backup" for now, Trevor Lawrence, or for that matter, Travis Etienne and Tavien Feaster (RBs, Clemson). Jake Fromm (QB, Georgia), is being backed up by a No. 1 all-world, all-everything true freshman in Justin Fields. Splitting reps is a real thing, and it's a real problem to consider.
---
>> Sign up for The Action Network's daily newsletter to get the smartest conversation delivered into your inbox each morning.
---
In terms of team style, I think if you look at those projected nine-plus win teams, it's hard to imagine someone such as Shea Patterson (QB, Michigan) winning when he has to adjust to a new system of taking snaps under center and plays for a team that doesn't light up the scoreboard with great frequency. The accumulation of stats is seemingly more difficult for him than several other Big Ten quarterbacks.
That leaves us with the following candidates who can win the Heisman Trophy in 2018:
If you follow these rules, I can't guarantee you get the Heisman winner right, but you're at least going to be in the neighborhood.  A lot of bets made into this market are the equivalent of lighting your money on fire — people are putting dollars behind players who simply cannot win.
Follow this piece, and maybe now you can lose money the old-fashioned way like me, having Saquon Barkley and Bryce Love (175/1) tickets last year, and watching them lose to a guy who ran from the cops and grabbed his crotch on the sideline. But I'm not bitter.
How would you rate this article?