Holiday Bowl Files Lawsuit Against Pac-12, UCLA
Credit:
Brian Rothmuller/Icon Sportswire via Getty Images. Pictured: The Pac-12 logo.
The Holiday Bowl has filed a lawsuit against the Pac-12 Conference and UCLA, seeking more than $3 million in damages because of the league's refusal to reimburse the bowl after UCLA elected not to play the 2021 game hours before kickoff, Action Network has learned.
The Holiday Bowl filed a suit in Superior Court in the county of San Diego Tuesday, claiming the non-profit San Diego Bowl Game Association lost more than $3 million from the cancellation of the 2021 game. This wiped out the 43-year-old bowl association's reserves.
The complaint states the Holiday Bowl "has engaged and continues to engage in good faith with the Pac-12 to negotiate a resolution of the dispute without success."
Because the Pac-12 didn't compensate the Holiday Bowl for the 2021 cancellation, the Holiday Bowl, to offset those losses, did not pay the Pac-12 for providing a participating team (Oregon) in the 2022 bowl.
Even by doing this, the Holiday Bowl still would have lost "hundreds of thousands of dollars," but was willing to take that loss to be a good partner with the Pac-12.
About two weeks ago, the Pac-12 notified the Holiday Bowl that it would file a lawsuit if the bowl didn't pay the conference the money the Pac-12 said it was owed from the 2022 game by Wednesday, May 31. The notification did not reference the 2021 cancellation.
Last year, Action Network asked Pac-12 commissioner George Kliavkoff about the financial dispute from the 2021 Holiday Bowl.
"The Holiday Bowl has been a great partner of ours," Kliavkoff told Action Network in July. "We intend for them to continue to be a great partner of ours. We're constantly talking with them about what happened (in 2021), figuring how to move forward together."
Ultimately, that led to the Pac-12 threatening a lawsuit against the Holiday Bowl and the Holiday Bowl filing a lawsuit against the Pac-12.
Holiday Bowl executive director Mark Neville declined to comment Wednesday morning.
The Holiday Bowl's average annual payout is about $3.2 million to each conference — the Pac-12 and ACC. Those payments were not made in 2021, but the bowl still lost more than $3 million. The bowl had to refund all of its revenue from ticket sales, sponsorship deals and television broadcast rights because the game was not played.
The Holiday Bowl still incurred expenses to prepare and stage a game that UCLA wouldn't play in, the complaint states.
The timing of the Holiday Bowl's lawsuit against the Pac-12 is yet another black eye for a league that has had several recent issues, including the departure of USC and UCLA to the Big Ten, owing Comcast $50 million for overpayments the sports network made to the Pac-12, and the league's inability to sign a new Grant of Rights deal over the past 11 months.
The Holiday Bowl has been played annually since 1978 and has featured a Pac-12 team in its last 23 games. The bowl has the third-longest Pac-12 bowl tie-in behind the Rose Bowl and Sun Bowl. It also has provided more than $50 million to the Pac-12 in the bowl's history.

---
It was Dec. 28, 2021 — another beautiful postcard-like day in San Diego. Kickoff for the Holiday Bowl was less than five hours away. Neville, the bowl's executive director, was in his office, getting ready to go to Petco Park.
Neville was ecstatic his bowl would be played after the 2020 Holiday Bowl was among 17 bowls canceled during the 2020 COVID-19 season.
NC State and UCLA had been in San Diego for several days before the 2021 bowl and even spent Christmas there. They toured a naval aircraft and visited the San Diego Zoo and Sea World, where they fed whales.
Each day, the schools' leaders assured Neville they would play.
In Monday afternoon's bowl press conference, about 30 hours before kickoff, UCLA coach Chip Kelly said, "Our whole mindset has always been if we've got 11, we're going to go play."
With kickoff drawing near, Neville was taking care of some last-minute items and preparing to leave his office when his cell phone rang at 3:05 p.m. ET.
It was UCLA athletic director Martin Jarmond. He said the Bruins wouldn't play.
Since then, Action Network has interviewed multiple college football and industry sources about what happened on Dec. 28, 2021.
Ten minutes after Jarmond told Neville the Bruins couldn't play in the game, FOX Sports sideline reporter Bruce Feldman broke the news at 3:15 p.m. ET.
Feldman tweeted, "SOURCES: Tonight's Holiday Bowl between UCLA & NC State is getting canceled. The Bruins D-Line room has been decimated by Covid issues."
SOURCES: Tonight's Holiday Bowl between UCLA & NC State is getting canceled. The Bruins D-Line room has been decimated by Covid issues.

— Bruce Feldman (@BruceFeldmanCFB) December 28, 2021
While Feldman was tweeting, NC State quarterback Devin Leary was sleeping. Before every game, he would take a 30-minute nap. He was sound asleep when he was disturbed by his cell phone ringing.
"I was in the middle of my nap," Leary said. "I get a call from my backup QB. He said, 'The game is canceled. Check Twitter.' I was in disbelief. I was disappointed we couldn't send the seniors out the right way. Guys were getting ready to play for a final time and didn't even get an opportunity."
NC State linebacker Drake Thomas said his reaction was "just disbelief."
"I'm ready to walk down to our pregame meal, and it's out on Twitter," Thomas said. "It was very shocking, disappointing and disheartening. I have no idea what their situation was over there. But I know if it was our team, it didn't matter who was out. We would have played. I have no doubt about that."
What exactly was UCLA's situation?
Jarmond, UCLA's AD, issued a statement: "We are extremely grateful to the Holiday Bowl, students, fans, sponsors and the people of San Diego for their support this week … We are deeply disappointed for our young men in the football program that worked extremely hard for this opportunity. My heart goes out to them. The health and safety of our students will always be our North Star."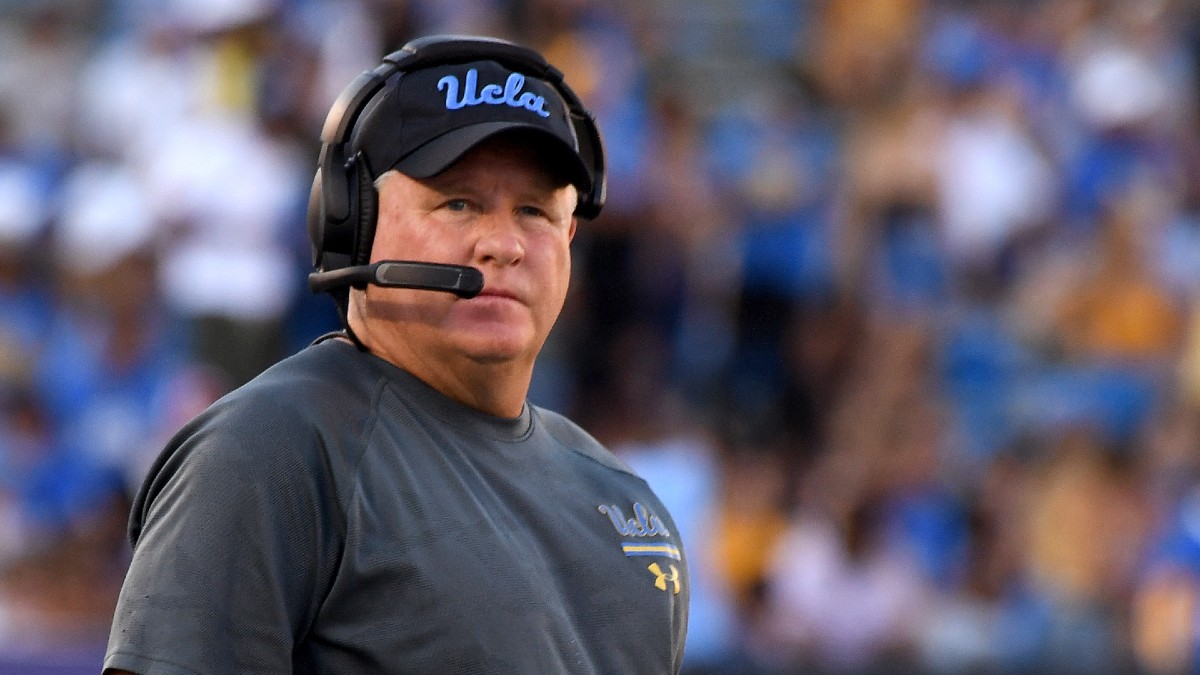 NC State head coach Dave Doeren was understandably upset.
"I felt lied to, to be honest," Doeren said. "We felt like UCLA probably knew something was going on, didn't tell anybody on our side. We had no clue they were up against that. I don't feel like it was very well handled from their university. It would have been great to have had a heads up, so two or three days ago we could have found a Plan B. Disappointing."
The Los Angeles Times reported the Bruins had "a significant number of positive tests for COVID-19 on the morning of the game would have forced some players to play out of position, putting them at increased risk of injury."
However, Holiday Bowl officials said UCLA told them they had only three players test positive.
When the game was called, Holiday Bowl officials, with the assistance of NC State athletic director Boo Corrigan and Pac-12 executive associate commissioner Merton Hanks, tried to line up another opponent for NC State.
San Jose State (5-7) was contacted but hadn't played in nearly 30 days and was unavailable. Maybe NC State could play East Carolina, which had its Military Bowl game against Boston College canceled by the Eagles, back in North Carolina? There also was speculation LSU may not have enough players to play in the Texas Bowl against Kansas State. Perhaps the Wildcats could come to San Diego to play NC State? However, LSU managed to play with only 39 scholarship players.
If Ohio State was unable to play in the Rose Bowl, the Wolfpack could replace the Buckeyes. NC State also contacted Texas (5-7) to see if the Longhorns could play. But none of the teams were available, and none of the other scenarios worked out.
The Wolfpack's season was officially over.
The morning after the game that was never played, NC State held a team meeting at 7:30 a.m. NC State officials asked Neville to present the Holiday Bowl championship trophy. He obliged, and the Wolfpack players even received Holiday Bowl champions hats. At 9 a.m., NC State's traveling party flew back to Raleigh.
NC State's players later received their bowl rings. The rings indicated they were Holiday Bowl champs with 10 stones representing 10 wins. NC State's on-field record was 9-3 with the Holiday Bowl counting as the 10th win.
The most frustrating part from NC State's point of view is the Wolfpack wanted the opportunity for a 10th win for the first time in nearly 20 years. To this day, they also believe UCLA didn't play in the game "because they would have gotten their 'asses' kicked," an NC State source said.
"I really think they could have played," the source said. "Chip said the day before the game, they were definitely playing, even if they only had 11 players. LSU only had 39 (scholarship players), and they didn't quit."
Then the NC State source brings up the Chip Kelly conspiracy theory. At that point, Kelly was 18-25 in four seasons and had only one year left on his contract. His future at UCLA was in doubt.
"What happens to Chip if we beat them, 50-10?" the source asked. "Sure, that creeps into the back of your mind."
No one will ever know. Nearly three weeks after the Holiday Bowl wasn't played, Kelly received a new four-year contract.
Around that same time, the Holiday Bowl was contacted by UCLA, industry sources said. The Bruins wanted to know if they could receive their bowl gifts.
---
More From Action Network's Brett McMurphy
How would you rate this article?
This site contains commercial content. We may be compensated for the links provided on this page. The content on this page is for informational purposes only. Action Network makes no representation or warranty as to the accuracy of the information given or the outcome of any game or event.