DraftKings Hopes Social Feed Will Spark Engagement & Interaction Among Bettors
Credit:
Photo by Jakub Porzycki/NurPhoto via Getty Images. Pictured: DraftKings Logo
The market has been brutal for many. It has been even worse for DraftKings.
The insistence of a three-year profitability plan within states they enter has, for the most part, fallen on deaf ears, as the marketing spend to win in those areas amidst a fiercely competitive landscape is what gets highlighted day after day.
Despite doing well making a turn into NFTs, it doesn't look like the company will be able to bank much of its future on the collectible space given its sharp turn with crypto. Throw in a hugely viral retort about their stock price by Arizona Cardinals star defensive end J.J. Watt and it appeared little was going right for the nation's second-largest sports gambling brand.
The next move to try turning things around is an on-platform social feed that DraftKings believes could be huge.
In the social media era, so many companies have come up with their own social feeds and failed simply because people have preferred to stay on the social feeds of record: Twitter, Instagram, Facebook and TikTok. But what DraftKings has built, at least on the surface, seems special.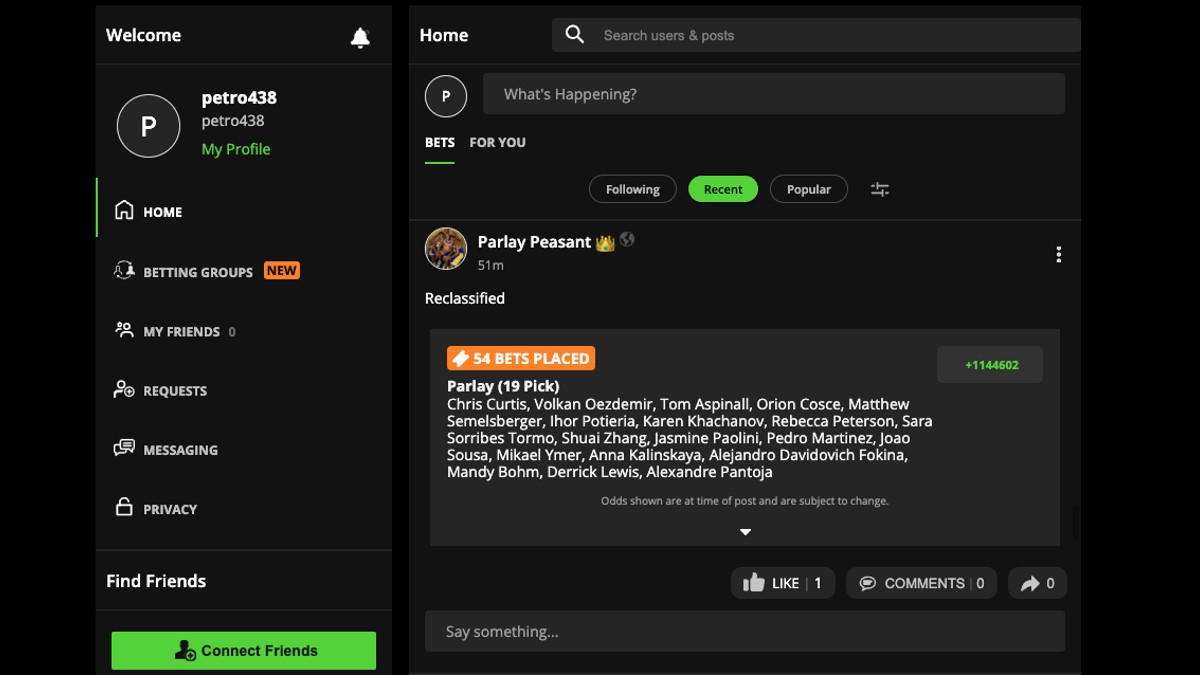 The basic social feed launched on DraftKings' platform mid-2020 and later that year added a feature where users can join daily fantasy contests specifically with friends.
In the middle of 2021, an integration was added where sportsbook users could share their bets with friends and on the app. Two months ago, betting groups came along.
A live streaming experience will be next.
The feed and all its components is the brain child of Jordan Mendell, an 11-year veteran of the company, who — depending on how you score it — could be considered DraftKings employee No. 1.
The idea came from a DraftKings executive trip to Vegas, where the team put in $40 each to a game they previously had no interest in. And, as betting tends to do, it created a communal rooting interest.
"Community is what made fantasy gaming so popular," said DraftKings chief product officer Corey Gottlieb. "So we thought to ourselves, 'Why hasn't anyone digitized the experience you have with your friends when you are thinking of betting on something socially?'"
It wasn't rocket science. But it was a sound thought.
Sure, there are text chains and Twitter groups that allow you to follow by topic, but there wasn't an in-app, one-stop shop.
The key to the DraftKings social feed, which bettors can toggle to on the top bar of the app, is not a simple product.
DraftKings customers can create groups where their bets are automatically populated. In those groups, they can chat with members while still inside the app. The highlight of the social feed is how easy it is to tail or fade a bet. One click on the odds populates it to a bet slip, where all bettors have to do is enter the amount they want to bet.
The highlight of the social feed is the long-shot parlays bet by customers. These particular bets have been some of the most talked about in the betting world, undoubtedly because when the long shots hit, they hit big. And bettors love to share in the thrill of sweating them. Communities and discords continue to explode outside of sports betting platforms, such as Kenny McAndress, who goes by the screen name KiiLkenny and sells his "Moonshots" for $20 a month.
DraftKings makes the betting groups even more sticky by creating a leaderboard among the group, giving points when bets hit. The complexity of the product gives the company some protection against others who attempt to build a copycat.
"This has taken us years to build," Mendell told the Action Network, mentioning that one of the more complex projects was the privacy management tools.
Using the tools, a bettor can automatically show all bets made, as soon as he or she makes them, to one group and hide it from another.
"What we're trying to do is replicate what friends do in person," Mendell said.
Another way DraftKings does that is by allowing bettors to follow by topic. During Wimbledon, those who followed the feed could make comments on live bets populated into the feed, which then could be engaged with.
Where the rubber meets the road for shareholders will be if they consider what's generated from the social feed to be enough of a success. With absolutely no marketing of the feed, DK executives say approximately two percent of all bettors are registered on the feeds, a deceptively high number given the lack of promotion.
"People who are using the feed are betting considerably more than the people who seem to be betting alone," Gottlieb said.
Not only that, the bets that are most talked about in the forums are those parlays, unquestionably the worst odds bets in gambling, or, from the other side, the biggest money makers. Again, a potential shareholder's dream. But is it a Catch-22 for DraftKings to be so much a part of the money losing flow?
For their part, their top brass doesn't think so, believing that they are merely creating social conversations within the app and aren't more responsible than such conversations organically happening offline.
The flip side has also been talked about. What happens if a huge long shot hits and its tailed by 250 people?
"We've talked about that risk," Gottlieb said. "But we also know it would come with a huge amount of engagement, which is a good problem to have."
Finally, there's the emerging celebrity angle of it all. DK allows you to follow guys like Jared Carrabis, a noted baseball influencer who left Barstool, but there are everyday bettors who have become stars thanks to their hits. DK has thought about doing more with the stars that are being created.
"We're straddling the line here," Gottlieb said. "Our feed allows our bettors to interact organically, but we are admittedly helping to create influencers that are gaining following. So we have to decide whether we should soon lean into that."
One of the other ways the emerging stars can be used is in a new feature DK will soon offer called BetCast, where bettors can essentially create their own broadcast of bets they are placing in real time.
Said Mendell: "The exciting thing is we are just scratching the surface with all of this."
How would you rate this article?
This site contains commercial content. We may be compensated for the links provided on this page. The content on this page is for informational purposes only. Action Network makes no representation or warranty as to the accuracy of the information given or the outcome of any game or event.