How Much Tax Revenue Is Every State Missing Without Online Sports Betting?
Credit:
Photo credit: Getty Images
Sports gambling in the U.S. is on the rise and currently a $1.5 billion a year industry, but there are still states with heavy wagering restrictions in play. We've analyzed gambling data for those states that allow the popular pastime to predict just how much each state could earn in tax revenue if they legalized online sports betting. That's not even considering all the marketing dollars that sportsbooks will pump into state economies.
Which states are due to legalize gambling soon?
Gambling continues to remain a contentious topic across the US; while most states permit it in some capacity, just under half have legalized sports gambling. Much fewer than that have a full online sports betting set-up.
However, many currently restricted states have recently made movements towards decriminalizing the popular hobby. For instance, Massachusetts, California, and Texas have introduced bills, while other states are likely to launch sports betting this fall, including Arizona, Connecticut, Louisiana, and more.
How much are states losing in potential tax revenue?
With many states moving towards the introduction of gambling and sports betting, it's interesting to explore just how much tax revenue each region could raise per year. We've looked at some high-profile states to discover just what kind of money they're missing out on.
For this exercise, we are projecting potential tax revenue based on the same parameters used by New Jersey, a state that has full online betting and a competitive market of operators.
Arizona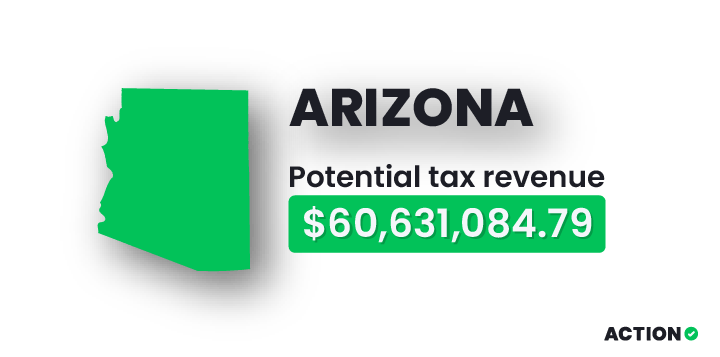 Positioned beside the country's gambling capital, Nevada, it's unsurprising that Arizona has started to recognize the tax benefits of legalizing sports betting. As soon as mobile and in-person gambling is permitted, the state could rake in upwards of $60 million every year.
Projection: $60 million per year
Connecticut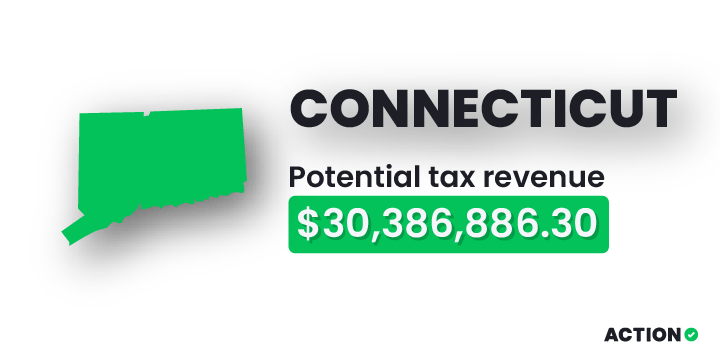 Much of the East Coast has already legalized sports gambling, or at least proposed plans to, with the likes of New Jersey and Pennsylvania leading the way. When Connecticut goes live, it could raise nearly $30 million in taxes annually, though it will be hampered by a lack of a competitive marketplace, allowing just three operators to start.
Projection: $30 million per year
Maryland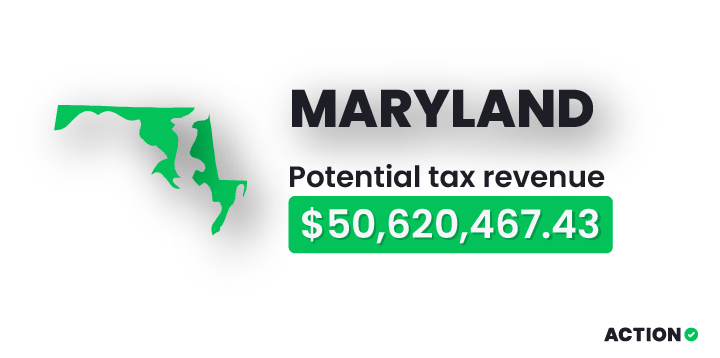 In a similar situation to Connecticut, Maryland is bordered by states that have grown wise to the profitability of sports gambling; it's only a matter of time before the Mid-Atlantic state follows suit, and when it does it could raise up to $50 million in taxes each year.
Projection: $50 million per year
Louisiana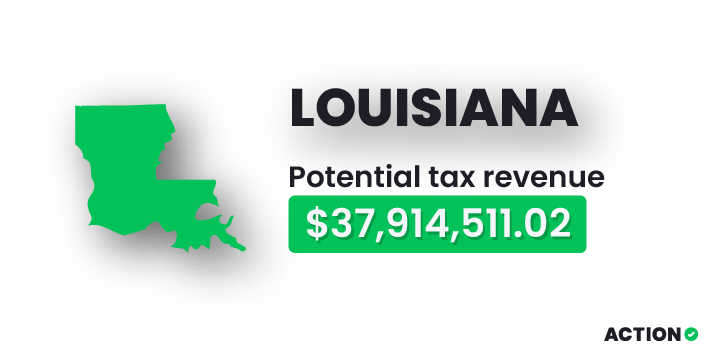 Louisiana has recognized the taxable benefits of lifting the ban on sports gambling and is currently going through the motions of legalizing it. It'll still be regulated quite closely, but, should restrictions finally be lifted for good, regional revenue could improve by over $37 million annually, courtesy of collected taxes.
Projection: $37 million per year
Ohio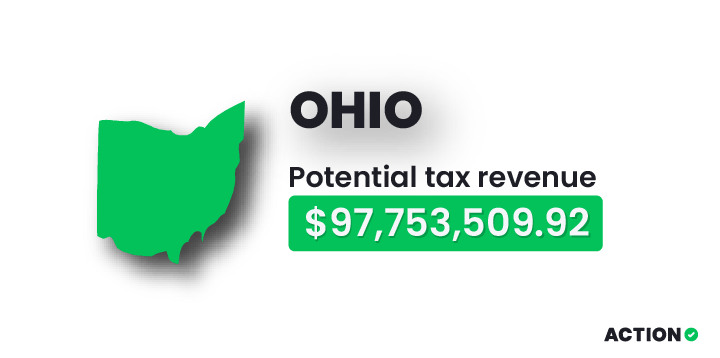 Ohio could learn a lesson or two from neighbors Indiana and Pennsylvania, which each reap millions of dollars in sports gambling taxes each year. In fact, the state could enjoy a cash injection of over $97 million if it lifted restrictions around recreational wagering.
Projection: $97 million per year
New York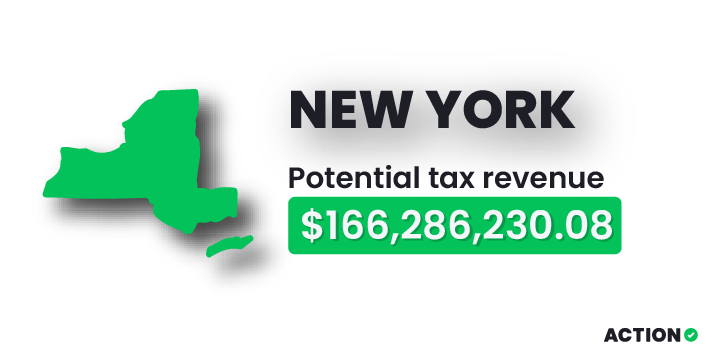 New York's first ever sports bet was placed as recently as 2019; but, while gambling has been legalized, it still comes with some restrictions. For instance, mobile betting is still prohibited. When the state passes the bill to derestrict sports wagering entirely, though, it could profit by a further $166 million annually.
Projection: $166 million per year
Florida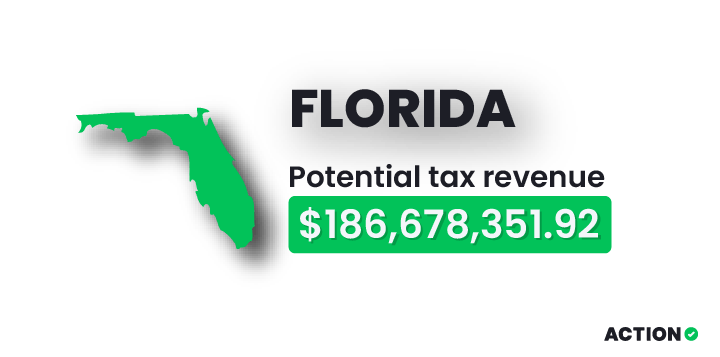 Despite its previous anti-gambling stance, Florida has recognized the benefits it can bring and recently approved legislature that derestricts statewide betting. When the bill passes, the Sunshine State will enjoy increased tax revenue of $186 million each year, although it could take time for a fully competitive market to emerge with multiple operators.
Projection: $186 million per year
Which states are missing out the most?
It's no secret that Nevada's Las Vegas is America's major betting hotspot, reporting $7.87 billion in gambling revenue in 2020. However, astonishingly, it's estimated that 20% of the city's annual visitors come from California, where sports betting is still prohibited. With such a large population, if the Golden State decides to derestrict gambling, it has the potential to raise a further third of a billion dollars in taxes each year.
Texas is another state missing out big time on gambling profits — $231 million in further income, in fact, courtesy of statewide taxation. The state has introduced a bill that proposes to authorize mobile and in-person sports gambling, however, so it could begin to benefit before long.
One state that's unlikely to make any money on gambling any time soon is Utah, which maintains a strong anti-gambling stance, even as the rest of the nation begins to slowly ease restrictions. If the state constitution were to be rewritten, however, the region could raise over $24 million in taxes each year.
| State | Population | Projected Tax Revenue |
| --- | --- | --- |
| Alabama | 5.0M | $40.9M |
| Alaska | 733K | $5.8M |
| Arizona | 7.2M | $60.6M |
| Arkansas | 3.0M | $24.7M |
| California | 39.5M | $331.1M |
| Colorado | 5.8M | $7.2M |
| Connecticut | 3.6M | $30.4M |
| Delaware | 990K | $8.3M |
| Washington D.C | 690K | $6.1M |
| Florida | 21.5M | $186.7M |
| Georgia | 10.7M | $86.4M |
| Hawaii | 1.5M | $11.7M |
| Idaho | 1.8M | $14.4M |
| Illinois | 12.8M | $106.0M |
| Indiana | 6.8M | $20.5M |
| Iowa | 3.2M | $5.5M |
| Kansas | 2.9M | $23.5M |
| Kentucky | 4.5M | $37.0M |
| Louisiana | 4.7M | $37.9M |
| Maine | 1.4M | $11.8M |
| Maryland | 6.2M | $50.6M |
| Massachusetts | 7.0M | $59.1M |
| Michigan | 10.1M | $1.7M |
| Minnesota | 5.7M | $46.9M |
| Mississippi | 3.0M | $24.0M |
| Missouri | 6.2M | $51.0M |
| Montana | 1.1M | $9.0M |
| Nebraska | 2.0M | $15.6M |
| Nevada | 3.1M | $26.0M |
| New Hampshire | 1.4M | $11.8M |
| New Jersey | 9.3M | $75.3M |
| New Mexico | 2.1M | $17.4M |
| New York | 20.2M | $166.3M |
| North Carolina | 10.4M | $87.1M |
| North Dakota | 779K | $6.2M |
| Ohio | 11.8M | $97.8M |
| Oklahoma | 4.0M | $32.0M |
| Oregon | 4.2M | $36.5M |
| Pennsylvania | 13.0M | $95.6M |
| Rhode Island | 1.1M | $9.1M |
| South Carolina | 5.1M | $43.1M |
| South Dakota | 887K | $7.1M |
| Tennessee | 6.9M | $36.1M |
| Texas | 29.1M | $231.4M |
| Utah | 3.3M | $24.5M |
| Vermont | 643K | $5.4M |
| Virginia | 8.6M | $13.3M |
| Washington | 7.7M | $64.2M |
| West Virginia | 1.8M | $38.2 |
| Wisconsin | 5.9M | $49.1M |
Note that the numbers are projected for states without online sports betting. For states already with it — Tennessee, New Jersey, West Virginia, Iowa, Illinois, Pennsylvania, Michigan, Colorado, Indiana, and West Virginia — we used real tax revenue figures.
Methodology
To determine how much money each non-legalized state could raise in gambling taxes, we first collected June 2020 – May 2021 revenue data for each state that already allows it.
We then calculated the population ratio between each non-legalized state and New Jersey (of the current legal states, New Jersey offers the widest data set), to estimate how much gambling tax revenue those states could potentially earn.
With so much money to be made, it's no surprise that so many states are beginning to lift the restrictions on sports gambling. If your state permits betting, check out all the latest picks, or sink your teeth into our helpful gambling guides and enjoy discovering how to place a bet.
How would you rate this article?
This site contains commercial content. We may be compensated for the links provided on this page. The content on this page is for informational purposes only. Action Network makes no representation or warranty as to the accuracy of the information given or the outcome of any game or event.