Wob, Phan, Moore and Mears: Drafting Our Favorite 2019 NBA Futures Bets
Credit:
Photo credit: Alonzo Adams-USA TODAY Sports. Pictured: Paul George and Russell Westbrook
The 2019 NBA Playoffs will begin this Saturday, April 13.
Before they start our NBA experts are looking to get down some futures bets. They run through the best ones currently available by conducting a snake draft.
With the 2019 NBA Playoffs starting tomorrow, it's a good time to revisit futures bets — for this piece, that's any bet not on a single game — and where the best value is in the market currently.
To do so, four of our NBA experts — Rob Perez (@WorldWideWob), Justin Phan, Matt Moore and Bryan Mears — gathered to do a futures snake draft, with each person getting two picks.
Any futures wager are fair game — NBA title, chance to win the conference, first-round props, etc.
Wob won the random drawing for the first selection, followed by Phan, Mears and Moore. Let's get to it.
---
Pick 1: Rob Perez
Bet: Nuggets -230 vs. Spurs
The Nuggets tailspinning before the playoffs started was a blessing in disguise for bettors. Nobody trusts them after the way they've played these past couple weeks. Nooooobody.
They finished 20th in the league in points scored per game but sixth in efficiency. That is not a typo … they have completely pivoted their style to mudball, and they are damn good at it. Playoffs = mudball but for four full quarters.
The Nuggets are the 2-seed for a reason, and they are without a doubt the deepest team in the conference. I know that doesn't carry the same weight in the playoffs that it does throughout the year, but options are always a great problem to have.
They can contain LaMarcus Aldridge with Paul Millsap and Mason Plumlee, sparing Nikola Jokic the burden of having to actually try on defense for once. I know it feels different, but I still don't trust Playoff DeRozan, and it's going to be open season for Blue Arrow archery with Patty Mills on Jamal Murray. That Denver crowd is the army of orcs waiting outside of Helm's Deep waiting to charge. Buy low while you still can.
---
Pick 2: Justin Phan
Bet: Thunder -140 vs. Blazers
CAN'T PLAY KANTER. Billy Donovan knows, and Steven Adams vs. Enes Kanter will be the Thunder's biggest edge in this matchup. In the 64 combined possessions that Kanter guarded Adams this season, the Thunder scored 89 points. That's an absurd 1.39 points per possession (for reference, the Warriors lead the league at 1.15).
There's a reason that Oklahoma City swept the season series 4-0 — Portland's strengths play directly into OKC's. Damian Lillard thrives in the pick-and-roll, and the Thunder rank second in defending the ball-handler on such play types. Paul George and Russell Westbrook create havoc clogging up and jumping passing lanes, and they've got another premier defender in Terrance Ferguson, who's held CJ McCollum to 37.1% shooting and just 37 points in 171 possessions this season.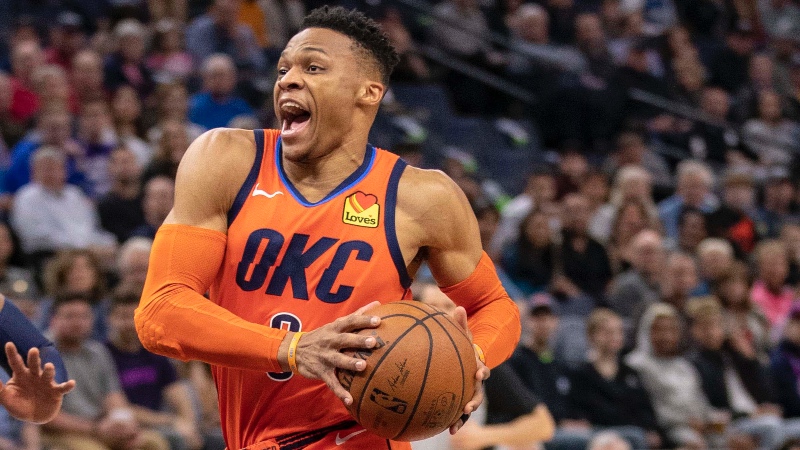 Paul George's shoulder is a concern, but he's managed it and played through the soreness for some time now. The Blazers have equally pressing concerns, namely with McCollum. He's struggled mightily in his two games back from a knee injury (30.8% FG, 18.2% 3PT) and is still building up to a full minutes workload.
If the Thunder are able to contain Lillard and will see a shell of McCollum, it's tough to see how the Blazers will muster up enough offense to win this series. Jusuf Nurkic's absence looms large — he does so many things well that Portland needs to crack this aggressive OKC defense, from setting hard screens to serving as a playmaking valve for Lillard.
---
Pick 3: Bryan Mears
Raptors to sweep Magic 4-0 (+341)
The season series between these teams is tied 2-2, and the Raptors actually have a miserable -10.1 Net Rating against Orlando. That's obviously misleading, though: The Raptors won the two games they had their full starters. In the other two, Kyle Lowry and Kawhi Leonard each sat out.
I think the public is probably underrating the Raptors, thinking this is the same old team that disappoints each year in the playoffs, ignoring the fact that Leonard is an MVP candidate with the highest level of playoff experience and the roster as a whole is better with the emergence of Pascal Siakam and the trades for Danny Green and Marc Gasol.
The Raptors have a lot to prove this year, and they finally have the roster to do so when it matters.
Further, this is just a brutal matchup for the Magic; they already struggle offensively, ranking 22nd in offensive efficiency, and this Raps defense has the potential to be maybe the best defensive unit in the playoffs with they're clicking. And finally, it's not clear that Magic starters Jonathan Isaac and Nikola Vucevic are 100% entering the series. I think this one won't last five games, and the odds of +341 are crazy.
---
Pick 4: Matt Moore
Bucks +600 to win the title
I'm taking the strategy of grabbing my bigger risks early and then shoring up with surer things later. I want the best team this season that went 1-1 vs. the Warriors getting 6-1 return with home court throughout the playoffs.
You've likely seen the stat, but all the other teams with as many blowout wins as Milwaukee went on to win the title. The Bucks have a great Net Rating. They're balanced on both ends. Their path seems to have gotten easier with the Marcus Smart injury and the softest first-round matchup of any team.
Malcolm Brogdon would be back for the Finals. And the Bucks create so many matchup problems. We're in a realignment season, and I think it's being realigned right in the path of the Bucks' mighty antlers. GIMME THE BUCKS.
---
Pick 5: Matt Moore
Rockets +350 to win the Western Conference
The Warriors just go stupid when they see Houston. That all-switch defense comes out, and it completely messes with their mindset. Everything that makes the Warriors great — the passing, sharing the ball, the shared sense of joy — goes out when they face Houston, and it becomes Kevin Durant and the Dubbettes.
The Rockets get Golden State earlier in the bracket, with a fresher James Harden and a healthier Chris Paul. If they do somehow beat Golden State, there's not a team on the other side of the bracket outside of OKC they should fear. They have huge advantages over San Antonio, Denver and Portland. And while the Thunder may come out of that bracket, they have to get past Denver, which has had their number in a matchup the last two years.
The Warriors are easy to pick, but I keep thinking of an Eminem lyric: "When your run is over, just admit when it's at its end." I wonder if the Warriors, if challenged, are ready to just admit this run is over and move on to something new. That dynamic with Kevin Durant's free agency, combined with a pitiful bench and a vulnerable Boogie Cousins, makes me lean toward Houston because I get this kind of a number on it.
Note that I don't want Houston to win the title, because I actually don't like Houston's odds vs. the East.
---
Pick 6: Bryan Mears
Jazz +1.5 games vs. Rockets (-170 odds)
On the year, the Jazz actually own the superior point differential (+6.7) compared to Houston (+4.8). If you want to argue that Houston was a much different, better team in the second half of the season, sure. That's fair. Since the All-Star break, the Rockets have ranked first in the league with a +11.8 point differential. They've posted the No. 1 offense and No. 2 defense in that span. They've been awesome.
But the Jazz during that span have been just as good, sitting nearly at the same point differential (+11.7). They've ranked third on offense and first by a mile on defense. They have a year experience under their belt after losing quickly to the Rockets last year, and I think this could be a different series.
The Rockets were flummoxed the Jazz by switching on defense, but Houston has largely gone away from that strategy down the stretch after getting burned by it to start the year. If that's the case, these teams are really close. I'll bet on the Jazz either winning or taking it to 7.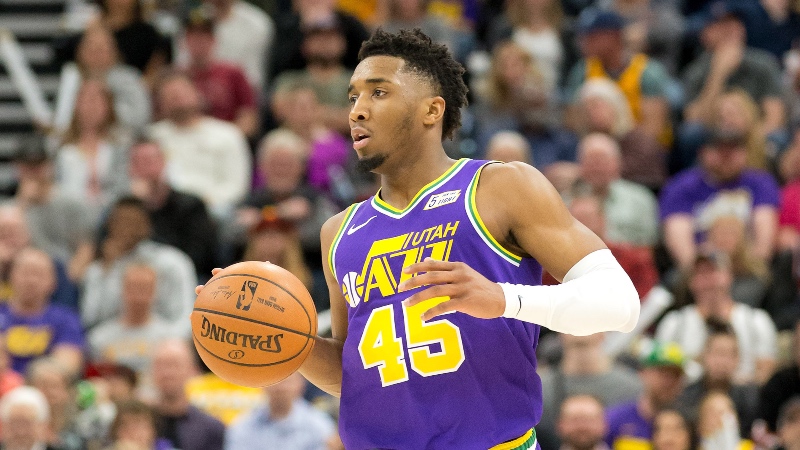 ---
Pick 7: Justin Phan
Warriors -200 to win the title
The price is somewhere between -225 and -240 at a lot of books, so if you're able to get it at -200, I'm all the way in. There's been a lot of talk about how the draw favors the Rockets since they're able to get the Warriors in Round 2 now with a fresher James Harden and more healthy Chris Paul.
I couldn't disagree more — yes, they'll get the Warriors earlier, but they drew the toughest first-round opponent out there in the Jazz. It'd be a huge surprise if that series doesn't go at least six games.
If it wasn't apparent already, I think the Rockets pose the biggest threat to the Warriors' title chances. And it makes sense given Daryl Morey has been consumed with beating them for years. He's constructed that entire roster with the goal of taking down Golden State in mind. So it makes me even more optimistic on the Warriors' title chances to see the Rockets have to battle the second-best team since the All-Star break (+9.5 Net Rating) while Golden State skates to a likely first-round sweep.
Two more things to point out: First, Draymond Green has been playing his best basketball of the season as of late, and his 3-point percentage has improved in each of the past four months. His defensive bona fides are unquestioned, as is his playmaking ability, but if he's able to hit 3s somewhat consistently, watch out.
And second, Danuel House's emergence can't be overstated for the Rockets as they look to fill in the holes left by Trevor Ariza and Luc Mbah a Moute. I'm still expecting a correction to come with his 3-point shooting, though. He shot 217-656 (33.1%) in the six years prior to this season and has jumped all the way to 41.6% this year.
Playing with Harden and Paul obviously helps, but I'm skeptical that holds under the pressure cooker of a playoff series. Beyond him, the Rockets have a group of uninspiring role players in Austin Rivers, Gerald Green, Kenneth Faried, Iman Shumpert, and Nene.
---
Pick 8: Rob Perez
Warriors to sweep Clippers 4-0 (+150)
I had to refresh the page to make sure this wasn't a typo. I then laughed out loud. They actually are giving plus odds on this. I was going to make a joke that I would take the Warriors +150 to win all four games by double digits just to prove a point.
Have the Warriors given the Clippers back their souls after the game at Oracle? They even said PUBLICLY they wanted the Clippers not only for the matchup but so they can go to L.A. for a couple of days. The absolute disrespect.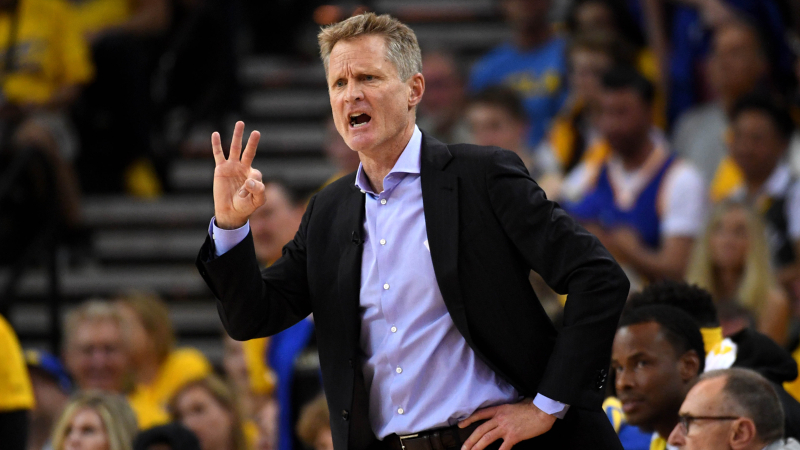 Pull up any advanced analytic you want about how Montrezl Harrell is going to be a terror on the glass and give the Warriors interior problems — or Pat Beverley being inside of Steph Curry's shirt because let me tell you tough defenders have really made it hard on Steph throughout the years while he's in the middle of sweeping everybody's ass.
You mere mortals are about to witness the firepower of this ARMED and FULLY OPERATIONAL battle station. Fire on any number at plus money when ready, commander.
How would you rate this article?