Moore: Hawks GM Travis Schlenk Using Assets to Begin Rebuild
Credit:
Credit: Jason Getz-USA TODAY Sports. Pictured: Dennis Schroder.
The Atlanta Hawks traded for All-Star Carmelo Anthony and reportedly will waive him.
General manager Travis Schlenk continues to shed salaries and rebuild the franchise around young talent like Trae Young.
On Thursday, the Atlanta Hawks traded for 10-time All-Star Carmelo Anthony. Three years ago, this would have been an earth-shaking, league-rumbling move. Eight years ago, it would have altered the very course of the Eastern Conference.
Today, though, it's a shrug-worthy transaction. The Hawks, according to Yahoo Sports' Shams Charania, will send Dennis Schröder to the Oklahoma City Thunder and Mike Muscala to the Philadelphia 76ers, and will get Anthony, Justin Anderson and a protected first-round pick back from OKC along with the best asset that can't rebound or score — cash. The Hawks, according to ESPN's Adrian Wojnarowski, will waive Anthony, and he will join … whoever. (The Rockets remain the favorites.)
Download The Action Network App to get real-time odds and track all of your bets.
There's been some conversation about what, exactly, the Hawks are doing given that they traded the No. 3 pick to Dallas to take Trae Young instead of Luka Doncic and are selling off pieces such as this.
The formula, to be honest, is pretty transparent.
The Hawks were sold in April of 2015. New ownership has slowly but steadily transformed the team. The franchise waffled on keeping Al Horford before eventually letting him walk to Boston. The following summer, Paul Millsap said that the Hawks never really came with an offer. Piece by piece, the team has dealt away key contributors to clear salary.
The only remaining Hawks player from the 2014-15 team that won 60 games and finished first in the East playing a terrific brand of basketball is Kent Bazemore, who will make $18 million next season. Multiple league sources have confirmed Bazemore's very open availability on the trade market this season.
When general manager Travis Schlenk took over in 2017, he started accumulating assets and shedding salary. Schröder's departure was a long time coming. He's an underwhelming point guard as a starter, especially when not surrounded by sterling talent. (Turns out there was a reason Jeff Teague held Schröder back in reserve so long.)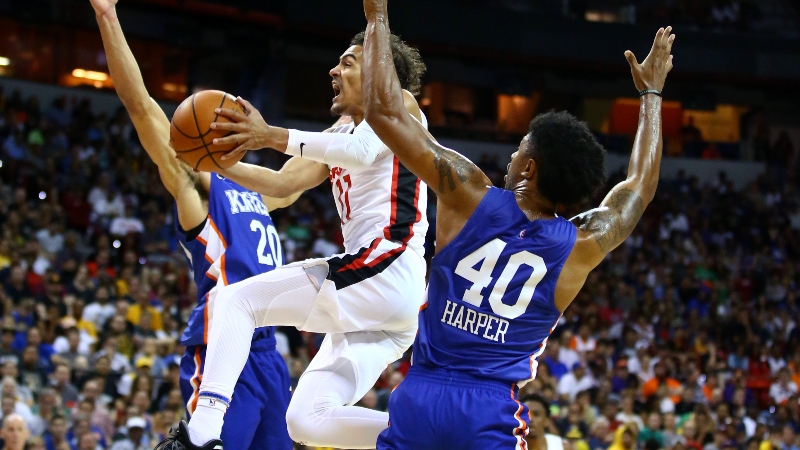 Mark J. Rebilas-USA TODAY Sports. Pictured: Trae Young
Much of the conversation will remain about the degree to which the Hawks have hitched their wagon to Young, who projects as a horrible defender but also struggled to create separation in summer league. What got lost in that draft-night trade, however, was that the Hawks added a top-five protected pick. It's going to be borderline whether that pick conveys; Dallas could be within range of a playoff spot or truly dreadful depending on the chemistry between Doncic, Dennis Smith Jr. and DeAndre Jordan.
If it does convey, though, it's going to be a useful asset, likely in the lottery. With the Schröder-Melo trade, the Hawks will use the cash OKC sends to offset the money they'll pay Anthony in the buyout. They are doing the best thing possible with cap space for a rebuilding team: Using it to help contenders move salary in exchange for moving long-term deals and adding assets.
Sign up for The Action Network's daily newsletter to get the best sports betting content delivered into your inbox each morning.
Let's say that Collin Sexton, Kevin Love and the Cavaliers' leftovers next season are bad, but not horrible. The pick they owe Atlanta for Kyle Korver is only top-10 protected. The Mavs' pick is only top-five protected. If the Cavaliers and Mavericks are not completely horrible, Atlanta will have three first-round picks. If the Cavs' pick doesn't convey next season but does the following year, it will be in a lottery range as well.
Atlanta will have just $51 million committed for 2019-20, with $18 million of that tied to Bazemore. The Hawks will have the option to do the same thing with Bazemore that they did with Schröder: move a rotation-caliber player for dead money in exchange for a pick. The Hawks won't be slangin' cash next summer with a higher cap, hopefully. They'll keep this train chugging, using their cap space and financial assets to squeeze teams trying to add those free agents. The Kings will still be the Kings, after all.
This is the rebuilding way.
It's no longer trading your stars for picks; no one wants your stars because it limits you from being able to sign other, better stars, and cost-controlled first-rounders are too valuable. (This is dumb, but FOMO is huge in the NBA right now.) You instead use your cap space to rent it out to desperate teams that need space, and in doing so bolster your cadre of assets to use on young talent or trade when you are ready to make a jump. The Hawks have a bad team with endless possibilities.
Now, this could all backfire. Doncic could be the best player in this year's class, next year's class and the one after. The cap jumping to roughly $109 million next season could make that space-rental less valuable. And the Hawks are going to be truly bad next season and for the foreseeable future (although they have some really good young talent in John Collins and potentially Young).
But the Hawks have so many options. They are making the most of their situation and not rebuilding selectively, but in bulk. If they can resist overspending on mediocre free agents in the coming years (always the curse of too much cap space for a rebuilding team in a rough market), they'll be well-set long-term and ready to compete … whenever that time comes.