Wob's Final NBA Awards Leaderboard: My Hole 18 Picks For MVP, Rookie of the Year, More
Rob Perez (aka @WorldWideWob) breaks down his final NBA Awards Leaderboard featuring his picks for NBA MVP, Rookie of the Year and more.
At the beginning of the season, I had an idea: I wanted to track who would win the major NBA end-of-season awards if the season ended every week.
I did it using 18 separate intervals so it would conveniently fit on one of those cool-looking golf leaderboards where they dramatically replace each square with a number, Vanna White style, as the competitors progress.
Let's get to the final results.
---
NBA MVP: Giannis Antetokounmpo
Preseason odds: +475
Current odds: -400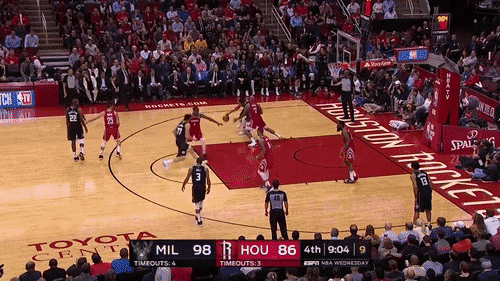 Feels like an eternity ago that Steph Curry was on track, one month into the season, to breaking every record he's ever set — doesn't it? In the end, there were only two candidates to chose from despite a valiant effort from Paul George.
My colleague Matt Moore already presented the definitive cases for Giannis Antetokounmpo and James Harden to win MVP, but for me, it came down to one thing: The best player on the best team.
I'm not going to lie — I started writing this article with the intention of drowning you in "Giannis was as good as Harden was at offense and significantly better at defense" stats — but they both excelled in different areas.
While Giannis put together a legitimate Defensive Player of the Year bid with an absolutely LUDICROUS individual defensive rating of 99 — to give you some context, Milwaukee was the NBA's top-rated defense with a team rating of 105.1 points allowed per 100 possessions — on a team that finished as the fifth-fastest paced team, Harden finished second in the league in deflections.
I also had the intention of trying to convince you that Giannis' +9.7 net rating differential when he's on the court vs. when he's on the bench compared to Harden's +3.8 net rating should be enough.
But anyone who watched Harden during that Wilt Chamberlain-chasing stretch with Chris Paul out nursing his hamstring injury knows that the eye test supersedes any sort of number in regards to performance.
For every stat Giannis has to soap box on, Harden has one, too.
I can't even argue, "Well, Giannis carried the burden ALL season and not just for spurts." Harden was right there the whole way with him.
The one difference that nobody can debate is that the Milwaukee Bucks will finish the regular season with the league's best record by multiple games. It cannot be overlooked, and I have decided to use it as my tiebreaker to crown a champion in what would undoubtedly be a deadlocked mistrial co-MVP if their teams' records were anywhere close to being similar.
---
Rookie of the Year: Luka Doncic
Preseason odds: +250
Current odds: Off the Board
The fact that Trae Young even made this a conversation should be an award in itself. If you look at only the numbers, Trae might even be more deserving than Luka.
Trae Young: 41.9 FG%, 32.6 3PT%, 82.6 FT%
Luka Doncic: 42.7 FG%, 32.6 3PT%, 71.1 FT%
Points, assists, net rating — there are more than enough stats and advanced analytics out there to make a case for Trae and be correct. But I will never shake that overtime-forcing three Luka made against the Trail Blazers.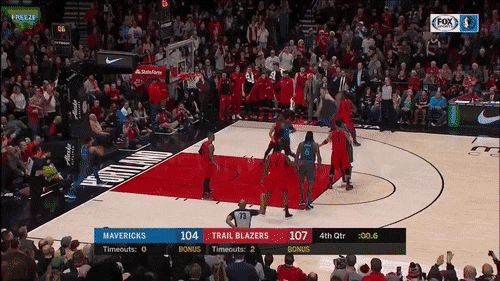 Or when he dropped 21 on the Rockets in the fourth quarter with highlight after highlight.
Trae has his game-winners, too, let's not sell him short. But Luka simply had too many "holy shit" moments to count.
Every time Young hit a game-winner, Luka responded with a massive triple-double.
For a minute there, it really did feel like basketball's version of Seabiscuit coming around the final turn to hunt down his next victim on the backstretch, but he wasn't chasing War Admiral this time — Secretariat had already crossed the finished line.
---
Defensive Player of the Year: Paul George
Preseason odds: +2500
Current odds: +175
It's my honest belief that if Tom Thibodeau didn't run Robert Covington into the ground as soon as he was traded to the Minnesota Timberwolves, Covington would have won it.
There was a two- to three-week period there at the beginning of December when Covington was the league's best on-ball defender by an unfathomable margin:
Robert Covington has to be DPOY so far, right?

Wolves before trade: 113.9 DRtg (30th)
Wolves since trade: 100.4 DRtg (2nd)

Covington #2 in deflections per game, #1 in steals, #16 in blocks. Opponents shoot 9.8% worse when guarded by him.

— Justin Phan (@jphanned) December 5, 2018
So of course Thibs ran Covington 45 minutes a game and he got hurt.
One man who has been performing at a similar level for the entirety of the 2018-19 campaign is George. Rudy Gobert is right there as well, but the difference for me is that George did all of this while carrying the entire OKC Thunder franchise on his back — both ends of the floor.
He's not going to win MVP, but he damn well deserves to be in the conversation.
This would likely feel like a consolation trophy for him, but the team's +17.7 net rating and -3.9 defensive rating when he's on the court vs. when he's off is all you need to know.
Numbers do not celebrate his individual impact on a game enough. He leads the league in deflections per game and he's the anchor of "The Havoc Generator" — one of the league's most feared defensive schemes.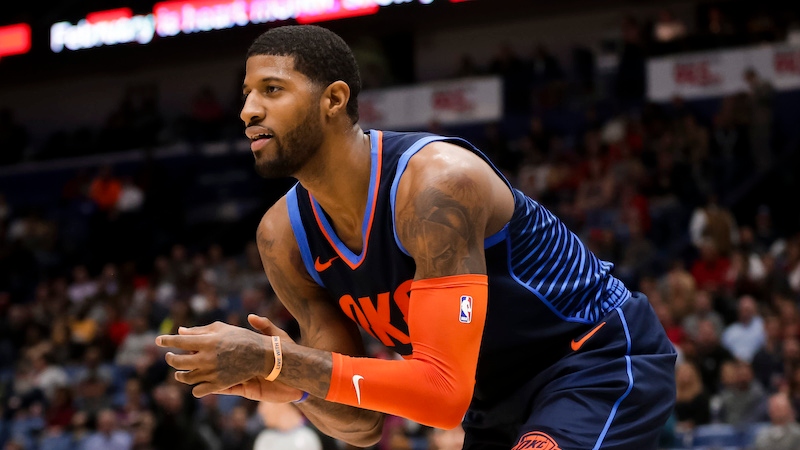 He is the Paul George we were promised. He is finally back.
---
Sixth Man of the Year: Lou Williams
Preseason odds: +300
Current odds: -5000
Derrick Rose tried. He really did.
In a previous column, I alluded to Rose's 2018-19 campaign as the basketball equivalent of when Greg Maddux lost his fastball and developed the league's most devastating changeup to prolong his career way past borrowed time — Rose lost his bunnies and developed a wet mid-range/long distance jump shot out of complete nowhere.
To give you some specifics: Rose was a sub-30% 3-point shooter for the entirety of his career. He did all of that amazing stuff while tomahawking bricks at the backboard every time he pulled up from three.
He finished this season at 37%. Every single field goal percentage by distance — 0-3 feet, 3-10, 10-16 and 16-3-point range — was higher than his career average.
The hard pivot should be applauded.
However, every time Rose sat out a game or had an injury flare up, the man was there.
Death, taxes and Lou Williams getting buckets. He truly was put on this planet for this sole purpose.
After Tobias Harris and Boban Marjanovic were traded away, the world assumed the Clippers were waving the white flag on the season and doing their best to miss the playoffs so they could retain their first-round draft pick protections from the Boston Celtics.
In the end, they might have gotten better, and Sweet Lou's play is the nucleus of it all.
Williams recorded the second-highest Player Efficiency Rating of his career, and the Clippers were 9.1 points better when he's on the court vs. when he was off throughout the season.
He also did this…
…a lot.
---
Most Improved Player: Pascal Siakam
I have to reiterate this because this is without a doubt the most difficult award to assess: The player whose talent and impact has improved the most from last season to this season is the most improved player.
I look at Montrezl Harrell, who was barely a rotation guy in the past, and all he's done in one season since getting real playing time is become the most important player on the likely 8-seed in the Western Conference.
D'Angelo Russell and/or De'Aaron Fox, who will likely finish second, have been SO damn good this season — but let the record show: They were already good. Going from good to very good is not the same as going from nobody to franchise cornerstone.
It's a compliment to D'Angelo and De'Aaron that they won't win this award, despite their brilliance this season, because it is reassurance that the voters never wavered on their production or potential.
In my opinion, there is only one guy on Earth who has shown more "improvement" than Harrell, and that is Pascal Siakam.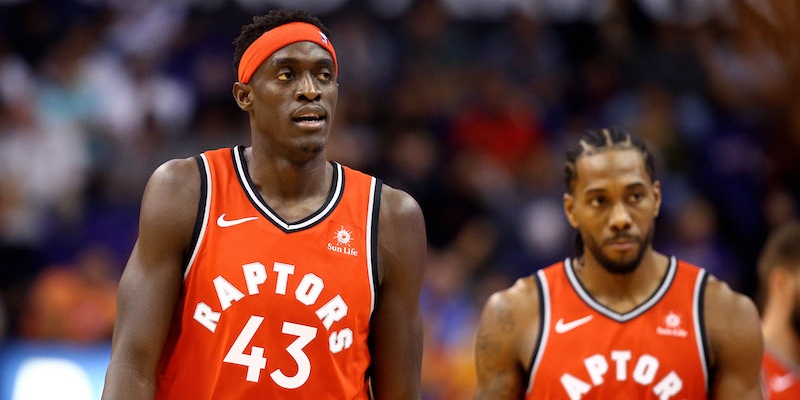 We all know how good the Raptors are, yes? They have 10 dudes on their roster who could start on any NBA team right now. With that said, you could very easily argue that some of these guys became great because they are surrounded by great players — it's contagious.
Cue "30 for 30" music
What if I told you, that on a team with several multi-time all-stars, the guy who makes the Raptors 13.0 points better when he's on the floor — that is PLUS THIRTEEN INDIVIDUAL ON/OFF RATING — has never been one?
That's right, it's Pascal Siakam: The most important player on arguably the best team in the Eastern Conference.
He's not only improved his 3-point percentage from 22% to 36.8% (!!!!!!!), increased his points per game from 12.6 to 17.0, his efficiency rating from 14.5 to 18.7 and pretty every other major advanced analytic — he has become a clone of Kawhi Leonard with … gulp … as much (if not more) potential.
You know what's even scarier? This is only his third season.
Holy crap.
Coach of the Year: Doc Rivers
This is a tough one.
There are at least four coaches who could win it.
Mike Budenholzer: Head coach of the team with the best record that's finally living up to the potential it never reached under previous leadership.
Kenny Atkinson: Continuously resurrected the NBA's most overachieving team using unprecedented game tactics/schemes and had it performing to its maximum potential all season despite a s–tstorm of adversity and injuries.
Nick Nurse: Responsible for unleashing a monster that cannot be chained unless he decides to rest them every other night.
But in the end, it goes to Doc Rivers, who has taken what many perceived to be a bunch of throwaways in the Chris Paul trade then even more throwaways in the Tobias Harris trade and not only turned them into a legitimate playoff team, but into a team that just keeps getting better.
When does it stop?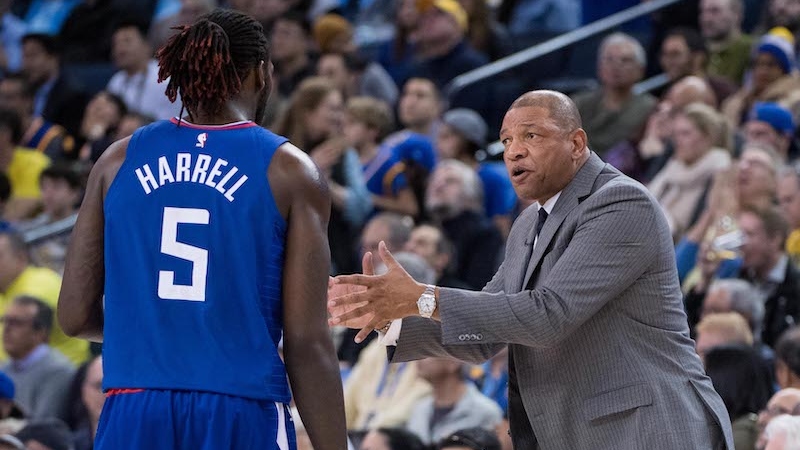 Lou Williams is as good of a closer as anyone in the league, Harrell is a monster and Landry Shamet is currently the NBA's best player since the All-Star break in regards to individual net rating. I mean, props to the players first and foremost for actually performing to this level, but all of this does not happen by coincidence.
Doc found something that simply nobody else can replicate, and his ability to do it with ANY collection of players is what earns him this award — no questions asked.
---
Executive of the Year: Lawerence Frank
It was going to take something special for anybody to beat out Masai Ujiri and his no-lose house money situation he's built north of the border, and that's exactly what happened in Los Angeles.
While the Lakers were busy pissing away one of LeBron's few remaining prime years and hogging the entire spotlight, all the Clippers did was build an absolute nuisance of a playoff team using castaways from every franchise looking to make a run at the title by acquiring any big name available to them.
Did they lose their first-round pick in the process?
Yes, it's on its way to Boston because it was only lottery-protected — but Frank not only has this team competing this season, but outside of the Knicks, he's created the most desirable salary cap situation heading into the most important free agency summer in nearly a decade.
Here are the ONLY players on the Clippers roster next season:
Danilo Gallinari ($22,615,559)
Lou Williams ($8,000,000)
Montrezl Harrell ($6,000,000)
Shai Gilgeous-Alexander ($3,952,920)
Jerome Robinson ($3,572,280)
Landry Shamet ($1,997,640)
Sindarius Thornwell ($1,618,520)
Tyrone Wallace ($1,588,231)
That's it — and a lot of those guys toward the bottom of the list are locked into this incredibly team-friendly deals for the next three years as a part of their rookie contracts.
What this means is that the Clippers not only have a foundation in place with promising young stars making drop-in-the-bucket salary cap money with Gallo, Montrezl and Sweet Lou back, but they also have crazy flexibility to go out and offer multiple max contracts to free agents to team them up with.
Add in the fact that they're in the NBA's most desirable city for players to live in and can offer not having to deal with the Lakers drama, and their potential is absolutely terrifying.
There's not a single situation in which the Clippers lose this year, even if they get knocked out of the playoffs. And for that, Lawerence Frank — the architect of it all — is your Executive of the Year.
How would you rate this article?