Moore: A Glimpse Inside the Havoc Generator, Oklahoma City's Voracious Defense
Credit:
Photo Credit: Jerome Miron-USA TODAY Sports. Pictured: Paul George and Steven Adams defending Luka Doncic
The Oklahoma City Thunder boast a top-five defense this year, which has been the biggest reason for their terrific 37-20 start.
Below, Matt Moore dives deep into the unit, what makes it elite and how it's different from years past.
It's chaos and control. It's turning your plan into broken pieces. It's length, athleticism, physicality, speed, savvy and sheer determination, all given shape and form and unleashed on you, the poor sucker trying to keep the ball.
Welcome to Oklahoma City's havoc generator, and possibly the best defense in the NBA.
The only way to play defense well in the NBA, especially in this modern, arcade-mode NBA, is to care so much about the act of defense that you thrive on the other team's failure in the moment.
Want to build a modern elite defense in the age of offensive dominance? I'll tell you how, using the Thunder as our model.
Defense has assuredly been compromised lately. The best Defensive Rating in the league this season (held by Milwaukee) would rank eighth-best in the NBA in 2014, five years ago. Every elite player has expressed dismay with how difficult it is to contain offenses now, not only with the rules around freedom of movement but also the spacing and execution teams bring to the table.
However, the great teams are still great. Boston, Utah, Miami and San Antonio have all regularly fielded top-10 defensive teams over the last five seasons, along with Oklahoma City. That consistency is difficult with how many shifts have occurred year-to-year.
For example, last season was defined by switching defenses; it's how Houston climbed into the top 12 and Boston dominated. If you were able to seamlessly switch defenders 1-5, you had a huge leg up on the competition.
This season, however, you need to be able to drop your big effectively in coverage.
When we talk about defense, we get locked in on personnel — who has good defenders and who doesn't. Foot speed, size, athleticism. We focus on individual players and not on the reality, which is that NBA defense in 2019 is almost entirely built on the system and team buy-in.
Commitment and discipline can mold almost any collection of physical attributes into a successful unit, and the lack thereof can result in a terrible defense. Look no further than the Rockets for proof of that, as they stand 27th in defense despite what they bring to the table, even with their myriad of injuries.
So if defense is, at its core, systemic, what makes that system good?
There are things you can and can't do, but most NBA teams know them. The outlier teams that try something different — like Jason Kidd's Bucks teams, whose gimmicky blitz scheme worked great for about six months until teams made a few simple adaptations– will get schemed out eventually.
What it really starts with is communication.
---
TALK SHOWS
"Just give me an extra second," Steven Adams is telling Paul George, the same way you'd tell a colleague you'll for sure have that memo to him. It's not insistence or annoyance — just getting everyone on the same page. Adams and George are talking on the sideline leaving a timeout vs. the Pelicans, navigating how to manage a DHO coverage.
The Thunder are communicating at every turn, and it's the building block of everything defensively. Terrance Ferguson and Jerami Grant are negotiating switches. Paul George is calling out the open shooter in the corner.
The Thunder are able to do this on the fly, because they spend so much time working on it during the in-between moments.
"Steve-O's very receptive with communication," Paul George told The Action Network. "We talk a lot. Me, Steve-O, Russ, JG, Ferg, we talk out coverages, we talk out matchups. At every point within a possession, when we're clicking, we're making things happen, and we're making teams do what we're forcing them to do. And the game becomes so much easier."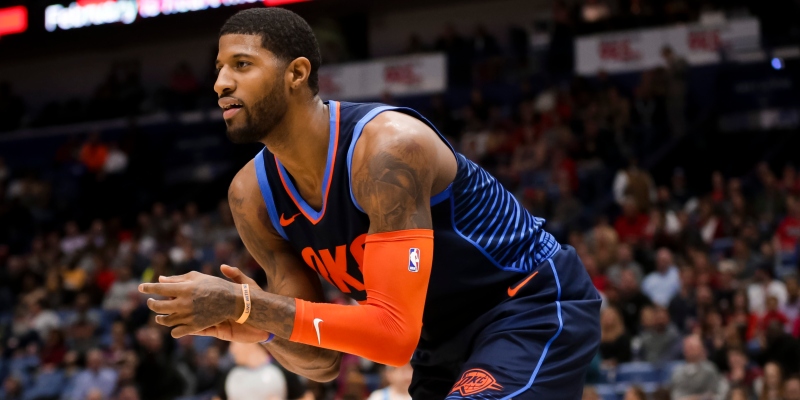 Everyone knows what they're supposed to do and everyone is dialed in. The effort is there, from play-to-play, possession-to-possession. Terrance Ferguson told The Action Network that the Thunder defense even goes beyond its scheme and right to trust.
"With us, we have a team strategy," Ferguson said, "but it's like the strategy goes away when we play. It's just 'bust your ass, and we're going to have your back. If you get beat, just know we're going to have your back. If you're on a rotation, we're all scrambling. If two people get there, we're going to keep scrambling, keep running.' It means a lot to each and every one of us to know that if we make a mistake, the whole team is going to have your back."
What happens when a team stops talking? Ask Nuggets coach Michael Malone, whose team fell from the third-best defense in the league to one of the five worst over the past two months.
"We don't talk," Malone told reporters during their recent three-game losing streak. "Our lack of communication is comical at times. How hard is it to say, 'Switch? Screen?' We don't do that sometimes."
The Thunder, on the other hand, remain locked in. They know where they're going and what they're supposed to do. And everyone keeps moving. There's accountability here, an expectation that you close out, that you body, that you compete on passes and shots.
---
THE SCHEME
As an offense against the Thunder, you're going to have to decide on a few things. The most important is how you approach pick-and-rolls.
The Thunder are first going to try and get completely over the screen to deny you. They aren't going to sit back and let you go at them. They're up there; they're going to fight you for every square inch of court.
Watch Jerami Grant slide completely in front here:
That action has just been completely blown up. The ball-handler moves away from the pick, and the help defender closes off the baseline. The Thunder have just sliced off the entire weakside unless the ball-handler can make a difficult jump-pass to the corner. And that means the lanes he wants are more predictable.
But let's say you get a better screen. The Thunder are going over that screen. Now here's where it's kind of interesting. Watch this clip of the Thunder vs. Damian Lillard in which they force him into the shot they want, a contested mid-range jumper:
Notice that when it's clear Lillard could drive, Adams engages him as Dennis Schröder goes around the second pick, all while maintaining space.
This is critical. Adams is able to occupy the space in-between where the ball-handler can score and where the roll man is going. Schröder recovers, and the result is a contested mid-range step-back jumper. Lillard can still make that; he's Damian Lillard. But it's 1) contested, 2) a low-conversion-rate shot inherently and 3) not a 3-pointer.
Let's keep going. Try and hit the slip man on the pick-and-roll, and the help comes:
Watch the clip below with Rudy Gobert: Grant is there.
This is a key element that was not there last year with the lineups OKC used. Grant's timing and aggressiveness in helping in the pick-and-roll enables Adams to play higher up this year while still containing:
And if the help comes and you do make the kick-out, they're running you off:
Don't underestimate this part of it. Beyond the scheme and the intelligence, beyond the athleticism and the anticipation, is the effort.
The Thunder are locked in, and they are all willing to give that effort. Their accountability to one another has fueled them to be the sixth-best team defending spot-up shots, per Synergy Sports.
They surrender the 10th-fewest 3-point attempts per 100 possessions and the eighth-lowest percentage. They run you off on every play. You can beat OKC, sure, but you're going to have to earn it.
The crucial difference in OKC vs. most defenses is versatility.
Houston and Boston both succeeded last year on the back of switch-all defenses. Switching on every screen became the hottest fad, but defenses have largely adjusted this season; it's why Houston started dropping Clint Capela more in pick-and-rolls before his injury.
But throwing out different pick-and-roll coverages is dangerous. You preach one style, one message, and then you try and tailor it vs. a matchup, and mistakes are bound to be made. It's like asking a pastry chef to make soup. They can make soup. They might even make a good soup. But they also might make something that tastes just a little off.
With the Thunder, though, it doesn't matter. They're cooking whatever they need to serve.
Dangerous pick-and-roll threat? They can drop effectively and contain. Explosive guard that needs a blitz or a hedge? Got it. Switch? They can do that, too, and they can do it with almost every player in the active rotation.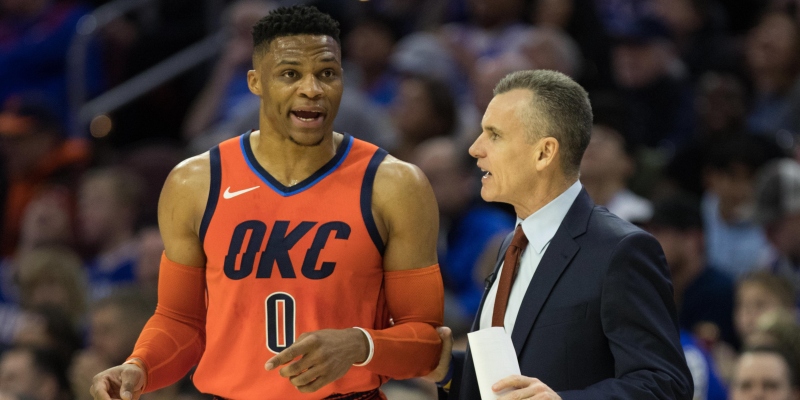 However, as Billy Donovan told The Action Network, one reason the switch isn't as popular this year is because defense is about getting the offense away from what it wants — and a lot of the time now, it wants that matchup.
"If you're switching, are you taking a really good defender off a really good offensive player and putting maybe not as good a defender on [them]?" Donovan asked. "I think switching can be overrated. I think there's time you have to have physicality to get over and through screens."
"There are teams that try to manipulate to create switches, like Houston with Harden. They'll bring guys up to try and create that, but sometimes I think you have to fight it and say, 'We're not going to switch.'"
"If we have Paul George or Andre Roberson on him, we want to keep them on James Harden; we're going to work to do that. If we have someone like Russell Westbrook and we want to keep him on his matchup, we'll do that. But I think it's based on personnel, and there's some times when you're in a compromised situation, a bind, when you have no choice but to switch and take away what the inevitable is going to be."
One thing that helps with that? Just messing up the entire possession. And no one in the NBA is better at that than OKC.
---
HANDS TEAM
The Thunder lead the league in deflections (per NBA.com), racking up 16.2 per game. Paul George is second behind James Harden in deflections at 3.7 per game, Westbrook is fifth at 3.5 and Adams is at 2.5. Nerlens Noel is second in deflections per-36 minutes. OKC just has hands up all the time, in every passing lane.
One of the sneakiest players in the league in this regard is Adams.
His teammates are quick to point this out: Adams is one of the best in the league at level-changing with the pick-and-roll to maintain that space discipline between the ball and the roll-man, and he's one of the best at anticipating and deflecting the pocket pass.
So much so that early in the season, even officials couldn't believe how good Adams was at it.
"Actually, he's been called for a lot of kicked balls this year that shouldn't have been called kicked balls because it's actually his hand in there," Donovan said.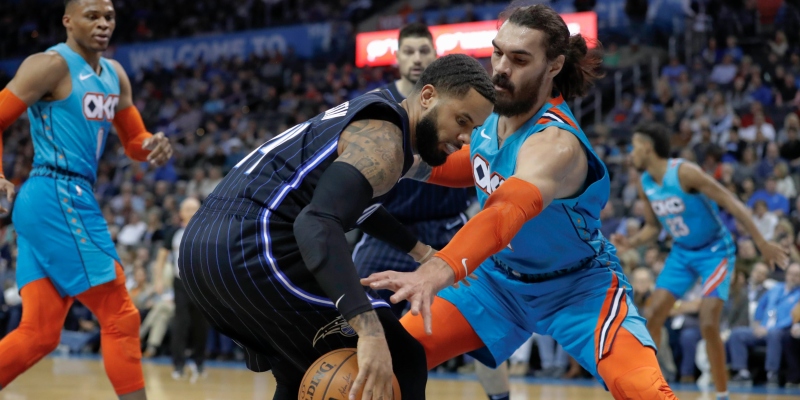 Wait, really?
"Early on, the officials were calling those kicked balls," Paul George said. "Every time, Steve-O's making his case: 'That's my hand down there.' It's pretty impressive to get that low in coverage. And he's never burned on it. It's not like he's allowing his opponent to get behind him in the coverage. It saves us a lot, honestly."
I looked at the tape, and it turns out, yeah, that happened pretty frequently. Check out Adams' reaction on both of these early-season plays vs. the Clippers:
Adams, who has done yoga with OKC's medical staff for years, has an uncanny ability to get his reach down. It's yet another of the separating traits for OKC's defense, along with the group's athleticism and physicality — having a center that is that smart, that big and that nimble.
George, though, may be the biggest engine of OKC's havoc generator.
"His reads… ridiculous," Adams said of George. "His timing of when to go after stuff. It's not just gambling. It's gambling while minimizing as much risk as possible. It's not like he gives up on the play a lot. Some people gamble and then they're so far, they mess up. It's just… complete shit and you have to just try and make do with it. But he does a good job of taking a stab at it and being able to get back."
This part is crucial.
The Thunder are almost never out of position when they create deflections, and if they are their teammates are constantly working to adjust for it and get them back into the play.
Breakdowns are rare and met with a collected acknowledgment of what went wrong. There's no finger-pointing. There's no confusion. That can change in the playoffs as things get heated, but for now there is no defense more ready to attack at all angles.
One final note on those deflections. There are several bottom-10 defenses among the top-10 teams in deflections. Some of that is pace; some of that is a defense's willingness to move the ball against a squad. But what stands out with the Thunder is how much those deflections enable their offense.
"I think honestly we have one of the most athletic starting-five groups," George said. "We're long, we're fast, we're quick. When we're tied in, when we're locked in, I have the length, JG has the length, Terrance Ferg has length, Steve-O, Russ… we can really shrink the floor and use our quickness to our advantage. That's why we're so good at just flying all over the place."
When they do that, it opens up their transition offense. The ball is suddenly screaming the other direction, being led by a fleet of super-athletic, long-armed, fast marauders, hunting down the basket.
The Thunder are second in points off turnovers per 100 possessions and fifth in fastbreak points per 100 possessions. They need that offensive boost even as their offense has made strides over the last two months.
---
THE RESULTS
So what are the results? You can watch OKC and tell they defend well, but what's the actual evidence? OKC is:
 third in defensive rating, per NBA.com.
1st in defensive rating vs. the Western Conference, per NBA.com.
2nd in halfcourt points allowed per possession via Synergy Sports
 6th defending spot-up attempts via Synergy
2nd defending the ball-handler out of the pick and roll
4th defending the pick and roll including passes out
5th defending isolations
2nd in points produced off turnovers per 100 possessions
9th in points off turnovers allowed per 100 possessions
8th in 2nd chance points allowed per 100 possessions
5th in fast-break points allowed per 100 possessions
13th in points in the paint allowed per 100 possessions
OKC's defense isn't impenetrable. They're a mediocre 15h in opponent effective field goal percentage. On non-post-ups, they are 19th in defending shots near the rim. They give up the 4th-most shots per game in the restricted area, even if they only allow the 10th lowest percentage on those shots, and in the pain outside of the restricted area, they are opposite: surrendering the 6th fewest shots but the 20th ranked percentage.
When you look at the overall metrics, though, you get a signal of what OKC's about: they challenge you on the perimeter, they turn you over but they do so without giving up 3-pointers (10th in fewest 3-point attempts allowed per 100 possessions, 8th in 3-point percentage allowed). You can create shots off short passes inside, but they'll be challenging those as well and you're not getting the rebound (10th in opponent offensive rebound percentage).
The model from 10,000 feet sure looks like a top-level, purely elite defense on par with Utah, Milwaukee, and Boston.
THE POTENTIAL
I'm not here to tell you why Oklahoma City can beat Golden State. The Warriors present such a preposterous challenge defensively that trying to explain a four-game success story feels forced.
I am here to talk about the playoffs in general.
For starters, let's try this. The No. 1 defense in the league vs. the Western Conference? Oklahoma City. Golden State's second- and 12th-lowest Offensive Ratings came against OKC. Houston's second- and 13th-lowest Offensive Ratings came against… OKC.
The Thunder lost to the Jazz in unceremonious fashion last season. Every playoff team will have excuses; OKC's no different, and its failures were real.
Russell Westbrook became too engaged in his individual matchup with Ricky Rubio (who also had an outlier offensive series, let's be real) and the Thunder failed to manage the simple constructs you need vs. the Jazz. (Drop the big vs. Gobert, stay home on Ingles, make Rubio and Mitchell beat you off the dribble.)
This year's defense is better equipped, and the matchups will likely be different should they meet again. Jerami Grant's breakout (as seen above) — and, let's be honest, Carmelo Anthony not being around — fundamentally changes that series.
Houston presents a more serious challenge, and that matchup is about even with OKC's defense vs. Houston's offense and vice versa. But the Thunder are capable of switching, closing out on shooters and forcing Harden to carry the entire load.
Denver is 2-0 vs. the Thunder and has owned the matchup the last two years. But Denver has also not been to the playoffs with the vast majority of this core, and Denver's defense isn't what it was in the early-season matchups.
The Blazers, Spurs, Clippers and even the Lakers with LeBron: OKC has no reason to fear any of them. And over the last two seasons, albeit with a largely unengaged Warriors team, OKC is 3-3 vs. Golden State. Again, I'm not here to sell you that OKC can beat the Warriors. I am here to tell you OKC may have the best chance of any team in the West.
There is downside, though. The offense is 10th in the league since December 1, but it relies on unproven shooters making shots. Russell Westbrook's historically-bad shooting is a gigantic red flag flapping in the wind. If the Thunder fail, though, the odds are good it won't be on the back of their defense.
If they do make a run — however far that takes them — it will be on the back of their havoc generator, the pack of ravagers and what is in all likelihood the NBA's best defense.
How would you rate this article?
This site contains commercial content. We may be compensated for the links provided on this page. The content on this page is for informational purposes only. Action Network makes no representation or warranty as to the accuracy of the information given or the outcome of any game or event.