Moore: The Definitive Case for James Harden as 2019 NBA MVP
Credit:
Photo credit: Troy Taormina-USA TODAY Sports. Pictured: James Harden
The 2019 NBA MVP race will likely come down to two leading candidates: Rockets guard James Harden and Bucks wing Giannis Antetokounmpo.
This week, I will break down the cases for each player, starting today with The Beard.
This week at The Action Network I'm profiling the MVP race, including in-depth breakdowns (and I mean in-depth) of both James Harden and Giannis Antetokounmpo, as well as a look at who should win the award, who is likely to and where the best value is on their MVP futures bets. We begin with James Harden, who is putting up the best offensive season since Steph Curry in 2016.
James Harden's MVP case is obvious, like trying to determine what caused a giant crash through a jewelry store when there's a hole in the building in the shape of a rhino and a rhino grazing outside. Sure, it can be a lot of things, but it was the rhino.
Here's the one-sentence pitch for James Harden's MVP candidacy:
James Harden averaged the second-most points per game in the last 50 years of NBA history behind Michael Jordan, doing so on great efficiency relative to usage while averaging 8 assists per game and winning more than 50 games in a loaded Western Conference.
That's an incredible resume. Harden's season is astonishingly good when you evaluate its highlights; that's what makes him such a compelling candidate. If you take the 10,000-foot view of Harden's season, it makes it very difficult not to say he's more deserving than any candidate, including Giannis. And the implication of that isn't that, upon further inspection, it falls apart. It looks differently closer up, as we'll get to, but that 10,000-foot view matters.
In some ways, Harden's MVP resume deserves "Best in Show" consideration. But to get a real appreciation for what he's done this year, we have to go way under the hood. Let's go inside the reigning MVP's case for back-to-back awards.
Jump to: The Resume | The Stats | The Film | Conclusion
---
THE MODEL
That big broad base of his stats really is the biggest case for Harden. The elements above are layers that supplement his case, but you have to start with the numbers for Harden if you want to get a sense for where the strength of his argument lies.
There will be a conversation about how that middle tier — the "Whatever It Takes" argument is actually his biggest — but I'll get into why that one has more holes in it than the other two. And the top layer — wins/team success — has strengthened considerably since the middle part of the season during which he built up his statistical case.
As it is with most players, Harden's season is best described as being divided into multiple segments. Over the course of a six-month season, you're going to have different mini-seasons. Harden's had three, and each played a pivotal role in building his MVP case.
SEASON 1 (10/17-12/11): THE SETUP
Stats: 30.0 pts, 8.0 rebounds, 5.7 assists, 44-37-83 shooting splits, 62% TS%, 36.1% usage
On-court Net Rating: -0.4
Rockets record: 12-14
Ironically, one of the biggest keys to Harden's MVP case is in how badly his team started the season.
The Rockets faceplanted out of the gate, right from the start. New Orleans housed them in their home opener. They beat the Lakers in the infamous fight game where neither team looked good and which resulted in suspensions, starting a four-game slide in which Houston lost to four teams that would all make the West playoffs. They would fail to find any consistency over that next month and a half, going 12-14 and sparking premature questions about whether they would make the playoffs.
Look at that stat line above: 30-8-6 is phenomenal. It's just stellar. But both the Rockets' record and Harden's on-court Net Rating tell just how marginally effective it was. Harden was putting up these astronomical numbers, and yet the Rockets weren't outscoring their opponents. What's more, Houston was outscoring their opponents by 1.5 points per 100 possessions with Harden on the bench in that stretch. 
The Rockets' Defensive Rating in this stretch was 113 — gouge-your-eyes-out bad — and 9.4 points worse than when he was on the bench.
This is a key element you need to remember for later: Houston did not struggle early because of injuries. Clint Capela went down in mid-January; Chris Paul on December 20. They had a handful of missed games early in these first 26 games. But they were the same kind of here-and-there injuries every team faces along the way. This early part of the season when they were losing games? They were fully healthy; they just didn't play to their potential, despite Harden putting up huge numbers.
Here's the ironic part: These early struggles may have helped as much as anything with the narrative for him this season. When Capela and Chris Paul went down later, and Harden went insane in Season 2, he had to lift his team above a start which he himself at least partially contributed to. He helped dig them their hole, and then he dug them out of it.
 SEASON 2 (12/13/18-2/13/19): THE EXPLOSION
Stats: 38.3 points, 7.5 rebounds, 7.4 assists per game on 44-38-89 splits, 62.9% eFG., 40.9% usage
On-court Net Rating: +7.3
Rockets record: 21-10
And then… he went bonkers.
In this stretch, he lost his All-Star, future Hall-of-Fame point guard and his at-rim finisher for a team that was already cobbling together wing rotations after swinging out with Carmelo Anthony and Michael Carter-Williams. Harden scored 40 or more 14 times in this 29-game span, starting that 30-plus-points streak that was covered ad nauseam. He lifted his team time and time again.
He scored 61 in a four-point win over the Knicks:
He put up 57 in a win over the Grizzlies and had a 43-point triple-double in three quarters vs. the Cavaliers.
He just absolutely destroyed teams. And it's a good thing he did. Half of those wins came in "clutch time" — games within five points or less in the final five minutes. They went 8-4 in games ultimately decided by five points or less, needing Harden to constantly pull 50- and 60-point performances out of himself just to get past weaker competition.
This brings up an interesting note that is something to consider but that ultimately doesn't detract from his candidacy for me: Harden had to do all this to beat teams like Memphis, New York and Phoenix. Some of these were close games.
Even in 2017, when Harden finished second in MVP voting (I voted him 1st) before Chris Paul showed up, the Rockets did not have to skate by teams like that. This year's roster is worse, to be sure, but it's wrong to reward a guy for bad teammates, just as it's wrong to punish a player for having good ones. You're supposed to lift up your teammates. Harden more or less simply dragged them with him.
But for all those narrow escapes, there were wins over Boston, Toronto, and, of course, the Warriors in his defining game of the season.
This scoring stretch is among the best in NBA history. Not this season. Not recent history. Ever. He literally scored the most points in the last 50 years in the month of January of any player.
This stretch is where he made his NBA bread, so to speak. He carried the Rockets in this stretch, without question. You can ponder philosophical questions — like if he played differently could the team have been better? — but the results are 21-10 with one of the maybe three-best prolonged scoring stretches we've ever seen.
He did this without Chris Paul and Clint Capela, a monumental factor in the narrative of his season. Outside of the bonkers numbers, the story of his season is him carrying the Rockets without two of their best players to wins behind huge individual performances.
This was when he jumped to being the odds-on MVP favorite for a short while.
SEASON 3 (2/14/2019-CURRENT): THE RUN
Stats: 35.8 pts, 6.1 rebounds, 6.9 asts on 43-33-91 splits, 58.4% TS%, 41.4 usage
On-court Net Rating: +9.3
Rockets record: 16-4
Still, Houston seemed headed for a mid-tier seed. That probably wasn't going to do it. Houston needed to get to 50 wins or more. Luckily, not only did his numbers stay stable, but the team got back healthy. Chris Paul not only returned but looked much improved from a rough early stint. He and Clint Capela got back to ruining team's lives with the constant lob bombs. The schedule eased up: 10 of those 16 wins came vs. teams under .500.
Houston's defense has cooked since then. Harden's on-court Defensive Rating is down to 107 from the 113 mark early in the year. The team with him on the bench, however, is giving up just 95.2 points per 100 possessions. They are +6.3 in Net Rating without Harden, compared to +9.3 with him.
And so the Rockets are poised to finish with over 50 wins. They'll fall short of their season over/under of 54.5 but still have a good chance at a top-two seed in a brutal Western Conference. This stretch is important because it gets Harden to that top tier of his pyramid. If they finish with fewer than 50, the argument for Harden gets a lot tougher. This stretch guarantees a healthy chunk of first-place votes for Harden.
So what we see is that the first part of his season, which is often overlooked, set up the big run the Rockets needed. If they hadn't struggled early, they might not have needed him to push as hard as he did in that middle section. That second season is when he built his truest case, even as his numbers have stayed high to close the year.
Let's go a little deeper on those numbers.
---
THE STATS
My favorite James Harden stat — the one I used primarily for arguing his case in 2017 — is "points produced." It's a combination of points per game and points generated from assists per game.
In 2017 (which I believe was his best season despite this year's gaudy numbers), Harden generated 57.3 points per game off those two stats. In 2018, when he won MVP, that number slipped slightly to 52.2 with the addition of Chris Paul (even as the Rockets won 65 games). This year, that number is back up to a staggering 54.9.
It's an unbelievable workload to create that much and do so from his percentage of isolation plays. Harden accounted for 49.6% of all his team's points per game based on points or assists. This year he's at 48.6%.
Is it more impressive to score on your own? Probably, considering that every team is specifically designing its entire gameplan to stop Harden, knowing he's the engine, and they can't. But let's talk more about his individual scoring.
That figure I started you off with — "the second-most points in the last 50 years" — must be emphasized until you understand its gravity. The list since Wilt Chamberlain, a bonkers player from a bonkers era (which makes it hard to perfectly compare), is this:
Michael Jordan, 1987: 37.09 points per game
James Harden, 2019: 36.38 points per game
When you are grazing the greatest scoring season Michael Jordan ever had, you have reached the zenith of offensive production in the modern era. Critics and cynics will point to all sorts of factors like the 3-point line and free throw rates. (Notably, Harden this year has a lower free throw rate than Kevin Durant did in 2014.) Regardless, the scoring performance is still unparalleled in a modern context.
"Points per 100 possessions" may never reach the common vernacular, but any hardcore hoops fan understands the impact of pace on the game. More possessions equal more chances to score. You play fast, and you can put up more points in a game. Per-100-possession stats give us a pace-free look over the course of an average game's number of possessions a player scored. And by that metric?
Harden has the best pace-adjusted scoring season since possessions started to be tracked in 1984:
And Harden has done so efficiently while averaging over seven assists per game.
Harden's shooting splits on the season (44-36-89) aren't breathtaking. He's not going to come near the 50-40-90 club. It's not one of the best individual shooting seasons ever. But for his usage, which is nearly unrivaled (second highest in NBA history), it's wild. Usage means more attention drawn to you. It's also more exhausting. Harden goes at teams possession after possession for 37 minutes a night and maintains a good level of efficiency. It's wild.
He's quite literally nearly single-handedly responsible for the 13th-best offense in NBA history.
It is difficult to argue a much better case for "valuable" than that.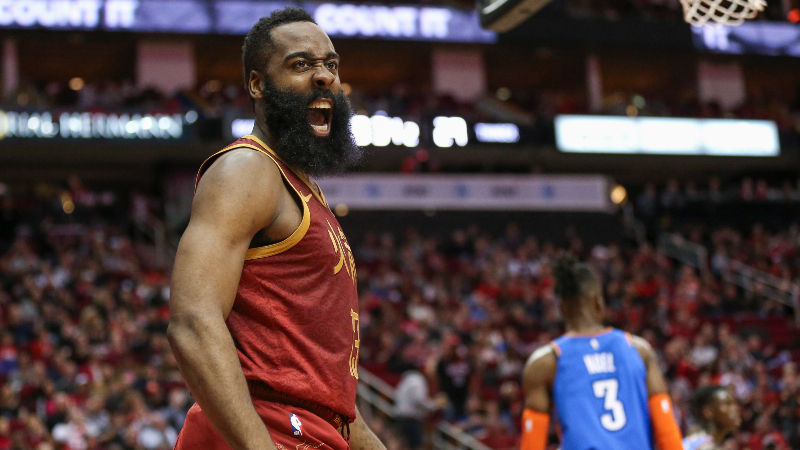 Now, those are all good numbers. I'm going to give you some other numbers that have to be considered. They aren't numbers that contradict anything you've read above, but part of the story.
This last chunk of the season has helped Harden considerably in the on-off department.
With Harden on-court this season, the Rockets are +4.7 per 100 possessions. With him on the bench, they are surprisingly +2.7. Look at how this compares with his Net Ratings in previous seasons:
This is especially important if we evaluate (as I do) MVP as meaning "most impactful." It's not just that his on-court rating is the lowest of the last three years (and significantly lower than his competition), but that the differential is lower.
This is a team metric, and so it is impacted by teammates. But, as I've said before, I don't punish guys for having good teammates or reward them for having bad ones. The objective is to make the team the best you can when you're on the floor. Harden may carry the Rockets, but he carries them only so far, and this year he's carried them less far than in year's past.
But it's also not fair to hold Harden to that standard. This award is for this season. There is, however, a decent argument to be made about whether Harden's lowered assist output and heightened individual scoring output was the product of a choice that resulted in a lesser outcome or the necessity of a worse offensive cast.
Harden's other metrics are predictably otherworldly.
Value Over Replacement Player (Basketball Reference): 1st
Offensive Box Plus-Minus: 1st
Box Plus-Minus: 1st
Win Shares: 1st
Offensive Win Shares: 1st
Real Plus-Minus (ESPN): 2nd
Offensive Real Plus-Minus: 1st
PER: 2nd
He checks every box in all the metrics you want offensively. But numbers are only going to light the path. You have to walk it if you want to really see where it leads, and that means watching who he is as a player.
---
JAMES HARDEN: SORCERER SUPREME
I watched every possession available for Harden on offense and defense this season.
(I've seen a lot of fouls drawn. Like, a lot.)
Here's what I've learned.
OFFENSE
He's unstoppable. There are different definitions of "unstoppable" in the NBA, but with Harden it means that you can do absolutely everything right and he's still going to just crush your soul.
Torrey Craig hounds him on this play, even forces a reset, then is behind him, nearly blocking him. And it just doesn't matter:
Jayson Tatum does what the scouting report likely says to do: He stays on Harden's left to keep him away and a little to the side so that he doesn't foul him going forward on the contest. He gets the hand right up in his grill. Nothin' doin':
Watch how patient Harden is here. He jabs and doesn't need the defender to completely rock or bite on it; he's just repositioning his feet. Harden is a merchant in inches, not feet. He's looking for the most narrow separations to get to the step-back:
What's craziest about Harden's shooting game is that he's better in these kinds of spots when he doesn't drive to create space. Via Synergy Sports, Harden shoots 35% with a 52% effective field goal percentage on non-driving ISO jumpers — basically, step-back jumpers without driving. He has the 18th-best points per possession mark in the NBA. The 17 players above him have combined for 435 of those possessions. Harden by himself has 574.
That might sound like a bunch of mumbo jumbo, so let me break it down: In a season in which he has attempted the most of the most-difficult shot, likely of anyone in NBA history, Harden has scored better than 84% of the league on them.
Usage should bring down that efficiency. It doesn't with Harden. The degree of difficulty should bring down the efficiency. It doesn't with Harden. It being such a huge feature on the scouting report should bring down the efficiency. It doesn't. The only comparison for his usage is 2006 Kobe Bryant, who made 20 fewer of those shots; he shot a little better on them but didn't score as efficiently.
Harden's weapon when driving is what I've come to call his narco-dribble. It puts you into a coma. He's so slow and patient with it. Like it is with his jab step, he's always just trying to get you a half-step to where he needs you and he just waits you out. The constant dribbles put you on edge and eventually you move where he wants. He doesn't need to break your ankles; he just needs you to take a step where he wants:
The big improvement Harden made this season is his runner/floater, and you need to understand this is a monumental weapon he added to his arsenal this year.
This is a monster deal. If you get behind Harden and take away his step-back … and bring help at the rim and close off his lob and shooter passing lanes… and he can still burn you with the last shot in his preferred series of choices?
There is literally nothing you can do. The Grizzlies force him right here — exactly what you're supposed to — and have help. Nope.
Danny Green is helping one pass away from Chris Paul, and the Raptors send two more defenders low… nope.
And finally, as I will continue to point out every year with Harden, he is the best passer in the NBA. Not one of. The best. There is no player who delivers the ball with better placement and consistency and who maximizes the efficiency of his teammates the way Harden does with his passing — not even LeBron James.
He's able to move the ball so quickly with such accuracy. He just flips this pass from the left side to the right corner here before making the swing pass for the assist. It's the first pass that makes this happen.
This is a baseline, leaping, behind-the-back bounce pass to a spot-up shooter on the perimeter.
This is one where, to be honest, I've watched it 50 times and I'm still not sure how he does this. It's like a Super Mario fireball plucking out of his hands:
Look at the placement on this pass:
You also can't trap Harden, because he's too good at the pocket pass. This is a sideline pick-and-roll in which they trap him and he still makes it through:
This is a no-look, backward bounce pass between two defenders on the pick-and-pop. Good luck.
You just can't overstate how great a passer he is.
DEFENSE
(Deep breath.)
This is always a touchy subject for both sides. So let me give you the thesis statement having detailed Harden's defense for five seasons.
This season, James Harden has had the best on-ball defensive season since he arrived in Houston, and he's been a legitimately impactful on-ball defender who has helped Houston. That has been counteracted by one of his worst off-ball defensive seasons in his career. That, too, has had a huge impact on Houston.
There are a bunch of stats you can use — and, god knows, Rockets fans will — to prop up Harden defensively. He's top five this season in deflections and was No. 1 for most of the year. Everyone else in the top 10 besides Russell Westbrook are considered great defenders.  He's also No. 2 in steals.
Here, Marcus Morris thinks he can cross him over. Nope:
This is similar to Stephen Curry. When you have hands that can dribble the way these guys can, they are exceptional at attacking handles.
The dumb thing is… teams constantly attack Harden. Basically, because the Rockets most often switch every screen action, Harden winds up covering guys who think they have an advantage, and they don't. He's 91st percentile in defending the post. He's been above 70th percentile every season in Houston. Yet, this season, Harden averages the most post-up possessions defended per game in the NBA (2.8 per game). Opponents shoot 36.7% on post-ups… and yet they keep doing it!
Harden's strength in the post also helps in rotations down low. Here he bodies Steven Adams without fouling, and Adams basically bounces off him, causing him to miss the push shot:
The one area you can penalize Harden is his off-ball defense. For most of the year, Harden was a train wreck on that end and it severely cost his team. His progression in the second half of the season has been great; as they've gotten better, he's now up to the 52nd percentile defending spot-ups (via Synergy). But when you sit down to watch Houston's biggest weakness — those spot-up opportunities surrendered — you notice how many of them have been on Harden's responsibility.
His closeouts can sometimes, just, well…
Here he has to "tag" the role man, but afterward he doesn't separate and close out. It just causes a mess when teams run stuff like this at him:
Some guys, like John Wall, he can't defend, for which you can't blame him. John Wall was fast when healthy:
Other stuff, though, is just effort. This has always been Harden's Achilles heel in Houston… the simple level to which sometimes the effort just isn't there. It stands out on film:
And sometimes, there's just stuff like this:
Harden's been better in recent months, though. He's up to the 52nd percentile in spot-up defense and 73rd percentile in isolation (mostly on account of the turnovers he forces).
Here he just gives a great closeout. Even here, he loses his assignment, but at least he runs out to contest:
He gets especially up for big games. Against the Warriors, he did stuff like this, calling to guard Curry on a switch he didn't have to take and at least contesting it. (Curry can hit this 7 out of 10 times on a good night, but you want to at least make him work for it.)
The reality is that Houston lost more games than it should the first half of the year because of its terrible defense, and Harden was as much a transgressor on that end as any Rocket including Melo. It's also true that he has been a great on-ball defender this season and improved dramatically as the season has gone on. He's also carrying such an enormous offensive weight that it's unrealistic to expect him to be superman on defense, too.
The problem is that this is MVP and the race is very close. Giannis Antetokounmpo, Harden's competitor for the award, is arguably the Defensive Player of the Year and the engine for Milwaukee's offense. He doesn't carry Harden's load, but Giannis' burden is not small. This doesn't settle the conversation for who MVP is (we'll tackle that later this week), but it's something you have to consider.
Harden in 2017 was a net neutral defender. In 2018, he was a net positive. He's close to a net negative based on his team impact this season: The Rockets defense is 6.8 points worse with him on the floor and has a 110 Defensive Rating when he's on the floor. It's one thing for you not to be a positive, but for the defense to be legitimately bad when you're on-court… that's a concern. Since All-Star break, that number is down to 107.4, which is better-but-not-good, and they are over 12 points better defensively with him on the bench.
The biggest thing holding Houston back is the defense. Yet Harden's individual on-ball defense has been so good, and that counteracts some of this. He's beaten back almost every individual challenge he's faced, and he's attacked a lot in an effort to wear him down. Maybe the best way to put it is this…
Harden contributes in big ways to the Rockets' defensive wins and contributes in big ways to their defensive failures. None of this disqualifies him from MVP or takes away from an incredible season; it's just part of the picture.
---
THE END GAME
James Harden is having one of the greatest offensive seasons in history. His team has hit what is widely considered to be the requisite number of wins. Harden's prolific scoring efforts midseason carried them through a time when they lost their second- and third-best players to injury. Just as Harden shares a place of burden for the Rockets' early woes, so does he deserve the lion's share of the credit for their remarkable comeback and success over the last two-thirds of the season.
He is the Offensive Player of the Year without question, he's played some of his best on-ball defense and his team will enter the playoffs as the only team with a realistic chance of defeating Golden State. He would be a runaway winner in most seasons. However, as we'll turn our attentions to tomorrow, Giannis Antetokounmpo is going to make this one of the most tightly-contested MVP votes in history.
Either way, no one's going to forget what has been a truly historic season from the reigning MVP, the Beard, James Harden.
How would you rate this article?