The 5 Best NBA Christmas Player Prop Bets: Picks for Every Game
Credit:
USA Today Sports. Pictured: Brandon Ingram
Betting on props can be one of the easiest ways to build your bankroll. Sportsbooks tend to offer lower limits and take less action on props than they do on games, so they don't have as much incentive to post an accurate line.
That's where our Player Prop tool comes in handy. We compare our industry-leading NBA projections to the props posted at a variety of sportsbooks to identify the best plays each day. Each bet is then graded on a scale from 1-10, with 10 being the best possible grade.
---
Odds as of Wednesday morning and via PointsBet, where Action Network users can access an exclusive promotion to get a 200% deposit match (deposit $50, bet with $150). No strings attached. No rollover required.
---
How about a little reminder on just how impressively these bets did last season? Props with a Bet Quality of 10 posted a win rate of 60.31%, and props with a Bet Quality of nine won at a 58.82% clip.
As is the case with most sports, betting on unders proved to be more profitable than betting on overs last season:
Unders with a Bet Quality of 10: 341-172 (66.47%)
Unders with a Bet Quality of 9: 457-273 (62.6%)
Unders with a Bet Quality of 8: 898-589 (60.39%)
Unders with a Bet Quality of 7: 1447-1086 (57.13%)
Unders with a Bet Quality of 6: 1992-1663 (54.95%)
Overall, if you just blind bet every under with a Bet Quality of eight or higher, you would've won at a 62.1% clip on more than 2,700 bets.
Christmas NBA Prop Bets
Today for Christmas, we're highlighting one prop from each of the slate's five games:
Boston Celtics at Toronto Raptors: 12 p.m. ET on ESPN
Milwaukee Bucks at Philadelphia 76ers: 2:30 p.m. ET on  ABC
Houston Rockets at Golden State Warriors: 5 p.m. ET on ABC
Los Angeles Clippers at Los Angeles Lakers: 8 p.m. ET on ABC
New Orleans Pelicans at Denver Nuggets: 10:30 p.m. ET on ESPN
Merry Christmas, NBA fans! Let's dive in.
Celtics F Gordon Hayward
THE PICK: Over 3.5 Assists (-134) [In New Jersey? Bet now at PointsBet]
Hayward missed the past three games with a sore foot, but he's probable for Christmas and expected to play a full load, especially with Marcus Smart still sidelined. Smart is second on the Celtics in assists, and Hayward is third, with both averaging over four per game. Hayward is actually second on the team in assist percentage.

Before he missed the past three games, Hayward had 12 assists in three games before that with Smart out. His 4.1 assists per game this year and 22.0% assist rate are the second highest of his career, and he should spend even more time on the ball with Smart out.
Hayward was finally looking fully healthy to start the season, and he's averaged 4.8 dimes over his last eight games, going over this line in six of them.
It's all small sample size theater, but our model agrees — this is the only Christmas Day prop bet our model rates a 10 out of 10. Bet Hayward's assist over up to -155 and get your Christmas started out right.
Bucks SG Wes Matthews

THE PICK: Over 8.5 Points (+100) [In New Jersey? Bet now at PointsBet]

Wes Matthews has been around the NBA a long time, but you know he's relishing this late-career opportunity with the Bucks. Matthews has started all but one Milwaukee game as the de facto Malcolm Brogdon replacement in the lineup. He is the ultimate 3-and-D guy — those two things are really all he's out there for.

Matthews is averaging 8.3 points per game. More importantly, he's averaging 12.3 points per 36 minutes. Though he's started every game he's played, Matthews' minutes have waxed and waned, and his points have moved with them. Matthews has played more than 25 minutes in exactly half his games, scoring 11.0 points per game in such contests. In the other half of his games, his scoring average plummets to 5.6 points per game.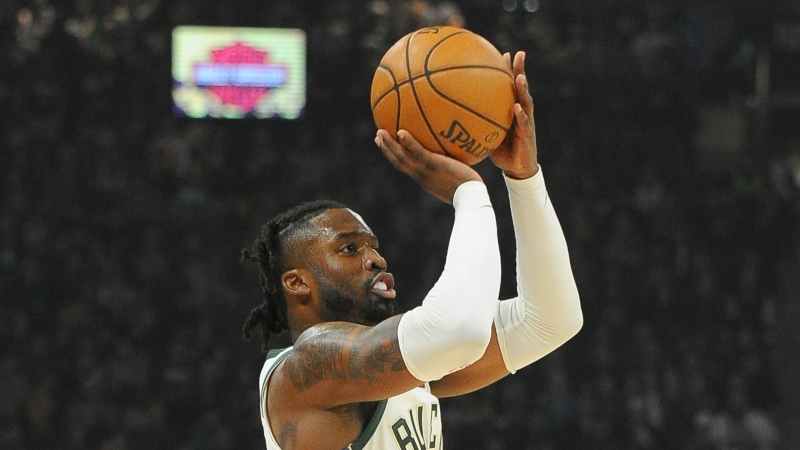 The math here is easy: If Matthews is out there long enough, he's going to hit some shots. Lo and behold, he's hit the magic 25-minute mark in five of his past seven games, and the minutes should be there with Eric Bledsoe out. Our models have him at 9.8 points, and that makes this prop very playable at even odds or as high as -120.
Warriors PF Draymond Green

THE PICK: Over 6.5 Rebounds (-121) [In New Jersey? Bet now at PointsBet]
This isn't exactly the Warriors-Rockets rematch ABC was hoping for when they put this game at the heart of the Christmas Day lineup, and you're forgiven if you want to take a mid-day basketball break. You know who won't be taking this game off? Draymond Green.
The Warriors are flying high on a two-game win streak, and Draymond was talking his talk the other night, remembering how it feels to savor a win. The Ws hate the Rockets, and you know Draymond will make sure they show up for this one in an underdog national TV spot.
Green's numbers are down across the board this season. He's playing only 29.0 minutes per game, averaging 9.0 points, 6.2 rebounds and 5.7 assists. But those numbers are all skewed down by a few low-minute games returning from injury. Draymond shows up in big games. If you think the Warriors hang around and give the Rockets a push, you know Green will be at the heart of things, and that means hitting the boards hard.
Our models have him at 7.6 rebounds, and he should hit the over here if he can stay on the court long enough. Play Draymond up to -140.
Clippers C Montrezl Harrell

THE PICK: Under 17.5 Points (-110) [In New Jersey? Bet now at PointsBet]
Harrell has been a monster this season, scoring 19.0 points per game in 29.2 minutes out there, both career highs. Harrell may still be coming off the bench in name, but he's putting up starter numbers as the only reliable Clippers big man.
Harrell had 17 points and seven rebounds in the season-opener against the Lakers, playing 38 minutes. That was a Lakers team not yet prepared to put Anthony Davis in a place to dominate, but Davis has gotten more comfortable since, and Harrell has no chance against him. That could mean decreased minutes if Harrell gets in foul trouble or gets benched for a better defender, and it could simply mean worse numbers against one of the leading contenders for Defensive Player of the Year.
Our model tips Harrell at 14.6 points, giving you some real margin for error here. Remember, there are always more ways to go under. Play Harrell confidently up to -145.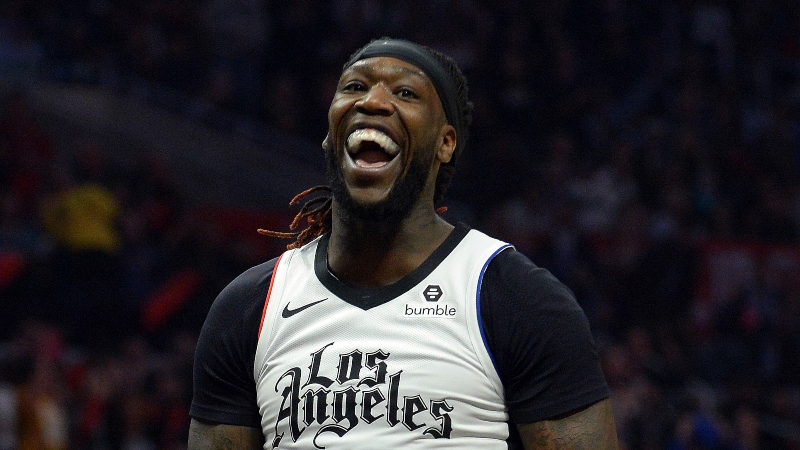 Pelicans F Brandon Ingram

THE PICK: Over 3.5 Assists (+100) [In New Jersey? Bet now at PointsBet]
Pelicans-Nuggets is a rare NBA game without a prop bet rated 9 or 10, but this one is at an 8 and looks pretty good with the juice.
What a breakout campaign for Ingram! Ingram is averaging 25.0 points, 7.1 rebounds and 3.8 assists a game with career-highs in usage, rebounding rate and assist rate.
Ingram has played 27 games, and he's had five or six assists in more than  half of them (14). He's gone over this line in 66.7% of his games. This is a case in which we must not confuse median with mean. Ingram also has six games with zero or one assist, and those are killing his average (mean), but his median outcome for the season is five assists.
If Ingram does hit this line again, there's a good chance he'll fly past it like he often has this season. And don't put it past Ingram to have a little extra motivation to shine in the game immediately following the Lakers on national TV either, after they traded him away this summer.
Play Ingram up to -135 and have yourself a merry little Christmas!
How would you rate this article?