Thursday NBA Player Prop Bets: New Year's Eve Picks Headlined by Wall, Ingram & Avdija (Dec. 31)
Credit:
Christian Petersen/Getty Images. Pictured: New Orleans Pelicans star Brandon Ingram, right, takes a shot.
Basketball fans get a nice slate of NBA games on a busy New Year's Eve around the league.
There are several strong prop plays for you to choose from on the seven-game card.
Brandon Anderson tells who his top picks on the card below.
New Year's Eve brings us a full day of NBA action, with seven games spaced throughout the day, including some rare weekday afternoon basketball.
Gordon Hayward's stinker last night left us 1-2 on the night, but our props are still at 15-8 on the season, so let's close out 2020 with a bang. And as a special New Year's treat, I've thrown in an added prop for a New Year's Eve nightcap to help us start out 2021 off the right way.
For those who are new to this article, we'll be using the ActionLabs Player Prop tool to compare our NBA projections to the props posted at a variety of sportsbooks. Each bet is then graded on a scale from 1-10, with 10 being the best possible grade.
Below, I have laid out three prop bets that I'm playing, the case for each bet and the best books to find odds on those player props — along with that bonus bet at the bottom!
NBA Player Props & Picks
Deni Avdija Over 4.0 Rebounds (-103)
| | |
| --- | --- |
| Bulls at Wizards | Wizards -6.5 |
| Bet Now | |
| Time | 5 p.m. ET |
You may not have seen Deni Avdija play basketball yet, but the rookie out of Israel is off to a nice start with the Wizards. Avdija is something of a playmaking combo forward with a well rounded game, and though he is young and just starting his NBA career, Avdija has been playing pro ball in Europe for awhile already. This professional basketball stuff is not new to him.
Avdija's well-rounded skill set has earned him quick playing time. He's started all four games for the Wizards and is the de facto starting four, with the Wizards playing a smaller lineup plus a stretch five in Thomas Bryant. Avdija is averaging 26.3 minutes per game along with 7.5 points and 5.0 rebounds.
Those rebounds are of interest today, and there should be plenty of boards to go around in a game featuring two of the three highest-paced teams in the NBA and an over/under of 237 points and rising. Avdija has only gone over this rebounding total once so far but pushed two other times and went under only once, and that was in an anomalous game when the rookie played under 15 minutes.
That round 4.0 total adds some confidence here, since a push is a palatable outcome and only three or fewer rebounds busts here. We're projecting Deni at 5.3 boards and rate this prop a 10 out of 10.
As long as the rookie doesn't get a quick hook, he should get to four or more boards on opportunity alone in this game. I'll play to -135 but wouldn't play if it drops to 3.5.
---
Buddy Hield Under 20.5 Points (-110)
| | |
| --- | --- |
| Kings at Rockets | Rockets -5.5 |
| Bet Now | |
| Time | 7 p.m. ET |
Buddy Hield is back to starter status in Sacramento now that Bogdan Bogdanovic has left for Atlanta, but his scoring has not been as strong this season.
Hield had been over 19 PPG each of the past two seasons despite playing fewer than 32 minutes per game. This year, his minutes have leapt to 36.0 per game, but his scoring has dropped to 16.3 PPG. So what gives?
Normally, that would be a red flag warning us for positive regression here, but this looks like something different. This isn't a cold shooting stretch for Hield. It's that he has a different role entirely as a starter.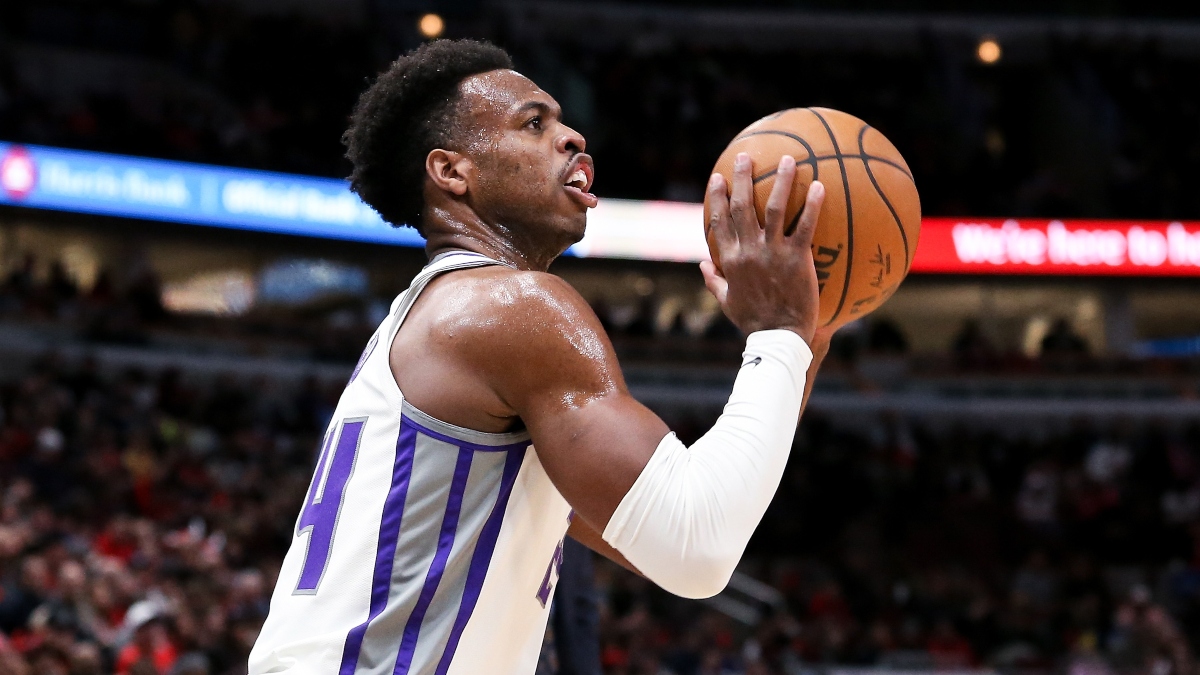 Coming off the bench for much of last season, Hield was allowed to fire at will and put up some big scoring numbers. As a starter, Buddy is playing in the system a bit more this season. Consider that Hield was averaging over 16 field goal attempts per game each of the past two seasons versus just 13.8 this year, despite playing significantly more minutes.
Hield can always get hot and scorch the nets from behind the arc, and even one hot five-minute stretch could kill us here. But even when he was scoring more last season, Hield was still under 20.5 points in 39 of 72 (54.2%) of his games. Follow the trend of fewer shots in a changing role and fade Hield's points at under 20.5 up to -125.
---
John Wall Under 19.5 Points (-105)
| | |
| --- | --- |
| Kings at Rockets | Rockets -5.5 |
| Bet Now | |
| Time | 7 p.m. ET |
Welcome back, John Wall!
It looks like Wall will make his official Houston Rockets debut, just barely getting real NBA game time in under the wire for the year 2020 after missing all of 2019, too. The last time Wall played actual NBA ball, not counting preseason or exhibition games, was December 26, 2018. It's good to see the man back on the court.
But that doesn't mean we can't make some money fading the guy.
Wall averaged right at 20.0 PPG his last two seasons in Washington, but that was two years, a healthy Achilles, and an entire other team ago. This Wall will be sharing the ball in a huge way with James Harden, and he'll share shots with DeMarcus Cousins (also back tonight), Christian Wood, and Eric Gordon (another returnee) too.
There's no word yet on whether Wall will have a minutes limit in his return, but doesn't it only stand to reason that the guy might not just jump into the deep end with 34 or more minutes like the good old days? Wall played 19, 25 and 26 minutes in three preseason games coming off the Achilles rehab, and now he's coming off two weeks without basketball for COVID restrictions. It would be downright irresponsible to throw him out there for a full run.
We're projecting Wall at 31.3 minutes tonight, and honestly, that seems pretty optimistic to me. Even at that number, we've got Wall projected at 17.0 points, safely under this number. But drop Wall another five minutes and now there's a serious margin in our favor, and it's still a solid play even if he does play those 31.3 minutes. Simply put, it's silly to expect Wall to jump right back to that 20.0 PPG after over two years away.
Celebrate John Wall being back on an NBA court by fading his point total tonight to -130, and make sure to grab this one quickly in case Houston announces a minutes restriction later today and kills the value here.
Wall made $38,199,000 to watch games from the sidelines last year. We may as well recoup some of that value.
Brandon Ingram Over 4.5 Assists (+105) | Eric Bledsoe Under 4.5 Assists (+125)
| | |
| --- | --- |
| Pelicans at Thunder | Pelicans -5.5 |
| Bet Now | |
| Time | 8 p.m. ET |
Bonus picks! This is a two-fer and some late New Year's Eve action if you're staying home responsibly tonight during the pandemic and looking to make a little cash to start 2021 off the right way.
One of the biggest developments of the early season thus far is the serious playmaking jump Brandon Ingram has shown for the Pelicans. Ingram had 11 assists in the Pels' surprising win in their opener against the Raptors, then followed that up with three, six and six dimes over the last three games.
Ingram was one of the leading contenders for Most Improved Player a year ago because of his leap as a shooter and scorer, but now his playmaking is giving New Orleans a new dimension.
Ingram has had stretches in the past where he's put up good assist totals like this, when he wasn't sharing the ball so much with guys like Lonzo Ball and LeBron James and in a more featured role, and that's the role Ingram is starting to creep toward now. The Pelicans are trusting Ingram more with the ball in his hands, and he is paying off with real creation, not just system assists.
With both Ingram and Zion Williamson seeing so much of the ball, along with Ball of course, that just isn't leaving much for Eric Bledsoe.
Bledsoe is still starting next to those three but just isn't doing a ton in the box score. He's taking a career high 5.3 3-pointers per game right now but has scored 7 or fewer points in three straight, a sign that he is playing off ball and being asked to hit spot-up jumpers, which has never been his game. Bledsoe's minutes are also dipping quickly, and he's had two assists total his last time out. He's simply not producing as much without as much of the ball.
Many books will not let you parlay props, but these two props go hand in hand and make a great parlay if you're able. If Ingram goes over 4.5 assists as he has in three of four games this season, Bledsoe should also go under his total.
Our Props tool likes both of these as a 10 out of 10. I'll play them together if possible but otherwise like each of them independently, too. Hopefully it will be a little New Year's Eve treat to kick off 2021.
How would you rate this article?