Ranking the Upset Chances for Every 13-15 Seed in the 2019 NCAA Tournament
Credit:
USA TODAY Sports. Pictured: Jordan Roland and Ahmaad Rorie
Stuckey ranks the upset chances for each team seeded 13-15 in the 2019 NCAA Tournament, from least to most likely.
Whether you're hunting for a moneyline underdog or a reason to pick an upset in your bracket, you should find the reasoning helpful.
I doubt any of you will be picking a No. 16 seed to pull off an upset for the second straight year, but a few folks like myself are certainly contemplating a few of the 13-15 seeds — either against the spread, on the moneyline or in a bold bracket move.
We haven't seen a No. 15 or No. 14 seed pull off an upset during the past two tourneys, but that doesn't mean you shouldn't consider it. Just look at the five tournaments prior, when we saw a total of nine. There were also two No. 13 seeds that won in the first round last year.
To help assist you with finding the right underdog, I ranked the upset chances of the 13-15 seeds in this year's NCAA Tournament from least to most likely. And no, it's not as simple as following the seeds, as some teams are over-seeded and some just have bad matchups.
We've also listed the win probability percentage from The Action Network's Bracket Simulator and the percentage of people in ESPN bracket pools taking each team.
12. Abilene Christian (#15) over Kentucky (#2)
Abilene Christian has a scrappy defense that actually ranks in the top 10 in turnover percentage. It can also shoot (top 20 nationally in 3P%). That could make this game interesting to start if 3's are dropping against a Kentucky team that has struggled to defend the perimeter at times (although the Cats were much stronger in that department during SEC play).
But this is just a glaring athletic mismatch. UK should gobble up almost every rebound against a small ACU team and get plenty of easy looks as a result. This should ultimately play out more like a 1 vs. 16 matchup, as the spread indicates, in this battle of Wildcats.
11. Bradley (#15) over Michigan State (#2)
Bradley will try to grind this game to a screeching halt, but I'm not sure how the Braves will score. They rank outside the top 300 in the country in 2P% and it's not like they'd get anything inside anyway against Michigan State's bigs, which rank No. 3 in the country in that same category.
Bradley does have some capable shooters from the perimeter, led by Nate Kennell and Darrell Brown, who each shoot over 40% from deep. However, Sparty defends the perimeter at an elite level.
Simply put, this is the Big Ten champ against a team that was not favored to win the Missouri Valley in a very down year. Sparty should crush Bradley inside in every which way possible.
10. Colgate (#15) over Tennessee (#2)
Colgate actually does have some size and runs a very efficient offense. The Raiders also have plenty of shooting, which could cause some issues for a Vols team that can be vulnerable against the 3 (10th in the SEC).
Keep your eye on 6-foot-10 sophomore Rapolas Ivanauskas, who averages 16.4 points and 7.9 rebounds per game. The Northwestern transfer could be a matchup problem with his size and shooting ability (43.3% from beyond the arc).
However, in the end, Colgate won't be able to get enough stops to pose any real threat against the uber-efficient Tennessee offense. Turnovers should also play a major role, as Tennessee just doesn't turn it over while Colgate can get very careless with the ball.
9. Northern Kentucky (#14) over Texas Tech (#3)
This Northern Kentucky team has high-major length and three legit scorers — starting with 6-foot-8 senior Drew McDonald. The Horizon POY has played all four seasons at NKU and not only averages just under 20 and 10 a game; he's a more than capable shooter. The Cold Spring, Ky. native shot over 40% from three and 80% from the line this season.
While Northern Kentucky does boast a dangerous offense, the Norse will be going against arguably the best defense in the entire nation. Yes, better than Virginia. Texas Tech ranks No. 1 in the nation in Defensive Adjusted Efficiency, per KenPom. And if you go by Points Per Possession, only VCU has allowed fewer than Texas Tech's 0.765 this season.
Yes, no team that has ever lost its first game of the conference tournament has made the Final Four, but this isn't the Elite 8. You should get an angry effort from a focused Texas Tech team after that loss to West Virginia. The Red Raiders' elite defense will just be too much.
8. Old Dominion (#14) over Purdue (#3)
Old Dominion can defend at a very high level, as evidenced by its top 20 national ranking in both Effective FG% and Points Per Possession. It is also very solid on the glass on both ends — although Purdue can match it in that department.
The Monarchs are led by two hard-nosed senior guards in Ahmad Carver and B.J. Stith, who will both likely play almost every minute and take close to 60% of their shot attempts. They are one of the slowest teams in the field, and fewer possessions would certainly help their upset chances.
However, while everything looks clean on the defensive end, the ODU offense is ugly with a capital U. We are talking about an offense that ranked 13th in Effective FG% in C-USA during conference play.
Purdue's offense is just in a different stratosphere, led by some guy named Carsen Edwards, who will be the best player on the court. Unless Edwards has a game similar to the Indiana game (which Purdue still won), Matt Painter's crew will survive.
7. Saint Louis (#13) over Virginia Tech (#4)
Saint Louis is one of the most surprising teams in the field, as the Billikens came out of nowhere to win the Atlantic 10 Tournament. Not only was it a very down year for the A-10, Saint Louis likely only won this tournament as a result of an injury to VCU star guard Marcus Evans.
Saint Louis profiles almost exactly like Old Dominion — a very solid defensive team that relentlessly attacks the boards, but an absolute horror show offense. The Billikens simply can't shoot. Look no further than the free throw line, where they shoot sub-60% for the second-worst percentage in college basketball.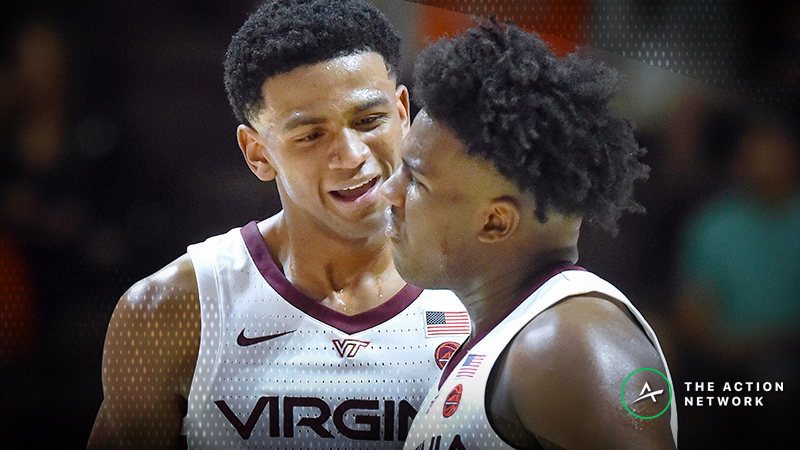 Meanwhile, Virginia Tech's offense and defense ranks in the top 25 nationally in Adjusted Efficiency. The Hokies are a snail in terms of pace, so covering the number might be tough in a game that should be extremely low-scoring. But they should smother this Saint Louis offense.
The only reason I give Saint Louis a better shot than Old Dominion is if Virginia Tech struggles to assimilate star guard Justin Robinson back into the lineup and/or he comes out rusty after missing 12 games.
6. Montana (#15) over Michigan (#2)
In a rare first-round rematch from a season ago, the Grizzlies will try for the upset over Michigan once again. I think that familiarity will help the lower seeded team here. I don't expect Montana to be intimidated.
Montana will bring a dangerous offense to Des Moines, led by two senior guards in Ahmaad Rorie and Michael Oguine. In last year's game, Oguine got off to a hot start and Montana actually led 17-10 before he picked up his second foul midway through the first half.
The Grizzlies rank sixth nationally in Effective FG%, 13th in 2P% and 26th in 3P%. They also average 0.995 Points Per Possession, which is in the 94th percentile nationally, per Synergy.
They did lose big man Jamar Akoh earlier in the season. And while his presence would hurt on the defensive end against most teams, Montana could potentially go smaller without him to better defend the Michigan pick-and-roll.
I've actually soured on this Michigan team in recent weeks. While I love John Beilein in a tournament setting and the defense is tremendous, the Wolverines offense just goes through so many droughts. I think Montana can hang around here and make this more interesting than many might think.
5. Vermont (#13) over Florida State (#4)
Two words: Anthony Lamb.
Anytime you have a player capable of scoring 40 from all over the court, you have a puncher's chance.
Also, Florida State gets a lot of its offense via the offensive glass but Vermont actually ranks second nationally in opponent offensive rebounding percentage. The Catamounts do an excellent job of team rebounding on the defensive end.
I ultimately think Florida State has way too much length and athleticism, but the Catamounts could put a scare into the 'Noles if they slow this one down and Lamb goes off.
4. Georgia State (#14) over Houston (#3)
Georgia State falls into the category of teams with a unique style. Ron Hunter's bunch runs an extended amoeba-like 1-3-1 matchup zone that not many teams get to see during the regular season. And the Panthers do so almost exclusively.
However, Houston has an excellent zone offense. The Cougars also have an extremely versatile defense that can pretty much take away everything Georgia State wants to do on offense, starting with letting D'Marcus Simonds in the pick-and-roll game.
Georgia State can maybe keep this close if it can force turnovers and get out in transition. It also takes a ton of 3's and makes them at an impressive 38.4% clip (17th in country). That said, it will get crushed on the glass and is absolutely abysmal from the free throw line. Those two factors should ultimately do the Sun Belt champs in.
Oh, and Houston is really, really good.
3. Yale (#14) over LSU (#3)
LSU fans should be very afraid of this Yale offense, led by an NBA talent in Miye Oni. You can't often say that about an IVY school.
Yale is also sneaky-athletic and will compete on the defensive glass against an LSU team that lives on the offensive boards. Its defense is nothing to write home about, but the Bulldogs could win a shootout against an LSU defense that can be scored on.
LSU is significantly over-seeded after winning almost every coin flip game during the regular season, which makes this matchup much more competitive than the 14 vs. 3 seed lines indicate. You also have the potential distractions with the loss of head coach Will Wade and all of the controversy surrounding the Tigers.
2. Northeastern (#13) over Kansas (#4)
Vasa Pusica is a name you should get familiar with before the first round begins. The Serbian senior point guard runs a beautiful Northeastern offense that moves the ball as well as any team in the country.
The Huskies also have no shortage of shooters that can knock down the open looks Vasa and that seamless ball movement creates.
If Kansas had big man Udoka Azuibuike, that would be a different story. But this is not your typical Bill Self quad. What have the Jayhawks done away from the state of Kansas? Nothing noteworthy.
This is more like a 12 vs. 5 matchup and I will have Vasa and the Huskies moving on.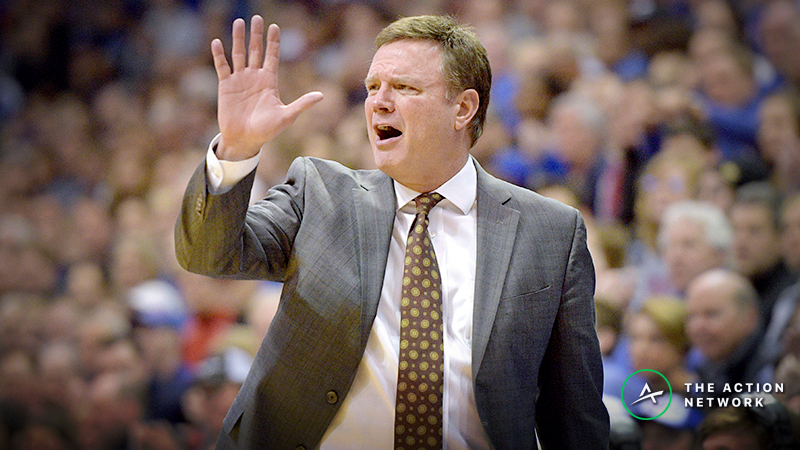 1. UC Irvine (#13) over Kansas State (#4)
Another team I will have advancing in my bracket (and maybe as far as the Sweet 16) is UC Irvine. There's a reason why this line only sits at Kansas State around -5.
This is just a bad matchup for Kansas State, especially without Dean Wade. Wade makes that offense go and without him, the Wildcats are severely over-seeded.
The Anteaters boast the top 2P% defense in college basketball and that's no fluke under head coach Russell Turner.
They just don't give up anything at the rim and Kansas State just doesn't have the shooters to exploit UCI elsewhere. Wade was not only its best shooter, but the attention he demanded (along with his passing skills) opened up so much for the offense.
The Anteaters have the size, experience and depth to pull off this upset.
How would you rate this article?