BlackJack's 79% Love Story: How I Fell for the Vegas Golden Knights
Credit:
Stephen R. Sylvanie-USA TODAY Sports
The Highlights
I never really had a hockey team growing up, so the Golden Knights filled a void.
I have bet the Knights 48 times this season, and they've gone 38-10 in those games, good for a 79% winning percentage.
The only thing left to do? Bring home that Cup.
---
It didn't start out as love at first sight. When the Vegas Golden Knights dropped the puck on their first season, I was intrigued. I was curious if sports would work in Las Vegas. I wanted to see if the city would rally around its hockey team after the tragic shooting that October.
What began as a novelty would turn into something very different. As the NHL season wore on, I found myself looking at this expansion group out in Las Vegas more and more. I didn't back the Knights very often early in the season, because I don't think any of us knew what we were watching out in the desert.
We saw a stretch when they played four goalies over five games while Marc-Andre Fleury was sidelined with a concussion. But then we saw the crowd at T-Mobile Arena shift from being filled with visiting fans to providing one of the most dominant home-ice advantages in the NHL. Most importantly, we saw a scrappy, overachieving team morph into a legitimate Stanley Cup contender.
And somewhere along the way, I fell in love.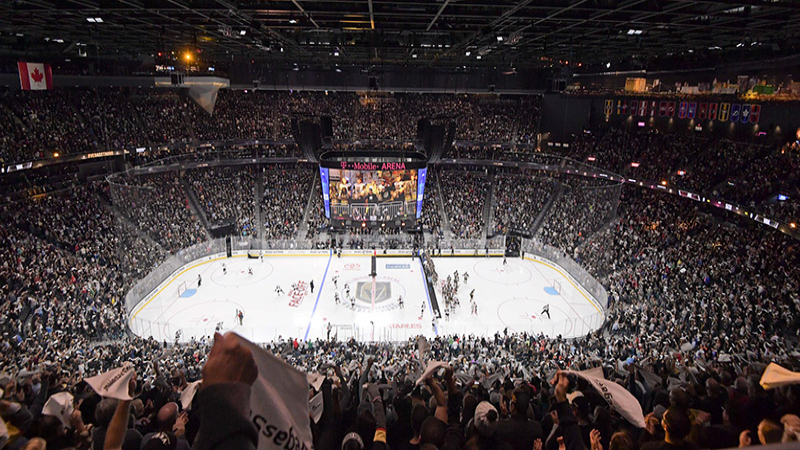 Credit: Kirby Lee, USA Today Sports
---
I grew up — and remain — a Mets, Knicks and Bills fan. The first two are easy, the third because as a child I can remember my father vividly saying, "The Bills are the only football team that actually plays in New York." My dad is not a fan of going to New Jersey for any reason, so we shifted our allegiances a little north.
Now, a quick math lesson. I was born in 1984. The Mets won a World Series in 1986 over the Red Sox when I was a spry 2 years old. Other than that, I have never seen a team I root for win a championship. I've come close. The Knicks in the '90s almost got the job done. I remember the Bills losing to the Cowboys in Super Bowl XXVIII. I was there when Carlos Beltran struck out looking for the Mets against the Cardinals. Close, but no cigar.
I never really had a hockey team growing up. If we're being honest, I would root for Canadian teams or Original Six squads because it felt like it meant more to them than a team like Tampa or Arizona. Then this year happened, and all that changed.
I started betting the Golden Knights on a regular basis around Christmas as it became clear they weren't a fluke. I'd stay up late on the East Coast just to catch their games — and for good reason. This team was incredibly fun to watch. They played a frenetic brand of offense that was borderline out of control. They shot the puck with abandon. They were fast. They were deep. They were good. Very good.
So I watched more and more. And I bet more and more. And they won more and more. Soon we started to become intertwined. My nightly Periscopes turned into Golden Knights watch parties, as the third period would inevitably be on when I began. I found myself buying merchandise and getting more invested.

Credit: Stephen R. Sylvanie-USA TODAY Sports
At this point, I'm just a huge fan of this team, and that really started with how much money the Knights have made me.
I have bet the Golden Knights 48 times this season, and they've gone 38-10 in those games, good for a 79% winning percentage. That is utterly insane. There is no other team in any sport for me that can produce that level of profitability.
It's safe to say I'm in love. I love the Knights' style, I love the way they score, the way they defend, the way they win. I love the outrageous pregame show you can only find in Las Vegas. I love Jonathan Marchessault's custom #VegasBorn Lamborghini. I love Marc-Andre Fleury turning back the clock. I love the 79% win percentage. But most importantly, I love the Vegas Golden Knights.
I am all-in on this team. I want nothing more than to see the Knights win this Stanley Cup Final and celebrate down Las Vegas Boulevard. God willing, we will see just that, and maybe even be there to celebrate with them.
#GoKnightsGo #VegasBorn
How would you rate this article?