NHL Teams against the spread
Standings for all 32 teams
NHL Standings
Team
Overall
Home
Away
ATS
ATS HOME
ATS AWAY
Ov/Un
Ov/Un Home
Ov/Un Away
Flyers
31-38
18-18
13-20
48-34
24-17
24-17
40-41-1
23-17-1
17-24
Coyotes
28-40
21-15
7-25
47-35
24-17
23-18
44-37-1
23-17-1
21-20
Sabres
42-33
17-20
25-13
47-35
19-22
28-13
49-31-2
25-14-2
24-17
Kraken
46-28
20-17
26-11
47-35
22-19
25-16
39-43
18-23
21-20
Oilers
50-23
23-12
27-11
46-36
22-19
24-17
53-26-3
26-12-3
27-14
Senators
39-35
24-14
15-21
46-36
24-17
22-19
39-42-1
21-20
18-22-1
Bruins
65-12
34-4
31-8
45-36
20-20
25-16
36-43-2
13-26-1
23-17-1
Canucks
38-37
19-20
19-17
45-37
21-20
24-17
49-33
21-20
28-13
Kings
47-25
26-11
21-14
44-38
19-22
25-16
42-39-1
19-22
23-17-1
Canadiens
31-45
17-21
14-24
44-38
21-20
23-18
41-39-2
24-15-2
17-24
Rangers
47-22
23-13
24-9
44-38
19-22
25-16
37-44-1
21-20
16-24-1
Stars
47-21
22-10
25-11
43-39
18-23
25-16
36-45-1
19-22
17-23-1
Blue Jackets
25-48
16-23
9-25
42-38
21-19
21-19
44-35-1
23-16-1
21-19
Jets
46-33
26-13
20-20
42-40
20-21
22-19
25-54-3
13-26-2
12-28-1
Devils
52-22
24-13
28-9
42-40
17-24
25-16
42-38-2
20-21
22-17-2
Islanders
42-31
25-13
17-18
42-40
20-21
22-19
37-42-3
17-23-1
20-19-2
Golden Knights
51-22
25-15
26-7
42-40
16-25
26-15
39-43
19-22
20-21
Predators
42-32
22-15
20-17
41-39
20-20
21-19
39-41
18-22
21-19
Red Wings
35-37
19-17
16-20
41-41
21-20
20-21
38-44
19-22
19-22
Blues
37-38
18-17
19-21
39-43
18-23
21-20
49-30-3
22-17-2
27-13-1
Ducks
23-47
12-25
11-22
38-44
17-24
21-20
42-40
20-21
22-19
Maple Leafs
50-21
27-8
23-13
38-44
15-26
23-18
39-43
18-23
21-20
Capitals
35-37
18-16
17-21
38-44
18-23
20-21
39-41-2
18-21-2
21-20
Sharks
22-44
8-22
14-22
37-43
16-24
21-19
50-30
27-13
23-17
Avalanche
51-24
22-13
29-11
37-43
17-23
20-20
34-45-1
17-22-1
17-23
Wild
46-25
25-12
21-13
37-45
14-27
23-18
36-45-1
17-24
19-21-1
Penguins
40-31
23-13
17-18
36-45
14-27
22-18
37-43-1
22-18-1
15-25
Blackhawks
26-49
14-23
12-26
36-46
18-23
18-23
43-38-1
24-17
19-21-1
Lightning
46-30
28-8
18-22
36-46
21-20
15-26
42-36-4
24-17
18-19-4
Panthers
42-32
23-13
19-19
33-49
16-25
17-24
45-34-3
24-17
21-17-3
Hurricanes
52-21
28-10
24-11
33-49
16-25
17-24
35-46-1
16-24-1
19-22
Flames
38-27
20-16
18-11
31-51
11-30
20-21
40-41-1
19-22
21-19-1
NHL ATS Standings
NHL Picks Against the Spread
A bet against the spread is a type of wager that requires bettors to correctly guess the margin of victory in a hockey game rather than simply selecting the outright winner.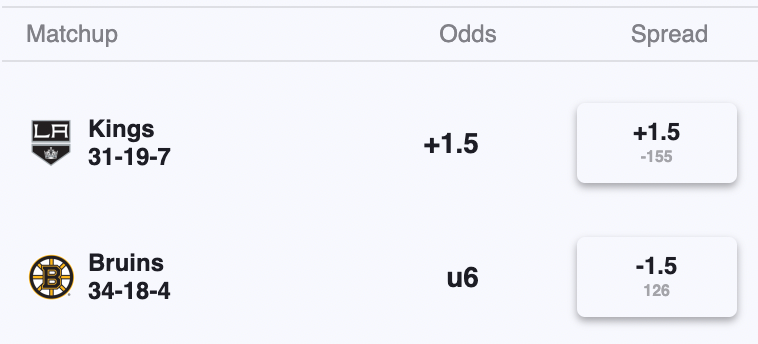 Using this regular season matchup between the Los Angeles Kings and Boston Bruins as an example, in order to win a bet against the spread, bettors wagering on the Bruins would need them to win by 2 or more goals, whereas bettors wagering on the Kings would need the team to win outright or lose by 1 goal or less. The Kings won the game outright, 3-2, which means that they covered the spread in this case.
NHL Standings Against the Spread
Monitoring team performance against the spread is a great way to make more educated NHL bets throughout the year. Identifying trends for specific teams can enable you to know when to pick, or to avoid, a particular spread bet based on in-season data.
The table above shows each team's record against the spread for the 2021-22 regular season. Filter by league, conference, or division to get an in-depth look at each team. You can also sort the data by clicking on the table headers.
NHL ATS Standings FAQs
How often is this page updated?
Where can I find odds on NHL games?
What is a point spread bet?